NHL Public RelationsMarch 1, 2022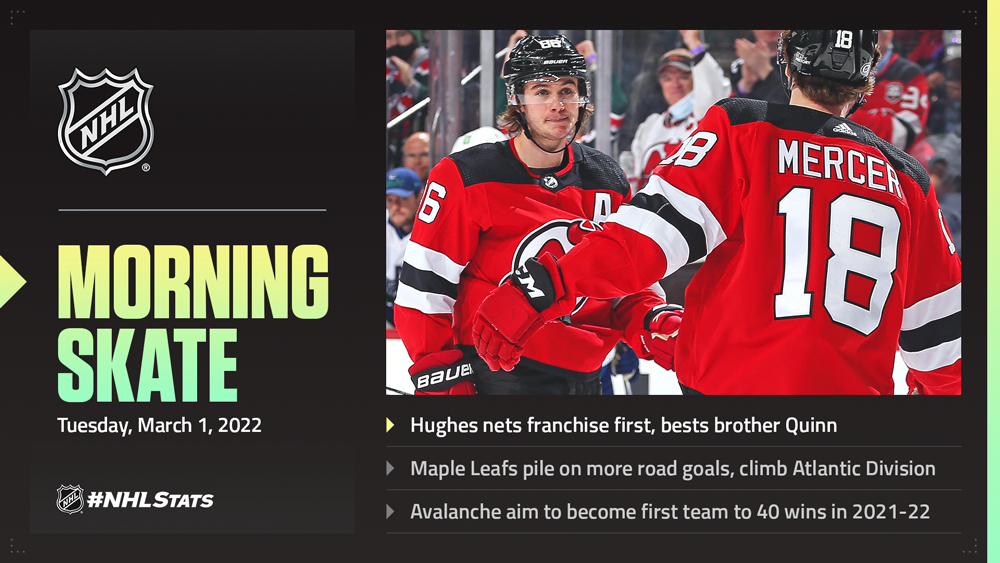 * Jack Hughes propelled the Devils to another seven-goal outburst and improved to 3-0-0 in his career against brother Quinn.

* The Maple Leafs benefited from another strong start and joined rare company in scoring three-plus goals in four consecutive periods, all of which on the road.

* The Avalanche can become the first team to reach the 40-win mark in 2021-22 and can do so in their 54th game – a feat only three other teams in NHL history have accomplished.





JACK BESTS QUINN AS DEVILS SCORE EARLY AND OFTEN AGAINST CANUCKS
Skating opposite his brother Quinn, Jack Hughes (1-1—2) scored the first of seven Devils goals and recorded his fourth consecutive multi-point game to improve to 3-0-0 against his sibling through their first three head-to-head meetings.

* Hughes (20 years, 290 days), with points in seven consecutive appearances overall (5-8—13 in 7 GP), became the first player in franchise history to record multiple points in four straight contests at 20 or younger. In fact, only two skaters – regardless of age – have posted a longer run: Scott Gomez (5 GP in 2005-06) and Kirk Muller (5 GP in 1987-88).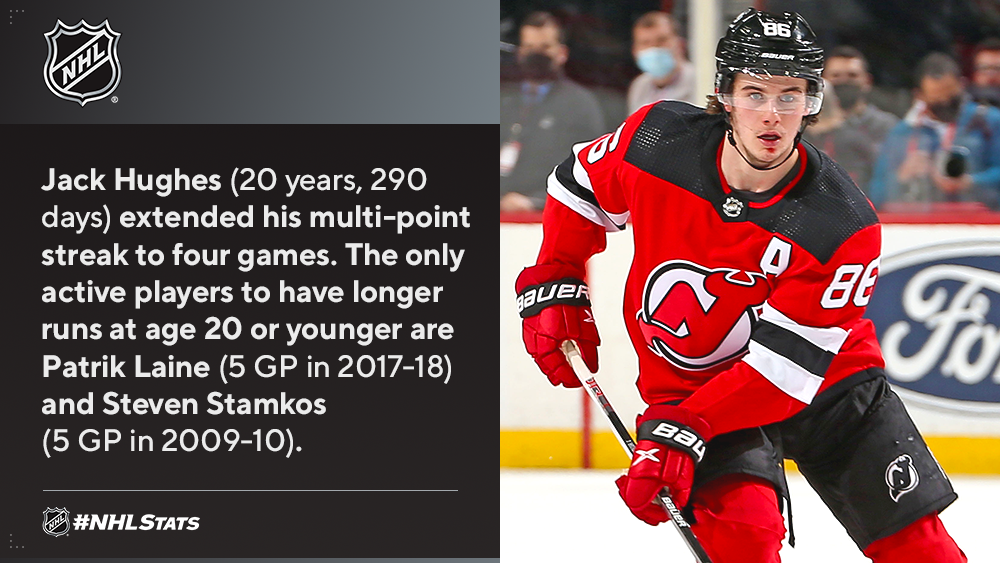 MAPLE LEAFS KEEP ROLLING ON THE ROAD AND CLIMB ATLANTIC DIVISION
Michael Bunting scored one of three Maple Leafs goals in the first period to overtake the NHL lead among rookies and helped vault Toronto (35-14-4, 74 points) into a tie with idle Tampa Bay (34-11-6, 74 points) for second place in the Atlantic Division; just one point back of Florida (35-13-3, 75 points).
 
* The opening frame Monday marked the fourth consecutive period Toronto scored at least three goals after doing so in each period during its high-scoring affair with Detroit on Feb. 26 (10-7 W). With 15 goals over their past two outings, the Maple Leafs matched the franchise mark for most over a span of consecutive games on the road (also 15 from Nov. 7-10, 1979, Oct. 29 – Nov. 2, 1944 & March 17-19, 1938).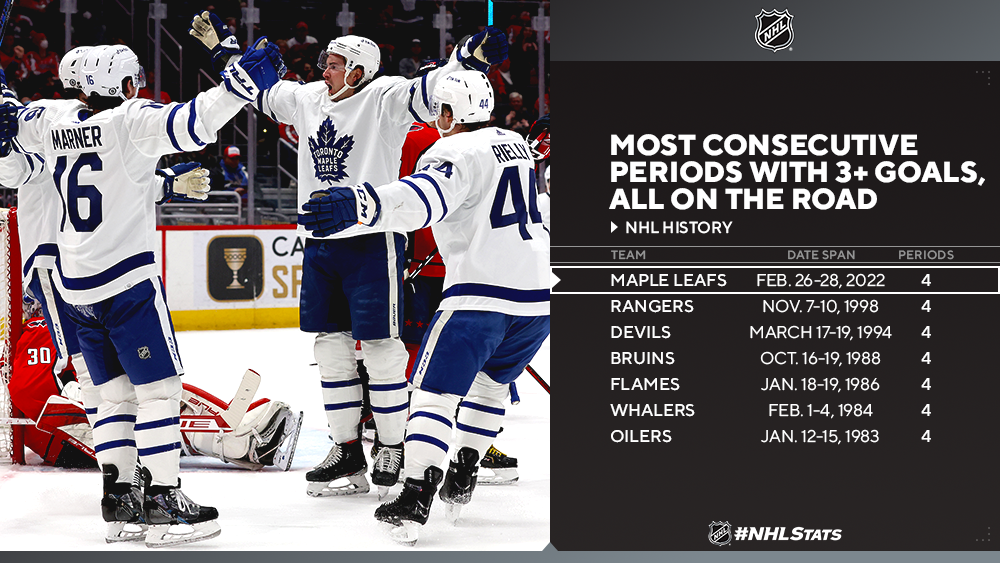 * Bunting (19-22—41 in 53 GP) owns a one-goal advantage over Nashville's Tanner Jeannot (18-14—32 in 53 GP w/ NSH) for the most among rookies in 2021-22, while teammate Auston Matthews (37-31—68 in 50 GP) leads all players this season in goals. Only one season in the NHL's expansion era (since 1967-68) has concluded with the League leaders in overall goals and rookie goals come from the same team: 1992-93 (Teemu Selanne: 76 G w/ WIN).

DeBRUSK'S NATURAL HAT TRICK HIGHLIGHTS #NHLSTATS: LIVE UPDATES
The Monday edition of #NHLStats: Live Updates was highlighted by Jake DeBrusk (3-1—4) and his first career hat trick, with two goals coming within the opening 65 seconds of the first and second periods. DeBrusk's three-goal performance also marked the second natural hat trick by a Bruins player this season, joining Patrice Bergeron (Nov. 4, 2021).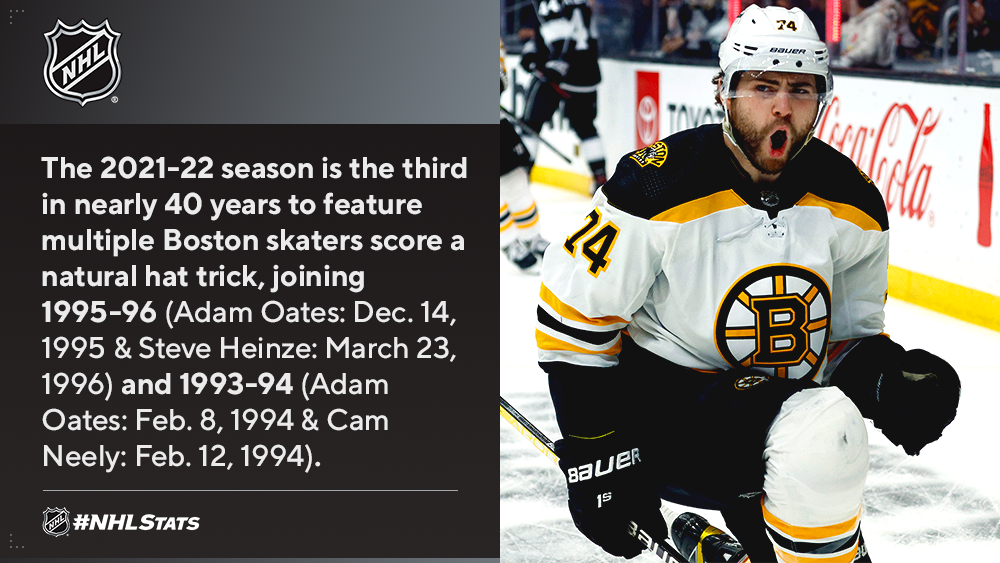 * DeBrusk also became the fourth player in Bruins history to score within the opening 65 seconds in each of the first two frames, joining David Pastrnak (Feb. 21, 2021), Bergeron (Jan. 16, 2016) and Don Marcotte (April 2, 1977).

BLACK HOCKEY HISTORY SPOTLIGHT: NEW JERSEY DEVILS AND LOS ANGELES KINGS
As a part of New Jersey's and Los Angeles' Black History Month game, each team wore themed warmup jerseys created in collaboration with defenseman P.K. Subban and Akil Thomas, respectively.

* New Jersey's crest highlights nine people including Claude Vilgrain, the first Black player for the Devils; Mark Fraser, the first Black player drafted by the Devils; Mike Grier, the first Black Devils coach; Kevin Weekes, the first Black goaltender for New Jersey; and Bryce Salvador, the first Black captain in franchise history.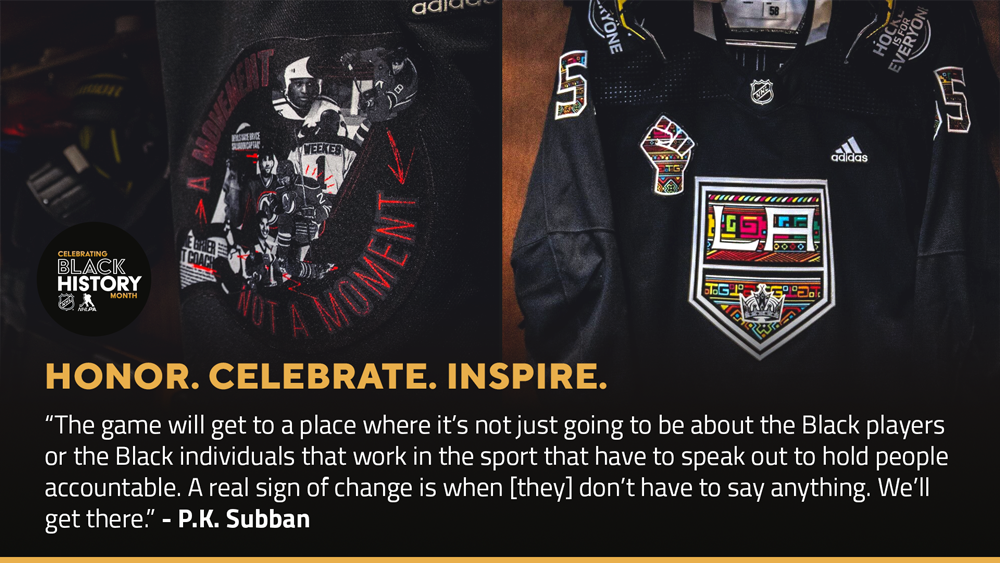 QUICK CLICKS

* National Hockey League Statement
* Auston Matthews, J.T. Miller and Steven Stamkos named the NHL's "Three Stars" for the week
* Heritage Classic Ice Plant truck arrives in Hamilton
* Best young U.S.-born player debated by NHL.com writers
* Bill Riley puck drop highlights Capitals Black History Night

JOHNSON SET FOR 1,000TH GAME AS AVALANCHE EYE WIN NO. 40
Jack Johnson (72-239—311 in 999 GP) is set to appear in his 1,000th NHL game when the League-leading Avalanche (39-10-4, 82 points) welcome the Islanders (20-21-8, 48 points) to Ball Arena. Johnson, who made his debut on March 29, 2007 as a member of the Kings, will become the 11th active defenseman to reach the milestone.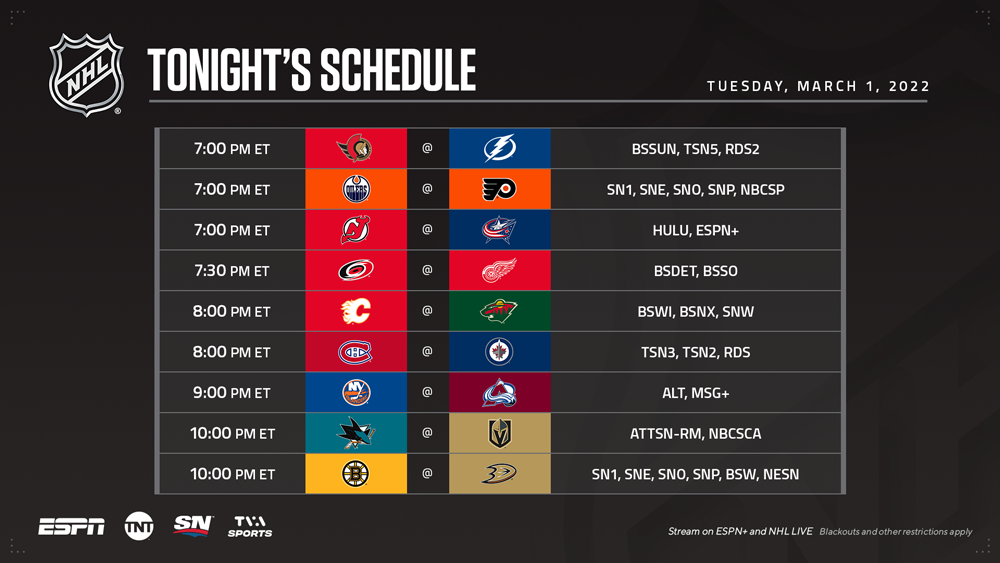 * Colorado (53 GP), which has overcome a deficit to win each of its previous two contests, sits one victory shy of 40 in 2021-22 and can tie the second-fewest games by a team to reach the benchmark in NHL history. Of the three previous instances that achieved the feat in 54 contests or fewer, one went on to capture the Stanley Cup (DET in 2007-08).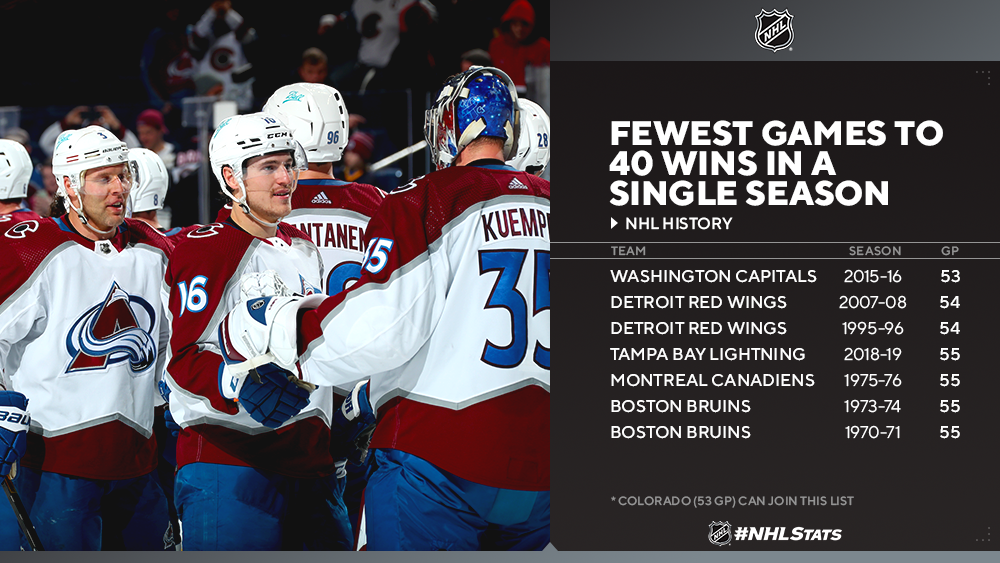 MILESTONE WINS ON THE HORIZON TUESDAY
Steve Yzerman (399) and Pete DeBoer (499) can collect milestone victories Tuesday when the Red Wings (23-24-6, 52 points) and Golden Knights (29-20-4, 62 points) host the Hurricanes (37-11-4, 78 points) and Sharks (24-23-6, 54 points), respectively.

* DeBoer owns a career record of 499-368-119 in 986 games. Among the NHL's active head coaches to win at least 500 contests, only three reached the benchmark prior to their 1,000th outing: Bruce Boudreau (837 GP), Todd McLellan (965 GP) and Peter Laviolette (970 GP).

* Yzerman, who owns the most assists in Red Wings history and sits second in goals and points to Gordie Howe, has gone 399-322-81 through his first 802 contests as an NHL general manager. The franchise icon has collected 59 victories with Detroit since taking over the role on April 19, 2019 and recorded 340 with Tampa Bay (May 25, 2010 – Sept. 10, 2018).
COURTESY NHLmedia.com