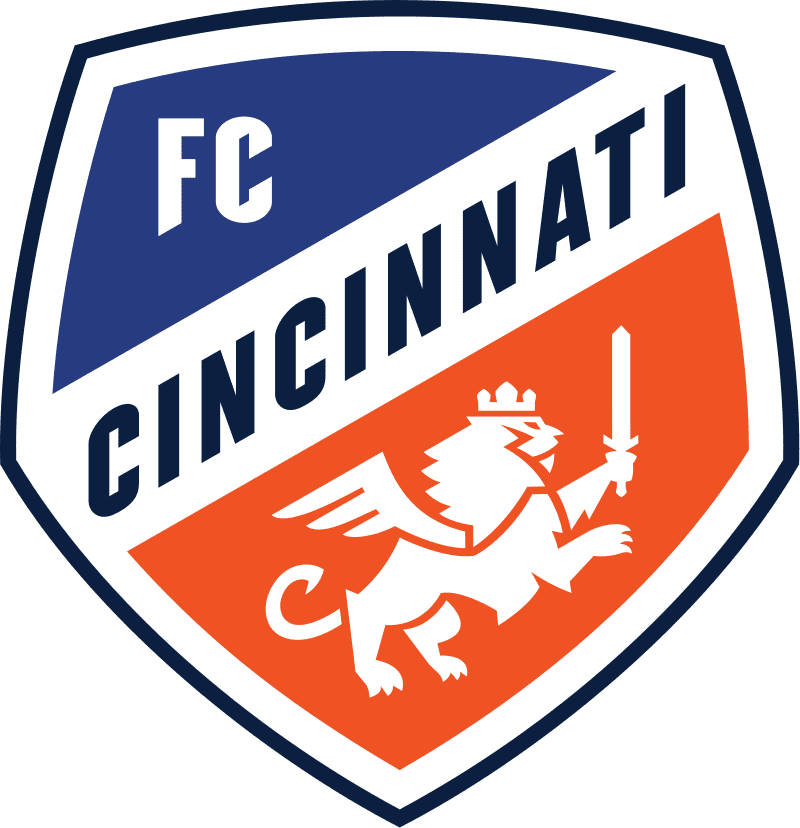 Saturday, Feb 26, 2022
FC Cincinnati fell in the season opener, 5-0, to hosts Austin FC Saturday night at Q2 Stadium.
The hosts scored first in the 2' off a failed FC Cincinnati clearance from a set piece. Austin's second goal also came via set piece in a second chance opportunity in the 14'. ATX scored before the half in the 43', and tallied goals in the 61' and in second half stoppage time via an FCC own goal.
FC CINCINNATI MATCH REPORT
FC Cincinnati at Austin FC
Date: February 26, 2022
Competition: MLS Regular Season
Venue: Q2 Stadium – Austin, Texas
Attendance: 20,738
Kickoff: 6:08 p.m. ET
Weather: 37 degrees, rain
Scoring Summary: 1-2-F
ATX 3-2-5
CIN 0-0-0
ATX – Cecilio Dominguez (Zan Kolmanic) 2', Alex Ring (Nick Lima) 14', Sebastian Driussi (Diego Fagundez) 43', Cecilio Dominguez (Sebastian Driussi, Dani Pereira) 61', Own Goal – Alec Kann 90+2'
CIN – None
GAME NOTES
Four of FC Cincinnati's Starting XI made their debut for FCC with the opening whistle (Alec Kann, Ray Gaddis, Junior Moreno, Nick Markanich).
Markanich is the first SuperDraft pick to start in his first game with FC Cincinnati … he's the second non-Generation adidas selection to appear in a game (Tommy McCabe) for the Orange and Blue.
Luciano Acosta wore the captain's armband for the opener … he led the team in 28 appearances last season as captain, and his 29th overall time captaining the Orange and Blue is second-most in club history (Kendall Waston – 41).
Allan Cruz became the first FCC player in club history to appear in 60 games across all competitions.
Harrison Robledo, signed as a Homegrown Player on Friday, made his debut as a second half substitute. He is the second Homegrown Player to appear in MLS action for FCC (Arquimides Ordonez).
Robledo and Dominique Badji became the fifth and sixth FCC players to make their debuts with the club Saturday.
The own goal accessed to Alec Kann was the third own goal against FCC in club history.
Lineups:
CIN: Alec Kann, Ronald Matarrita (Haris Medunjanin 85'), Tyler Blackett, Geoff Cameron (Alvas Powell 70'), Ray Gaddis, Allan Cruz (Harrison Robledo 61'), Junior Moreno (Zico Bailey 70'), Yuya Kubo, Luciano Acosta (C), Nick Markanich (Dominique Badji 61'), Brandon Vazquez
Substitutes not used: Isaac Atanga, Brenner, Nick Hagglund, Kenneth Vermeer
Head Coach: Pat Noonan
ATX: Brad Stuver, Kipp Keller (Ruben Gabrielsen 65'), Julio Cascante, Zan Kolmanic, Nick Lima, Dani Pereira, Sebastian Driussi (Felipe Martins 85'), Alex Ring (C) (Jhojan Valencia 71'), Diego Fagundez, Cecilio Dominguez (Ethan Finlay 65'), Maxi Urruti
Substitutes not used: Jon Gallagher, Rodney Redes, Hector Jimenez, Moussa Djitte, Andrew Tarbell
Head coach: Josh Wolff
Stats Summary: CIN / ATX
Shots: 13 / 18
Shots on Goal: 5 / 2
Saves: 1 / 2
Corner Kicks: 5 / 3
Fouls: 6 / 16
Offside: 1 / 0
Possession: 43.3 / 56.7
Misconduct Summary:
CIN – Allan Cruz (caution) 12'
ATX – Kipp Keller (caution) 33'
ATX – Jhojan Valencia (caution) 74'
CIN – Yuya Kubo (caution) 76'
Officials: 
Referee: Ismail Elfath
Ast. Referees: Corey Parker, Kyle Atkins
Fourth official: Elton Garcia
VAR: Guido Gonzales Jr.
AVAR: Cory Richardson
POSTGAME QUOTES
FC Cincinnati Head Coach Pat Noonan
Opening statement on the match
"Certainly disappointing. We lost the key moments throughout the game and I think the scoreline is indicative of that. I thought we put ourselves in a big hole with conceding early on the set piece and then they get the second on the second phase of set piece, those are momentum killers. Then obviously going into half, at that point you [have to] get into half 2-nil, and then we have a mistake that leads to the third goal. Again, preventable but they punished us on all of our mistakes.
"I was pleased with our chance creation, I thought we could have scored multiple goals in the game to kind of get us back into it get some momentum, and we just weren't able to convert on any of them. So I can't really fault the effort, but certainly we can, you know, talk about the execution and that wasn't good enough on the night."
On the trend of conceding early goals from Preseason
"Well, it's certainly been an issue because we've conceded, you know, three games early on. This particular one, I think it's easy to understand how to prevent it. It's not something that you need to really discuss that in detail, it was a mis-clearance and, and then you lose a runner on the back post. So, it's a disappointing way to start the game, you just have to be more alert and execute better early on in the game. And so that helps you find a flow and get into a rhythm. And when you're conceding like that, then it's chasing the game on the road against a good team that that possesses the ball well, and that's a tough position to put yourself in."
On the team's connections and chemistry on the pitch
"I think at times, you can see a lack of cohesion. But I think in how we prepared in the things that we talked about to try to gain an advantage in our pressure, at times it was very good. And it allowed us to win balls and create some good opportunities going forward. And again, we didn't convert in any of those moments. But there was also some times where their rotations especially when they're working down their left that allowed them to get out of pressure where we didn't keep it on one side. And they were able to, to find you know, [Nick] Lima as the outlet, at times, you know, [Diego] Fagundez popping off the backline. In those moments, they brought [Alex] Ring inside and attract Allen [Cruz] centrally and they found that outlet and that caused us problems, I think that was the biggest concern in the first half with them breaking up pressure."
"So, it's something that we talked about, and I thought we did a better job of in the second half. But there was also just a lot of one v one moments where, you know, we either lost the one v. one battle, or when we did win the ball, our next touch or next pass, it was a turnover. And it immediately led to transition moments where as we were starting to get into our attacking shape. You know, it was careless turnovers that really put us into some tough spots, and they transition well with numbers to put us under pressure."
On Junior Moreno
"Well, Junior [Moreno] certainly wasn't the problem tonight. I applaud his effort and his commitment to work out there, especially when things weren't going our way. You can see his quality and connecting the right passes, you can see his understanding of rotations and when to release, when to stay. It was a lot for him to just come in and be able to step right in and have all the answers. So I was just really pleased with the work that he put in and in a difficult situation to try to help the team and again, he wasn't the problem tonight."
"The reason he's here is because of his ability to give us something a little bit different in the in the middle of the field. He reads the game well and can close the ball in ways that we're asking out of that position. He's a good pro, he has a high soccer IQ, and it's just a matter of having him for a longer period of time for it to look a little bit more cohesive. For him individually and for us as a team."
On the message to the team and fans
"The message to the team is we're not all of a sudden a really bad team because of the scoreline. The score hurts, there's no question about that, and that should bother us and that should hopefully motivate us going into our home opener. But we'll take a look at this in a way where we see the chance creation and the ability for us to go forward, but how do we clean up little details to not concede and make sure that they understand when, as we prepare for D.C. and as we step out on the field in front of our home fans, make sure that they understand that what they saw tonight isn't going to be indicative of what we're going to be moving forward and I think you know, we'll respond the right way."
**FC Cincinnati forward Nick Markanich
**
On making his debut
"It was not the result we were looking for but I mean I'm happy to make my professional debut and start my first game and get that under my belt. I thought there were some positives to take away from it, but overall I'm happy to play in my first professional game."
On takeaways from the result
"You just look over the film and get back and look forward to playing in the home opener next game and getting a result there. And putting this past us for future games."
**FC Cincinnati midfielder Yuya Kubo
**
On the result
"We didn't get the result … next game is the home opener. I think we should play well and we have to win next game."
On the team's chances
"First goal was a set piece … still we had some opportunities, but we didn't make it. If we make [a few of the opportunities] maybe it's a new game. Sometimes it happens and we need to look forward."
FC Cincinnati's 2022 schedule can be viewed, HERE. FCC's 2022 home slate begins at TQL Stadium when the club hosts D.C. United in the home opener on March 5th. Fans can get the best tickets at the best price to the best matches all season long, including the home opener, by purchasing season tickets at fccincinnati.com/tickets or by calling 513-977-KICK, that's 513-977-5425.
Fans can also purchase half-season ticket packages and single match tickets to any of FC Cincinnati's 17 home games are available now.
FC Cincinnati begin their fourth season of MLS competition in 2022, and their second playing at TQL Stadium. For up-to-the-minute information about FC Cincinnati, visit the team's official website at fccincinnati.com, or follow the team on Twitter, Instagram and Facebook at @FCCincinnati. Additionally, fans are encouraged to download the team's official mobile app on the Apple App Store or Google Play for instant access to mobile tickets, team content and match notifications.
COURTESY FC CINCINNATI COMMUNICATIONS