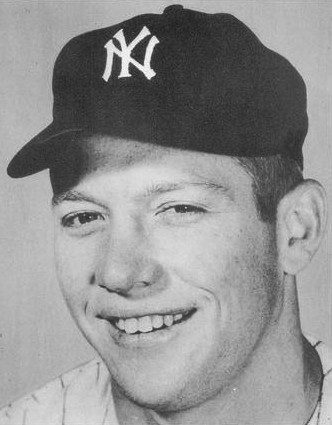 FROM WIKIPEDIA COMMONS
Mickey Charles Mantle (October 20, 1931 – August 13, 1995), nicknamed The Commerce Comet and The Mick, was an American professional baseball player. Mantle played his entire Major League Baseball (MLB) career (1951–1968) with the New York Yankees as a center fielder, right fielder, and first baseman. Mantle was one of the best players and sluggers and is regarded by many as the greatest switch hitter in baseball history. Mantle was inducted into the Baseball Hall of Fame in 1974 and was elected to the Major League Baseball All-Century Team in 1999.
Mantle was one of the greatest offensive threats of any center fielder in baseball history. He has the second highest career OPS+ among center fielders, (behind Mike Trout) and he had the highest stolen base percentage in history at the time of his retirement. In addition, compared to the other four center fielders on the All-Century team, he had the lowest career rate of grounding into double plays, and he had the highest World Series on-base percentage and World Series slugging percentage. He also had an excellent .984 fielding percentage when playing center field. Mantle was able to hit for both average and power, especially tape measure home runs, a term that had its origin in a play-by-play caller reacting to one of Mantle's 1953 home runs. He hit 536 MLB career home runs, batted .300 or more ten times, and is the career leader (tied with Jim Thome) in walk-off home runs, with 13, 12 in the regular season and one in the postseason. He is the only player in history to hit 150 home runs from both sides of the plate.
Mantle is 16th all-time in home runs per at bats. He is 17th in on-base percentage. He was safe three out of four times he attempted to steal a base. He won the MVP Award three times, came in second three times, and came within nine votes of winning five times.
Mantle won the Triple Crown in 1956, when he led the major leagues in batting average (.353), home runs (52), and runs batted in (RBI) (130). He later wrote a book (My Favorite Summer 1956) about his best year in baseball. He was an All-Star for 16 seasons, playing in 16 of the 20 All-Star Games that were played during his career. He was an American League (AL) Most Valuable Player (MVP) three times and a Gold Glove winner once. Mantle appeared in 12 World Series including seven championships, and he holds World Series records for the most home runs (18), RBIs (40), extra-base hits (26), runs (42), walks (43), and total bases (123).
Despite his accolades on the field, Mantle's private life was plagued with tumult and tragedy, including a well-publicized bout with alcoholism that led to his death from liver cancer.
TODAY'S ALMANAC
To remind people of the approach of Lent and Easter, the three Sundays immediately preceding Shrove Tuesday were observed as Septuagesima, Sexagesima, and Quinquagesima — Latin for 70th, 60th, and 50th, respectively, indicating roughly the number of days left from each of those Sundays to Easter.
Question of the Day
During a discussion about low temperatures in Minnesota, a friend stated that at minus 50 degrees Fahrenheit and below, sulfur-headed matches will not light. This sounds preposterous, but is it true?We didn't know the answer to your question, so we called one of the biggest manufacturers of matches in the country, and they said that it's not true. The temperature has to be much colder than that for matches not to light. By then, your fingers would freeze and you wouldn't be able to hold the match anyway, so it wouldn't matter.
Advice of the Day
A cure for all sorrows is conversation.
Home Hint of the Day
Before pouring paint into a roller pan, put a plastic bag over the pan. When the job is finished, just throw away the bag; the pan needs no cleaning.
Word of the Day
Furlong1 furlong=1/8 mile=660 feet=220 yards
Puzzle of the Day
What word is that which by having a single letter transposed becomes its own opposite?United (untied)
Born
Henry Wadsworth Longfellow (poet) – 1807
John Steinbeck (novelist) – 1902
Elizabeth Taylor (actress) – 1932
Howard Hesseman (actor) – 1940
Donal Logue (actor) – 1966
Chelsea Clinton (daughter of U.S. President Bill Clinton and Senator Hillary Clinton) – 1980
Josh Groban (singer) – 1981
Died
Lillian Gish (actress) – 1993
Spike Milligan (comedian) – 2002
Fred Rogers (host of the PBS children's show, Mr. Rogers' Neighborhood) – 2003
William F. Buckley Jr. (writer & founder of National Review) – 2008
Frank W. Buckles (last surviving U.S. WW I veteran; he was 110 years old) – 2011
Leonard Nimoy (actor) – 2015
Events
During the American Revolutionary War, Loyalists were defeated in the Battle of Moores Creek Bridge, North Carolina– 1776
First Mardi Gras celebration in New Orleans– 1827
Saccharin was discovered– 1879
22nd Constitutional Amendment, enforcing term limits, ratified. (Limits U.S. presidents to two terms.)– 1951
The 22nd Amendment to the United States Constitution is ratified, stipulating a maximum of two consecutive presidential terms– 1951
Edwin Land granted patent for self-developing film– 1951
Mickey Mantle signed a $100,000 contract with the NY Yankees. His new salary tied him with Joe DiMaggio as the most highly paid Yankee players of their time.– 1963
Italian government asked public for ideas on how to save the leaning Tower of Pisa– 1964
16-year-old Tiger Woods, youngest PGA golfer in 35 years, teed off in L.A. Open– 1992
A 5.3-magnitude earthquake struck about 125 miles north of London, England– 2008
An 8.8-magnitude earthquake struck central Chile– 2010
Nine-foot tall bronze sculpture of civil rights activist Rosa Parks unveiled in Statuary Hall in the U.S. Capitol Building, Washington, D.C.– 2013
Weather
Amenia, North Dakota, had its first above-zero reading in 47 days.– 1936
61-mph winds, Nantucket, Mass.– 1952
Nine and a half inches of snow fell at Indianapolis, Indiana– 1984
103 degrees Fahrenheit, Laredo, Texas– 2011
COURTESY www.almanac.com