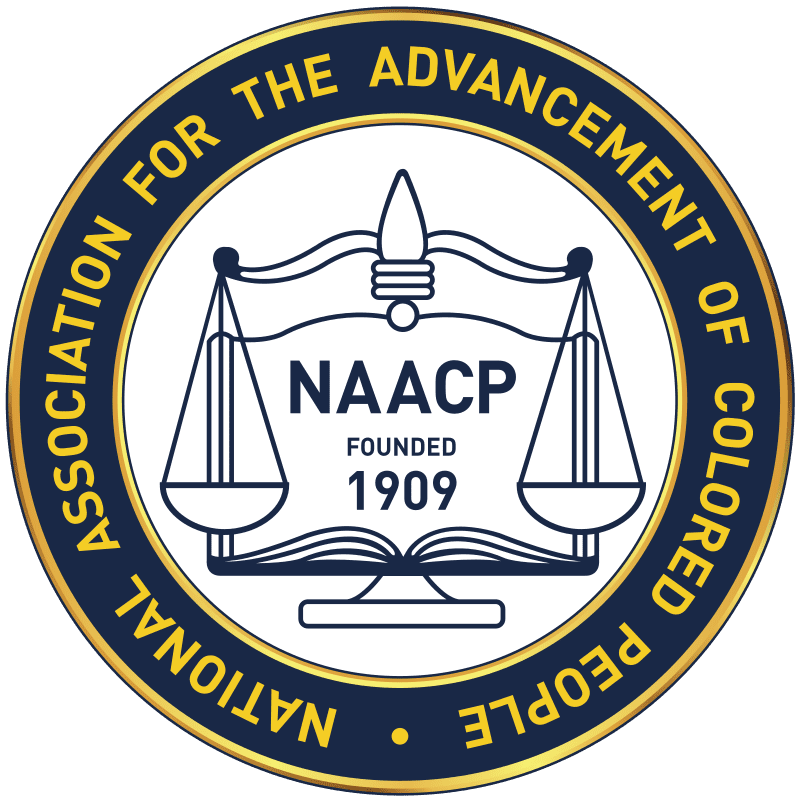 FROM WIKIPEDIA COMMONS
The National Association for the Advancement of Colored People (NAACP) is a civil rights organization in the United States, formed in 1909 as an interracial endeavor to advance justice for African Americans by a group including W. E. B. Du Bois, Mary White Ovington, Moorfield Storey and Ida B. Wells.[3][4] And leaders of the organization include Thurgood Marshall and Roy Wilkins.
Its mission in the 21st century is "to ensure the political, educational, social, and economic equality of rights of all persons and to eliminate race-based discrimination". National NAACP initiatives include political lobbying, publicity efforts and litigation strategies developed by its legal team. The group enlarged its mission in the late 20th century by considering issues such as police misconduct, the status of black foreign refugees and questions of economic development. Its name, retained in accordance with tradition, uses the once common term colored people, referring to those with some African ancestry.
The NAACP bestows annual awards on African Americans in two categories: Image Awards are for achievement in the arts and entertainment, and Spingarn Medals are for outstanding achievement of any kind. Its headquarters is in Baltimore, Maryland. On June 29, 2020 Washington, D.C., radio station WTOP reported that the NAACP intends to relocate its national headquarters from its longtime home in Baltimore, Maryland, to the Franklin D. Reeves Center of Municipal Affairs, a building owned by the District of Columbia located on U and 14th Streets in Northwest Washington, D.C. Derrick Johnson, the NAACP's president and CEO, emphasized that the organization will be better able to engage in and influence change in D.C. than in Baltimore.
TODAY'S ALMANAC
Saturday, February 12, 2022
The 16th president of the United States was born on the morning of Sunday, February 12, 1809, in a one-room, 16×18-foot, log cabin with a dirt floor. Called Sinking Spring Farm, the land was situated near Hodgenville, Kentucky. Abe's father, Thomas, was a farmer and carpenter, and his mother, Nancy, was a seamstress. His sister, Sarah, was 2 at the time. Abraham was named after his paternal grandfather. Lincoln pursued a legal career before turning to a political one that eventually led to the U.S. presidency. In addition to his more famous achievements, Lincoln is the only U.S. president to have received a U.S. patent, for something he described in this way: "A new and improved manner of combining adjustable buoyant air chambers with a steamboat or other vessel for the purpose of enabling their draught of water to be readily lessened to enable them to pass over bars, or through shallow water, without discharging their cargoes." If you can't get to Washington, D.C., honor Lincoln by visiting the Lincoln Memorial, part of our National Park System.
Question of the Day
How can I loosen glued chair joints that are still tight so that I can reglue other joints that have loosened?If the joints are stubborn, lay the chair on its side and brush the joints with warm vinegar. Or put the vinegar in a small, clean oilcan and apply it to just the right spot. It should dissolve the glue without damaging the finish. (Tip: Yellow carpenter's glue is best for regluing a chair.)
Advice of the Day
Public opinion in this country is everything. —Abraham Lincoln
Home Hint of the Day
If you're having a tough time pushing wood over the metal of your machines, rub the metal machine surface with beeswax. It will lubricate the sticky area and remove some of the wood resins that are causing the binding.
Word of the Day
Stratocumulus cloudRounded cloud mass that forms on top of a layer.
Puzzle of the Day
When may a chair be said to dislike you?When it cannot bear you.
Born
Louisa Catherine Johnson Adams (U.S. First Lady) – 1775
Charles Darwin (naturalist) – 1809
Abraham Lincoln (16th U.S. president) – 1809
Lorne Greene (actor) – 1915
Josh Brolin (actor) – 1968
Tara Strong (voice of Bubbles on The Powerpuff Girls) – 1973
Jesse Spencer (actor) – 1979
Christina Ricci (actress) – 1980
Died
Ethan Allen (patriot) – 1789
The Earl of Dufferin (Canadian Governor General 1872 – 1878) – 1902
Sal Mineo (actor) – 1976
Eubie Blake (jazz musician) – 1983
Charles Schulz (Peanuts cartoonist) – 2000
David Groh (actor) – 2008
David Kelly (actor) – 2012
Sid Caesar (comedian & actor) – 2014
Events
Lady Jane Grey, a rival for the English throne, was beheaded under the rule of Queen Mary I– 1554
James Oglethorpe founded Savannah, Georgia– 1733
Gala carnival at first U.S. skating rink, Madison Square Garden, New York City– 1879
National Association for the Advancement of Colored People (NAACP) formed– 1909
Construction began on the Lincoln Memorial in Washington, D.C.– 1915
The Scream painting stolen, Oslo, Norway– 1994
17th Olympic Winter Games opened in Lillehammer, Norway– 1994
Artists Christo and Jeanne-Claude opened The Gates, Project For Central Park 1979-2005 in NYC's Central Park– 2005
For the first time, a beagle won 'Best in Show' at the Westminster Kennel Club– 2008
A magnitude 6.6 earthquake shook southern Mexico– 2008
Figure skater Mirai Nagasu became the first American woman (and third woman overall) to land a triple axel at the Winter Olympic Games (which took place at PyeongChang, South Korea, that year).– 2018
Weather
Forty-seven degrees below zero F, Camp Clarke, Nebraska– 1899
Fort Myers, Florida, had a trace of snow– 1977
A Northeaster left 27 inches of snow in Central Park, New York– 2006
COURTESY www.almanac.com