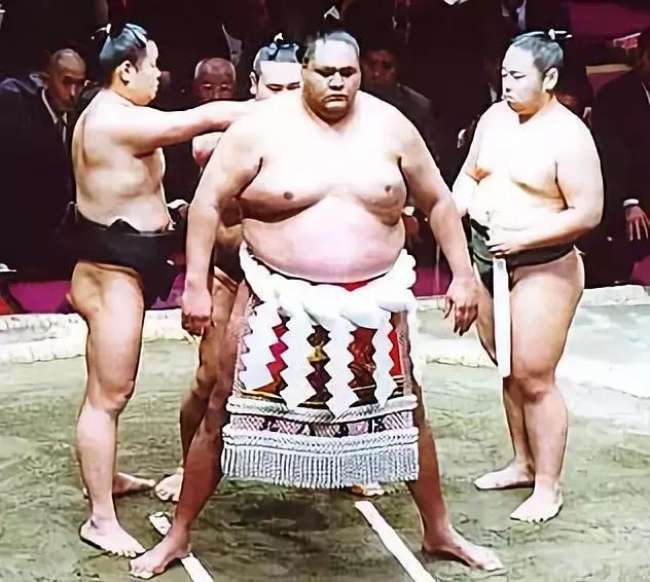 FROM WIKIPEDIA COMMONS
Akebono Tarō (Japanese: 曙 太郎, Hepburn: Akebono Tarō, born Chadwick Haheo Rowan; 8 May 1969) is an American-born Japanese former professional sumo wrestler and professional wrestler from Waimānalo, Hawaii. Joining sumo in Japan in 1988, he was trained by pioneering Hawaiian wrestler Takamiyama and rose swiftly up the rankings, reaching the top division in 1990. After two consecutive yusho or tournament championships in November 1992 and January 1993 he made history by becoming the first non-Japanese-born wrestler ever to reach yokozuna, the highest rank in sumo.
One of the tallest and heaviest wrestlers ever, Akebono's rivalry with the young Japanese hopefuls, Takanohana and Wakanohana, was a big factor in the increased popularity of sumo at tournament venues and on TV in the early 1990s. During his eight years at the yokozuna rank, Akebono won a further eight tournament championships, for a career total of eleven, and was a runner-up on thirteen other occasions, despite suffering several serious injuries. Although his rival yokozuna Takanohana won more tournaments in this period, their individual head-to-heads remained very close.
Akebono became a Japanese citizen in 1996, and after retiring in 2001 he worked as a coach at Azumazeki stable before leaving the Sumo Association in 2003. After an unsuccessful period as a K-1 fighter, he became a professional wrestler. In All Japan Pro Wrestling (AJPW) he has been a two-time Triple Crown Heavyweight Champion, two-time World Tag Team Champion, and two-time All Asia Tag Team Champion, as well as winning the 2015 Champion Carnival. In 2017, as a result of health problems, he became inactive from professional wrestling.
TODAY'S ALMANAC
Commemorates the liberation of the Auschwitz-Birkenau concentration camp by Soviet troops on January 27th, 1945.
Question of the Day
What does the military abbreviation "SOP" stand for?In military parlance, SOP" stands for standing operating procedure, to indicate a set of instructions that lends itself to a definite or standardized procedure without loss of effectiveness. It is assumed something is SOP unless otherwise ordered."
Advice of the Day
Potatoes, tomatoes, and hot spices are foods for fidelity.
Home Hint of the Day
Don't store or place candles near excessive heat, such as near a sunny window. If the heat bends them, they'll burn too fast and drip more than usual.
Word of the Day
Mean temperatureThe average of the maximum and the minimum temperatures for a particular period; the mean equals the sum of the max and min divided by two.
Puzzle of the Day
When will there be but 24 letters in the alphabet?When U and I are 1.
Born
Wolfgang Amadeus Mozart (composer) – 1756
Lewis Carroll (author) – 1832
Samuel Gompers (labor union official) – 1850
Jerome Kern (composer) – 1885
Hyman George Rickover (U.S. naval officer) – 1900
Donna Reed (actress) – 1921
Sabu Dastagir (actor) – 1924
Ingrid Thulin (actress) – 1929
Troy Donahue (actor) – 1936
Beatrice Tinsley (astronomer) – 1941
John Roberts (Chief Justice of the U.S. Supreme Court) – 1955
Bridget Fonda (actress) – 1964
Patton Oswalt (actor) – 1969
Died
John James Audubon (ornithologist) – 1851
Giuseppe Verdi (composer) – 1901
Thomas Crapper (inventor) – 1910
Lilli Palmer (actress) – 1986
Claude Atkins (actor) – 1994
Milt Bernhart (big band trombonist) – 2004
Jack Paar (humorist who turned late-night television into a national institution when he was host of The Tonight Show from 1957 to 1962) – 2004
George Doc Abraham (wisecracking gardening guru who teamed up with his wife, Katy, to host one of the longest-running shows on American radio) – 2005
Nick McDonald (policeman who arrested Lee Harvey Oswald at a Dallas movie theater after President John F. Kennedy was assassinated in 1963) – 2005
Tige Andrews (actor) – 2007
John Updike (Pulitzer Prize-winning author) – 2009
J.D. Salinger (author) – 2010
Events
Thomas Edison granted patent for incandescent electric lamp– 1880
National Geographic Society incorporated– 1888
The first public demonstration of a true TV was given in London by John Baird– 1926
Honeymoon Bridge over Niagara Falls collapsed due to ice jam– 1938
First U.S. air attack on Germany staged by the Eighth Air Force on the docks of Wilhelmshaven (WW II)– 1943
German guards closed the Auschwitz-Birkenau concentration camp as the Soviet army approached, moving as many prisoners as possible to Western camps– 1945
Last performance of Peter Pan at New York City's Imperial Theater– 1951
Georgia legislature repealed the state's public school segregation laws– 1961
Three astronauts died in a flash fire at Cape Kennedy, Florida, while training for the first launch of the Apollo 1 spacecraft– 1967
Representatives from over 60 nations, including the U.S. and USSR, signed the Outer Space Treaty– 1967
Vietnam War Cease-Fire signed in Paris, ending U.S. combat role in Vietnam– 1973
Laverne and Shirley made its television debut– 1976
Michael Jackson's hair caught fire during filming of a commercial– 1984
Carl Lewis made a long jump of 28 feet 10.06 inches, in New York City– 1984
American sumo wrestler Chad Rowan was awarded the Japanese sport's highest rank, becoming the first foreign Yokozuna– 1993
National Recording Registry's first 50 selections announced– 2003
Western Union sent its last telegram– 2006
Weather
Great 48-hour snowstorm dropped 24 inches on New York City– 1805
Florida had 3-day freeze, $10 million in crop loss– 1940
Chicago, Illinois, was covered with 23 inches of snow– 1967
Frigid arctic air in place over New England and New York caused record-breaking temperatures. Burlington, Vermont, broke its old record daily low by 9 degrees, with a reading of -29F, and Caribou, Maine, set a record low for the third day in a row, with a temperature of -23F.– 1994
COURTESY www.almanac.com