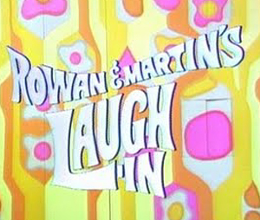 COURTESY WIKIPEDIA COMMONS
Rowan & Martin's Laugh-In (often simply referred to as Laugh-In) is an American sketch comedy television program that ran for 140 episodes from January 22, 1968, to March 12, 1973, on the NBC television network, hosted by comedians Dan Rowan and Dick Martin. It originally aired as a one-time special on September 9, 1967, and was such a success that it was brought back as a series, replacing The Man from U.N.C.L.E. on Mondays at 8 pm (ET). It quickly became the most popular television show in the United States.
The title of the show was a play on the 1960s hippie culture "love-ins" or the counterculture "be-ins", terms that were derived from "sit-ins" that were common in protests associated with civil rights and antiwar demonstrations of the time. In 2002, Rowan & Martin's Laugh-In was ranked number 42 on TV Guide's 50 Greatest TV Shows of All Time.[1]
Laugh-In had its roots in the humor of vaudeville and burlesque, but its most direct influences were Olsen and Johnson's comedies (such as the free-form Broadway revue Hellzapoppin'), the innovative television works of Ernie Kovacs, and the topical satire of That Was The Week That Was. The show was characterized by a rapid-fire series of gags and sketches, many of which were politically charged or contained sexual innuendo. The co-hosts continued the exasperated straight man (Rowan) and "dumb guy" (Martin) act which they had established as nightclub comics.[2][page needed] The show featured Gary Owens as the on-screen announcer and permanent castmember Ruth Buzzi; longer-tenured cast members included Judy Carne, Henry Gibson, Goldie Hawn, Arte Johnson, Jo Anne Worley, Alan Sues, Lily Tomlin, Johnny Brown, Dennis Allen and Richard Dawson.
TODAY'S ALMANAC
Question of the Day
I have some old vegetable seeds I'm not sure will still grow. How can I test them?Arrange a small group of seeds on a double layer of paper towels. Mark the top of the arrangement with a stick pin and then draw a diagram of which seeds you placed where, if you are testing more than one type. Top the seeds with a double layer of moistened paper towels and cover the whole thing with plastic wrap or a plastic bag. After the seeds germinate, lift the towels and record on your diagram how well each seed type sprouted.
Advice of the Day
Gently rub a small, moistened, cloth bag of iodized salt on your windshield to prevent the ice and snow from sticking.
Home Hint of the Day
Beeswax candles tend to drip less than paraffin candles, won't smoke, and hold their shape well during hot spells. A 12-inch beeswax candle will burn for 10 to 12 hours — several hours longer than a paraffin candle of the same size.
Word of the Day
Horse latitudesEither of two belts of latitudes located over the oceans at about 30° to 35° north and south, having high barometric pressure, calms, and light, changeable winds.
Puzzle of the Day
Why is coffee like an ax with a dull edge?It must be ground before being used.
Born
Ivan III (Ivan The Great) – 1440
Sir Francis Bacon (writer, philosopher) – 1561
Richard Upjohn (architect) – 1802
August Strindberg (playwright) – 1849
D. W. Griffith (film director) – 1875
Ann Sothern (actress) – 1909
U Thant (United Nations Secretary General) – 1909
Sam Cooke (singer) – 1931
Piper Laurie (actress) – 1932
Bill Bixby (actor & director) – 1934
Joseph Wambaugh (writer) – 1937
Steve Perry (singer) – 1949
Linda Blair (actress) – 1959
Diane Lane (actress) – 1965
Balthazar Getty (actor) – 1975
Christopher Masterson (actor) – 1980
Beverley Mitchell (actress) – 1981
Died
Queen Victoria (Great Britain, died after the longest reign of any British monarch and was succeeded by her son, Edward VII) – 1901
Lyndon B. Johnson (36th U.S. president) – 1973
Telly Savalas (actor) – 1994
Rose Fitzgerald Kennedy (matriarch of the Kennedy family) – 1995
Stanley Marcus (chairman of department store Neiman-Marcus) – 2002
Jack Shea (gold medal-winning speedskater and patriarch of family of Olympic finalists, including grandson who won gold medal at 2002 games) – 2002
Ann Miller (dancer & actress) – 2004
Patsy Rowlands (actress) – 2005
Heath Ledger (actor) – 2008
Jean Simmons (English actress who later also became an American citizen) – 2010
James Mitchell (actor & dancer) – 2010
Hank Aaron (baseball player) – 2021
Events
Uranium atom was first split by cyclotron– 1939
Rowan & Martin's Laugh-In debuted on TV– 1968
George Foreman knocks out Joe Frazier for world heavyweight boxing title– 1973
Macintosh computer commercial ran during Super Bowl XVIII– 1984
Politician R. Budd Dwyer committed suicide on national television– 1987
Roberta Bondar became first Canadian woman in space– 1992
Madeleine Albright became the first female secretary of state after confirmation by the U.S. Senate– 1997
Weather
In Spearfish, South Dakota, the temperature rose from -4F to 45F in 2 minutes, due to chinook– 1943
Meteorologists said that 75 percent of North America was covered by snow– 1982
Mountain Lake, Virginia, recorded a low temperature of -30 degrees F– 1985
Snow fell in Jordan– 2008
COURTESY www.almanac.com