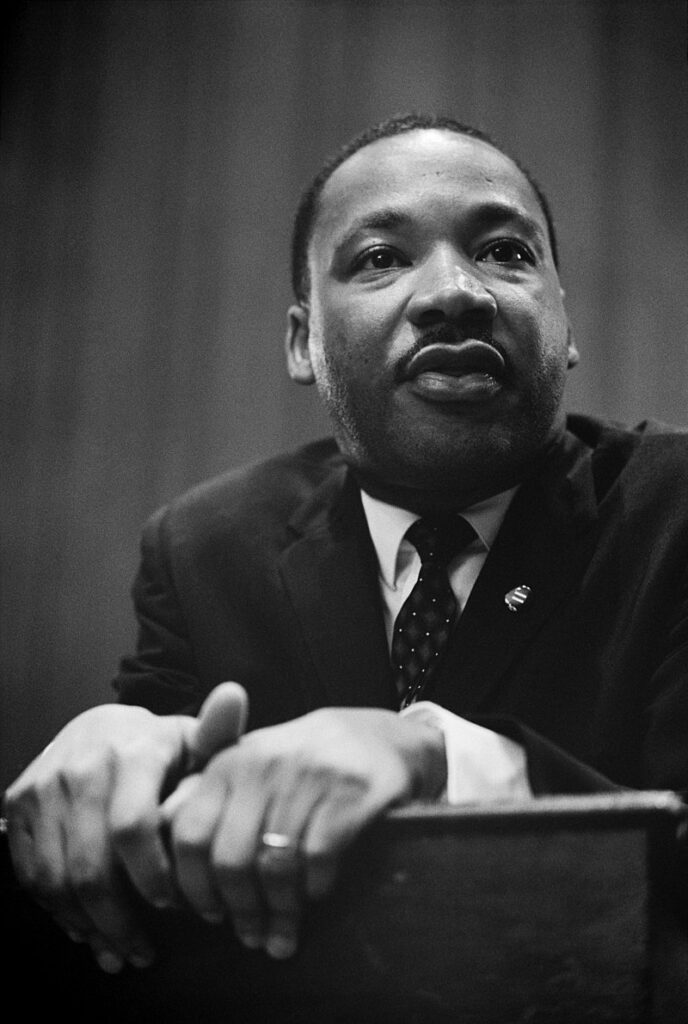 FROM WIKIPEDIA COMMONS
Martin Luther King Jr. (born Michael King Jr.; January 15, 1929 – April 4, 1968) was an American Baptist minister and activist who became the most visible spokesman and leader in the American civil rights movement from 1955 until his assassination in 1968. Renamed after German reformer Martin Luther, King advanced civil rights through nonviolence and civil disobedience, inspired by his Christian beliefs and the nonviolent activism of Mahatma Gandhi. He was the son of early civil rights activist and minister Martin Luther King Sr.
King participated in and led marches for blacks' right to vote, desegregation, labor rights, and other basic civil rights. King led the 1955 Montgomery bus boycott and later became the first president of the Southern Christian Leadership Conference (SCLC). As president of the SCLC, he led the unsuccessful Albany Movement in Albany, Georgia, and helped organize some of the nonviolent 1963 protests in Birmingham, Alabama. King helped organize the 1963 March on Washington, where he delivered his "I Have a Dream" speech on the steps of the Lincoln Memorial.
The SCLC put into practice the tactics of nonviolent protest with some success by strategically choosing the methods and places in which protests were carried out. There were several dramatic stand-offs with segregationist authorities, who sometimes turned violent. Federal Bureau of Investigation (FBI) Director J. Edgar Hoover considered King a radical and made him an object of the FBI's COINTELPRO from 1963, forward. FBI agents investigated him for possible communist ties, recorded his extramarital affairs and reported on them to government officials, and, in 1964, mailed King a threatening anonymous letter, which he interpreted as an attempt to make him commit suicide.
On October 14, 1964, King won the Nobel Peace Prize for combating racial inequality through nonviolent resistance. In 1965, he helped organize two of the three Selma to Montgomery marches. In his final years, he expanded his focus to include opposition towards poverty, capitalism, and the Vietnam War. In 1968, King was planning a national occupation of Washington, D.C., to be called the Poor People's Campaign, when he was assassinated on April 4 in Memphis, Tennessee. His death was followed by riots in many U.S. cities. Allegations that James Earl Ray, the man convicted of killing King, had been framed or acted in concert with government agents persisted for decades after the shooting. King was posthumously awarded the Presidential Medal of Freedom in 1977 and the Congressional Gold Medal in 2003. Martin Luther King Jr. Day was established as a holiday in cities and states throughout the United States beginning in 1971; the holiday was enacted at the federal level by legislation signed by President Ronald Reagan in 1986. Hundreds of streets in the U.S. have been renamed in his honor, and the most populous county in Washington State was rededicated for him. The Martin Luther King Jr. Memorial on the National Mall in Washington, D.C., was dedicated in 2011.
Activism and organizational leadership
Southern Christian Leadership Conference
In 1957, King, Ralph Abernathy, Fred Shuttlesworth, Joseph Lowery, and other civil rights activists founded the Southern Christian Leadership Conference (SCLC). The group was created to harness the moral authority and organizing power of black churches to conduct nonviolent protests in the service of civil rights reform. The group was inspired by the crusades of evangelist Billy Graham, who befriended King, as well as the national organizing of the group In Friendship, founded by King allies Stanley Levison and Ella Baker. King led the SCLC until his death. The SCLC's 1957 Prayer Pilgrimage for Freedom was the first time King addressed a national audience. Other civil rights leaders involved in the SCLC with King included: James Bevel, Allen Johnson, Curtis W. Harris, Walter E. Fauntroy, C. T. Vivian, Andrew Young, The Freedom Singers, Cleveland Robinson, Randolph Blackwell, Annie Bell Robinson Devine, Charles Kenzie Steele, Alfred Daniel Williams King, Benjamin Hooks, Aaron Henry and Bayard Rustin.
TODAY'S ALMANAC
Benjamin Franklin, born on January 17, 1706, not only was a world-renowned statesman, inventor, and scientist, but also was fascinated by agriculture. To demonstrate the value of gypsum as fertilizer, he applied it to a field in a pattern that spelled out, "This land has been plastered." Sure enough, clover in the fertilized area exhibited more vigorous growth.
Since 1986, the third Monday in January has been a federal holiday in observance of the birthday of Martin Luther King Jr., a Baptist minister, Nobel Peace Prize winner, and civil rights leader dedicated to nonviolence. This is a day to honor King's principles, perhaps best exemplified by his famous "I Have a Dream" speech, delivered on the steps of the Lincoln Memorial on August 28, 1963: "I have a dream that one day this nation will rise up and live out the true meaning of its creed, 'We hold these truths to be self-evident: that all men are created equal.'" Learn more about Martin Luther King Jr. Day and how to celebrate.
In 2022, the full Moon rises on January 17 at 6:48 P.M. EST. Traditionally, this full Moon was called the "Wolf Moon," appearing when wolves howled outside the villages in hunger. The January Moon has also been called the Old Moon. To some Native American tribes, this was the Snow Moon, but most applied that name to the next full Moon, in February. See our Full Moon for January Guide.
Question of the Day
Is it true that Benjamin Franklin invented an odometer?Yes. While Franklin (1706-90) was postmaster in Philadelphia, he created an odometer to measure postal route distances and attached the contraption to his carriage. However, other inventors preceded him.
Roman engineer Vitruvius (1st century B.C.) once described an odometer. He is generally credited as the first inventor, although some historians believe that the actual creator was Greek scientist Archimedes (c.287-212 B.C.). 1st century Greek scientist Heron (aka Hero) of Alexandria also described an odometer in his work Dioptra. Chinese scholar Zhang (aka Chang) Heng (78-139 A.D.), invented an odometer, as well. French scientist Blaise Pascal (1623-62) came up with an odometer prototype called the Pascaline, and English engineer Thomas Savery (c.1650-1715) invented an odometer for ships.
Advice of the Day
When men speak ill of thee, live so as nobody will believe them. —The Old Farmer's Almanac, 1832
Home Hint of the Day
You can protect barn boards or any other rough-finish paneling from the drying effects of a wood stove by applying a coat of equal parts boiled linseed oil and turpentine. Apply the mixture with a paintbrush.
Word of the Day
BoondoggleWork of little or no value done merely to look busy.
Puzzle of the Day
How does the transposition of the parts of a word express the difference between a welcome and a wish for your departure?Wel-fare and fare-well.
Born
Benjamin Franklin (statesman) – 1706
James Madison Randolph (grandson of Thomas Jefferson; first baby born in the White House) – 1806
Anne Brontë (novelist) – 1820
Al Capone (gangster) – 1899
Betty White (actress) – 1922
James Earl Jones (actor) – 1931
Shari Lewis (actress and puppeteer, best know for Lamb Chop) – 1933
Maury Povich (talk show host) – 1939
Muhammad Ali (boxer) – 1942
Mick Taylor (musician) – 1948
Andy Kaufman (comedian & actor) – 1949
Jim Carrey (actor) – 1962
Michelle Obama (U.S. First Lady) – 1964
Died
Thomas Lincoln (father of U.S. President Abraham Lincoln) – 1851
John Baker (Canada's last ex-slave) – 1871
Chang and Eng Bunker (Siamese twins) – 1874
Rutherford B. Hayes (19th U.S. president) – 1893
Camilo Jose Cela (won the 1989 Nobel Prize in Literature for works such as The Family of Pascual Duarte) – 2002
Harvey Matusow (former aide to Sen. McCarthy who was imprisoned for lying before the House of Un-American Activities) – 2002
Norman Kay (dubbed the Babe Ruth of bridge"") – 2002
Gertrude Janeway (the last widow of a Union veteran from the Civil War) – 2003
Noble Willingham (actor) – 2004
Virginia Mayo (actress) – 2005
Art Buchwald (humorist) – 2007
Bobby Fischer (champion chess player) – 2008
Johnny Otis (musician; known as the godfather of R&B) – 2012
Events
Andrew S. Hallidie received a patent for a cable car system– 1871
Meeting held to form the Professional Golfers Association– 1916
The first Volkswagen Beetle arrived in the United States from Germany– 1949
President Dwight Eisenhower delivered his farewell address on television– 1961
Simon and Garfunkel released their album, Sounds of Silence– 1966
Gary Gilmore was the first person legally executed in the U.S. after the death penalty was reinstated– 1977
British Telecom announced the retirement of Britain's red telephone boxes– 1985
6.7 earthquake occurred in Northridge, California– 1994
Weather
St. Elmo's fire occurred in the Connecticut River Valley– 1817
Seventeen degrees below zero F, Millsboro, Delaware– 1893
Washington, D.C., had a temperature of -5 degrees F– 1982
Chicago, Illinois, had a temperature of -23 degrees F– 1982
Boulder, Colorado, had wind gusts up to 135 mph– 1982
Snow and hail fell in Los Angeles and Malibu, California– 2007
COURTESY www.almanac.com