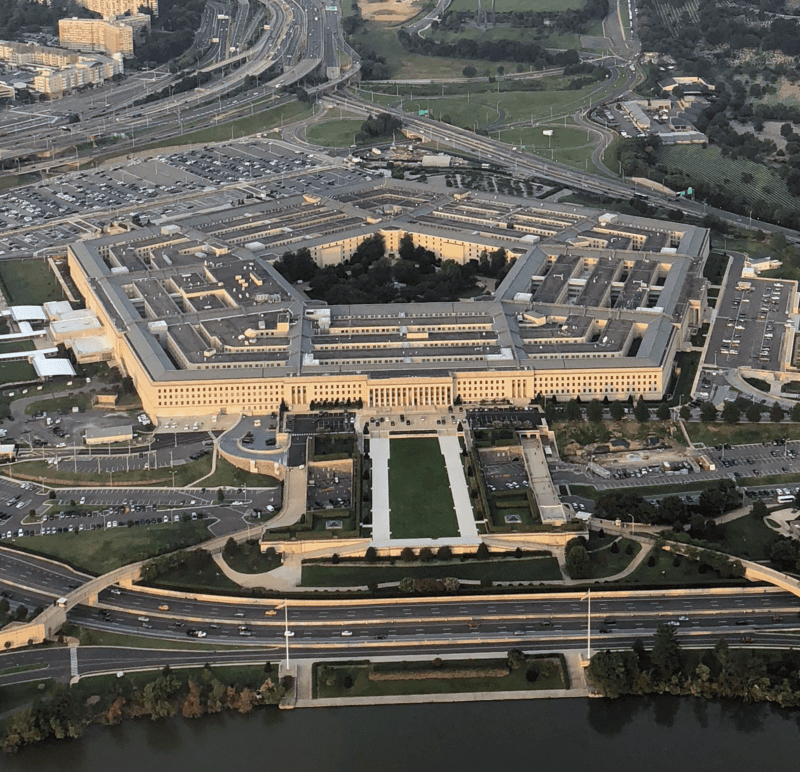 FROM WIKIPEDIA COMMONS
The Pentagon is the headquarters building of the United States Department of Defense. It was constructed on an accelerated schedule during World War II. As a symbol of the U.S. military, the phrase The Pentagon is often used as a metonym for the Department of Defense and its leadership.
Located in Arlington County, Virginia, across the Potomac River from Washington, D.C., the building was designed by American architect George Bergstrom and built by contractor John McShain. Ground was broken on 11 September 1941, and the building was dedicated on 15 January 1943. General Brehon Somervell provided the major impetus to gain Congressional approval for the project; Colonel Leslie Groves was responsible for overseeing the project for the U.S. Army Corps of Engineers, which supervised it.
The Pentagon is the world's largest office building, with about 6.5 million square feet (150 acres; 60 ha) of floor space, of which 3.7 million sq ft (85 acres; 34 ha) are used as offices. Some 23,000 military and civilian employees, and another 3,000 non-defense support personnel, work in the Pentagon. It has five sides, five floors above ground, two basement levels, and five ring corridors per floor with a total of 17.5 miles (28.2 km) of corridors. The central five-acre (2.0 ha) pentagonal plaza is nicknamed "ground zero" on the presumption that it would be a prime target in a nuclear war.
In 2001, the Pentagon was damaged during the September 11 attacks. Five al-Qaeda hijackers flew American Airlines Flight 77 into the western side of the building, killing themselves and 184 others: 59 on the airplane and 125 in the Pentagon. It was the first significant foreign attack on Washington's governmental facilities since the city was burned by the British during the War of 1812. Following the attacks, the western side of the building was repaired, with a small indoor memorial and chapel added at the point of impact. An outdoor memorial dedicated to the Pentagon victims of 9/11 opened in 2008.
As of July 2020, Pentagon tours have been suspended due to the COVID-19 pandemic.
TODAY'S ALMANAC
Question of the Day
Why were butter churns made out of mountain ash?To repel witches. Many farmers believed that the wood of the mountain ash, or wiggin," would keep their farms safe from witches' mischief."
Advice of the Day
Fog in January brings a wet spring.
Home Hint of the Day
If you are going to both refinish and recane a chair, the job will be much easier if you do the refinishing first.
Word of the Day
ChowderFrom the French chaudiere, a kettle, a pot. A dish made of fresh fish or clams, biscuit, onions, etc., stewed together.
Puzzle of the Day
A boy undertakes to put something in a playmate's left hand which the playmate cannot possibly take in his right. What is this?The playmate's right elbow.
Born
Philip Livingston (patriot, and signer of the Declaration of Independence) – 1716
The Earl of Derby, Lord Stanley (Canadian Governor General 1888 – 1893) – 1841
Goodman Ace (radio performer) – 1899
Gene Krupa (drummer) – 1909
Lloyd Bridges (actor) – 1913
Martin Luther King, Jr. (civil rights leader) – 1929
Ernest J. Gaines (novelist) – 1933
André Alexis (writer) – 1957
Chad Lowe (actor) – 1968
Regina King (actress) – 1971
Howie Day (singer) – 1981
Died
Mathew Brady (photographer) – 1896
Ray Bolger (actor) – 1987
Ruth Warrick (actress) – 2005
Percy Saltzman (first meteorologist to appear on Canadian television) – 2007
Events
Elizabeth I of England was crowned in Westminster Abbey– 1559
Dramatist Molière was baptized– 1622
Vermont declares its independence from Great Britain and the colony of New York as a republic originally called New Connecticut– 1777
The University of N.C., the first state university in the US, opens– 1795
E. G. Otis received a patent for an elevator safety brake– 1861
Great Molasses Flood, Boston, Massachusetts– 1919
Ford Foundation is incorporated to administer funds for scientific, educational and charitable purposes– 1936
First U.S. all-glass windowless structure completed, in Toledo, Ohio– 1936
First Pro Bowl game in NFL history is played in Los Angeles, California– 1939
The Pentagon Building in Virginia was completed– 1943
First nonstop trans-Canada flight completed– 1949
The Green Bay Packers defeated the Kansas City Chiefs in Super Bowl I– 1967
Happy Days made its television debut– 1974
First transpacific hot air balloon flight began, Japan to Canada– 1991
Online encyclopedia Wikipedia launched– 2001
Stardust capsule landed in Utah, after record re-entry speed of 28,860 mph– 2006
Weather
New York harbor froze over completely and was sealed for five weeks– 1780
Los Angeles, California, received 2" of snow– 1932
7.8 inches of snow at Forth Worth, Texas– 1964
Loma, Montana, set a record for the greatest temperature change in a 24 hour period. Temperatures went from -54 degrees F on January 14 to 49 degrees F on January 15– 1972
It was so cold in Kapuskasing, Ontario, that tires fell off the rims of cars. (it was -45F or -42.8C)– 1994
COURTESY www.almanac.com