1/10/2022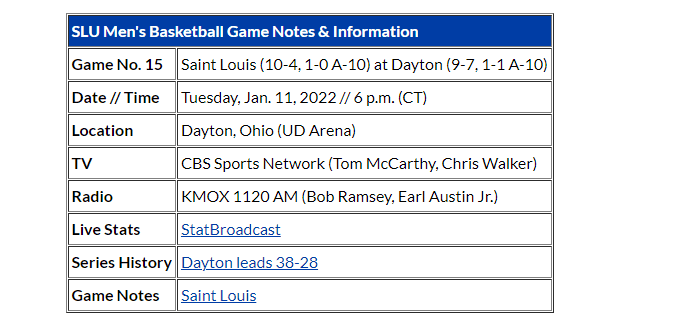 QUICK PREVIEW

Saint Louis (10-4, 1-0 A-10) resumes Atlantic 10 Conference play on Tuesday when it heads to Dayton, Ohio, to take on the Dayton Flyers (9-6, 1-1 A-10).

The Billikens unexpectedly returned to nonconference play on Saturday when they hosted Iona at Chaifetz Arena. The game came about quickly after SLU's game at St. Bonaventure on Saturday was postponed. Fred Thatch Jr.'s putback with 9.1 seconds remaining proved to be the difference in the 68-67 Billiken victory.

SLU, 10-4 overall, is 1-0 in league play following a 76-69 win over Richmond at Chaifetz Arena on Jan. 2. Dayton comes into Tuesday's matchup with a 9-6 overall record and a 1-1 mark in league play. The Flyers lost to VCU in the final seconds at UD Arena in their A-10 opener, but followed that up with a convincing road win at George Washington.

FOLLOW THE ACTION

Tuesday's game will air on CBS Sports Network, with Tom McCarthy and Chris Walker on the call.

The radio broadcast will air on the home for the Billikens, KMOX 1120 AM. As always, Billiken Hall of Famers Bob Ramsey and Earl Austin Jr. will be on the call.

FIVE FACTS

1 // Yuri Collins leads the NCAA with 106 assists. He also has been scoring at an increased clip lately, turning in double figures in each of the Billikens' last five games with averages of 14.6 points, 7.0 rebounds and 8.8 assists during that stretch.

2 // The Billikens are 30th in the NCAA in free-throw percentage, connecting on 76.7 percent (254-of-331) from the stripe. SLU went 25-of-26 from the line against Iona, the best percentage in school history when shooting 25 or more free throws. Additionally, that is the ninth-best mark by a team in the NCAA so far this season.

3 // The Atlantic 10 announced the makeup dates of two of the three Billiken A-10 games that were postponed due to COVID-19. SLU travels to Amherst, Mass., to face UMass on Jan. 20, and will host La Salle at Chaifetz Arena on Feb. 15. Still to be rescheduled is the Billikens/Bonnies game that was postponed last week.

4 // Jordan Nesbitt led the Billikens with 15 points against Iona, the first time this season he has led the team in scoring. Nesbitt has scored in double figures in each of the last four games.

5 // The Billikens and Flyers are meeting for the 67th time. Dayton has a 38-28 lead in the series and has won four in a row. The Billikens will be looking for their first win at UD Arena in eight years, to the date. SLU's last win at Dayton was Jan. 11, 2014.

COURTESY ST. LOUIS ATHLETIC COMMUNICATIONS