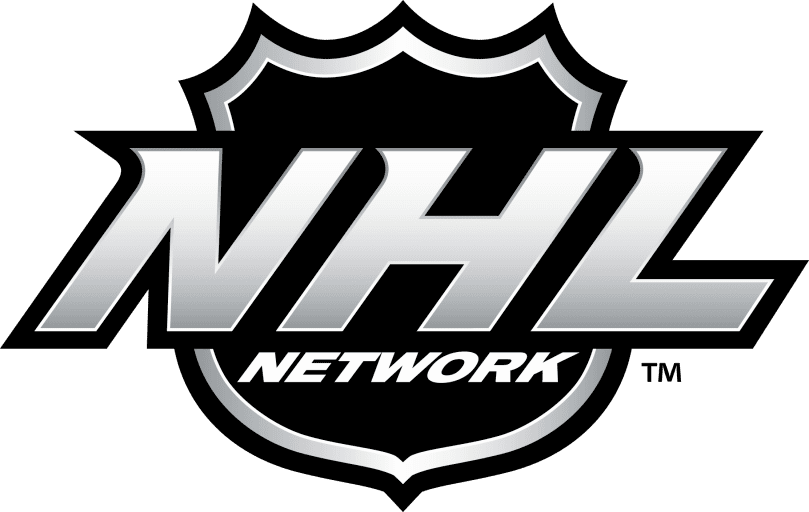 Stephen Nelson, Dave Starman and Jon Rosen Set to Call Every Team USA Game Throughout World Junior Championship
Jamie Hersch, Tony Luftman, Mike Rupp and Kevin Weekes to Travel to Minnesota's Target Field for Coverage Before and After the First Primetime Discover NHL Winter Classic
December 22, 2021 – NHL Network today announced it will provide extensive coverage of the 2022 IIHF World Junior Championship, serving as the exclusive U.S. TV home for the 14th consecutive year. Live game telecasts plus comprehensive analysis, highlights, interviews and previews of the tournament from Edmonton and Red Deer, AB, Canada will air within the flagship studio show NHL Tonight and via @NHLNetwork on Facebook, Instagram and Twitter.
NHL Network's complete coverage begins tomorrow, December 23 with live telecasts of the pre-competition matchups between Finland vs. USA at 2:00 p.m. ET, followed by Russia vs. Canada at 7:00 p.m. ET. NHL Network will preview the 2022 tournament matchups and players to watch on NHL Tonight: 2022 World Junior Championship Preview on Saturday, December 25 at 6:00 p.m. ET. Earlier that day, NHL Network will air the last four gold medal clinching games by Team USA, with the 2010 win over Canada at 7:00 a.m. ET, 2013's matchup against Sweden at 9:00 a.m. ET, and the 2017 and 2021 victories over Canada in Canada at 11:00 a.m. ET and 2:00 p.m. ET, respectively.
The first day of the tournament will bring a quadruple header, including primetime matchups between Canada vs. Czechia at 7:00 p.m. ET and Slovakia vs. USA at 9:30 p.m. ET on Sunday, December 26. NHL Network's Stephen Nelson will continue to provide play-by-play for each Team USA game along with longtime NCAA hockey analyst Dave Starman and Jon Rosen will serve as reporter for the first time ever. NHL Network's complete on-air schedule for the tournament is available here and further below.
As the New Year and one of the most anticipated events of the NHL season approaches, NHL Network will provide live coverage of the 2022 Discover NHL Winter Classic® with segments from Minneapolis, Minnesota's Target Field on Friday, December 31 across NHL On The Fly at midnight. Minnesota native Jamie Hersch will be joined by NHL Network's Tony Luftman, former Minnesota Wild player Mike Rupp and analyst Kevin Weekes during pre- and post-game coverage for the first primetime Discover NHL Winter Classic on Saturday, January 1.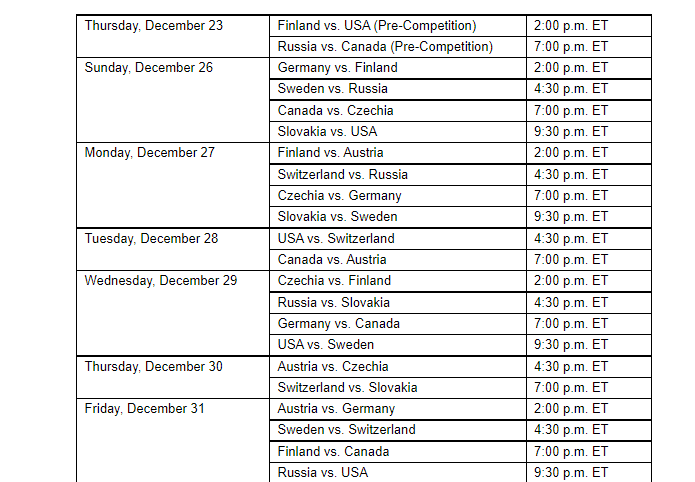 About NHL Network: As the TV home for the National Hockey League, NHL Network™ gives viewers an all-access pass to complete hockey coverage both on and off the ice, including live NHL games and special on-site coverage of NHL events, the documentary series NHL Network Originals, plus three signature studio shows with interviews, highlights and expert analysis from a variety of hockey insiders and former players. Additional programming includes behind-the-scenes features, player profiles and international and amateur hockey competitions. For more information on NHL Network, log on to www.NHLNetwork.com and follow @NHLNetwork on Twitter.
COURTESY NHLmedia.com