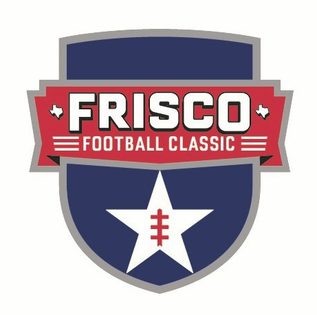 The Miami University football team has announced that it has accepted an invitation to play in the Frisco Football Classic versus North Texas on Thursday, Dec. 23 at Toyota Stadium in Frisco, Texas. Opening kickoff is set for 3:30 p.m.
Television
The matchup with the North Texas Mean Green will be carried live on ESPN. Clay Matvick will handle play-by-play duties, while Rocky Boiman will serve as the color analyst and Tiffany Blackmon will be roaming the sidelines.
Radio
In its third year of its partnership with Van Wagner, the Miami Sports Network continues its coverage of Miami Football with a group of affiliates blanketing most of Southwest Ohio and Southeast Indiana. "The Voice of the RedHawks" Steve Baker will deliver the play-by-play coverage, while Terry Bridge will provide color commentary. Tune-in to one of Miami's gameday affiliates:
WMOH-AM 1450 (Hamilton, Ohio)
WFMG-FM 101.3 (Richmond, Ind.)
WDBZ-AM 1230 (Cincinnati, Ohio)
WONE-AM 980 (Dayton, Ohio)
First And Ten
• Miami football ranks first all-time in the Mid-American Conference in wins (706), conference wins (306), MAC Championships (16) and bowl wins (7). The RedHawks also captured the 2019 MAC Championship with a 26-21 win over Central Michigan.
• Although Miami was 4-26 in Coach Martin's first 30 Mid-American Conference games, the RedHawks are 30-12 in the last 42 games versus schools from the MAC, the best record in the conference during that span.
• The RedHawks clinched the MAC East Division Championship with a 6-2 record in 2019 and went 2-1 in 2020. Miami has now had a winning conference record in five of the past six years.
• Martin, in his eighth year leading the RedHawks, has had many of the same coordinators in the previous six seasons. Offensive Coordinator Eric Koehler has been with Martin all eight years on the offensive side of the ball. Spence Nowinsky (fourth year) and John Hauser (eighth year) manage the defense.
• Miami is 9-4 in one-score games, dating back to the 2018 campaign. The RedHawks were 5-0 in one-score games in 2019, including a 26-21 victory over Central Michigan in the MAC Championship Game. Miami's 31-26 loss to Minnesota earlier this year ended Miami's consecutive one-score win streak at eight.
• In its last 37 contests, Miami has had a lead at some point in 32 of those games. The only five setbacks were a 42-10 loss at Buffalo in 2020 and four different losses in 2021.
• Miami competed in the 2020 LendingTree Bowl and the RedHawks have now been bowl eligible five of the last six seasons. From 2006-15, Miami was bowl eligible just twice.
About Chuck Martin
• Head coach Chuck Martin, who earned that title on Dec. 3, 2013, brings an impressive resume to Oxford, Ohio.
• Not only was he 74-7 in six years at Grand Valley State (2004-09), he has coached in seven national championship games in the past 19 seasons. Martin has an all-time head coaching record of 112-59.
• He has twice been named the American Football Coaches Association (AFCA) National Coach of the Year and has been a coordinator on both sides of the ball.
• Martin was inducted into the Hall of Fame at Grand Valley State University on Oct. 23, 2015.
About North Texas
North Texas, a member of Conference USA, is 6-6 on the year. The Mean Green have won each of their last five contests, including a 45-23 victory over No. 15, and previously undefeated, Texas San Antonio on Nov. 27. North Texas features a strong rushing attack that averages nearly 250 yards per game on the ground, while quarterback Austin Aune has thrown for 1,763 yards and nine touchdowns this season.
Series Vs. Mean Green
This is the first meeting between the two schools.
Grass Stains
Toyota Stadium features a grass field, something the RedHawks have not played on since Sept. 4, 2010, at Florida.
A Recap of The 2021 Season
• After beginning the season 1-3, the RedHawks went 5-3 in MAC play and were a two-point overtime conversion away in a 48-47 loss at Kent State from advancing to its second MAC Championship Game in the past three years.
• Miami lost its three MAC games by a combined four points this year.
• The RedHawks are averaging 29.1 points per game in 2021, the highest single-season scoring average since the 2004 RedHawks averaged 31.3 points/game.
• Defensively, Miami allows a MAC-best 22.9 points per game. The last time the RedHawks had a defense that strong was back in 2011 when the RedHawks allowed 22.9 points per contest.
Bowl Bound
The RedHawks are competing in their 13th bowl game in school history and are 7-5 all-time in bowl games.
1948 Sun Bowl (Won 13-12 vs. Texas Tech)
1950 Salad Bowl (Won 34-21 vs. Arizona State)
1962 Tangerine Bowl (Lost, 49-21 vs. Houston)
1973 Tangerine Bowl (Won, 16-7 vs. Florida)
1974 Tangerine Bowl (Won, 21-10 vs. Georgia)
1975 Tangerine Bowl (Won, 20-7 vs. South Carolina)
1986 California Bowl (Lost, 37-7 vs. San Jose State)
2003 GMAC Bowl (Won, 49-28 vs. Louisville)
2004 Independence Bowl (Lost, 17-13 vs. Iowa State)
2010 GoDaddy Bowl (Won, 35-21 vs. Middle Tennessee State)
2016 St. Petersburg Bowl (Lost, 17-16 vs. Mississippi State)
2020 LendingTree Bowl (Lost, 27-17 vs. Lousiana)
Nine RedHawks Earn All-MAC
The Mid-American Conference announced its all-conference team, voted on by the league's 12 head coaches, with nine RedHawks being honored. Jack Sorenson, Kameron Butler and Ivan Pace Jr. were first-team All-MAC. Joining the All-MAC second-team squad were Lonnie Phelps, Matthew Salopek and Sterling Weatherford. Brett Gabbert, Mac Hippenhammer and Dominique Robinson earned third-team honors.
Offensive Explosion
Over the last four games Miami's offense has found its rhythm, led mainly by the passing attack. A few highlights:
• Averaging 39.8 points the past four games.
• Brett Gabbert has thrown for 1,475 (368.8/game) yards and 15 touchdowns. Over one-third of those yards have gone to Jack Sorenson (27-587-5).
• As a team, Miami is averaging 500.0 yards of offense the last four contests.
Bounce Back
Since early in the 2016 season Miami has lost back-to-back MAC games just once in that span. In fact, Miami is now 10-1 following a MAC loss under Martin, dating back to Oct. 15, 2016.
Martin vs. the MAC Since 2016
Miami is 30-12 versus MAC opponents over its last 42 games, best in the conference in that span.
Five Things to Know About No. 5 Brett Gabbert
• Younger brother of NFL quarterback, Blaine Gabbert.
• Gabbert was named the 2019 MAC Freshman of the Year, joining Ben Roethlisberger (2001) and Deland McCullough (1992) as the only other RedHawks to capture this award.
• When Miami opened the 2019 season at Iowa, Gabbert became the first true freshman quarterback to open the season as the starter in Miami football history.
• Is responsible for 43 touchdowns (39 passing, 4 rushing) in his Miami career.
• In his last four games, Gabbert has thrown for 1,475 yards and 15 touchdowns.
Jack of All Trades
Jack Sorenson is in the middle of his sixth year with the RedHawks and is starting to find himself all over the Miami record books. The 2019 MAC Championship Offensive Player of the Game and Biletnikoff Award Watch List member has many career highlights:
• Has caught a pass in 38 straight games.
• His 184 career catches rank sixth all time and the senior is fourth at Miami with 2,955 receiving yards.
• Ranks fifth with 20 career touchdowns.
• His 14 catches at Ohio were one shy of a school record and he blew past the old school record (229 yards) with 283 receiving yards against the Bobcats. The 283 yards are the third-most in MAC history.
• Sorenson currently leads the MAC with 1,290 receiving yards (sixth in the nation) this season, becoming just the sixth different RedHawk to record a 1,000 yard receiving season in program history. The all-time school record for receiving yards in a season is held by Martin Nance (1,498) in 2003.
Monsters of The MAC
Miami's defense does not look out of place at all in 2021. After having one of the top defenses in the MAC in both 2019 and 2020, Miami ranks atop several defensive categories once again. In MAC games only, the RedHawks rank first in defensive scoring (22.0), rush defense (120.5) and sacks (30.0). Four different RedHawks rank in the top-15 in the MAC for tackles for loss: Kameron Butler (4th, 14.0), Ivan Pace (8th, 13.0), Lonnie Phelps (10th, 12.5) and Ben Kimpler (13th, 11.0).
Paced by Pace
In his first year as a starting linebacker, sophomore Ivan Pace is having one of the best defensive performances in recent memory. Not only do his 116 tackles rank second in the MAC, it's the most tackles a RedHawk has had since Chris Wade recorded 128 tackles in 2012.
Dynamic Duo
Not sure who is Batman and who is Robin, but a pair of Miami defensive ends have terrorized quarterbacks all season long. Lonnie Phelps ranks third in the MAC with 8.5 sacks, while Kameron Butler is fifth with 8.0.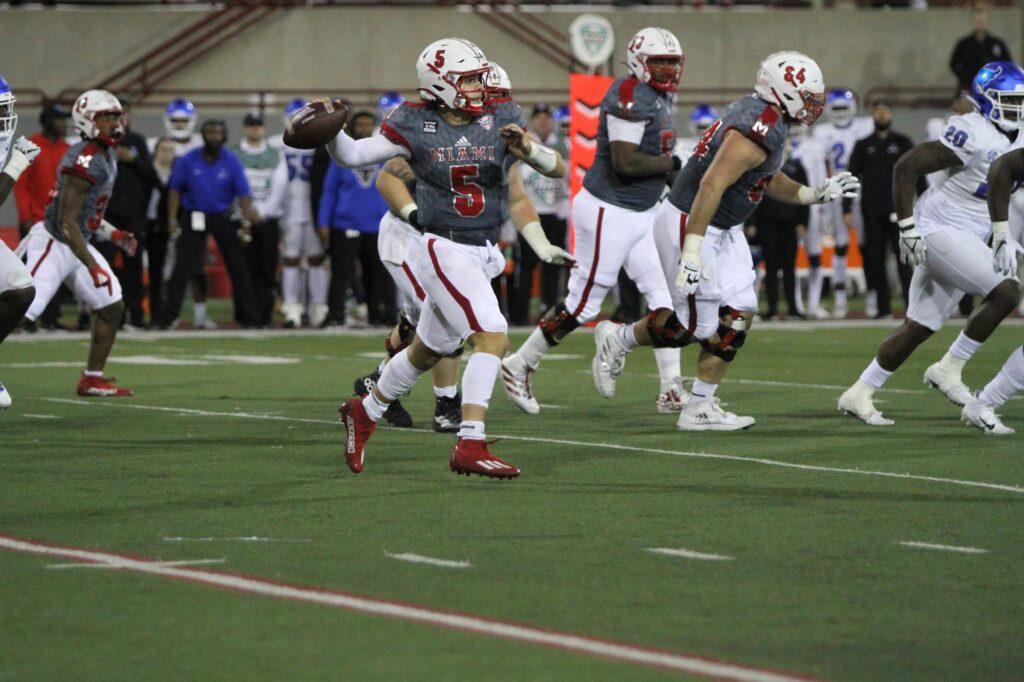 COURTESY MIAMI ATHLETIC COMMUNICATIONS