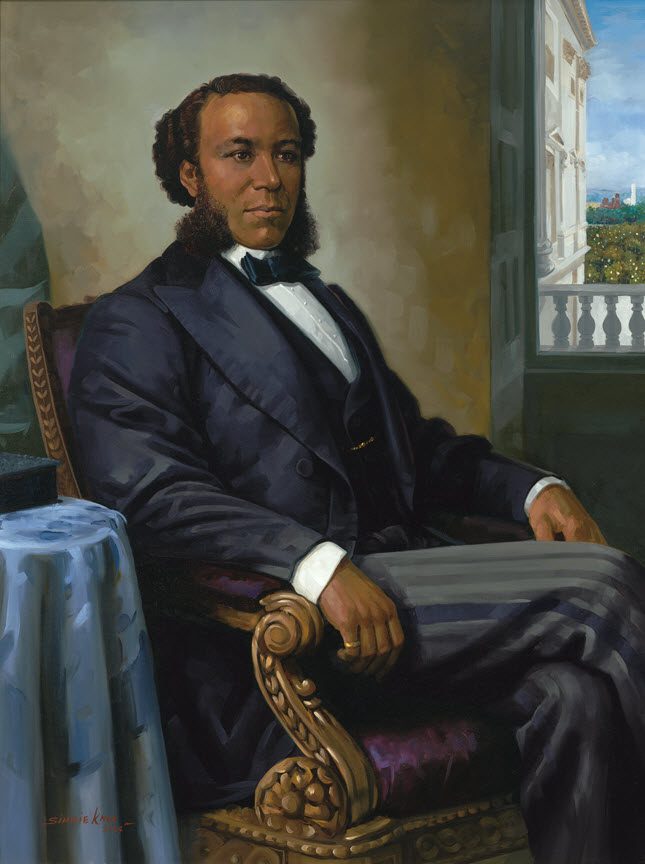 FROM WIKIPEDIA COMMONS
Joseph Hayne Rainey (June 21, 1832 – August 1, 1887) was an American politician. He was the first black person to serve in the United States House of Representatives and the second black person (after Hiram Revels) to serve in the United States Congress. His service included time as presiding officer of the House of Representatives.
Born into slavery in South Carolina, he and his family were freed in the 1840s when his father purchased their freedom. Both Revels and Rainey were members of the Republican Party.
TODAY'S ALMANAC
Question of the Day
What is the name of the dog in the classic Dr. Seuss tale How the Grinch Stole Christmas?The dog's name is Max.
Advice of the Day
Drop peeled apples, pears, and potatoes in cold, lightly salted water, and they won't turn brown.
Home Hint of the Day
Dog odor can be eliminated by sprinkling baking soda on the dog's coat, working it into the fur with your hands, then brushing well. The dirt in the dog's fur will come out along with the soda.
Word of the Day
OmbrophobiaThe fear of rain
Puzzle of the Day
Why is the inside of everything so mysterious?Because we cannot make it out.
Died
Dr. Joel Roberts Poinsett (introduced the poinsettia plant to the U.S.) – 1851
Robert Browning (poet) – 1889
Henrietta Swan Leavitt (astronomer) – 1921
Dee Brown (author) – 2002
Keiko the killer whale (star of the Free Willy movies, died at 27 of pneumonia in a Norwegian fjord) – 2003
Peter Boyle (actor) – 2006
Tom Laughlin (actor) – 2013
Born
Edvard Munch (artist) – 1863
Frank Sinatra (singer) – 1915
Bob Barker (game show host) – 1923
Edward Ed" Koch" (former mayor of New York City) – 1924
Connie Francis (singer) – 1938
Madeleine Wickham (author, aka Sophie Kinsella) – 1969
Jennifer Connelly (actress) – 1970
Katrina Elam (country music singer) – 1983
Events
Pennsylvania ratified the Constitution and became the second state in the Union– 1787
Joseph Hayne Rainey became the first African-American to serve as a U.S. representative– 1870
Golf was played for the first time in the U.S. at Franklin Park, Boston– 1890
George Grant received patent for improved golf tee– 1899
Father Edward Flanagan founded a home for boys in Omaha, Nebraska—the start of Boys Town– 1917
Orange soil discovered by Apollo 17 astronauts Eugene A. Cernan and Harrison H. Schmitt during their second day of exploration on the lunar surface– 1972
Mick Jagger of The Rolling Stones accepted a knighthood from Prince Charles at Buckingham Palace– 2003
Jean Chretien stepped down after 10 years as Canada's popular and often argumentative prime minister. Paul Martin, a former finance minister, inherited her post, becoming the 21st prime minister.– 2003
Weather
Snow accumulated to 16 inches in Nantucket, Massachusetts– 1960
Baltimore received 12 inches of snow in the first of three major storms that winter– 1960
20.4 inches of snow covered Newark, New Jersey– 1960
Albany, New York, registered a low of -12 degrees F– 1988
After a two-day storm, 17.1 inches of snow covered Minneapolis, Minnesota. The snow event set an all-time record for two-day snowfall in December. The weight of the snow caused a tear in the roof of the Metrodome and deflated it, forcing the Vikings-Giants game to be rescheduled and moved to Ford Field in Detroit, Michigan.– 2010
COURTESY www.almanac.com