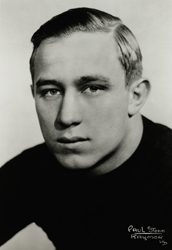 FROM WIKIPEDIA COMMONS
John Jacob "Jay" Berwanger (March 19, 1914 – June 26, 2002) was an American college football player and referee. He was the first winner of the Downtown Athletic Club Trophy in 1935 (the following year the award was renamed the Heisman Trophy); the trophy is awarded annually to the nation's most outstanding college football player. Berwanger was a star halfback for the Chicago Maroons football team of the University of Chicago, where he was known as the "one man football team". In 1936, Berwanger became the first player drafted into the National Football League (NFL) in its inaugural 1936 NFL Draft, although he did not play professionally.
TODAY'S ALMANAC
Question of the Day
In what year did Charles Dickens write A Christmas Carol?Dickens wrote the story in 1843.
Advice of the Day
Place a vinegar-soaked brown bag on sprains to ease the pain and aid recovery.
Home Hint of the Day
To get the odor of cat urine out of a carpet, sprinkle baking soda on the area. Leave it on for several hours, then vacuum it up. If necessary, repeat the process with fresh baking soda.
Word of the Day
DinkA soft return in tennis. The tennis ball will drop abruptly after crossing the net.
Puzzle of the Day
Why is it that a man cannot own a cane that is too short?Because it can never be-long to him.
Born
Clarence Birdseye (businessman) – 1886
Jean de Brunhoff (author of Babar books) – 1899
Kirk Douglas (actor) – 1916
Redd Foxx (actor) – 1922
Dame Judi Dench (actress) – 1934
Beau Bridges (actor) – 1941
John Malkovich (actor) – 1953
Donnie Osmond (entertainer) – 1957
Jesse Metcalfe (actor) – 1978
Died
Paul Simon (5-term Democratic congressman and 2-term senator from Illinois who ran unsuccessfully for presidential nomination in 1988) – 2003
Georgia Gibbs (singer) – 2006
Gene Barry (actor) – 2009
Events
Robert Cushman gave first known sermon in the United States, in Plymouth Colony, Massachusetts– 1621
Noah Webster established The American Minerva, NY's first daily newspaper– 1793
Canada's first coin club, Numismatic Society of Montreal, formed– 1862
Lincoln letter sold for $748,000– 1935
First Heisman Trophy awarded to Jay Berwanger– 1935
Quebec adopted a new coat of arms– 1939
British troops opened their first major offensive in North Africa during World War II– 1940
Bob Waterfield became the first professional football player to kick 5 field goals in one game– 1951
Public debut of the computer mouse, in San Francisco– 1968
Marguerite d'Youville became first Canadian-born saint– 1990
Twin polar bear cubs were born at the Hellabrunn Zoo, Munich, Germany– 2013
Weather
It was 61 degrees F in Boston at 1:00 A.M.– 1980
COURTESY www.almanac.com