November 22, 2021
Game Notes
Game & Broadcast Info
Kickoff: Saturday, November 27 – 12:00 p.m. ET
Location: Bobby Dodd Stadium (55,000) | Atlanta, Ga.
2021 Records: Georgia 11-0 (8-0 SEC), Georgia Tech 3-8 (2-6 ACC)
Rankings: Georgia #1, Georgia Tech NR
TV: ABC – Bob Wischusen (PxP), Dan Orlovsky (analyst), Kris Budden (sideline)
Video Stream: SECN+
Radio: WSB AM 750 – Bulldog Network | Affiliates | Scott Howard (PxP), Eric Zeier (Color), DJ Shockley (sideline)
Audio Stream: georgiadogs.com
Satellite: SiriusXM: 81/81/81
Web Stats: StatBroadcast
Twitter: #UGAvsGT
ReBroadcast: SEC Network: TBA
TEAM COMPARISONS
GAME PREVIEW
Dogs Atop The Polls
For a school record seventh straight week, Georgia is the unanimous No. 1 team in the AP and Coaches polls. This seven-week stretch of being the unanimous No. 1 in the AP poll matches Alabama's run during the 2018 season for the longest ever going back to 1936. Currently, Georgia is ranked No. 1 in the College Football Playoff poll. The fourth 2021 CFP ranking will be released on Tuesday. Georgia is 4-0 versus ranked teams, including a pair of top-10 wins. The Bulldogs are the only team in the nation with eight wins versus opponents that have a winning record.Aiming For An Elite Finish
This is the first time since 1982 that the Bulldogs are 11-0. Georgia looks to become only the fourth team in school history to finish a regular season undefeated and untied with double-digit victories and then play for a national title (1946, 1980, 1982). Vince Dooley's 1980 consensus national champions was the last Georgia squad to go 12-0 after defeating Notre Dame in the Sugar Bowl. Incidentally, the school record for wins in a season is 13, and that's been done twice (2002 under Mark Richt and 2017 under Kirby Smart).Rivalry Rumblings
Georgia leads the series 68-39-5 and doesn't count two Georgia Tech wins during WWII (1943-44) when the Yellow Jackets utilized players from a naval officer's training program hosted on campus. The Bulldogs have won the past 10 meetings in Atlanta dating back to 2001 and the last three in a row in the series. The teams did not play in 2020 as the SEC played a 10-game league-only slate due to the ongoing COVID-19 pandemic.
Since 1995, the winner of the Georgia-Georgia Tech game has been awarded the Governor's Cup Trophy. Since then, the Bulldogs are 19-6 in that stretch.
The Georgia-Georgia Tech series is one of the nation's oldest. There are only 13 other FBS rivalries that have been played more with Minnesota-Wisconsin at the top with 130 games and Georgia-Auburn tied for second now with 126. UW meets UM Saturday in Minneapolis, and the Badgers have a slight series lead at 62-60-8.
From 1917-24, Georgia and Georgia Tech did not play each other because of a dispute caused by a Georgia parade float that ridiculed Tech for playing football during World War I.
Georgia Tech's 51-48 win in overtime in 1999 in Atlanta on ABC was the highest-scoring game in the series and featured 1,102 total yards of offense. In overtime, Georgia blocked the Yellow Jackets' first field goal attempt on third down and the Jackets recovered it. Then, Luke Manget kicked a 38-yarder on the mulligan for the win.
In 1978, Georgia trailed 20-0 in the 2nd quarter when freshman Buck Belue came off the sideline and rallied the team to a 29-28 win, the biggest comeback in school history to that point.
Georgia closed out the 2002 regular season in Athens with a 51-7 thrashing of Georgia Tech on CBS. It was the most points ever for a Bulldog squad against the Yellow Jackets.
Dominating Defense & Offense Delivering Points
Georgia leads the nation in Scoring Defense giving up just 7.5 points per game. The Bulldogs are averaging 40.3 points per game, which is ranked seventh nationally.
The Bulldogs have only trailed four times this year. The first time was at No. 18 Auburn when the Tigers kicked a field goal in the first quarter. Georgia trailed in that game for 5:29. Following the Tigers' score, the Bulldogs reeled off 24 straight points. The second instance happened in the first quarter against Missouri following a field goal. The Bulldogs trailed for 5:08 in that contest. Georgia then went on a 40-0 run. At UT, Georgia fell behind 7-0 in the first quarter for 2:33 before tying the game. The Volunteers reclaimed a 10-7 advantage later in the quarter and led for another 7:07. Georgia responded by scoring 34 unanswered points in an eventual 41-17 victory.
The defense has allowed just seven touchdowns while the unit has scored three touchdowns. The defense did not allow a touchdown until the third game of the season and that came in the fourth quarter versus USC with the Bulldogs leading 40-6. The second came at No. 18 AU with Georgia leading 24-3. No. 11 Kentucky had two scores, including the final one with :04 left. Florida scored with 2:49 left in the game with Georgia leading 27-0. UT managed a first quarter TD and built a 10-7 lead before Georgia stormed back. By the way, UAB's TD came on a pick-six while CSU's was a 65-yard fumble return after a Bulldog interception.
Georgia opponents have scored only 83 points in 2021. That 11-game tally is the lowest since 1950 when the Bulldogs allowed 65 points through 11 contests.Streaking
Georgia's 15-game winning streak is the longest active streak in FBS and is tied for the second longest in school history. The school record is 17 set from 1945-47. Georgia also won 15 straight games from 1941-42 and from 1979- 81. Currently, Georgia has matched its longest road winning streak in school history at eight. The Bulldogs won eight consecutive road games from 1997-98.
OFFENSE
Looking For More Explosive Plays
The Bulldogs are averaging 40.3 points/game and outscoring their opponents 443-83. The Bulldog defense and special teams have combined to score five TDs this year, two safeties and blocked five more potential points (one FG, two PATs).
Georgia shares the load at running back and have an array of targets at receiver, which is a position that has yet to be at full strength.
Georgia has had six touchdown passes that have covered at least 38 yards: JT Daniels, 38 yds. vs. USC, WR AD Mitchell; 43 yds. vs USC, WR Jermaine Burton; Stetson Bennett, 73 yds. vs. UAB, Burton; 61 yds. vs UAB, WR Arian Smith; 89 yds. vs. UAB, TE Brock Bowers; 60 yds. vs. #18 AU, WR Ladd McConkey.

Daniels 7-0 As A Starter
JT Daniels, an Irvine, Calif., native, served as UGA's starting quarterback from game seven of the 2020 campaign through the 2021 opener.
Daniels did not play against UAB due to a lat injury as senior Stetson Bennett got the start in a 56-7 win. Daniels returned against South Carolina and only played in the first quarter against Vanderbilt during those Bulldog wins. He returned in the third quarter versus Missouri on Nov. 6 and was 7-for-11 for 82 yards and a TD with one INT.
Bennett 11-2 As A Starter At Georgia
Senior Stetson Bennett, a native of Blackshear, Ga., who is a Davey O'Brien Award semifinalist and a Burlsworth Trophy finalist, began his career with the Bulldogs as a walk-on in 2017 when he was redshirted. Bennett transferred to Jones College (Miss.) where he started in 2018 and then returned to the Bulldogs on scholarship in 2019. He saw action that season in five games including throwing passes in four of them. In 2020, he started five games.
In his Bulldog career, Bennett is 11-2 and has completed 61 percent of his passes (211-for-345 3,169 yards, 27 TDs, 12 INTs). Also, he has 57 rushing attempts for 264 yards and four scores.
In 2021, Bennett has played in 10 games (8-0 as a starter) and is 105-for-163 (64.4%) for 1,730 yards with 17 TDs and five INTs. He has 35 carries for 233 yards.
He ranks 5th nationally in Passing Efficiency (181.5). The school record in that category belongs to Aaron Murray at 174.8 in 2012.
JT Daniels started the season behind center but was sidelined versus UAB due to a lat injury. Bennett stepped in and started that game. Daniels returned against South Carolina and then left the Vanderbilt game after the first quarter with an aggravation of his injury. Bennett played most of the Vanderbilt game and then has served as the starter since the Oct. 2 win over No. 8 Arkansas.
Bennett helped Georgia complete a historic 8-0 SEC regular season with a road win over UT, going 17-for-29 for 213 yards and two scores.
Against Mizzou, Bennett completed 13 of 19 passes for 255 yards and two TDs. He only played the first half plus the first series of the third quarter before UGA turned the ball over to Daniels.
In the 30-13 win over No. 11 Kentucky, Bennett was on the mark in the second half, completing 9 of 10 passes for 174 yards and two touchdowns. He earned a spot on the Davey O'Brien Award's Great 8 list after finishing with 250 yards passing and three TDs.
Bennett enjoyed a career a record-setting performance torching the Blazers for a school record tying five TDs (all in the first half). He finished the day 10-for-12 for 288 yards with his scoring strikes covering 9, 12, 61, 73 and 89 yards. Bennett was named the SEC Offensive Player of the Week as well as to the Davey O'Brien Award's Great 8 list following his performance.
In 2020, Bennett made his first career start and led the Bulldogs to a 27-6 win over #7 Auburn in Athens.
Productive Start To Bowers' Career
Freshman TE Brock Bowers has a team-best 34 catches for 552 yards and nine touchdowns (eight rec., one rush). He has set a school record for most TD catches for a TE in a season now with eight and is closing in on the yards mark too (574 by Orson Charles in 2011 on 45 rec.). Bowers has played in all 11 games with 10 starts.
Some notables from Bowers first season include: his first touchdown catch of his career was an 89 yarder from Stetson Bennett versus UAB, this was the ninth-longest passing TD in school history; had a 12-yard rushing touchdown on his first career carry at Vanderbilt, was the leading receiver with four catches for 69 yards and two touchdowns and was named the SEC Freshman of the Week; has three touchdown receptions of 25+ yards; was the team leader with six catches for 101 yards and two touchdowns against No. 11 Kentucky and was named SEC Freshman of the Week yet again as well as John Mackey Award Tight End of the Week.Sharing The Load At RB
Seniors Zamir White (122 attempts, 657 yards, 10 TDs) and James Cook (82 att., 544 yds., 7 TDs) split a majority of the carries.
White has led the team in rushing in six games while Cook has done it four times. White had 14 carries and went for 105 yards (7.5 per carry) and a TD in the win over Florida. His performance featured a 42-yard touchdown run, which is the longest rush for the Bulldogs this season.
Cook finished with a career-high 104 rushing yards and three scores (2 rush, 1 rec.) in the victory over UT. Also, he led the team with 87 yards on 12 carries (7.2 avg.) against No. 8 Arkansas. Against Missouri, his one touchdown came out of the "Wild Dawg" formation.
White, McIntosh and sophomore Daijun Edwards all scored rushing touchdowns at Vanderbilt, along with WR Ladd McConkey and TE Brock Bowers.A Look At The Offensive Line
Senior Jamaree Salyer (LT), junior Warren Ericson (LG), redshirt freshman Sedrick Van Pran (C), fifth-year senior Justin Shaffer (RG) and redshirt sophomore Warren McClendon (RT) comprised the starting lineup for a seven-game stretch until the Missouri game on Nov. 6. Then, redshirt freshman Broderick Jones filled in for Salyer versus Missouri, UT and CSU due to a foot injury. In the season opener versus No. 3 Clemson, redshirt freshman Tate Ratledge started the opener at LG. A foot injury has kept him out since that game.
The unit made the Joe Moore Award Midseason Honor Roll and helped the team post a season-high 274 rushing yards in the win over Tennessee.
The unit has only allowed seven sacks this year. That leads the SEC and ranks second nationally, trailing only Army (five in 10 games) who runs the flexbone triple-option offense and has attempted an FBS-low 81 passes this year.
Georgia focused on the rushing game versus No. 8 Arkansas and finished with 56 attempts for 273 yards (4.9 yards/rush) and three touchdowns. This was the most rushing attempts in a game during the Kirby Smart era.
At No. 18 Auburn, the Bulldogs rushing attack picked up steam in the second half, gaining 165 yards to finish with 201 in the 34-10 win. Jones also filled in at LT in this game after Salyer went down with an ankle injury.Ton Of Targets
The Bulldogs are still aiming to get 100 percent healthy at receiver. George Pickens has not played this year as he recovers from an offseason knee injury. Jermaine Burton, Marcus Rosemy-Jacksaint and Arian Smith looked their healthiest this year in the win over Missouri on Nov. 6. Burton led the team with three catches for 76 yards and a touchdown while Smith had a 35-yard scoring grab. Eleven different Bulldogs caught a pass versus Missouri.
However, Smith went down with a leg injury the following week and missed the UT and CSU games.
Dominick Blaylock made his season debut against Charleston Southern in his first action since the 2019 SEC Championship Game. He had two catches for 11 yards and two punt returns versus CSU. dog tracks Game 12 * Prior to the victory over the Tigers, Georgia had been leaning on junior Kearis Jackson, redshirt freshman Ladd McConkey and true freshman AD Mitchell.
In the road win over UT, Mitchell led the group with a career-high five catches for 65 yards as nine different Bulldogs caught a pass.
Georgia's leading receivers have been freshman TE Brock Bowers (34 rec., 552 yds., 8 TDs), McConkey (24-376-3), Mitchell (23-325-2) and Burton (19-351-3).
Jackson accounted for 97 all-purpose yards in the rout over Florida. He had a team-leading three catches for 59 yards and a touchdown while also taking care of return duties with a total of two returns. Jackson's 36-yard touchdown catch (his first of the year) before halftime put the Bulldogs up 17-0.
During the victory at No. 18 Auburn, McConkey hauled in a careerhigh five catches for 135 yards and a career-long 60-yard touchdown. He became the third Bulldog this year to have a receiving and rushing touchdown in the same game during the win at Vanderbilt. Both he and Bowers accomplished the feat versus the Commodores while senior RB James Cook did it against South Carolina and at Tennessee.
Cook, who has 17 catches for 129 yards and three touchdowns this year, tallied a team-best 147 all-purpose yards in the win at UT.
DEFENSE
Dominant 'D'
Georgia's opponents have scored only 83 points, the next fewest allowed by an FBS team is Texas A&M and Oklahoma State at 164 apiece.
Georgia has held nine of its 11 opponents to a season low in points with USC (13) and Tennessee (17) the only exceptions.
Georgia is the only FBS team to hold opposing offenses out of the end zone in five games this season.
No. 3 Clemson's three points were the fewest in the Dabo Swinney era and lowest since 2007 against Georgia Tech, a 13-3 loss under Tommy Bowden.
No. 11 Arkansas was shutout for the first time since 2018.
Florida's seven points were the fewest in the Dan Mullen era and lowest since 2017 versus Georgia, a 42-7 loss under Jim McElwain.Creating Havoc Again In 2021
Defensive coordinator Dan Lanning is now in his fourth year and the Bulldogs feature the nation's top Scoring Defense allowing just 7.5 points/game. Georgia is 2nd nationally in Rushing Defense (77.3 yards per game), 3rd in Passing Defense (158.7) and 4th in Sacks (38).
Georgia leads the country in Red Zone defense. Opponents have advanced to the Red Zone only 22 times this season and nine times have come away with no points.
The defense has allowed 7 TDs this year while it has scored 3 TDs.
In five games this year, Georgia has not allowed an offensive TD and that leads all of FBS.
Five times this year UGA has carried a shutout to the 4th quarter.
Posted back-to-back shutouts at Vandy and versus No. 8 Arkansas.
Florida avoided being shutout when it scored with 2:49 left in the contest in a 34-7 loss to the Bulldogs.
With the help of the dominating defense, Georgia is outscoring opponents 379-43 through three quarters.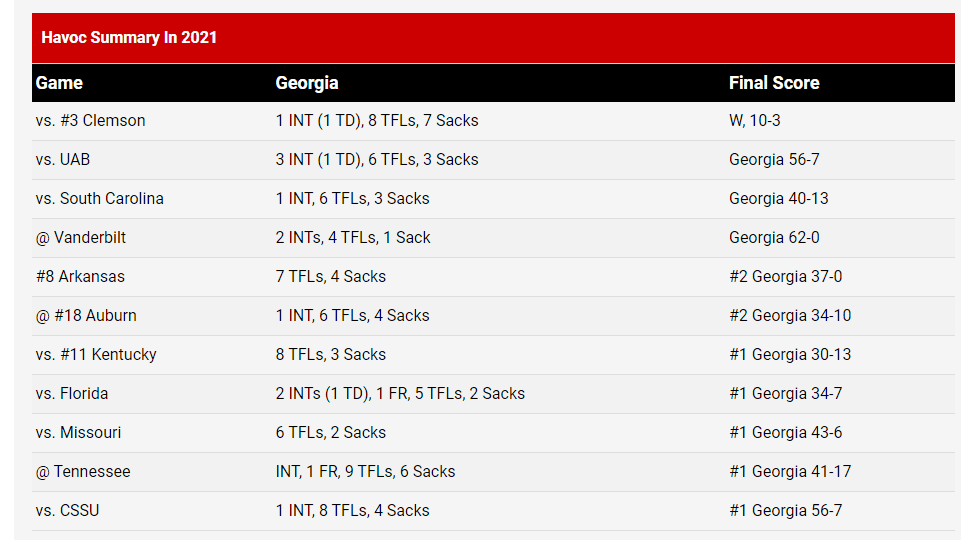 Playmakers In The Secondary
While some may refer to Georgia as "RBU", one could make a case for "DBU" with the recent Bulldogs now in the NFL including four who were drafted last season (Eric Stokes, 1st Round, Green Bay; Tyson Campbell, 2nd Round, Jacksonville; Richard LeCounte, 5th round, Cleveland; Mark Webb, 7th round, L.A. Chargers).
Junior safety Lewis Cine is a Jim Thorpe Award semifinalist and ranks third on the squad with 49 tackles. Cine had a team-high nine tackles and two pass breakups in the road win over No. 18 Auburn.
Christopher Smith scored the only TD in the win over No. 3 Clemson on a 74-yard interception return (the first pick of his career). He earned SEC Defensive Player of the Week honors after that.
Seniors Latavious Brini and Ameer Speed along with redshirt freshman Kelee Ringo are manning the cornerback spots for the Bulldogs this season. Ringo had a career-high seven tackles against No. 11 Kentucky, including his first career sack.
Walk-on redshirt sophomore Dan Jackson got his first start versus No. 11 Kentucky while Smith was out with a shoulder injury. Jackson has been the team's leading tackler twice this season. During the 37-0 win over No. 8 Arkansas, he blocked a punt in the first quarter that was recovered by Zamir White in the end zone for a touchdown to put Georgia up 21-0.
Georgia landed a pair talented players via the transfer portal in All-ACC first teamer Derion Kendrick (Clemson) and All-America Tykee Smith (West Virginia). Kendrick has started every game with 31 stops and two picks. Due to injury, Smith only made his Bulldog debut in week six at No. 18 Auburn but is now injured again.Making An Impact Up Front
Preseason All-American Jordan Davis joins fifth-year Devonte Wyatt and sophomore Jalen Carter as the veterans in the center of the defensive line. Davis is a Bronko Nagurski Trophy finalist and an Outland Trophy semifinalist. This season, the three Bulldogs have tallied 15 tackles for loss, 9.5 sacks, one blocked FG, one blocked PAT and a fumble recovery. Davis scored his first career touchdown on a carry from the 1 yard line against CSU.
The trio is joined by versatile junior Travon Walker who has started all 11 games. Walker has 29 stops, 5.5 TFLs and four sacks.
Against No. 11 Kentucky, Carter posted six stops, including a sack and 1.5 tackles for loss, and blocked the final extra point attempt. That performance earned him SEC DL of the Week.
In the shutout of No. 8 Arkansas, Wyatt led the team with six tackles and 1.5 sacks and was named the SEC DL of the Week.
Davis, Wyatt and Carter bursts onto the national scene in the opener versus No. 3 Clemson. The trio combined for eight tackles, including three tackles for loss and two sacks, and a pass breakup. Davis was named the Bronko Nagurski National Defensive Player of the Week as well as the SEC Defensive Lineman of the Week after his effort against the Tigers.Bulldog Backers Flying Around
Senior ILB Channing Tindall leads the team in tackles with 55. He earned Walter Camp Defensive Player of the Week honors on Nov. 14 after his game at Tennessee (eight tackles, three sacks, forced fumble).
Junior Nakobe Dean ranks second in tackles with 50. He made a team-high 11 stops in the road win at UT on Nov. 13. A semifinalist for the 2020 Butkus Award, he has recently been selected as a 2021 finalist for the Butkus and semifinalist for the Bednarik awards as well. He is the leader of the 2021 defense. He had seven tackles and returned his second career interception 50 yards for a touchdown against Florida. The pick-six capped a flurry of big plays by the Bulldogs who scored 21 points in a span of two minutes and nine seconds to build a 24-0 halftime advantage. Georgia scored three touchdowns off three turnovers and needed just two offensive plays.
Senior Quay Walker ranks fourth on the team with 46 stops. He posted a career-high 13 stops against the Gators.
Junior Nolan Smith is one of two linebackers on the outside. He has 35 stops and 4.5 tackles for loss and 1.5 sacks to go along with a blocked punt versus Missouri. Smith missed his first game of the season versus CSU with an injury after starting the first 10 contests.
Smith finished with four stops, a forced fumble, a fumble recovery and his first career interception during the win over Florida and was named SEC Defensive Player of the Week.

Bulldogs Lead Nation In Scoring Defense
Since the arrival of Kirby Smart in 2016, the Bulldogs have featured talented defenses, and the 2021 edition could be the best one yet. From 2016-2018, Mel Tucker served as the defensive coordinator before leaving to take the head coaching job at Colorado State (now at Michigan State). Dan Lanning is in his fourth year at UGA (2018, OLB coach), including his third season as the Fain and Billy Slaughter Defensive Coordinator.

A Look At The 2021 Bulldog Defense
One reason the Bulldogs have been the top-ranked team in the country for much of the 2021 season is their defense.
Shaping Up To Be One Of The Best Defenses Of The Smart Era
Georgia's defense has been very impressive, ranking No. 1 nationally in Scoring Defense (7.5 points per game). The topranked Bulldogs have allowed just 83 points this year including posting two shutouts in SEC action. That 11-game tally is the lowest since 1950, which allowed 65 points up through that point in the year. Georgia has finished as the NCAA leader in Scoring Defense twice. The 1968 squad allowed 9.8 ppg, going 8-1-2. The 2019 team allowed 12.6 ppg and finished 12-2 with three shutouts.
Points Allowed Through 11 Games Under Smart
83 in 2021 with a 11-0 record (8-0 SEC)
200 in 2020 with an 8-2 final record (7-2 SEC)
118 in 2019 with a 10-1 record (6-1 SEC)
185 in 2018 with a 10-1 record (7-1 SEC)
144 in 2017 with a 10-1 record (7-1 SEC)
261 in 2016 with a 7-4 record (4-4 SEC)Did You Know?
The Bulldogs have six touchdown drives that consisted of just one play each. They had two versus UAB covering 61 and 89 yards. The next one came at AU for 60 yards and the Bulldogs had two against Florida (11 yds., 36 yds.) and one versus CSU (40 yds.).Did You Also Know?
Georgia has had four touchdown drives that lasted 11 plays each. They came against SC (90 yds.), ARK (93 yds.), Mizzou (75 yds.) and @ UT (90 yds.).
SPECIAL TEAMS
One Of Country's Top Punting Units Returns
Senior punter and 2020 Ray Guy Award finalist Jake Camarda was the SEC Special Teams Player of the Year last season. He posted an SEC best 46.6 average that ranked fourth in the country and was named a FWAA Second-Team All-American. Camarda was a preseason All- American at his position in 2021.
This year, Camarda is averaging 46.9 yards/punt placing 12 inside in the 20 and 13 have been 50+. Camarda's career average of 45.7 is on pace for a school record. Drew Butler, the 2009 Ray Guy Award winner, owns the Bulldog record with a 45.4 mark.
Camarda is also handling most of the UGA kickoffs this year.Jack-Pod
For his career, junior PK Jack Podlesny is 29-for-36 on field goals and 93-for-94 on PATs. This year, he is 16-for-20 on FGs and 55-for-56 on PATs. Podlesny capped his first year by earning Offensive MVP honors at the Chick-fil-A Peach Bowl. In the 24-21 win over #8 Cincinnati, Podlesny accounted for 10 points, including the game-winning 53-yard FG with three seconds remaining.
Georgia entered the 2021 season with the NCAA record for Consecutive PATs Made. The streak ended with a miss versus No. 11 Kentucky at 363 and involved six kickers (Marshall Morgan, Patrick Beless, William Ham, David Marvin, Rodrigo Blankenship and Podlesny). The streak dated back to 2014.
Georgia's snappers this year include returning starters junior Payne Walker and redshirt sophomore William Mote. Walker snaps on field goals and PATs while Mote handles the snaps for punts.
MORE GAME NOTES AND NEWS
A Look At When The Eastern Division Titles Were Clinched (*8 Outright, *3 Shared)
2021: #1 UGA beat Florida 34-7 on Oct. 30 in Jacksonville to go to 6-0 in SEC. *With a win over Missouri or Tennessee, the Bulldogs will clinch the East outright rather than winning in a tiebreaker. The Oct. 30 date tied the SEC mark for the earliest a team had clinched a spot in the SEC Championship Game, matching Auburn (2004) and Alabama (1993).
2019: #4 UGA beat #12 Auburn 21-14 on Nov. 16 in Auburn to go to 6-1 in SEC.
2018: #6 UGA beat #9 Kentucky 34-17 on Nov. 3 in Lexington to go to 6-1 in SEC. It marked the earliest that both participants (Alabama) in the SEC Championship game had been determined as the Crimson Tide beat LSU later that day.
2017: #1 UGA beat South Carolina 24-10 on Nov. 4 in Athens to go to 6-0 in SEC. It was the earliest a team had clinched since Florida (Oct. 31 in 2009).
2012: #7 UGA beat Auburn 38-0 on Nov. 10 in Auburn to go to 7-1 in SEC.
2011: #18 UGA beat Kentucky 19-10 on Nov. 19 in Athens to go to 7-1 in SEC.
2007: Shared with UT at 6-2; Vols won tiebreaker with 35-14 win in Knoxville in week six.
2005: #14 UGA beat Kentucky 45-13 on Nov. 19 in Athens to go to 6-2 in SEC.
2003: A three-way tie with UT and UF (all were 6-2 in the SEC). The tie to go to the SEC Championship Game was broken using the BCS rankings. #5 Georgia had the best ranking plus a 41-14 win over UT in Knoxville in week six who had the next best ranking. UF beat Georgia 16-13 in Jacksonville in week 9.
2002: #7 UGA beat #24 Auburn 24-21 on Nov. 16 in Auburn to go to 7-1 in SEC for their first appearance in the SEC Championship Game.
1992: Shared with Florida at 6-2; Gators won tiebreaker after 26-24 win in week 9 in Jacksonville.First-Time Starters
Georgia had seven first-time starters in the 2021 season opener against No. 3 Clemson in Charlotte. The Bulldogs had 19 first-time starters in 2020, including seven in the opener. vs. #3 CU: Bowers, McConkey, Ratledge, Van Pran, Kendrick (1st at UGA), Speed, T. Walker
vs. #3 CU: Bowers, McConkey, Ratledge, Van Pran, Kendrick (1st at UGA), Speed, T. Walker
vs. UAB: none
vs. SC: Mitchell
@ VU: Ringo
vs. #8 ARK: none
@ #18 AU: Anderson
vs. #11 UK: Jackson
vs. UF: none
vs. UM: Jones
@ UT: None
CSU: BealThe True Freshman Experience
During the 2021 season opener, six true freshmen saw action against the Tigers in Charlotte at Bank of America Stadium.
In 2020, a total of 10 true freshmen played for the Bulldogs.Bulldog Captains
vs. #3 CU:James Cook, JT Daniels & Nakobe Dean
vs. UAB: Jamaree Sayler, Zamir White, Christopher Smith
vs. SC:Channing Tindall, Jordan Davis, Kearis Jackson
@ VU:Jake Camarda, John FitzPatrick, Nolan Smith
vs. 8 ARK: Cook, Salyer, Smith
@ #18 AU:Quay Walker, Warren Ericson, Devonte Wyatt
vs. #11 UK: White, Travon Walker, Dean
vs. UF:Adam Anderson, Cook, Salyer, Q. Walker
vs. UM:Justin Shaffer, Jackson, T. Walker
@ UT: Cook, Q, Walker, Dean
CSU: Tindall, Wyatt, WhitePoints Off Turnovers
Georgia is +2 in turnover margin in 2021. The Bulldogs have scored 73 points off 13 turnovers. Opponents have scored 30 points off 11 Georgia miscues.
vs. #3 CU: (W, 10-3) UGA got 7 points off 1 turnover; CU got no points off 2 turnovers.
vs. UAB: (W, 56-7) UGA got 14 points off 3 turnovers; UAB got 7 points off 1 turnover
vs. SC: (W, 40-13) UGA got 14 points off 2 turnovers; SC got 13 points off 3 turnovers
@ VU: (W, 62-0) UGA got 14 points off 3 turnovers; VU got no points off 1 turnover
#8 ARK: (W, 37-0) Neither team had turnovers
@ #18 AU: (W, 34-10) UGA got 3 points off 1 turnover; UGA had no turnovers
vs. #11 UK: (W, 30-13) No turnovers for either team
vs. UF: (W, 34-7) UGA got 21 points off 3 turnovers; UF got 7 points off 3 turnovers
vs. UM: (W, 43-6) UGA did not force any turnovers; UM got 3 points off 1 turnover
@ UT: (W, 41-17) UGA got 14 points off 2 turnovers; UGA had no turnovers
CSU: (W, 56-7) UGA got no points off 1 turnover; CSU got 7 points off 3 turnoversBig Plays
UGA has 39 plays that have covered 25 yards or more while opponents have 13.
GAME 1: #5 Georgia vs. #3 Clemson (W, 10-3)
UGA: 2 plays; Longest: 74-yard KOR TD (C. Smith)
#3 CU: 1 play; 44-yard pass (Uiagalelei to Ngata)
GAME 2: #2 Georgia vs. UAB (W, 56-7)
UGA: 7 plays; 89-yard TD pass (Bennett to Bowers)
UAB: 1 play; 61-yard INT return for TD (K. Swoopes)
GAME 3: #2 Georgia vs. South Carolina (W, 40-13)
UGA: 3 plays; 43-yd TD pass (Daniels to Burton)
SC: 5 plays; 61-yd pass (Nolan to Vann)
GAME 4: #2 Georgia @ Vanderbilt (W, 62-0)
UGA: 5 plays; 29-yd TD pass (Bennett to Bowers)
VU: 0 plays
GAME 5: #2 Georgia vs. #8 Arkansas (W, 37-0)
UGA: 1 play; 27-yd pass (Bennett to McIntosh)
#8 ARK: 0 plays
GAME 6: #2 Georgia @ #18 Auburn (W, 34-10)
UGA: 5 plays; 60-yd TD pass (Bennett to McConkey)
#18 AU: 4 plays; 31-yd pass (Nix to Newton)
GAME 7: #1 Georgia vs. 11 Kentucky (W, 30-13)
UGA: 3 plays; 35-yd rush (Milton)
#11 UK: None
GAME 8: #1 Georgia vs. Florida (W, 34-7)
UGA: 6 plays; 50-yd INT return for TD (Dean)
UF: None
GAME 9: #1 Georgia vs. Missouri (W, 43-6)
UGA: 7 plays; 47-yd pass (Bennett to Burton)
UM: 2 plays: 31-yd pass (Macon to Dove)
GAME 10: #1 Georgia @ Tennessee (W, 41-17)
UGA: 1 play; 39-yd TD rush (Cook)
UT: 3 plays: 53-yd pass (Milton to Tillman)
GAME 11: #1 Georgia vs. CSU (W, 56-7)
UGA: 7 plays; 40-yd rushes (Cook & White-TD)
CSU: 3 plays: 65-yd fumble return for TD (Schwarting)
COURTESY GEORGIA ATHLETIC COMMUNICATIONS