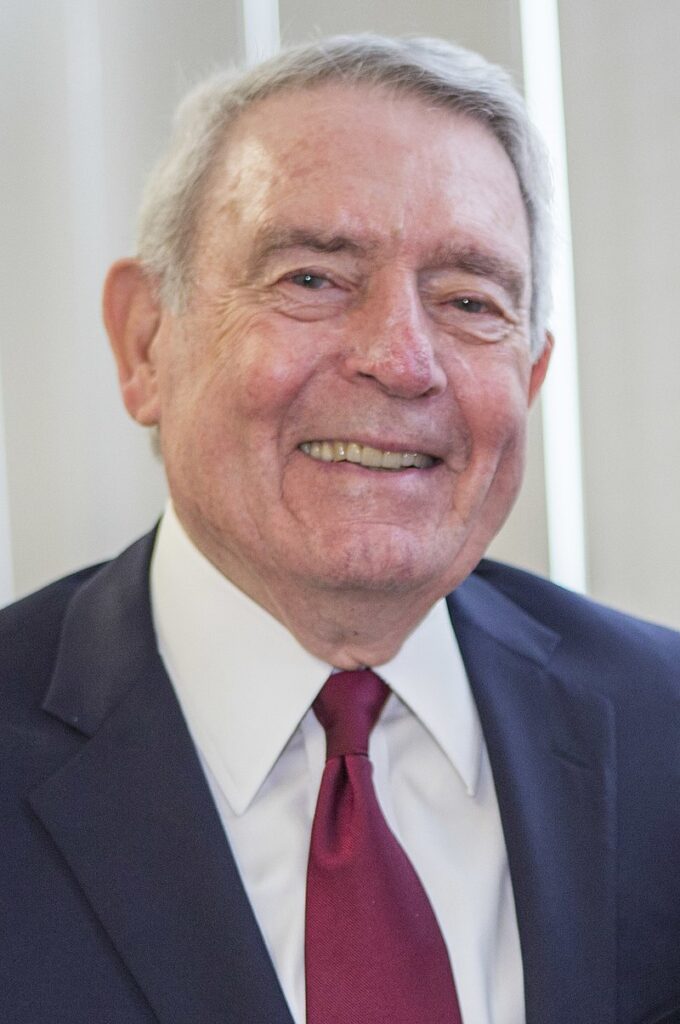 FROM WIKIPEDIA COMMONS
Daniel Irvin Rather Jr. (/ˈræðər/; born October 31, 1931) is an American journalist and former national evening news anchor. Rather began his career in Texas, becoming a national name after his reporting saved thousands of lives during Hurricane Carla in September 1961. Rather spontaneously created the first radar weather report by overlaying a transparent map over a radar image of Hurricane Carla. In his first national broadcast, he helped initiate the successful evacuation of 350,000 people.
Rather reported from Dallas in November 1963 at the time of the President Kennedy assassination. Based on his reporting, he was promoted at CBS News, where he served as White House correspondent beginning in 1964. He served as foreign correspondent in London and Vietnam over the next two years before returning to the White House correspondent position. He covered the presidency of Richard Nixon, including Nixon's trip to China, the Watergate scandal, and the president's resignation.
In 1981, Rather was promoted to news anchor for the CBS Evening News, a role he occupied for 24 years. Along with Peter Jennings at ABC News and Tom Brokaw at NBC News, he was one of the "Big Three" nightly news anchors in the U.S. from the 1980s through the early 2000s. He frequently contributed to CBS's weekly news magazine, 60 Minutes.
Rather left the anchor desk in 2005 following the Killian documents controversy, in which he presented unauthenticated documents in a news report on President George W. Bush's Vietnam War–era service in the National Guard. He continued to work with CBS until 2006, when he was abruptly fired.
In September 2007, Rather filed a $70 million lawsuit against CBS and its former parent company Viacom. Rather accused the network and its ownership and management of making him a "scapegoat" in the Killian story. An intermediate New York state appeals court dismissed the lawsuit in September 2009, and the New York Court of Appeals refused to reinstate it in January 2010.
On the cable channel AXS TV (then called HDNet), Rather hosted Dan Rather Reports, a 60 Minutes–style investigative news program, from 2006 to 2013. He also hosts several other projects for AXS TV, including Dan Rather Presents, which provides in-depth reporting on broad topics such as mental health care or adoption, and The Big Interview with Dan Rather, in which he conducts long-form interviews with musicians and other entertainers. In January 2018, he began hosting an online newscast called The News with Dan Rather on The Young Turks' YouTube channel.
TODAY'S ALMANAC
Question of the Day
What was the first network to broadcast color television programming?It was CBS, on June 25, 1951. The show, called Premiere, starred Ed Sullivan.
Advice of the Day
A handful of common sense is worth a bushel of learning.
Home Hint of the Day
Stains in a bathtub can be removed with household (5 percent) bleach. Lay several paper towels on top of the stain and soak them with bleach, leaving the towels in place for 45 minutes. Remove them and rinse. Repeat if necessary.
Word of the Day
BollixMake a mess of, destroy or ruin.
Puzzle of the Day
What is that which is full of holes and yet holds water?A sponge
Born
Franklin Pierce(14th U.S. president)– 1804
Billy the Kid(outlaw)– 1859
Jose Clemente Orozco(painter)– 1883
Boris Karloff(actor)– 1887
Harpo Marx(comedian & actor)– 1888
Erte(fashion designer)– 1892
Jose Napolean Duarte(Salvadorian poltical leader)– 1926
Bruce Hornsby(musician)– 1954
Dominique Dunne(actress)– 1959
Robin Roberts(broadcast journalist)– 1960
Jonathan Papelbon(baseball player)– 1980
Miley Cyrus(actress & singer)– 1992
Jordan Fry(actor)– 1992
Died
Walter Reed(American pathologist)– 1902
Roald Dahl(author)– 1990
Roy Acuff(country music singer)– 1992
Larry Hagman(actor)– 2012
Events
Horseshoe manufacturing machine patented– 1835
The water level in Lake Merced in California dropped 30 feet– 1852
The Intercollegiate Football Association formed– 1876
The first jukebox was installed in the Palais Royale Saloon in San Francisco– 1889
The first issue of LIFE debuted– 1936
U.S. Coast Guard Women's Reserve (SPARs) authorized– 1942
Food rationing ended– 1945
Newsman Dan Rather announced he would step down in March as the anchor of the CBS Evening News after nearly a quarter-century in the job– 2004
Weather
Berlin, New Hampshire, received 55 inches of snow– 1943
-38 degrees Fahrenheit, Chinook, Montana– 1985
Yarmouth, Massachusetts, received 14 inches of snow– 1989
Strasburg, Connecticut, received 6.5 inches of snow– 1989
COURTESY www.almanac.com