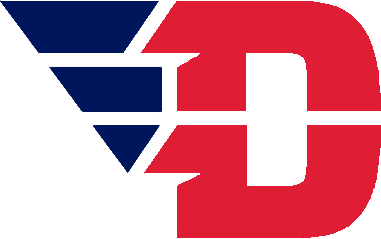 Game Notes Link: https://bit.ly/3nhAkRb
DAYTON — The University of Dayton men's basketball team hosts Lipscomb Wednesday night at sold-out UD Arena. Game time is 7 p.m. ET.
Dayton will be looking to bounce back after a 59-58 loss to UMass Lowell Saturday evening. DaRon Holmes II led UD with 13 points, and he became the sixth Flyer to block a school-record six shots. R.J. Blakney added 12 points, nine rebounds and three assists. Elijah Weaver also scored 12 points.
The game will carried by WHIO Radio, televised in SW Ohio on Spectrum News 1 and streamed on the ESPN+. Streaming audio, video and stats will be available at DaytonFlyers.com.
#TRENDING
• For the first time in UD Arena history, all season and single game tickets have been sold before the season even began. That announcement was made on Nov. 4. All 17 regular season home games are sold out, extending an ongoing sellout streak for the Flyers to 28.
• Dayton was predicted to finish fifth in the Atlantic 10 Preseason Poll of coaches and media. Defending champion St. Bonaventure was picked first, followed by Richmond and Saint Louis.
• Two Flyers were named Preseason All-Atlantic 10. Forwards Toumani Camara and Mustapha Amzil were both named to the third team.
• Camara, a transfer from Georgia, is the first immediately-eligible transfer to earn preseason accolades in Atlantic 10 Conference history. He saw action in 57 games in two seasons at Georgia, and started his last 48 games as a Bulldog. Last year, Camara averaged 12.8 points and 7.7 rebounds per game in 28.4 minutes of action.
• Amzil joined the team mid-year and exactly 50 days after he signed, he earned the first of his three Atlantic 10 Rookie of the Week awards. In 19 games (15 starts), Amzil was third on the team in scoring (9.9 points a game), rebounds (5.6), FG% (.496, 68-137) and 3-pt. FG% (.382, 26-68).
• Koby Elvis' 13 points against Cedarville in UD's exhibition game came on five-for-five shooting (and three-for-three from beyond the arc). He also had six assists against one turnover.
• R.J. Blakney's nine points in the UIC win came on 3-for-4 shooting from the floor. His +26 plus/minus rating was twice anyone else's on the team, except one player.
• That player was true freshman DaRon Holmes II, who was +17 after scoring nine points and grabbing four rebounds.
• The Covid year has complicated "the clock" for college student-athletes. With that in mind, the Flyers' 12 players who are listed as freshmen or redshirt freshmen are the second -most in NCAA Division I men's basketball. Only Arizona (13) has more. Next is Air Force (11) with Marquette and Vanderbilt (10 each) right behind.
• Dayton's incoming freshman class is ranked 21st-best in the nation. DaRon Holmes II, a consensus Top 50 recruit, is the highest-rated prospect to ever come to UD.
UP NEXT
• The Flyers are home again on Saturday, Nov. 20, when they host Austin Peay at 2 p.m. ET.
COURTESY DAYTON MEDIA RELATIONS