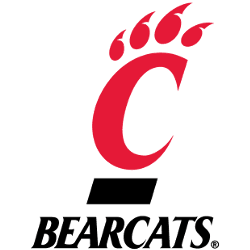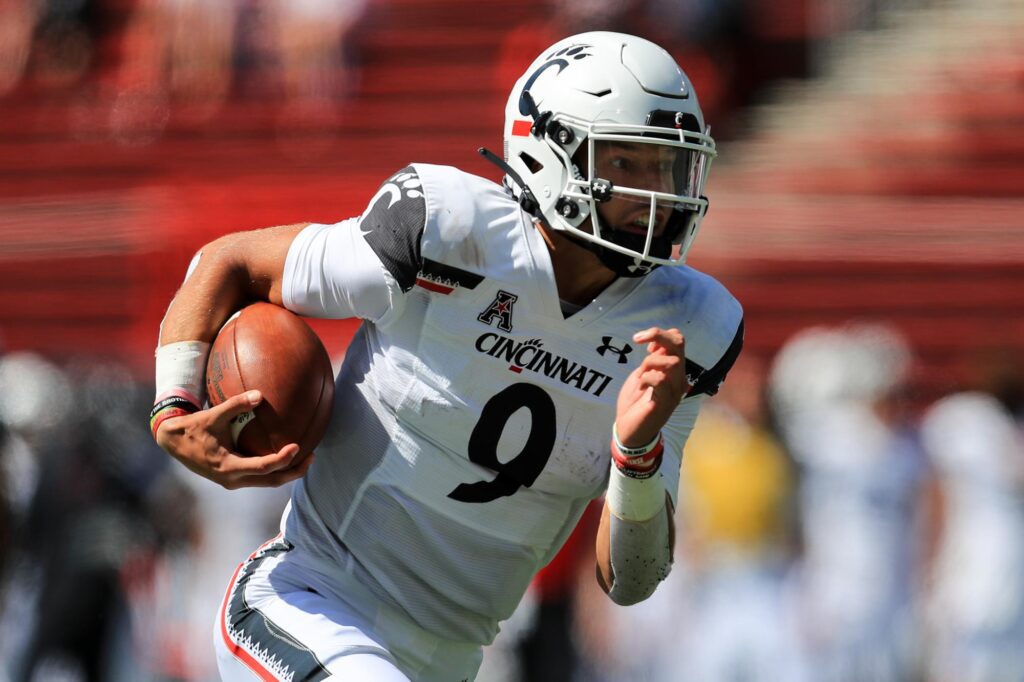 SUMMARY: The 2020 American Athletic Conference Offensive Player of the Year, 2020 AAC Championship Game Most Outstanding Player and 2018 AAC Rookie of the Year … helped lead the Bearcats to an AAC Championship and the team's first New Year's Six appearance since 2009 … Has 22 career rushing TDs, most ever for a UC QB and tied for No. 8 in the Bearcats annals … The active career leader in winning percentage among NCAA Football Bowl Subdivision signal callers, winning over 88% of his career starts … Ranked as the No. 2 passer in school history, throwing for 6,905 yards and 57 touchdowns.
2020: Named AAC Offensive Player of the Year and also was tabbed First-Team All-AAC, the 2020 AAC Championship Game MVP … finalist for the Manning Award … semifinalist for the Maxwell Award and Davey O'Brien Award … finished 186-of-281 for 2,296 yards and 19 touchdowns in the air, adding 592 yards and 12 scores on the ground … his 12 TDs ranked No. 2 among QBs in the NCAA FBS … averaged 6.0 yards per carry on his 98 attempts with a long rush of 91 yards, tied for the longest scoring run in school history, at SMU … accounted for 25 TDs in the final seven games of the season, passing for 1,699 yards and 13 TDs while running for 512 yards (6.2 YPR) and 12 TDs … named the Davey O'Brien National QB of the Week on Oct. 28 following the Bearcats win at SMU and was tabbed for the award's Great 8 twice along with winning AAC Offensive Player of the Week honors four times this season … season-best 24 pass completions vs. East Carolina were his most since 33 against SMU in 2018 … earned his bachelor's degree on Dec. 12, 2020.
2019: Was a 13-game starter at QB, helping lead to UC to a second-straight 11-win season … played through a number of nagging injuries all season long … had made 23-straight starts before missing the first game at Memphis with an injury … was 20-3 as a starter during his streak and is 21-4 in 25 career starts under center and has helped lead UC to nine come-from-behind wins … threw for 2,164 yards and 18 TDs while adding 650 yards and five more TDs on the ground … had eight scampers of 20 yards or more, 36 of 10 yards or more … all five of his 2019 rushing TDs came on scampers of 13 or more yards (13, 15, 13, 14, 13) … accounted for 2,814 of UC's 5,464 yards of total offense … lost his voice early in the second quarter of the opener against UCLA, forcing UC to go to non-verbal signals and completing 12 of his first 16 passes and going 4-5 on 3rd-down attempts for first downs … finished the game 18-of-26 for 242 yards, two TDs, an interception and 34 yards rushing … threw for two TDs against Miami (OH) … finished the Marshall game with 221 yards on 18-of-22 passing and four touchdowns while also running for 48 yards to account for 269 yards of the team's offense … his four scoring throws tied a career high (vs. ECU, 11/23/18) and was his third career game with three or more passing touchdowns after he threw for three – all in the first quarter – last year vs. Alabama A&M (9/15/18) … helped engineer the upset win over UCF, throwing a pair of TDs, including the game winner, an 11-yard hit to Alec Pierce early in the fourth quarter … had a season-high 263 passing yards at Houston on the way to the win … accounted for four TDs, three through the air and one on the ground … finished with TD passes of 75, 15 and 11 yards .. his 75-yard strike to Rashad Medaris was the Bearcats longest play from scrimmage in 2019 … rushed for a career high 121 yards at ECU, also converting a late 2-point conversion to Josiah Deguara following Ahmad Gardner's pick-6 … threw a pair of TDs in limited action against UConn … didn't play his best game, but still engineered an 11-play, 60-yard drive late in the first quarter which led to Sam Crosa's game-winning field goal at the gun … missed the first Memphis game due to injury … returned in the AAC Championship game a week later and nearly carried UC to the win over Memphis, throwing for 233 yards and rushing for 113 yards and a TD … his 39-yard scamper was his longest rush of the season … the unanimous MVP of the TicketSmarter Birmingham Bowl after an impressive display, finishing the game 14-of-24 passing for 95 yards and one score while carrying the ball 21 times for 105 yards and three scores … the first UC quarterback to rush for 100+ yards in a bowl game … broke a number of bowl records including, most rushing touchdowns (3), most touchdowns scored (3), most points scored (18) and tied for the most touchdowns accounted for (4 – Ben Mauk in 2007, Brendon Kay in 2012) … Ridder and Michael Warren II became the first UC duo to each rush for 100+ yards in a bowl game … named to the 2019 AAC All-Academic Team.
2018: The 2018 AAC Rookie of the Year, Ridder burst onto the scene in 2018, starting 11 games, completing 62.4 percent of his passes, throwing for 2,445 yards and 20 TDs while adding another 583 yards rushing along with five more scores. He came onto the field for the third offensive series in the opener against UCLA and started the rest of the way, showing a knack for making big plays. Pro Football Focus lists him with a 7.9% big-time throw rate, which ranks No. 6 among all returning FBS signal callers. Ridder threw for 250 or more yards on four occasions, including a career-best 352 yards at SMU. His four TD affair against ECU was one of seven games with multiple TD passes.
2017: Redshirted.
PRIOR TO UC: Listed as a three-star recruit by 247Sports.com and Scout.com while Rivals.com gives him two stars … Scout ranks him as the top QB in the state of Kentucky and one of the Top-50 QB prospects in the 2017 class … threw for 2,270 yards and 19 TDs and ran for 1,583 yards and 30 TDs during two seasons as a starter … averaged 6.5 yards per carry as a prepster … helped lead his team to the Kentucky HS Athletic Association finals in 2016 … an honorable mention Kentucky all-state football team selection by the Courier Journal … toted the ball 131 times for 915 yards and 18 TDs on the ground as a senior … averaged 76.0 yards per game and 6.9 yards per rush in 2016 … threw for 951 yards and another 10 TDs, going 91-for-160 with only four interceptions … he rushed for 203 yards and three touchdowns on 11 carries in a playoff win over Manual and also completed 8 of 19 passes for 86 yards and two scores … was the Courier-Journal Athlete of the Week on Nov. 23, 2016 after rushing for 126 yards and a pair of TDs in a KHSAA Regional Finals win over Male … completed 110 of 199 passes as a junior for 1,319 yards and nine touchdowns … also was the Tigers' leading rusher with 668 yards and 12 TDs on 114 attempts … coached by William Wolford.
COURTESY UC ATHLETIC COMMUNICATIONS