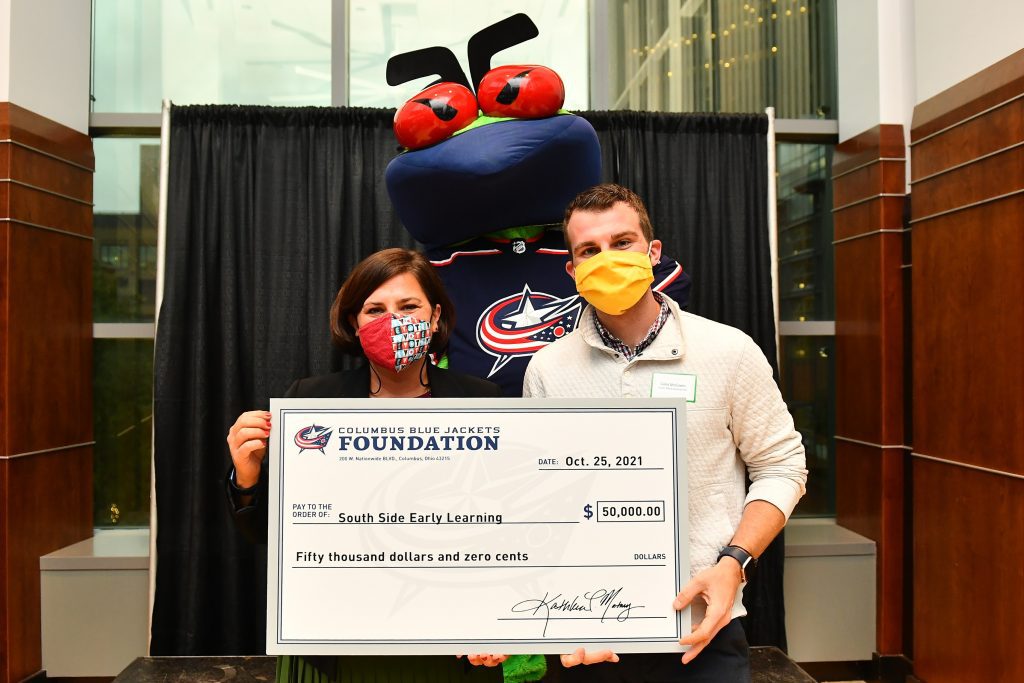 Foundation's cumulative reinvestment since 2000 now totals $11.9 million
COLUMBUS, OHIO – This evening the Columbus Blue Jackets Foundation announced the investment of $334,000 to local charitable and youth hockey organizations. This year's grants push the Foundation's cumulative support of youth health and wellness initiatives in central Ohio to $11.9 million since its inception in 2000.
During a pregame reception this evening, the Blue Jackets Foundation announced grants awarded to 25 Ohio-based nonprofit organizations, including three new partners and, for the first time, the Foundation is supporting children's mental health.
"This is an impactful group of grant partners, and the Foundation is proud to work with all of them in the support of children's health and wellness," said CBJ Foundation Executive Director Katie Matney.
For the first time, the Foundation will support Nationwide Children's Hospital Foundation On Our Sleeves campaign, a national movement to break stigmas around children's mental health. The program, which will be piloted in Youth Hockey teams in Central Ohio, provides free mental health educational resources to families and connects them to trusted local resources.
Bridgeway Academy is a new partner in the health and safety pillar this year. Funding from this year's grant will go towards play and safety equipment for a shared playground space at their new facility. Funding for this project this year is in partnership with Plante Moran.
Another new partner to the health and safety pillar is South Side Early Learning. The organization will use funding to develop a natural playground and establish a sensory garden area for children with sensory differences.  Funding for this project is given in partnership with Columbia Gas.
Rounding out the health and safety initiatives partners is Girls on the Run of Central Ohio. With funding from the Foundation, the organization will support curriculum to address the emotional, mental, and physical health for girls.
Central Community House, a community center on the Near East, is a new partner in the Education pillar. Foundation funding will support their online reading enrichment curriculum.
The Foundation continues funding in area of reading with Boys & Girls Clubs of Central Ohio, Columbus Early Learning Centers, Columbus Metropolitan Library Foundation, Community Shelter Board
Junior Achievement of Central Ohio, LSS CHOICES for Victims of Domestic Violence, Ruling Our eXperiences, Inc. (ROX), and YMCA of Central Ohio.
Grant recipients that support pediatric cancer programs include: A Kid Again, Flying Horse Farms, Make-A-Wish Ohio Kentucky and Indiana, and Ronald McDonald House Charities of Central Ohio.
Furthering the commitment to grow youth and amateur hockey and remove barriers to playing the game, the Foundation has awarded grants to eight hockey associations and organizations that include traditional programs, sled hockey, girls' hockey, and Special Hockey for individuals with developmental disabilities.
As the charitable arm of the National Hockey League club, the Columbus Blue Jackets Foundation leverages its unique resources – players, coaches, staff and fans – to partner with and invest in central Ohio charities.  For more information, visit www.BlueJackets.com/foundation.
COURTESY BLUE JACKETS COMMUNICATIONS