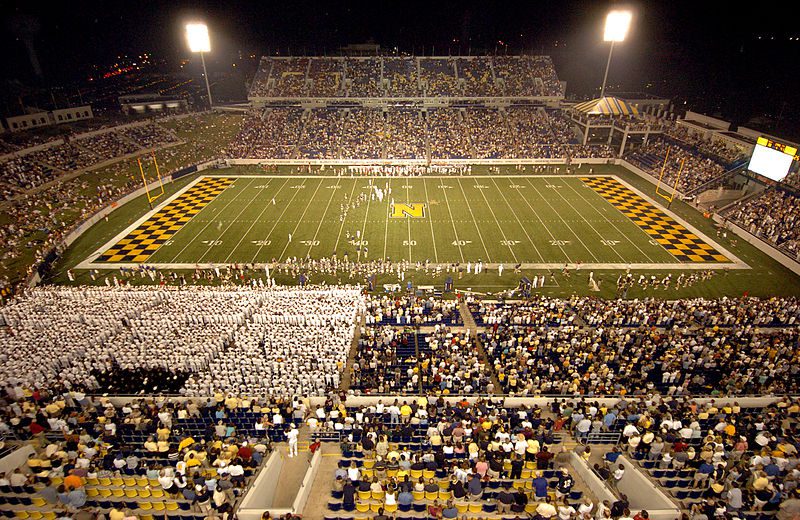 CINCINNATI – The No. 2-ranked Cincinnati football team travels to Navy on Saturday for a Noon ET AAC road contest at Navy-Marine Corps Stadium in Annapolis, Md.
The Bearcats are coming off back-to-back 50-point games for the first time in school history after defeating UCF, 56-21, last Saturday and Temple, 52-3, on Oct. 8 – both at Nippert Stadium.
Cincinnati (6-0) faces a Navy squad (1-5) that is coming off back-to-back losses to Memphis (35-17) and SMU (31-24). The Midshipmen typically have one of the strongest running games in the nation and had a 21-play, 11:50 touchdown drive in the loss to the Tigers. Navy ranks No. 20 nationally in rushing (214.3 ypg) and No. 6 in time of possession (34:33).
BROADCAST INFORMATION
Saturday's game will be televised nationally on ESPN2 with Dave Flemming (PxP), Rod Gilmore (Analyst) and Stormy Buonantony (sideline) on the broadcast. Fans can also listen on the Bearcats Sports Network on 700 WLW-AM and on satellite radio (Sirius Ch. 113, XM 201) with Dan Hoard (PxP) and Jim Kelly Jr. (Analyst) calling the action.
GARDNER, FORD RACK UP THE HONORS THIS WEEK 
Junior cornerback Ahmad "Sauce" Gardner has earned midseason All-America honors from ESPN, The Athletic, Associate Press and CBS Sports. Junior running back Jerome Ford has won the last two AAC Offensive Player of the Week awards and was selected as a midseason second-team All-America honoree from the Athletic. Read more about the Bearcats' midseason accolades here. 
FORD POWERS CINCINNATI TO BACK-TO-BACK 50-POINT GAMES FOR FIRST TIME EVER, NO. 2 IN THE POLLS
Cincinnati moved up to No. 2 in the Associated Press poll, its highest ranking ever for the second straight week. Before this season, UC's previous high was No. 4 in 2009. It's also the highest ranking in AAC history. The Bearcats jumped out to a 35-0 lead on UCF en route to a 56-21 victory on Saturday, marking the first time in school history (dating back to 1885) that Cincinnati recorded 50 points in back-to-back games. The Bearcats opened AAC play with a 52-3 win over Temple. Running back Jerome Ford rushed for 179 yards and four touchdowns against the Knights … IN THE FIRST HALF. Ford finished with 189 yards and four scores in the blowout win. The Tampa, Fla., native had 149 yards and two scores against Temple. In two AAC games this season, Ford has carried the ball 35 times for 338 yards (169 ypg, 9.7 ypc). The Bearcats rushed for a season-best 336 yards versus UCF en route to its seventh-ever 6-0 start, and third of the Luke Fickell era. Ford was named AAC Offensive Player of the Week for the second straight week, while senior cornerback Coby Bryant was named to the PFF College National Team of the Week. Bryant notched his second INT in as many games to lead the defense, recording a 74-yard pick-six.
CINCINNATI PROVES IT'S ELITE
Cincinnati is 37-6 (.860) since the start of 2018 and sports a 15-1 record (.938) since the start of 2020 with the Bearcats only loss over the last 22 months coming by three points, 24-21, to current-No. 1 Georgia in the 2020 Peach Bowl. The Bearcats have jumped out to a 6-0 record in 2021 and own one of the nation's top resumes thanks to a pair of double-digit road wins over non-conference opponents. UC defeated No. 9 Notre Dame, 24-13, two weeks after taking out Indiana, 38-24. In two AAC games, Cincinnati has outscored its opponents 108-24. UC's strength of record (outcomes + strength of schedule) is No. 7 in the nation. Cincinnati has the nation's best red zone defense (52.9%, 9 of 17) and the Bearcats are one of just two teams (joining C. Carolina) that rank in the Top 10 nationally in scoring (43.5, 6th) and scoring defense (13.7, 3rd). UC is +10 in TO margin and ranks No. 4 with 11 INTs. Cincinnati is allowing opposing quarterbacks to complete just 49% of their passes – No. 2 in the nation.
THE RIDDER FACTOR
Senior quarterback Desmond Ridder is one of the nation's top players and the leader of the Cincinnati offense. The Louisville, Ky., native is that nation's winningest quarterback with a 37-5 career record (88%). In 2021, he has passed for 1,429 yards and has 16 total TDs. Ridder has completed 108 of 168 pass attempts (64.3%) to go along with 128 rushing yards and three scores on the ground. He leads the AAC in QBR (74.9). He was named the Davey O'Brien National QB of the Week after his 323-total yard, 3-TD performance to lead UC to its first ever win over a Top 10 team on the road at Notre Dame.

FACING NAVY
Cincinnati shut out Navy 42-0 in 2018 – the last time these teams met.
QB Desmond Ridder passed for 178 yards and one score on 13-of-17 attempts and added a score on the ground.
RB Charles McClelland led UC with 86 rushing yards on six carries with one TD, while LB Joel Dublanko had eight tackles.
Navy nearly set a school record with 572 rushing yards against UC in a 42-32 victory over the Bearcats in the last matchup between the teams in Annapolis, Md. in 2017.
CINCINNATI DOMINATES UCF, EARNS B2B 50-PT WINS
This is the first time in school history that the Bearcats have scored 50-plus points in back-to-back games (defeated Temple 52-3 on Friday).
UC scored 56 points, which is the most since it scored since 63 against Alabama A&M on Sept. 15, 2018.
The Bearcats jumped out to a 35-0 lead.
RB Jerome Ford rushed for 179 yards and four touchdowns in the first half and finished with 189 rushing yards and four scores.
He is the first player to rush for over 185 yards in a game since Mike Boone, who had 212 rushing yards against USF on Oct. 24, 2014.
He is also the first player to rush for four touchdowns in a game since Isaiah Pead, who had four against Rutgers on Nov. 20, 2010.
Coby Bryant had the Bearcats' first interception returned for a touchdown since Jarell White against ECU on Nov. 13, 2020. Bryant's pick-six went for 76 yards, the longest UC pick-six since James Wiggins (86 yards) against SMU on Oct. 27, 2018.
Linebacker Joel Dublanko led the team with a career-high 10 tackles on the day.
Freshman punter Mason Fletcher averaged 42.0 on five punts, pinning the Knights inside the 20 three times, including one at the 2-yard-line.
NO FLY ZONE
Cincinnati has the best defensive back unit in the nation and the back end has helped UC's defense allow only 13.7 ppg (t2nd in the nation) and 294 total yards per game.
UC has the nation's top pass defense, allowing opposing QBs the lowest pass efficiency rating (87.98) in the country and only a 49.5 % completion percentage (No. 2 nationally).
UC is only allowing 5.1 yards per pass attempt (No. 2 in the nation) and ranks No. 4 in the country with 11 interceptions.
Junior Ahmad 'Sauce' Gardner is a true lockdown boundary cornerback, who at 6-3, 200 pounds, has the production and measurables to be a potential first round pick.
Senior Coby Bryant has seven PBUs and two interceptions in 2021. For his career, he has 31 PBUs and nine INTs in 55 career games.
Nickel back Arquon Bush has seven passes defended in 2021.
Senior safety Bryan Cook is fourth on the Blackcats with 30 tackles and also has one sack, one INT and four PBUs.
Cincinnati's fifth starter in the DB room is senior safety Ja'Von Hicks, who has 13 tackles and one INT in 2021.
FOLLOW THE BEARCATS
For all the latest information on Cincinnati athletics, please visit GoBEARCATS.com. For up-to-the-minute updates, follow Cincinnati Athletics on Twitter, Instagram and Facebook.
COURTESY UC ATHLETIC COMMUNICATIONS