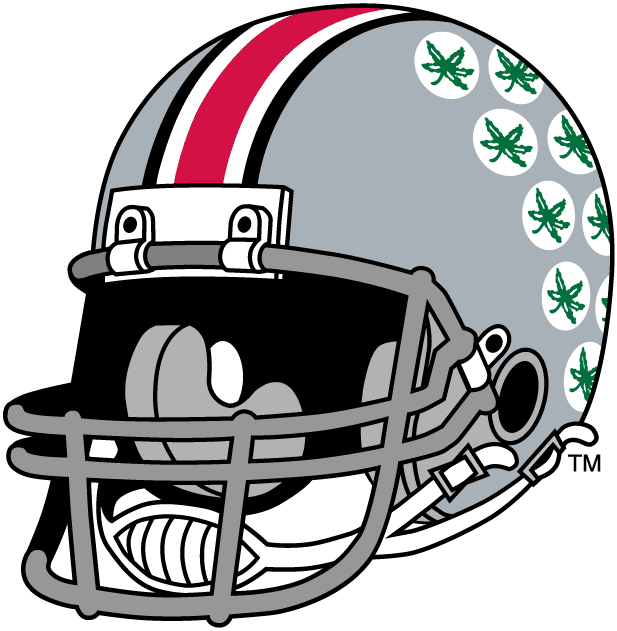 8 NATIONAL CHAMPIONSHIPS • 39 BIG TEN CHAMPIONSHIPS • 936 ALL-TIME WINS • 7 HEISMAN TROPHY WINNERS
85 FIRST ROUND NFL DRAFT PICKS • 89 CONSENSUS ALL-AMERICANS • 4 COLLEGE FOOTBALL PLAYOFF APPEARANCES
GAME SEVEN

5 OHIO STATE (5-1, 3-0 B1G) VS. INDIANA (2-4, 0-3 B1G)

Saturday, Oct. 23, 2021 • 7:30 p.m. • Bloomington, Ind. • Memorial Stadium (52,626) • ABC

Head Coach: Ryan Day
Record at Ohio St.: 28-3 (3rd)
Career Record: Same
Career vs. Indiana: 2-0

Head Coach: Tom Allen
Record at Indiana: 26-26 (5th)
Career Record: Same
Career vs. Ohio State: 0-4
FIRST AND TEN
f Ohio State, off last weekend, travels to
Bloomington, Ind., for a 7:30 p.m. game against
the Indiana Hoosiers that ABC will televise to a
national audience.
f This is the 95th game in the all-time series and
Ohio State holds a 76-12-5 advantage.
f Ohio State has won 25 consecutive in the series,
but …
f Indiana is making things a little too interesting –
as in uncomfortably interesting – for Ohio State
of late. Consider: 52-49 in 2012; 42-27 in 2014;
34-27 in 2015; 49-26 in 2018; and 42-35 last year.
f Indiana's last wins over Ohio State: back-toback in 1987 (31-10) and 1988 (41-7). The '87 win
snapped a 23-game Ohio State win streak over
the Hoosiers. The two teams tied, 27-all, in 1990.
f Last year, both teams were ranked in the AP Top
Ohio State led at one point 35-7 and held on
for a 42-35 win. Indiana rallied behind Michael
Penix (491 passing yards and 5 TDs).
f Fifth-year Ohio State OC Kevin Wilson was IU's
head coach for six years, from 2011-16. He led his
final two Hoosier teams to bowl games.
f The teams next meet on 10-29-22 in Columbus.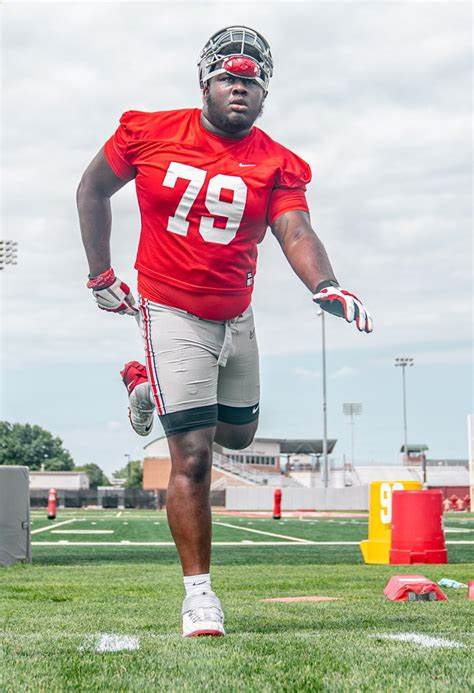 DAWAND JONES: BMOC
Indianapolis native & Ben Davis
H.S. graduate Dawand Jones can
throw some shade. He is 6-8, 360,
after all, and is developing into
a terrific offensive tackle for the
Buckeyes under the direction of
line coach Greg Studrawa. Jones
has started all six games this year
at RT and earned team offensive
player of the game honors vs.
Akron. The junior communications
major has seven career starts and
has played in 23 games.
SCOUTING OHIO STATE
f Ohio State has won three consecutive
games since a 35-28 home loss to Oregon
in Week 2 of the season, and it comes
back from its off weekend with a 5-1 overall
record and 3-0 mark in the Big Ten. Two
of its three conference wins have come on
the road.
f The Buckeyes are averaging 54.5 points in
the last four games and are giving up just
14.2.
f The Buckeyes have outscored – 152-40 –
and outgained – 587.0 ypg-303.0 – the last
three opponents by considerable margins.
f Over the last three games – in wins over
Akron, Rutgers and Maryland – Ohio State
has given up just five touchdowns.
f The Buckeyes have not allowed a rushing
touchdown since Week 2 against Oregon
and are allowing just 79.0 yards per game
on the ground over the last four games.
f Ohio State possesses one of the top
offenses in college football. The Buckeyes
rank nationally No. 1 in total offense (562.7),
No. 2 in scoring (48.5), No. 8 in passing
(352.2) and No. 22 in rushing (211.0).
f The Buckeyes are also tied for fifth
nationally in scrimmage plays of at least
50 yards with nine of them by four players
(TreVeyon Henderson – 4; Garrett Wilson –
2; Chris Olave – 1; and Miyan Williams – 1).
f The Buckeyes defense, after allowing an
average of 471.3 yards and 28.7 points
through the first three games of the
season, has lowered those averages
considerable in the last three weeks to
current cumulative averages of 387.3 yards
and 20.5 points.
f Ohio State's defense has improved by 49
positions in scoring defense and by 34 in
total dffense the past three weekends.
f Ohio State's defense is second nationally in
passes defended (43; 34 PBUs and 9 INTs).
f Twenty-one of Ohio State's 22 trips into
the red zone have resulted in points – 11th
nationally; 95.45 pct. – with 17 touchdowns
(nine rushes; eight passes).
f Ohio State is T3rd nationally with 46 plays
from scrimmage of at least 20 yards (7.6
per game). The Buckeyes had 11 such
plays vs. Oregon, nine vs. Akron and eight
against both Rutgers and Maryland.
MORE OHIO STATE BUCKEYE NOTES
f Ohio State has won 21 consecutive Big
Ten Conference games. This is the longest
streak in the Big Ten since Ohio State's
national-record 30-game conference
winning streak from 2013-15.
f Coach Ryan Day's teams are 28-3 overall
and 18-0 in Big Ten Conference play.
f SAF Ronnie Hickman continues to be one
of Ohio State's most consistent performers
on defense. He has a team-best 50 total
tackles for the season and is on pace to
have Ohio State's first 100-tackle season
since Raekwon McMillen in 2016.
f Redshirt freshman quarterback C.J. Stroud
is second nationally in passer rating at 191.1
and he is eighth in TD passes (18).
f Stroud also leads the Big Ten in passing
yards per game (339.8), quarterback rating
and TD passes.
f He is the first quarterback in school history
to have back-to-back five-touchdown
games without throwing an interception.
f The 46 combined TD receptions by Chris
Olave and Garrett Wilson are the most by a
pair of Ohio State teammates.
f Jeremy Rucket's 19-yard touchdown
reception at Rutgers gives him 10 for his
career. Jake Stoneburner holds the school
tight end record with 13.
f Freshman CB Denzel Burke is tied for 20th
nationally with seven passes defended (6
PBUs and 1 INT).
f With five turnovers forced in the last two
games (all interceptions), Ohio State is tied
for 14th nationally in TO margin at +6 and
ninth in turnover margin per game (+1.00).
f Ohio State's record for consecutive games
with 500-or-more yards of total offense: six
in 2017 and 2020. It currently has five such
games in a tow.
f Ohio State's record for "pick-6's" in a
season: 7 in 2016. The Buckeyes currently
have four (in four consecutive games).
f Haskell Garrett's three QB sacks vs. Akron
are tied for seventh in school history.
f Kicker Noah Ruggles has converted on 15
consecutive FGAs inside of 50 yards.
BUCKEYES FROM INDIANA
f LB Craig Young (Fort Wayne, Ind.), OL Zen
Michalski (Floyds Knobs, Ind.), OL Josh
Fryar (Beech Grove, Ind.) and Dawand
Jones (Indianapolis).
SCOUTING INDIANA
f Indiana fell to 2-4 last Saturday after a
20-15 loss to No. 10 Michigan State in
Bloomington.
f All four of Indiana's losses have come to
team's that are currently ranked in the
Associated Press top 10: Iowa, Penn State,
Cincinnati and Michigan State.
f Jack Tuttle started at quarterback against
the Spartans for an injured Michael Pennix
Jr. and completed 28 of 25 passes for 188
yards and two interceptions.
f Ty Fryfogle, the 2020 Big Ten Wide
Receiver of the Year, caught a game-high
seven passes. He is Indiana's leading
receiver this season with totals of 33
catches for 337 yards and one touchdown.
f Stephen Carr leads the Hoosiers in rushing
with 439 yards on 121 carries and four
touchdowns. He's averaging 73.2 yards per
game.
f On defense, Indiana ranks 37th nationally
in total yards given up (334.8 per game)
and is 18th in third down conversion
defense, allowing opponents to convert
just 31.7 percent of the time.
f Linebacker and All-Big Ten performer
Micah McFaddan leads the team in tackles
(36), tackles for loss (9.0) and sacks (3.5).
He also has two pass breakups, four
quarterback hurries, two forced fumbles
and a fumble recovery.
f Head coach Tom Allen is in his fifth season
leading the Hoosiers and has a 26-26
record. He was the 2020 Big Ten Coach of
the Year after leading the Hoosiers to a 6-2
record and invitation to the Outback Bowl.
CHAMPIONS VS. MARYLAND
f Offense: WR Garrett Wilson, WR Chris
Olave, QB C.J. Stroud, RB TreVeyon
Henderson
f Player of the Game: WR Jaxon Smith-Njigba
f Defense: DE Zach Harrison, DT Taron
Vincent, DE Jack Sawyer, DE Javontae
Jean-Baptiste, SAF Marcus Williamson, LB
Tommy Eichenberg
f Player of the Game: LB Steele Chambers
f Special Teams Players of the Game: WR
Emeka Egbuka
f Scout Team Players of the Week: TE Joe
Royer, OL Trey Leroux, DT Jaden McKenzie,
DE Jack Sawyer, DE J.T. Tuimoloau, SAF
Andre Turrentine
THE OHIO STATE/INDIANA SERIES
f This is officially the 95th game in the series
and the 13th consecutive season the two
teams have met on the gridiron.
f The series, which started in 1901, is the
second-longest running or oldest series for
Ohio State after its series against Michigan,
which started in 1897.
f Two of Ohio State's last five trips to
Bloomington have been games decided by
seven points or less: a 34-27 win in 2015
and a 52-49 victory in 2012.
f In its last visit to Memorial Stadium, Ohio
State jumped out to a 30-10 halftime lead
and won 51-10.
DEFENSIVE IMPROVEMENTS
f Over the three games, Ohio State's
defense has allowed 350 or fewer yards
in each contest and given up just five total
touchdowns.
f Opponents are rushing for just 2.3 yards
per carry.
f During this span the defense has more
interceptions (seven) than touchdown
passes allowed (five).
f Opposing quarterbacks are averaging less
than 10 yards per completion (9.1).
f After generating just 11 tackles-for-loss in
the first three games, Ohio State has 24 in
the last three with 14 sacks
FAST STARTS
f In its first three games, Ohio State scored
a total of just 10 first-quarter points. Its only
touchdown was a 71-yard run from Miyan
Williams vs. Minnesota.
f Over the last three games, the Buckeyes
have outscored Akron, Rutgers and
Maryland 52-16 in the first quarter and have
seven total touchdowns.
f The Buckeyes have scored touchdowns on
its opening possession in each of the last
two games. They have yet to allow a TD
to an opponent on their first drive (three
punts, one turnover on downs and two field
goals)
NO POINTS FOR YOU
f Over the last three games, 83.3 percent of
opponent drives – 30 out of 36 – have not
resulted in points for Ohio State opponents.
f That does not include drives which ended
due to the end of either the first or second
halves.
f Opponents (Akron, Rutgers and Maryland)
are scoring just 12.3 points in the last three
games.
NINE INTERCEPTIONS SO FAR
f Ohio State is tied with Oregon and
East Carolina for 10th in the nation in
interceptions with nine.
f The Buckeyes' single-season record for
INTs in a season is 27 (2086).
f Four of Ohio State's INT's have been
returned for touchdowns, which is the most
in the country.
f Coupled with Haskell Garrett's 32-yard
fumble recovery for TD at Minnesota, Ohio
State's five defensive touchdowns is the
most nationally
BIG RUNS FROM TREVEYON
f On the second offensive play from
scrimmage at Rutgers, freshman TreVeyon
Henderson scored off a 44-yard touchdown
– his fourth rush this season of 40 yards
or more. That's the second-most of any
running back in the country, behind only
Tyler Badie of Missouri.
f Henderson is also tied with three other
players for the second-most carries of 30
yards or more (six).
f Henderson's 8.8 yards-per-carry average is
the highest among running backs with 40
or more carries on the season
TOUCHDOWN, TREVEYON!
f TreVeyon Henderson has scored at least
one touchdown in all six games this
season.
f His 11 TDs so far (nine rushing, two
receiving) leads the Big Ten.
f The Ohio State record for touchdowns by a
freshman is 18 by Maurice Clarett in 2002.
Most Touchdowns Scored by a Freshman
(Rushing and Receiving)
Maurice Clarett (2002) 18
Art Schlichter (1978) 13
Joel Payton (1977) 13
TreVeyon Henderson (2021) 11
J.T. Barrett (2014) 11
SIX CONSECUTIVE B1G AWARDS
f If the Buckeyes are playing this season,
it means they are also winning a Big Ten
Freshman of the Week award.
f Quarterback C.J. Stroud has earned the
award after four of his five starts this
season.
f The two weeks that he didn't win it, a
teammate did: TreVeyon Henderson on
Sept. 20 and Kyle McCord on Sept. 27.
f Before this season, no school has won
more than four Freshman of the Week
honors in a row.
f The record for most Freshman of the
Week awards in a single season is held by
Jonathan Taylor, who won eight in 2017.
f Ohio State's high mark is seven by J.T.
Barrett in 2014
WILSON, OLAVE & SMITH-NJIGBA
f Garrett Wilson has at least one catch in 27
consecutive games, the 13th longest streak
nationally.
f In just 28 career games, Wilson has 104
receptions for 1,701 yards and 17 TDs.
f Olave is ninth in Ohio State history with 141
receptions.
f Olave is also ninth in receiving yards
(2,269) and third with 29 touchdown
receptions.
f He has 10 two-touchdown games and 10
100-yard receiving games.
f Smith-Njigba is averaging a team-best 19.7
yards per catch.
f Combined stats for Wilson, Olave and
Smith-Njigba: 84 receptions, 1,492 yards,
17.7 yards per catch and 16 TDs.
FRESHMEN START & FRESHMAN PLAY
f A total of 32 true (19) and RS (13) freshman
have played this season for Ohio State.
f Freshman have combined to start 15 games
this year.
f Ohio State started four true freshmen
against Akron: QB Kyle McCord, RB
TreVeyon Henderson, CB Denzel Burke and
DE J.T. Tuimoloau.
f It marked the first time that Ohio State had
ever started a true freshmen at quarterback
and running back in the same game.
f Ohio State's leader in rushing yards
(Henderson), passing yards (C.J. Stroud),
sacks (Tyliek Williams) and defensive snaps
played (Burke) are all freshmen (redshirt or
true)
BIG PLAY BUCKEYES
f Ohio State is second nationally – and first
among Power 5 teams – in yards per play
average at 8.55.
f The Buckeyes have 18 plays that have
covered 40 yards or more and 12 of 50
yards or more.
f Of Ohio State's 39 touchdowns scored this
season, 22 have come on plays of 20 yards
or more (56 percent).
f Ohio State has more TDs of 20+ yards
(22) than nine Big Ten teams have total
touchdowns.
100TH SEASON AT OHIO STADIUM
f The inaugural season in grand, venerable
Ohio Stadium was in 1922 which makes the
2021 season the 100th season of games in
the facility.
f Construction began in August 1921 and was
completed a year later at a cost of just over
$1.5 million.
f Ohio State christened its new home with
a 5-0 win over Ohio Wesleyan on Oct. 7 in
front of 25,000 fans.
f The dedication game came against
Michigan two weeks later. More than
72,000 were estimated in attendance.
f Ohio State has an all-time Ohio Stadium
record of 455-113-20.
PUTTING UP POINTS
f Since 2018, Ohio State has scored 40 or
more points in 63.4 percent of its games
(26 of 41).
f That mark is the third highest in the
country, behind only Alabama (77 percent)
and Oklahoma (64.5 percent).
WINNING BIG UNDER DAY
f Ohio State is 25-1 in regular season games
under Ryan Day.
f Only one of those 25 wins was decided by
a touchdown or less (a 42-35 victory versus
Indiana in 2020).
f The Buckeyes have averaged 49.4 points
per game in their 25 regular season wins
under Day.
f The team's average margin of victory in
its 28 wins under Day is 36.8 points per
game
Graduates on the 2021 Roster
Haskell Garrett Sociology
Antuwan Jackson Human Development
and Family Science
Thayer Munford Sport Industry
Demario McCall Communications
Corey Rau Sports Management (SMU)
Bradley Robinson HDFS & Human
Nutrition
Mitch Rossi Finance
Jeremy Ruckert Human Development
and Family Science
Noah Ruggles Sports Mgt. (UNC)
Master Teague Communications
Marcus Williamson History
WEEK SEVEN IN THE BIG TEN
Saturday, Oct. 23
Northwestern at Michigan • FOX Noon
Illinois at Penn State • ABC Noon
Wisconsin at Purdue • BTN 3:30 p.m.
Maryland at Minnesota • ESPN2 3:30 p.m.
Ohio State at Indiana • ABC 7:30 p.m.
COURTESY OSU ATHLETIC COMMUNICATIONS