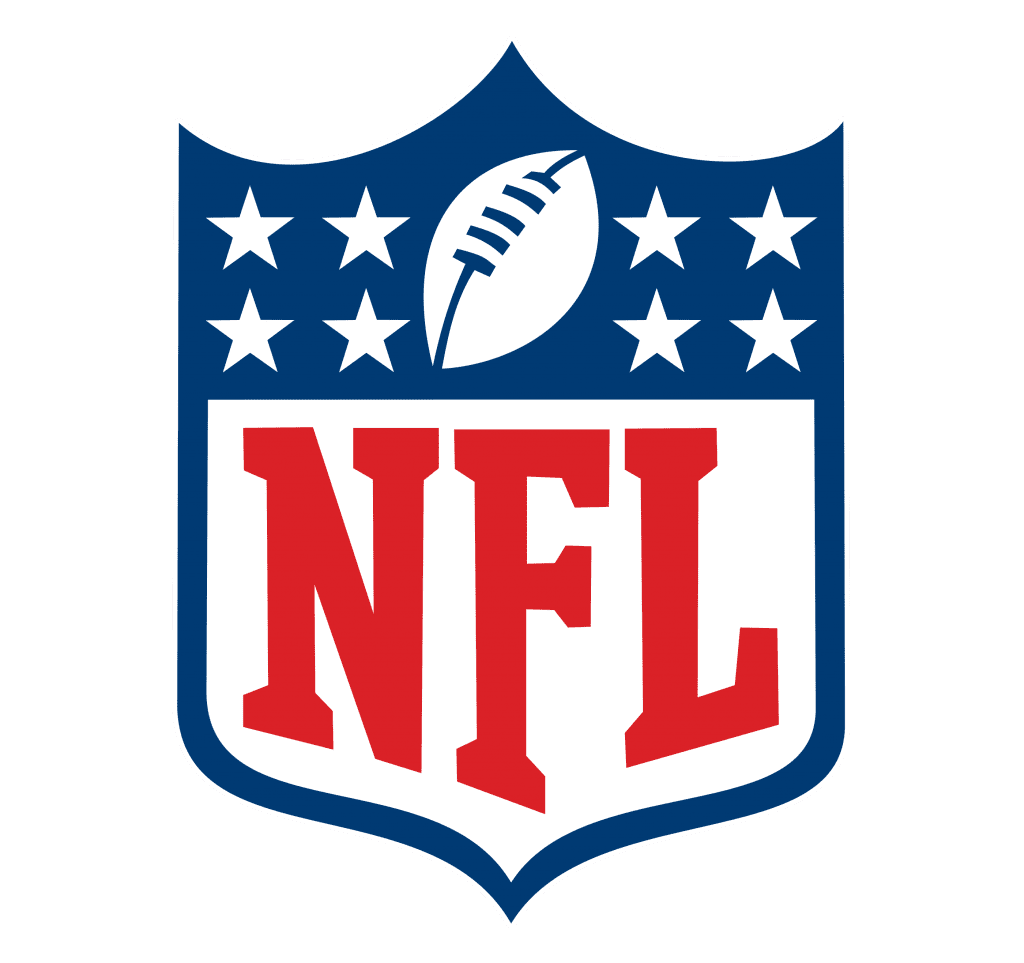 NFL ENTERS WEEK 7 WITH UNPRECEDENTED AMOUNT OF
LAST-MINUTE ENDINGS, SECOND-MOST OVERTIME GAMES
Week 7 is an important juncture in any NFL season.
Some teams are hitting their strides while others are developing new identities as adversity forces them to pivot and reframe. For younger players, the game is beginning to slow down. And, teams are reaching bye weekends that allow them to recharge mentally and physically.
Week 7 in this NFL season is important because several teams have an opportunity to reach or stay above the always-important .500 mark, keeping pace with division leaders.
Recent history proves that having a .500-or-better record after Week 7 is a key factor in earning a trip to the postseason. Over the past 10 years (2011-20), 122 teams made the playoffs and 107 of those (87.7 percent) were either .500 or above through the first seven weeks of the NFL season.
That's why this week is key for several teams, beginning with the Thursday night matchup between 3-3 clubs, the DENVER BRONCOS and CLEVELAND BROWNS (8:20 PM ET, FOX/NFLN/Amazon). Elsewhere across the league:
Two teams coming off their bye weeks, the SAN FRANCISCO 49ERS (2-3) and the NEW ORLEANS SAINTS (3-2), will attempt – in primetime – to include themselves in that .500-or-better group. The 49ers host the INDIANAPOLIS COLTS (2-4) on Sunday Night Football (8:20 PM ET, NBC), while the Saints travel to play the SEATTLE SEAHAWKS (2-4) on Monday Night Football (8:15 PM ET, ESPN).
A pair of NFC South teams, the CAROLINA PANTHERS (3-3) and ATLANTA FALCONS (2-3), can maintain pace with respective trips to play the NEW YORK GIANTS (1-5) and MIAMI DOLPHINS (1-5), both 1:00 PM ET kickoffs on FOX.
The CHICAGO BEARS (3-3) have an opportunity to surprise the TAMPA BAY BUCCANEERS (5-1) on Sunday (4:25 PM ET, CBS).
And, in one of the weekend's marquee pairings, the KANSAS CITY CHIEFS (3-3) have a date in Nashville with the TENNESSEE TITANS (4-2) on Sunday (1:00 PM ET, CBS).
STREAKS ARE CHIC: Four teams currently own winning streaks of at least five games: ARIZONA (six), BALTIMORE (five), DALLAS (five) and GREEN BAY (five). It's the first time since Week 13 of the 2018 season in which four-or-more teams have winning streaks of that length.
Three of those clubs (Baltimore, Dallas and Green Bay) lost their 2021 openers. Last season, the Browns, Colts and Super Bowl champion Buccaneers, made the playoffs after losing their initial 2020 games.
SEESAW GAMES: Last week's Monday night thriller in Nashville, where the Titans held off the Bills, 34-31, in the final seconds, marked the third NFL game this season with at least seven lead changes.
Tennessee and Buffalo matched a Monday Night Football record with their seven lead changes. The only other time it happened in the 52-year history of the primetime series was Sept. 15, 2008, when Dallas emerged with a 41-37 victory over Philadelphia at Texas Stadium.
Previously this season, two other games have involved seven lead changes: Arizona beat Minnesota, 34-33, in Week 2, and the Chargers defeated Cleveland, 47-42, in Week 5.
Teetering games have been common so far this season. On average, better than one game per week has included at least five lead changes (seven such games in six weeks).
BONUS TIME: Already this season, 11 games have gone to overtime, the second-most through the first six weeks of a season all-time. Only the 1995 season (12 games) had more at this point. Dallas, Minnesota and Pittsburgh earned overtime victories in Week 6.
At least one game has gone to overtime in each of the first six weeks of the 2021 season, marking the second time ever (2018) that a season has featured at least one overtime game in each of its first six weeks.
The league needs just one overtime contest this weekend to tie the NFL record for the longest stretch of season-opening weeks with at least one overtime game (Weeks 1-7, 2018).
There have been 23 games with a game-winning score in the final minute of regulation or in overtime this season, the most such games through the first six weeks all-time.
TITANS HAVE ANOTHER TITANIC QUARTERBACK ON DOCKET: Fresh off an impressive Monday night win over Buffalo, the TENNESSEE TITANS (4-2) host the KANSAS CITY CHIEFS (3-3) on Sunday (1:00 PM ET, CBS).
The game features the NFL leader in touchdown passes, Kansas City's PATRICK MAHOMES (18) and his top target TYREEK HILL, who is tied for the NFL lead with 46 receptions. The matchup also includes Tennessee running back DERRICK HENRY, the league leader in both rushing yards (783) and rushing touchdowns (10).
Last week, Mahomes passed for a season-high 397 yards with two touchdowns, while tight end TRAVIS KELCE had eight receptions for 99 yards in the Chiefs' win at Washington.
At Nissan Stadium on Sunday, Mahomes can record his 30th career 300-yard passing game and surpass Pro Football Hall of Famer KURT WARNER (29) for the most such games by a player in his first five seasons in NFL history.
Also this week, Kelce can record his 79th career game with at least five receptions and surpass Pro Football Hall of Famer SHANNON SHARPE (78) for the fourth-most such games by a tight end in NFL history. Only Pro Football Hall of Famer TONY GONZALEZ (139 games), JASON WITTEN (130) and ANTONIO GATES (96) have more.
Tennessee running back DERRICK HENRY averaged 7.2 yards per carry (20 attempts, 143 yards) and ran for three touchdowns in the Titans' victory last week. Henry, who ran for 130 yards and three touchdowns in Week 5, is the first player in 15 years, since Pro Football Hall of Famer LADAINIAN TOMLINSON in 2006, with consecutive games of 100 yards rushing and three-or-more rushing touchdowns. Tomlinson reached those marks over a three-game stretch from Nov. 5-19, 2006.
Henry's 13-yard touchdown with 3:05 remaining, and the Titans' dramatic goal-line stand in the final seconds, sealed Tennessee's Monday night win last week. The Titans, who outscored the Bills 10-0 in the fourth quarter, have the league's most come-from-behind wins (13) in the fourth quarter or overtime since head coach MIKE VRABEL took the reins in 2018.

BENGALS, RAVENS BATTLE FOR DIVISION LEAD: Quarterbacks JOE BURROW and LAMAR JACKSON will square off for just the second time when the CINCINNATI BENGALS (4-2) travel to meet the BALTIMORE RAVENS (5-1) on Sunday (1:00 PM ET, CBS).
Last week, Jackson earned his 35th career win as a starting quarterback and surpassed Pro Football Hall of Famer DAN MARINO (34 wins) for the most wins by a quarterback prior to his 25th birthday in NFL history. Jackson turns 25 in January.
In the Bengals' win last week, Burrow passed for 271 yards with three touchdowns and one interception for a 115.7 rating, while rookie wide receiver JA'MARR CHASE led the team with 97 receiving yards.
Burrow, the No. 1 overall pick in the 2020 NFL Draft, has at least two touchdown passes in each of the Bengals' first six games this season. He joined Pro Football Hall of Famer DAN MARINO (first 10 games in 1984) as the only first- or second-year quarterbacks with at least two touchdown passes in each of their team's first six games of a season in NFL history.
Chase has 553 receiving yards this season, the second-most receiving yards by a rookie in his first six career games in the Super Bowl era. Only ANQUAN BOLDIN (592 receiving yards in 2003) had more.
Bengals defensive end TREY HENDRICKSON has 19 sacks since the beginning of 2020. Only T.J. WATT (22) and MYLES GARRETT (20) have more in that span.
BUCS AIM FOR BEST START IN FRANCHISE HISTORY: The TAMPA BAY BUCCANEERS (5-1), who began play as an expansion franchise in 1976, have matched the best start in team history. They also began 5-1 in 2005, 2002, 1997 and 1979. Tampa Bay has never opened a season 6-1 and can reach that mark with a win over the CHICAGO BEARS (3-3) on Sunday (4:25 PM ET, CBS).
Chicago's defense enters the game tied for the league lead with 21 sacks, while Tampa Bay's offense has allowed just nine sacks, tied for fifth-fewest in the NFL.
Tampa Bay quarterback TOM BRADY has the second-most passing yards (2,064) and touchdown passes (17) of his career through six games, topped only by his 2,163 passing yards in 2011 and his 21 touchdown passes in his MVP season of 2007. His 2,064 passing yards this season rank No. 1 in the league.
SAINTS STRONG AFTER BYE WEEKS: The NEW ORLEANS SAINTS (3-2) are fresh off their bye week and play at the SEATTLE SEAHAWKS (2-4) on Monday Night Football (8:15 PM ET, ESPN). Over the last 10 seasons (2011-20), New Orleans is 7-3 in games after bye weeks, tied for the best record in the NFL. On the other sideline, the Seahawks are 4-2 over the previous five seasons (2016-20) against opponents coming off bye weeks.
GOFF, STAFFORD BATTLE AT SOFI STADIUM: In their first meeting after trading places as starting quarterbacks of their respective teams, JARED GOFF and the DETROIT LIONS (0-6) go on the road to play MATTHEW STAFFORD and the LOS ANGELES RAMS (5-1) on Sunday (4:05 PM ET, FOX). The trade this past offseason involved two former No. 1 overall selections in the NFL Draft.
Since the beginning of 2018, when Goff led the Rams to a berth in Super Bowl LIII, he has 14,783 passing yards. Over that span, only PATRICK MAHOMES (15,755), MATT RYAN (15,303) and TOM BRADY (15,109) have more.
Stafford, who this week plays his 172nd NFL game, has 298 career touchdown passes. With two more on Sunday, he would become the eighth player in NFL history to reach the 300-touchdown milestone in 175-or-fewer games.
This season, Stafford has 16 touchdown passes, the most in NFL history for a player in his first six games with a new team.

Rams wide receiver COOPER KUPP leads the NFL with seven touchdown catches, while his 46 receptions are tied for the league lead with DAVANTE ADAMS and TYREEK HILL. Last week, Kupp recorded nine catches for 130 yards and two touchdowns. Kupp, who also had two touchdown receptions in Week 2 and Week 3, is the first player since JULIUS THOMAS (2014) with at least two touchdown catches in three of his team's first six games of a season.
Kupp also has 46 receptions for 653 yards and seven touchdowns this season and has joined Pro Football Hall of Famer MARVIN HARRISON (45 catches for 709 yards and eight touchdown receptions in 1999) as the only players with at least 45 catches, 650 receiving yards and seven touchdown receptions in their team's first six games of a season in NFL history.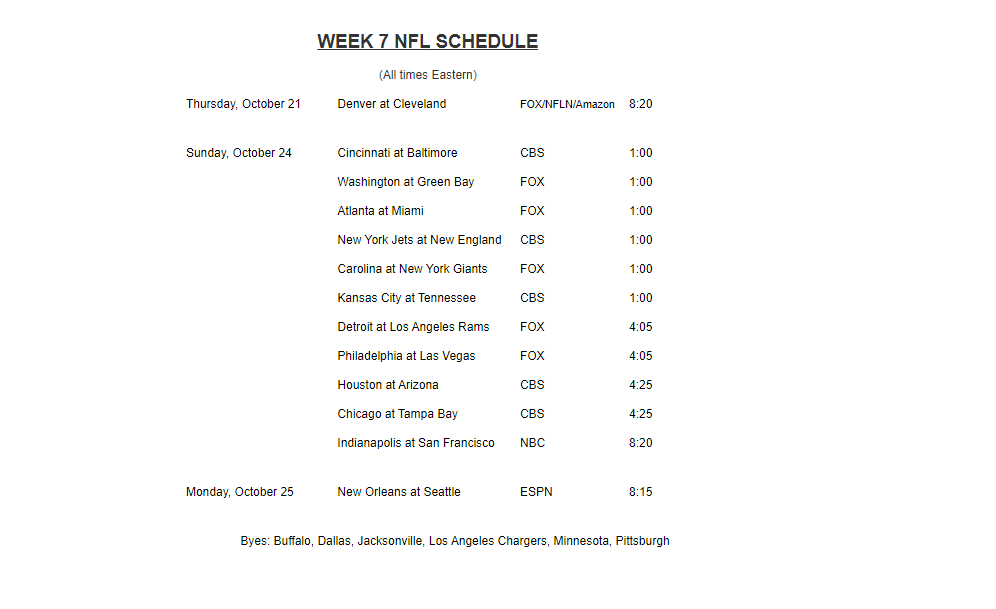 COURTESY NFLmedia.com