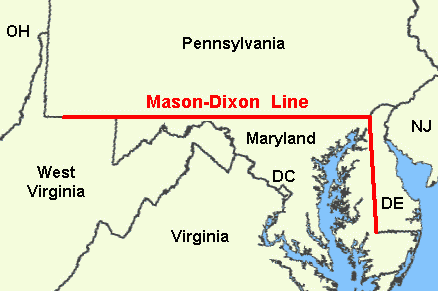 FROM WIKIPEDIA COMMONS
The Mason–Dixon line, also called the Mason and Dixon line or Mason's and Dixon's line, is a demarcation line separating four U.S. states, forming part of the borders of Pennsylvania, Maryland, Delaware, and West Virginia (part of Virginia until 1863). Historically, it came to be seen as demarcating the North from the South in the U.S. It was surveyed between 1763 and 1767 by Charles Mason and Jeremiah Dixon in the resolution of a border dispute involving Maryland, Pennsylvania, and Delaware in Colonial America. The dispute had its origins almost a century earlier in the somewhat confusing proprietary grants by King Charles I to Lord Baltimore (Maryland) and by King Charles II to William Penn (Pennsylvania and Delaware).
The largest, east-west portion of the Mason–Dixon line along the southern Pennsylvania border later became known, informally, as the boundary between the Southern slave states and Northern free states. This usage came to prominence during the debate around the Missouri Compromise of 1820, when drawing boundaries between slave and free territory was an issue, and resurfaced during the American Civil War, with border states also coming into play. The Confederate States of America claimed the Virginia portion of the line as part of its northern border, although it never exercised meaningful control that far north especially after West Virginia separated from Virginia and joined the Union as a separate state in 1863. It is still used today in the figurative sense of a line that separates the Northeast and South culturally, politically, and socially (see Dixie).
TODAY'S ALMANAC
Lovely, summerlike days that occur around October 18 are called Saint Luke's Little Summer in honor of the saint's feast day. Around this time, Saint Luke's feast day, there is a period brief period of calm, dry weather. Of course, it's difficult to generalize today across the vast continent of North America, but the temperature is usually mild and the leaf colors are turning a gorgeous color. It's a good time for a brief vacation or visit to a park. In Venice, Italy, they say: "San Luca, El ton va te la zuca" (Pumpkins go stale on St Luke's Day), but here in North America, pumpkins are enjoying their finest hour. Saint Luke is the patron saint of physicians and surgeons so it seems only fitting that the good doctor give us these calm days. In olden days, St. Luke's Day did not receive as much attention in the secular world as St. John's Day (June 24) and Michaelmas (September 29), so it was to keep from being forgotten that St. Luke presented us with some golden days to cherish before the coming of winter, or so the story goes. Some folks call this Indian Summer, but that officially occurs between November 11 and November 20.
Every Year
1500s
1760s
1850s
1860s
1890s
1910s
1920s
1930s
1950s
1960s
1970s
1980s
2000s
2010s
COURTESY www.almanac.com