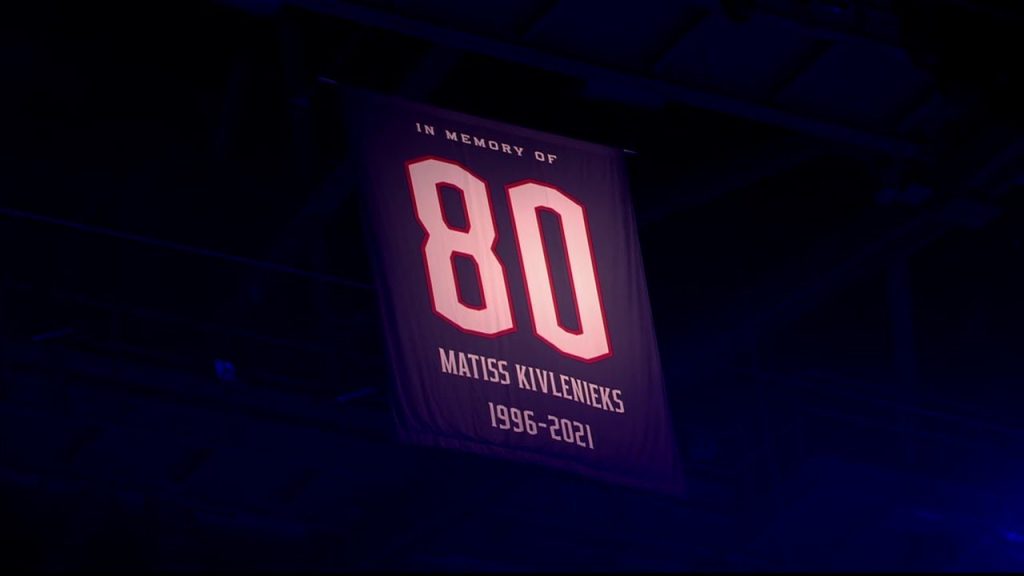 I have covered many games in the history of the CBJ, since the beginning of the franchise's emergence in town. Last night was one of the more moving and emotional than none other. It was the Opening Night of a new season for the Columbus Blue Jackets. But it was also more special than that to the team, fans and the family of late CBJ goalie Matiss Kivlinieks, who passed away during this past offseason during a fireworks celebration in Michigan.
Kivlinieks wasn't with the Blue Jackets very long, parts of two seasons, 2019-20 and 2020-21, but he made an impact on the team and the fans. His always smiling, positive, joking nature was well received by the Columbus Blue Jackets fan base. And it hit them like a big thud when his death was announced earlier this past summer. The love for him was everywhere yesterday on social media, fans wearing Kivi T-shirts, his #80 jersey, his number behind both goal nets, on each players helmets and a pre-game unveiling of his jersey number in the rafters at Nationwide Arena. Furthermore, current CBJ goaltender Elvis Merzlikins, in a show of class and love for his Latvian friend and former teammate, wore #80 the whole game. Years and games will pass and Kivlinieks will never be forgotten.
During the pregame, both teams lined up opposite each other by center ice. There was a ceremonial puck drop where Matiss' mother, Astride, participated. Other members of the family included stepfather Artis and sister Madara.
Another honor in KIVI'S memory, the Jackets are donating $80.000 to the Latvian Ice Federation for "Kivi's Kids". So that future and upcoming goaltenders will have the equipment they need to get started in hockey.

GAME AT A GLANCE
GOAL SCORERS
Columbus: A. Texier (1), PP – O. Bjorkstrand (1), B. Jenner (1), O. Bjorkstrand (2), J. Bean (1), PP – Z. Werenski (1), M. Domi (1), G. Nyquist (1)
Arizona: A. Stralman (1), PP – C. Keller (1)

GOALTENDERS
Columbus: E. Merzlikins (36 saves, W)
Arizona: C. Hutton (18 saves, L)
CBJ TEAM NOTES
The club improved to 9-10-2 all-time in season openers and 8-9-4 in home openers all-time after tonight's regulation win.
Columbus scored eight goals tonight, the most scored in a season opener in franchise history. The previous record was five, recorded in a 5-4 OT win at Dallas on Oct. 10, 2008 and a 5-0 win vs. the NY Islanders on Oct. 6, 2017.
The six-goal margin of victory is also the most in a season opener in franchise history, surpassing the 5-0 shutout victory over the Islanders on Oct. 6, 2017.
CBJ's eight goals is tied for the second most in a game in franchise history (fifth time) and trailed only the 10 goals scored in a 10-0 victory over Montreal on Nov. 4, 2016. Columbus last recorded eight goals in a game on Nov. 12, 2016 in a 8-4 win over St. Louis.
CBJ improved to 9-2-0 vs. Arizona in the last 11 games in the series and have posted wins in nine of the last 12 games of the series at Nationwide Arena.
The Blue Jackets eight goals tonight are the most scored by the franchise vs. Arizona. The record was previously high was seven in a 7-5 victory at Arizona on Dec. 17, 2015.
The Blue Jackets recorded multiple goals in all three periods for the first time in a regular season game since Mar. 12, 2019 (7-4 win vs. Boston). The last time the club recorded the feat overall was in Game 4 of the Eastern Conference Quarterfinals against the Tampa Bay Lightning on Apr. 16, 2019 (7-4 victory). It's the 17th time in franchise history the Blue Jackets have recorded multiple goals in all three periods.
Columbus scored on 2-of-3 power plays and killed off 3-of-4 opponent power plays.
CBJ PLAYER NOTES
· RW Oliver Bjorkstrand set a new single-game career high with four points (2-2-4). He previously collected three points on five occasions (MR: 2-1-3 on May 5, 2021 vs. Nashville). He led Columbus with 11 multi-point efforts in 2020-21.
· C Max Domi recorded a goal and two assists. It was the fourth time he has recorded multiple points in a season opener in his career. He previously recorded 0-2-2 on Oct. 3, 2018 at Toronto, 1-1-2 on Oct. 5, 2017 at Anaheim and 1-1-2 on Oct. 9, 2015 at Los Angeles.
· LW Patrik Laine recorded his first multi-point/multi-assist game of the season with two assists.
· D Zach Werenski registered his first multi-point game of the season, notching a goal and assist. He led CBJ blueliners in goals last season and finished second in points with 7-13-20 in 35 games.
· C Alexandre Texier scored the game's first goal 40 seconds in. It's the second fastest goal scored to open a season in franchise history, trailing only Geoff Sanderson's goal 31 seconds into the game vs. St. Louis on Oct. 4, 2001.
· D Jake Bean scored his first goal as a Blue Jacket and finished with four shots and two blocked shots on 19:37 of ice time.
· C Boone Jenner scored the eventual game-winner in the second period. It's his 21st career game-winning tally.
· C Gustav Nyquist scored his first goal of the season in his first game played since Mar. 8, 2020 at Vancouver. He missed all of the 2020-21 season after having shoulder surgery prior to the campaign.
· D Vladislav Gavrikov tallied two assists, notching his second career multi-assist/multi-point game (also May 5, 2021 vs. Nashville).
· RW Jakub Voracek recorded his first multi-point/multi-assist game of the season with two assists.
· C Jack Roslovic collected two assists for his first multi-point effort of the campaign. He finished second on the club in multi-point efforts with eight in the 2020-21 season.
· C Cole Sillinger notched his first career point with an assist in his NHL debut. He is the fourth youngest player (18 years, 151 days) and sixth 18-year old overall to make his NHL debut in a CBJ uniform. Only Dan Fritsche (18 years, 88 days), Rick Nash (18 years, 116 days) and Nikita Filatov (18 years, 145 days) were younger.
· D Andrew Peeke tallied an assist and a fight.
· G Elvis Merzlikins turned aside 36 of 38 shots for the victory (.947 SV%). It's the first time in his career he's picked up the win in his season debut (1-2-0).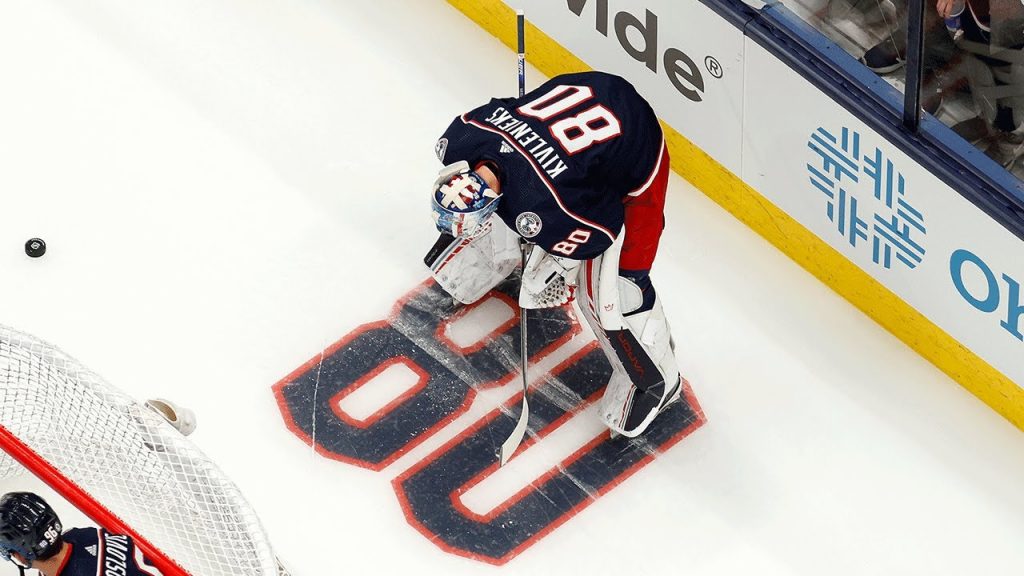 POST-GAME VIDEO INTERVIEWS
HC Brad Larsen | F Oliver Bjorkstrand | F Max Domi | G Elvis Merzlikins | F Cole Sillinger
CBJ UPCOMING SCHEDULE
Friday, October 15 Practice – 12pm ET at Nationwide Arena
Saturday, October 16 vs. Seattle Kraken – 7pm ET at Nationwide Arena
Sunday, October 17 No Practice Scheduled
POSTGAME RECAP COURTESY BLUE JACKETS COMMUNICATIONS