Week in and week out, the NFL never disappoints.
The first four weeks of the 2021 schedule have produced more late-game drama than any other season to this point. Road teams are winning more than home teams. A quarterback leads the league in rushing touchdowns. And seven teams that missed the 2020 playoffs have at least a share of their division leads, including the ARIZONA CARDINALS (4-0), who enter play as the league's only remaining undefeated team for the first time since 1974.
The Week 5 forecast calls for more of the same, with occasional waves of double-digit comeback wins, including a good chance of games decided by a field goal or less. Games ending on the last play are likely, so prepare accordingly. And set your alarm to wake up early on Sunday, because the NFL is back in London.
EDGE-OF-SEAT DRAMATICS: This season has already seen 15 games decided on a game-winning score in the final minute of regulation or in overtime, the most such games through the first four weeks of a season since at least the 1970 merger.
Twelve of those contests have been won on the last play of the game.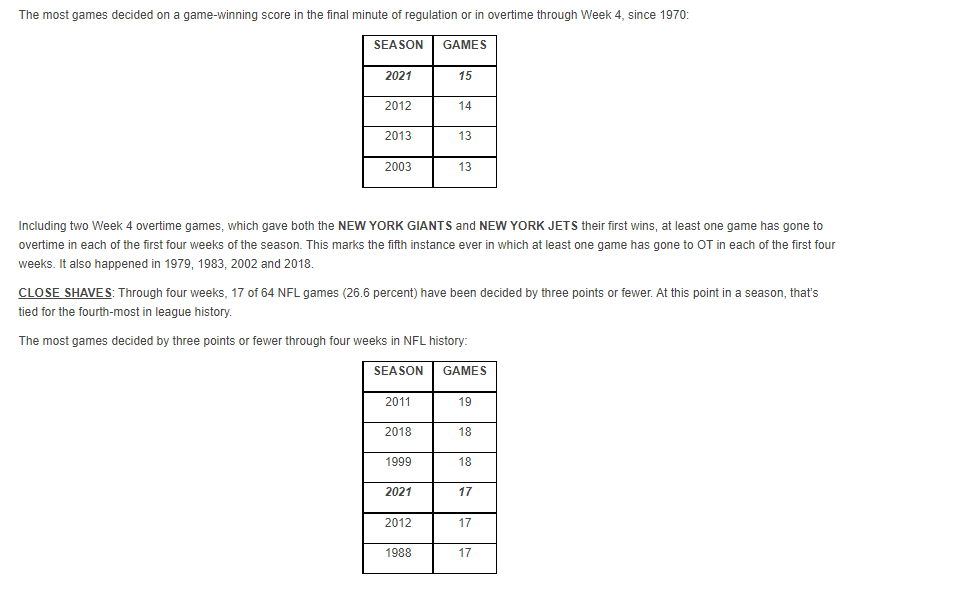 BACK TO LONDON: This week, the NFL continues an important initiative by returning to international play. Sunday's schedule starts early with the first of two international games on the 2021 schedule when the NEW YORK JETS (1-3) meet the ATLANTA FALCONS (1-3) at Tottenham Hotspur Stadium in London (9:30 AM ET/2:30 PM in the UK, NFL Network). Both the Falcons (2014) and Jets (2015) are making their second London appearances.
The NFL had played 28 regular-season games over 13 years (2007-19) until the pandemic kept all league contests in the United States last season.
BOUNCEBACK TEAMS: Through the first four weeks, 12 teams have at least three wins and seven of those teams were not in the postseason last year: ARIZONA (4-0), CAROLINA (3-1), CINCINNATI (3-1), DALLAS (3-1), DENVER (3-1), LAS VEGAS (3-1) and the LOS ANGELES CHARGERS (3-1).
Five teams that lost their season-openers – BALTIMORE (3-1), BUFFALO (3-1), CLEVELAND (3-1), DALLAS (3-1) and GREEN BAY (3-1) – have rebounded to win three straight games entering this week.
HOLDING ALL THE CARDS: The ARIZONA CARDINALS (4-0) can mark their best start in 47 years, since 1974, with a victory on Sunday against the SAN FRANCISCO 49ERS (2-2) at State Farm Stadium (4:25 PM ET, FOX). The club enters this week as the NFL's lone remaining undefeated team for the first time since Week 8 of that 1974 season, when the franchise, then based in St. Louis, started 7-0.
Arizona's offense leads the NFL in both total yards per game (440.5) and points per game (35.0).
The Cardinals this season have opened 4-0 and scored at least 30 points with 400-or-more yards of offense in each of their first four games. Prior to this season, only three teams had done that, and each went to the Super Bowl: the 2013 Denver Broncos, 2007 New England Patriots and 2002 Oakland Raiders.
Three of Arizona's wins this season have come on the road, and all have been by at least 12 points, including an impressive 37-20 triumph last week against the previously undefeated Rams.
The Cardinals have joined the 1980 San Diego Chargers as one of only two undefeated teams over the last 60 years to register three road wins in their first four games and win each by 12-or-more points.
This week, Arizona wide receiver DEANDRE HOPKINS (764 career receptions) needs one catch to surpass LARRY FITZGERALD (764) for the most receptions ever by a player prior to his 30th birthday. Hopkins will be 29 years and 126 days old on Sunday.
The 49ers, meanwhile, could start third-overall selection TREY LANCE at quarterback. If that happens, all five rookie quarterbacks taken in the first round of the 2021 NFL Draft will have made their starting debuts.
San Francisco's DEEBO SAMUEL leads the NFL with 490 receiving yards. In franchise history, only Pro Football Hall of Famer JERRY RICE (522 in 1995) collected more through the first four games of a season.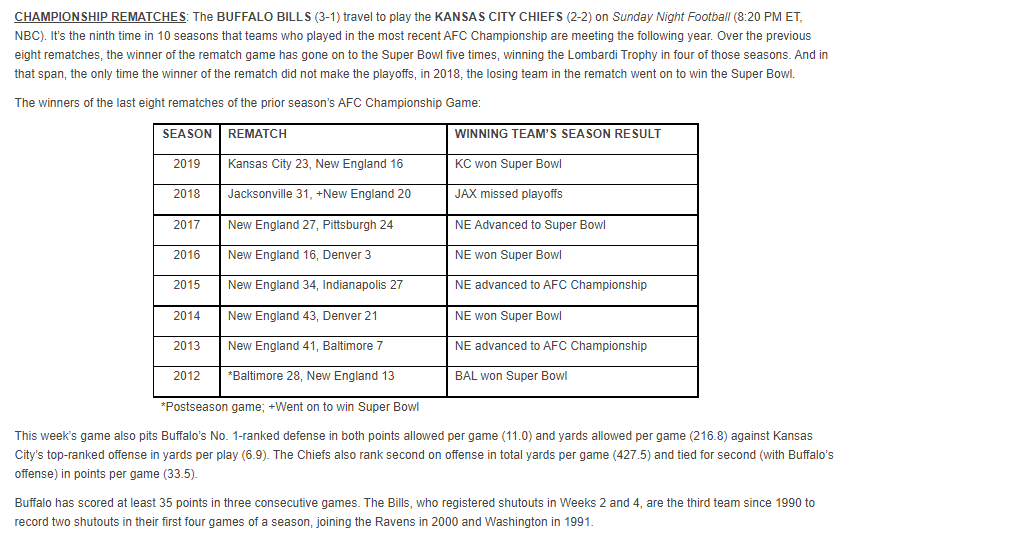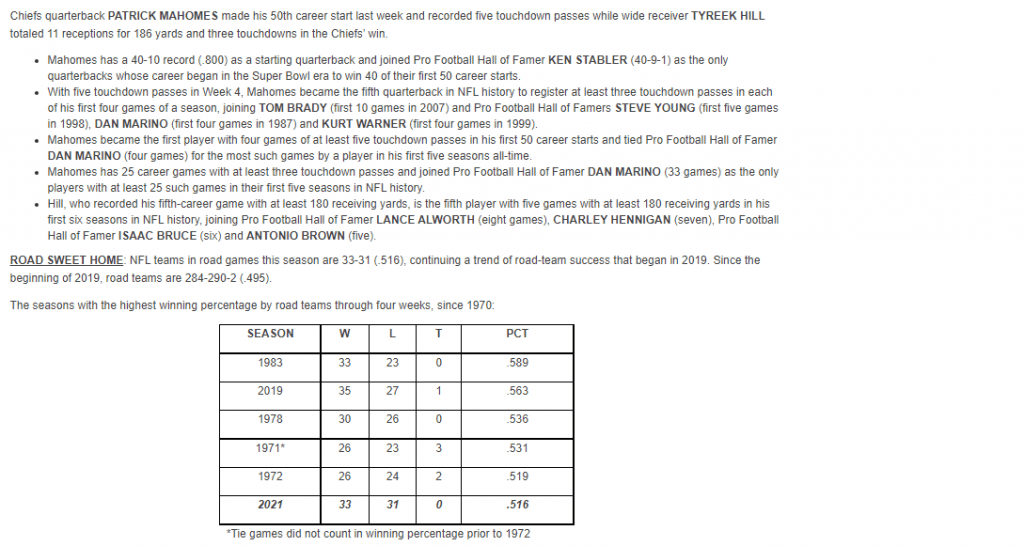 Six clubs this season have at least two road wins through four weeks, including the DENVER BRONCOS (3-1), who put their 2-0 road record on the line this week against the PITTSBURGH STEELERS (1-3) on Sunday (1:00 PM ET, FOX).
Last week, Pittsburgh quarterback BEN ROETHLISBERGER threw his 400th career touchdown pass and became the eighth quarterback all-time to reach that milestone. Roethlisberger, who had 232 passing yards in Week 4, now has 61,381 career passing yards and also surpassed Pro Football Hall of Famer DAN MARINO (61,361) for the sixth-most passing yards in NFL history.
SOFI HOSTS ANOTHER SPOTLIGHT GAME: Another week, another big game at SoFi Stadium. Next up is a clash of three-win teams when the CLEVELAND BROWNS (3-1) face the LOS ANGELES CHARGERS (3-1) on Sunday (4:05 PM ET, CBS).
Chargers quarterback JUSTIN HERBERT is 7-1 over his last eight starts, dating back to Week 14 last season.
Herbert needs 300 passing yards this week to register the 11th 300-yard passing game of his young career and surpass PATRICK MAHOMES (10 games) and Pro Football of Famer DAN MARINO (10) for the most by a player in his first two seasons.
Last week, Los Angeles running back AUSTIN EKELER recorded his 18th career touchdown reception to surpass DANNY WOODHEAD (17) for the most by an undrafted running back in the common-draft era.
Cleveland's NICK CHUBB ranks second in the NFL with 362 rushing yards, playing the lead role in an offense that leads the NFL in rushing (177.0 yards per game).
On defense, Cleveland's MYLES GARRETT leads the NFL with six sacks.
ESTABLISHED, BURGEONING STARS FACE OFF IN CINCY: In another battle of one-loss teams, the GREEN BAY PACKERS (3-1) head south to face the CINCINNATI BENGALS (3-1) on Sunday (1:00 PM ET, FOX).
Last week, Packers quarterback AARON RODGERS recorded three touchdowns (two passing, one rushing) with no interceptions. He now has 420 career touchdown passes, tied with Pro Football Hall of Famer DAN MARINO (420) for the sixth-most all time.
Sunday is an intriguing matchup of Rodgers, the reigning league MVP, and Cincinnati's JOE BURROW, the No. 1 overall selection in the 2020 NFL Draft.
Burrow last week led the Bengals back from 14-point halftime deficit, finishing with 348 passing yards and two touchdowns. He has at least two touchdown passes in each of his first four games this season.

RAVENS HOST COLTS IN PRIMETIME: The INDIANAPOLIS COLTS (1-3) return to their franchise's former home this week to face the BALTIMORE RAVENS (3-1) on Monday Night Football (8:15 PM ET, ESPN).
Last week, the Ravens rushed for 102 yards and now have at least 100 yards in 43 consecutive regular-season games, tied with the Pittsburgh Steelers (43 from 1974-77) for the longest such streak in NFL history.
Baltimore quarterback LAMAR JACKSON in four career starts on Monday Night Football has passed for 664 yards with eight touchdowns and no interceptions for a 111.9 passer rating. In those four starts, he's also rushed for 388 yards on 38 carries (10.2 average) with two touchdowns.
Indianapolis has been stout against the run since the beginning of the 2020 season. The Colts rank third in rushing defense (95.2 yards per game) over that span. Over a longer stretch, since the beginning of 2018, the Colts have allowed a 100-yard rusher in only four of their past 52 games (DERRICK HENRY in all four games).
COMEBACK PLAYERS: The annual Comeback Player of the Year Award is meaningful because it's the manifestation of a player's ability to overcome personal adversity and return to contribute to his team's on-field success. Two candidates for that award, running back SAQUON BARKLEY and quarterback DAK PRESCOTT, will be on the same field when the NEW YORK GIANTS (1-3) return to AT&T Stadium to face the DALLAS COWBOYS (3-1) on Sunday (4:25 PM ET, FOX).
Prescott last week threw four touchdown passes in the Cowboys' win, his fifth career game with four-or-more touchdown passes.
Barkley, meanwhile, scored the game-winning touchdown in overtime last week. He finished with 126 scrimmage yards (74 receiving, 52 rushing), including a 54-yard touchdown reception that sparked an 11-point comeback in the fourth quarter.
Two rookie linebackers – New York's AZEEZ OJULARI (3) and Dallas' MICAH PARSONS (2.5) – are leading their respective teams in sacks. Last month, Ojulari became the first NFL rookie with at least one sack in each of his team's first three games since TERRELL SUGGS in 2003.
Dallas cornerback TREVON DIGGS leads the NFL with five interceptions. Diggs is the fourth player since 1990 to record an interception in each of his team's first four games of a season, joining DEVIN MCCOURTY (2019), BRIAN RUSSELL (2003) and OTIS SMITH (1995).
Giants quarterback DANIEL JONES leads the league among qualified players with 7.0 yards per carry (27 attempts, 188 yards, two touchdowns).
DUAL-THREAT QUARTERBACKS ON DISPLAY IN CAROLINA: Week 5 features five potential matchups of starting quarterbacks under the age of 27. One of those game is in Charlotte, where the PHILADELPHIA EAGLES (1-3) and JALEN HURTS square off with the CAROLINA PANTHERS (3-1) and SAM DARNOLD (1:00 PM ET, FOX).
Darnold leads all NFL players with five rushing touchdowns.
Last week, Darnold passed for 301 yards and totaled four touchdowns (two passing, two rushing). He became the first quarterback in NFL history to record five rushing touchdowns in his team's first four games of a season.
Darnold, who also had two rushing touchdowns in Week 3, is the sixth quarterback since 1970 to record multiple rushing touchdowns in consecutive games.
Hurts, meanwhile, has 226 rushing yards, second among quarterbacks this season behind Baltimore's LAMAR JACKSON (279).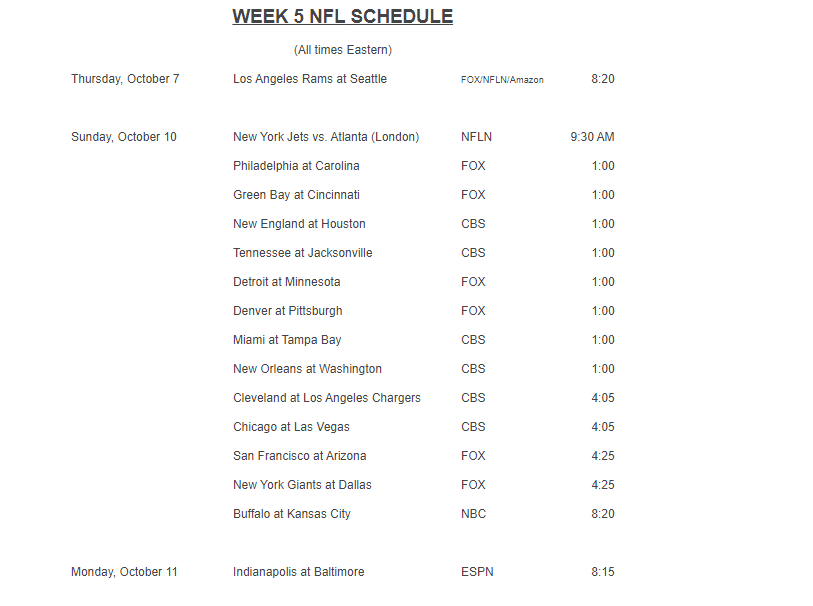 COURTESY NFLmedia.com