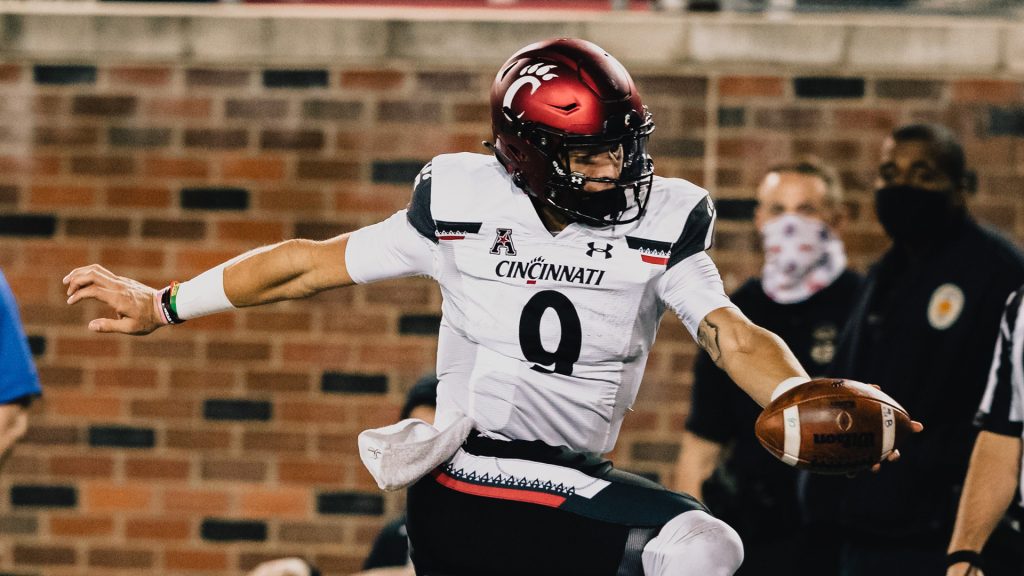 October 02, 2021
SOUTH BEND, Ind. (AP) — The last pass of the day by Desmond Ridder was a celebratory heave way up into stands toward the Cincinnati fans who came to Notre Dame to see their Bearcats make a statement.
Cincinnati wanted to use the first top-10, regular-season matchup in program history as a chance to show it belongs among the nation's best before heading into its American Athletic Conference schedule.

Mission accomplished.

Ridder threw two touchdown passes and ran for score late in the fourth quarter as No. 7 Cincinnati capitalized on its big opportunity and beat No. 9 Notre Dame 24-13 on Saturday in a game the Bearcats hope can be the centerpiece of a College Football Playoff resume.

"We didn't just beat a top-10 team, we beat a top-five program," Cincinnati coach Luke Fickell said.

No team from outside the Power Five conferences has reached the playoff in its seven seasons. Never even came close.
The Bearcats in their first trip to South Bend since 1900 snapped Notre Dame's 26-game home winning streak.
The UC senior QB Desmond Ridder delivered, going 19 for 32 for 297 yards. He hooked up with Alec Pierce six times for 144 yards, and was at his best after Notre Dame cut the lead to 17-13 with 8:20 left in the fourth quarter.

Ridder went 3 for 3, with a bullet down the middle for 36 yards to Leonard Taylor, on the ensuing drive. He capped it off with a 6-yard TD run around left end that made it 24-13 with 5:08 left.
Cincinnati took advantage of three turnovers by Notre Dame in the first half to jump out to 17-0 lead. The miscues by the Irish were killers.

Ahmad Gardner picked off an ill-advised throw under pressure by Jack Coan that ended Notre Dame's first and best drive of the half.

DeShawn Pace's interception of Notre Dame freshman Tyler Buchner set up Cincinnati in the red zone and Ridder flipped a 1-yard pass to Taylor to make it 7-0 early in the second quarter.
Chris Tyree fumbled the ensuing kickoff back to Cincinnati and the Bearcats turned that into a 23-yard field goal by Cole Smith.

Ridder and the Bearcats put together their best first-half drive late in the second quarter, going 80 yards for a touchdown. Ridder found Tre Tucker for a 27-yard score that beat Irish All-America safety Kyle Hamilton.

The Bearcats were up 17-0 with 40 seconds left in the first half and for the third time Cincinnati fans, decked in red in the upper reaches of the south end zone, were chanting "Let's Go Bearcats!"
COURTESY UC ATHLETIC COMMUNICATIONS