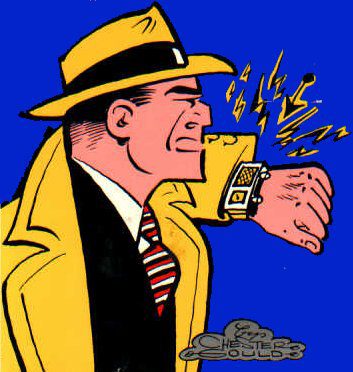 FROM WIKIPEDIA COMMONS
Dick Tracy is an American comic strip featuring Dick Tracy (originally Plainclothes Tracy), a tough and intelligent police detective created by Chester Gould. It made its debut on Sunday, October 4, 1931 in the Detroit Mirror, and it was distributed by the Chicago Tribune New York News Syndicate. Gould wrote and drew the strip until 1977, and various artists and writers have continued it. Dick Tracy has also been the hero in a number of films, including Dick Tracy in which Warren Beatty played the lead in 1990. Tom De Haven praised Gould's Dick Tracy as an "outrageously funny American Gothic", while Brian Walker described it as a "ghoulishly entertaining creation" which had "gripping stories filled with violence and pathos".
TODAY'S ALMANAC
Every Year
FEAST DAY OF ST. FRANCIS OF ASSISI
1770s
1775: DR. BENJAMIN CHURCH INVESTIGATED FOR ESPIONAGE
1777: BATTLE OF GERMANTOWN RESULTED IN A BRITISH VICTORY, DUE TO WASHINGTON'S DISORGANIZED TROOPS AND THICK FOG
1810s
BORN 1810: ELIZA JOHNSON (U.S. FIRST LADY)
BORN 1814: JEAN FRANCOIS MILLET (ARTIST)
1820s
BORN 1822: RUTHERFORD B. HAYES (19TH U.S. PRESIDENT)
1860s
BORN 1861: FREDERIC REMINGTON (ARTIST)
BORN 1862: EDWARD L. STRATEMEYER (AUTHOR, PUBLISHER)
1890s
1895: THE FIRST U.S. OPEN GOLF CHAMPIONSHIP WAS HELD IN NEWPORT, RHODE ISLAND
BORN 1895: BUSTER KEATON (ACTOR)
1910s
1918: PIGEON CHER AMI'S MESSAGE SAVED 194 U.S. SOLDIERS DURING WORLD WAR I
1920s
BORN 1924: CHARLTON HESTON (ACTOR)
1930s
1931: THE COMIC STRIP DICK TRACY, CREATED BY CHESTER GOULD, MADE ITS DEBUT
BORN 1937: JACKIE COLLINS (AUTHOR)
1940s
BORN 1941: ANNE RICE (AUTHOR)
1942: RUTH ALLEN WON LONG ISLAND HORSESHOE CHAMPIONSHIP
BORN 1943: H. RAP BROWN (CIVIL RIGHTS ACTIVIST)
BORN 1946: SUSAN SARANDON (ACTRESS)
BORN 1949: ARMAND ASSANTE (ACTOR)
1950s
1957: LEAVE IT TO BEAVER MADE ITS TELEVISION DEBUT
1957: SPUTNIK I, THE FIRST ARTIFICIAL SATELLITE, LAUNCHED FROM THE SOVIET UNION
1959: RUSSIA'S LUNA 3 WAS LAUNCHED TOWARD THE MOON, WHERE IT LATER BECAME THE FIRST VEHICLE TO SEND BACK IMAGES OF THE MOON'S FAR SIDE
1960s
BORN 1967: LIEV SCHREIBER (ACTOR)
1970s
DIED 1970: JANIS JOPLIN (SINGER)
DIED 1975: JOAN WHITNEY PAYSON (ATHLETE)
BORN 1976: ALICIA SILVERSTONE (ACTRESS)
1976: BARBARA WALTERS JOINED HARRY REASONER AT THE ANCHOR DESK OF ABC'S EVENING NEWS AND BECAME THE FIRST WOMAN TO ANCHOR A NETWORK EVENING NEWSCAST
BORN 1979: RACHAEL LEIGH COOK (ACTRESS)
1980s
DIED 1982: GLENN GOULD (PIANIST)
1987: IN BOSTON, MASSACHUSETTS, THE BRONZE MALLARD FAMILY SCULPTURE, IN HONOR OF ROBERT MCCLOSKEY'S STORY "MAKE WAY FOR DUCKLINGS," WAS DEDICATED
DIED 1989: GRAHAM CHAPMAN (ACTOR)
1990s
1991: PROTOCOL ON ENVIRONMENTAL PROTECTION TO THE ANTARCTIC TREATY SIGNED, 1991
2000s
2004: SPACESHIPONE CLIMBED INTO SPACE FOR THE SECOND TIME IN ONE WEEK TO CLAIM A $10 MILLION ANSARI X PRIZE
DIED 2004: GORDON COOPER (ASTRONAUT WHO CIRCLED THE GLOBE 22 TIMES IN 34 HOURS AND 20 MINUTES AND BECAME THE FIRST ASTRONAUT IN A SPACE FLIGHT OF MORE THAN 24 HOURS. HE WAS ALSO THE FIRST ASTRONAUT TO SLEEP IN SPACE, AND HE SUCCESSFULLY CARRIED OUT A BEACON EXPERIMENT THAT MADE HIM THE FIRST MAN TO LAUNCH A SATELLITE IN SPACE.)
2010s
2011: ASTRONOMERS ADAM RIESS, SAUL PERLMUTTER AND BRIAN SCHMIDT WERE AWARDED THE NOBEL PRIZE IN PHYSICS FOR THEIR STUDIES ON THE EXPANSION OF THE UNIVERSE. BY STUDYING EXPLODING STARS, THEY FOUND THAT THE RATE OF EXPANSION IS ACCELERATING DUE TO A FORCE KNOWN AS "DARK ENERGY."
2018: NEW ENGLAND PATRIOTS QUARTERBACK TOM BRADY THREW HIS 500TH CAREER REGULAR-SEASON TOUCHDOWN PASS.
COURTESY www.almanac.com