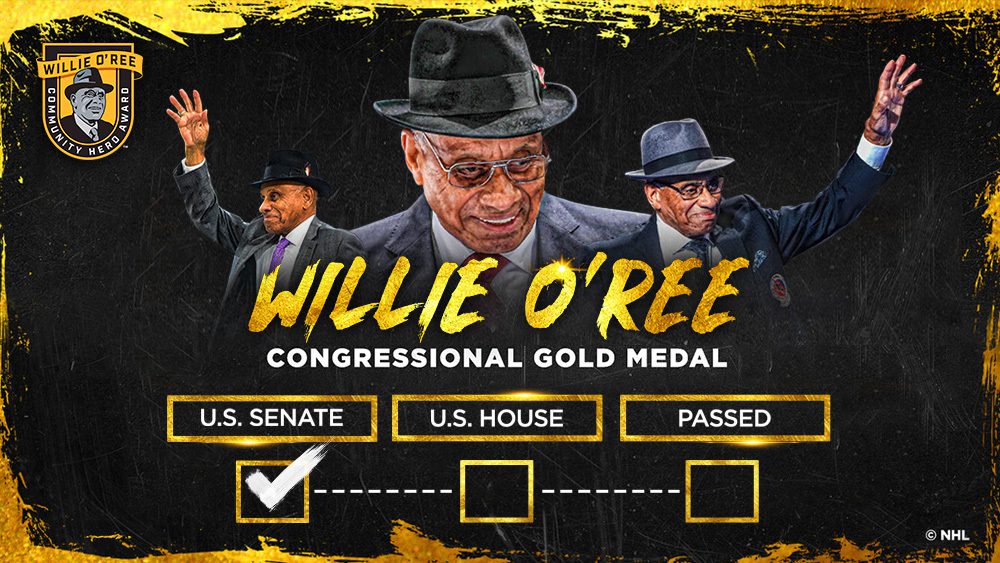 Willie O'Ree Was the First Black Player to Compete in the National Hockey League
July 27, 2021
WASHINGTON, D.C. – U.S. Senators Debbie Stabenow (D-MI) and Tim Scott (R-SC), along with the National Hockey League (NHL), today announced that the bipartisan legislation to award the Congressional Gold Medal to Willie O'Ree passed the U.S. Senate. O'Ree was the first Black player to compete in the NHL.
Known as the "Jackie Robinson of Hockey," O'Ree played professional hockey for 22 years, including for an Original Six franchise, the Boston Bruins. The Senators are leading the effort to award the Congressional Gold Medal to O'Ree to recognize his lifetime of contributions to the sport of hockey and communities across the country. The bill now moves to the House of Representatives.
"As the first Black player in the National Hockey League, Willie O'Ree was a trailblazer for young people across the country. He has also been a leader in the community, including his leadership through the Hockey Is For Everyone programs he championed in Detroit and around Michigan. Willie O'Ree has set an example for all of us as Americans," said Senator Stabenow.
"From the hockey arena to serving young athletes in his community, Willie O'Ree's legacy has inspired generations," said Senator Scott. "Willie's career didn't end on the ice; it was punctuated by the generations of athletes he helped navigate the path he paved. Following the Senate's unanimous passage, I look forward to the House acting quickly on this well-deserved recognition of Willie's historic achievements."
"Willie O'Ree has been committed to hockey for decades and his impressive list of accolades and achievements is reflective of his dedication to inspire young people across America," said Kim Davis, NHL Senior Executive Vice President of Social Impact, Growth Initiatives and Legislative Affairs. "He is first-known for being a trailblazer on the ice, but he will forever be celebrated for his tireless work off the ice, providing opportunities for boys and girls to play hockey and, more importantly, become better community citizens. This is an exciting step forward bringing us closer to honoring him with a Congressional Gold Medal, and we hope the positive momentum continues in the U.S. House of Representatives."
"The Boston Bruins organization is proud of our relationship with Willie, who is a tremendous figure in hockey both on and off the ice. We commend Senators Stabenow and Scott for their steadfast effort in recognizing Willie's enduring legacy and preserving it for generations to come with Congress' highest honor," said Jeremy M. Jacobs, Chairman of the NHL Board of Governors and Owner of the Boston Bruins.
A multi-sport athlete, O'Ree originally intended to play professional baseball. After he experienced segregation first-hand during a tryout in the Jim Crow era, he turned to professional hockey. Despite being blind in one eye from an injury he suffered in 1956, he made his NHL debut in 1958 playing for the Boston Bruins. O'Ree would go on to play 45 games from 1958-61 in the NHL and more than 20 seasons of professional hockey.
In 1998, O'Ree was named the National Hockey League's first-ever Diversity Ambassador, championing positive social change through hockey. In that role, O'Ree built the Hockey Is For Everyone youth hockey program, which has supported more than 30 organizations across North America providing boys and girls from minority and underserved communities the opportunity to play hockey, build character, and develop important life skills. Since its inception, Hockey Is For Everyone programs have served more than 130,000 boys and girls across North America. As part of his commitment, O'Ree has made more than 500 visits to schools, community centers and rinks, and has been the subject of more than 13,000 books, articles and shows. In November 2018, after collecting more than 1,000 points over a 22-year professional hockey career, and positively impacting countless lives through his work as the League's Diversity Ambassador, O'Ree was inducted into the Hockey Hall of Fame in recognition of his efforts to grow the game.
COURTESY NHLmedia.com