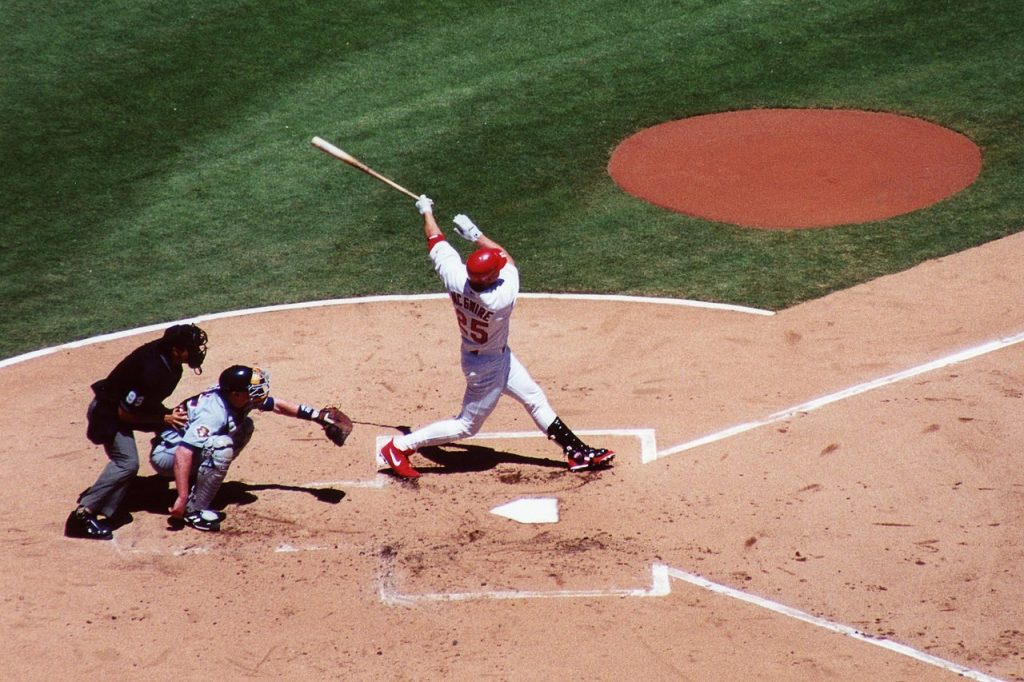 FROM WIKIPEDIA COMMONS
Mark David McGwire (born October 1, 1963), nicknamed Big Mac, is an American former professional baseball first baseman. His Major League Baseball (MLB) playing career spanned from 1986 to 2001 while playing for the Oakland Athletics and the St. Louis Cardinals, winning one World Series championship each, with Oakland as a player in 1989 and with St. Louis as a coach in 2011. One of the most prolific home run hitters in baseball history, McGwire holds the major league career record for at bats per home run ratio (10.6), and is the former record holder for both home runs in a single season (70 in 1998) and home runs hit by a rookie (49 in 1987).
He ranks 11th all time in home runs with 583, and led the major leagues in home runs in five different seasons, while establishing the major league record for home runs hit in a four-season period from 1996 to 1999 with 245. Further, he demonstrated exemplary patience as a batter, producing a career .394 on-base percentage (OBP) and twice leading the major leagues in bases on balls. Injuries cut short the manifestation of even greater potential as he reached 140 games played in just eight of 16 total seasons. A right-handed batter and thrower, McGwire stood 6 feet 5 inches (1.96 m) tall and weighed 245 pounds (111 kg) during his playing career.
A part of the 1998 Major League Baseball home run record chase of Roger Maris' 61 with the Cardinals, McGwire set the major league single-season home run record with 70, which Barry Bonds broke three years later with 7 McGwire also led the league in runs batted in, twice in bases on balls and on-base percentage, and four times in slugging percentage. Injuries significantly cut into his playing time in 2000 and 2001 before factoring into his retirement. He finished with 583 home runs, which was fifth all-time when he retired. McGwire was one of several central figures in baseball's steroids scandal. In 2010, McGwire publicly admitted to using performance-enhancing drugs during a large portion of his career.
TODAY'S ALMANAC
1720s
1780s
1820s
1840s
1850s
1910s
1920s
1930s
1950s
1960s
1970s
1980s
1990s
2000s
2010s
COURTESY www.almanac.com