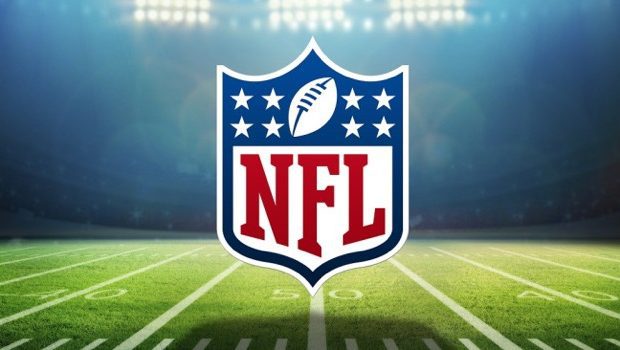 CLOSE GAMES IN ABUNDANCE AS NFL ENTERS WEEK 3
Special players want the ball when games are on the line in the fourth quarter. And if it seems as though games have been on the line more often this season, that's because they have been.
Through two weeks, the 2021 season has produced 10 games decided by a field goal or less. That's tied for the fourth-most such contests in NFL history through Week 2. Seven of the league's 16 games last week were thrillers in that category.

Each of the DALLAS COWBOYS' two games have been decided by three points or fewer, including their walk-off road win over the Chargers last week. The Cowboys (1-1), who host the PHILADELPHIA EAGLES (0-2) on Monday Night Football (8:15 PM ET, ESPN), have kept games close by leading the NFL in both takeaways (six) and turnover margin (plus-four).
Dallas' opponent last week, the LOS ANGELES CHARGERS (1-1), travels to face the KANSAS CITY CHIEFS (1-1) on Sunday (1:00 PM ET, CBS). Each of the AFC West rivals has played two games this season decided by four points or less.
Close games are the culture in the NFL, so as the league enters Week 3, get ready for special players to seize the day.
SOMETHING'S GOTTA GIVE: Don't be surprised if one of those close games takes place at SoFi Stadium, where two undefeated teams – the TAMPA BAY BUCCANEERS (2-0) and LOS ANGELES RAMS (2-0) – clash on Sunday (4:25 PM ET, FOX). The road team in the series has won each of the past three meetings, including last season, when the Rams secured a 27-24 win at Tampa Bay in Week 11.
Tampa Bay quarterback TOM BRADY will add to his legacy by starting an NFL game in a 37th city and a 44th stadium, including the postseason. The 36 cities in which Brady has started NFL games include two in other countries, Wembley Stadium in London (England) and Estadio Azteca in Mexico City (Mexico). Three of his starts have been regular-season games on college campuses, at Memorial Stadium in Champaign, Ill., Sun Devil Stadium in Tempe, Ariz., and TCF Bank Stadium in Minneapolis. He also has started NFL games at seven venues that are no longer in existence: Texas Stadium in Arlington, Texas; the Georgia Dome in Atlanta; Giants Stadium in East Rutherford, N.J.; Foxboro Stadium in Foxboro, Mass.; the RCA Dome in Indianapolis; the Metrodome in Minneapolis and Qualcomm Stadium in San Diego.
Including the postseason, Tampa Bay has won 10 straight games. The Buccaneers are now the first team in NFL history to win nine consecutive games while scoring at least 30 points in each contest, including the postseason.
The Rams are 39-0, including the postseason, when leading at halftime since SEAN MCVAY became head coach in 2017.
Last week, Brady threw five touchdown passes, two to tight end ROB GRONKOWSKI, and enters Week 3 leading the NFL with nine touchdown passes.
Gronkowski, who leads the NFL with four touchdown receptions, now has 19 career regular-season games with at least two touchdown catches. Last week, he surpassed Pro Football Hall of Famer TONY GONZALEZ (18 games) for the second-most such games by a tight end in NFL history. Only ANTONIO GATES (21 games) has more. Gronkowski, who also recorded two touchdown receptions in Week 1, joined BEN COATES (1994) and DEE MACKEY (1962) as the only tight ends in league annals with at least two touchdown receptions in each of their team's first two games of a season.
Also last week, Buccaneers safety MIKE EDWARDS returned two interceptions for touchdowns in the fourth quarter, becoming the first player since ROBERT MASSEY (Oct. 4, 1992) with two interceptions returned for touchdowns in the fourth quarter of a single game. He also became the first player since ZACH BROWN (Dec. 30, 2012) with two interceptions returned for a touchdown in a single game.
Rams wide receiver COOPER KUPP is tied for the league lead with 16 receptions, including nine for 163 yards and two touchdowns last week. Kupp is one of two wide receivers (TYLER LOCKETT) with 100-or-more receiving yards and at least one touchdown catch in each of the season's first two weeks.
Los Angeles quarterback MATTHEW STAFFORD bids for his fourth straight game (dating back to last season) with at least two touchdown passes and a passer rating of 100 or higher. He has at least 295 passing yards in four of his five career starts against Tampa Bay.
In last season's win at Tampa Bay, Kupp had 11 catches for 145 yards and wide receiver ROBERT WOODS had 12 catches for 130 yards and a touchdown. They became the fourth pair of wide-receiver teammates each with at least 11 receptions and 130 receiving yards in the same game since 1970.
Rams defensive lineman AARON DONALD leads the NFL in sacks (86.5) and tackles for loss (133) since 2014.
A RUSH OF ROOKIES UNDER CENTER: Six rookie quarterbacks – Chicago's JUSTIN FIELDS, New England's MAC JONES, San Francisco's TREY LANCE, Jacksonville's TREVOR LAWRENCE, Houston's DAVIS MILLS and the New York Jets' ZACH WILSON – have attempted a pass this season, tied with 1971 (six) for the most rookie quarterbacks to attempt a pass in the first two weeks of a season since the league merger in 1970.
Five of those rookies could start this week, which would make Week 3 of the 2021 season the second time in the Super Bowl era, excluding the strike-shortened 1987 season, in which five rookie quarterbacks started in the same week within the first three weeks of a season. It also happened in 2012.
One of those rookies, Lawrence, goes head-to-head against another former No. 1 overall selection, quarterback KYLER MURRAY, when the JACKSONVILLE JAGUARS (0-2) host the ARIZONA CARDINALS (2-0) on Sunday (1:00 PM ET, FOX). The game marks the NFL's 30th meeting of starting quarterbacks drafted No. 1 overall since the beginning of 2018.
Arizona has an opportunity to begin a season 3-0 for the first time since 2015, when the Cardinals advanced to the NFC Championship Game.
Arizona rookie wide receiver/kick returner RONDALE MOORE leads the team in both receptions (11) and receiving yards (182).
Last week, Murray passed for 400 yards with three touchdowns and added a rushing touchdown in the Cardinals' 34-33 comeback win over Minnesota. Murray, who had four touchdown passes and one rushing touchdown in Week 1, is the first player with at least three touchdown passes and one rushing touchdown in each of his team's first two games of a season in NFL history.
Murray now has 12 career games with both a passing and rushing touchdown, surpassing STEVE GROGAN (11 games) for the fourth-most by a quarterback in his first three seasons in NFL history. Only CAM NEWTON (20 games), JOSH ALLEN (16) and DAK PRESCOTT (13) have more.
The game also features two head coaches, Arizona's KLIFF KINGSBURY and Jacksonville's URBAN MEYER, who took the reins of their teams after serving as head coaches of college programs. Kingsbury and Meyer did not face each other as college head coaches.
EXCLUSIVE COMPANY: The GREEN BAY PACKERS (1-1) head west to battle the SAN FRANCISCO 49ERS (2-0) on Sunday Night Football (8:20 PM ET, NBC). Packers head coach MATT LAFLEUR and 49ers head coach KYLE SHANAHAN helped lead the Falcons to Super Bowl LI as Atlanta assistant coaches in 2016. They also served together on coaching staffs in Houston and Washington.
San Francisco has started 2-0 for the third time in 10 seasons, and second under Shanahan. In each of their previous 2-0 starts – 2012 and 2019 – the 49ers advanced to the Super Bowl.
LaFleur in each of his first two seasons as an NFL head coach has guided the Packers to consecutive berths in the NFC Championship, including the 2019 season when he met Shanahan and the 49ers in that contest. LaFleur is one of only seven individuals ever, including two former 49ers head coaches, to do that.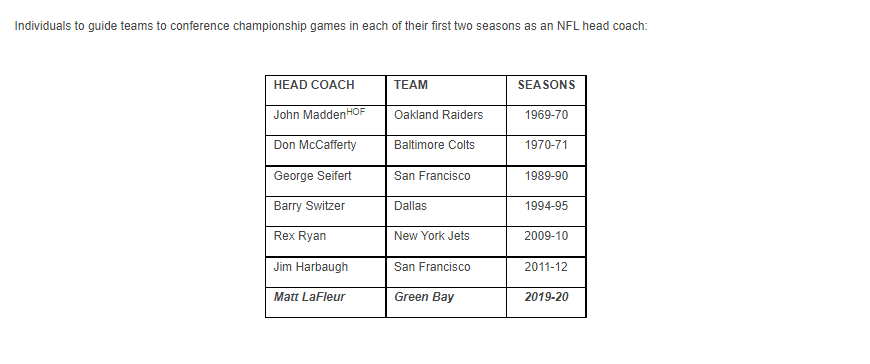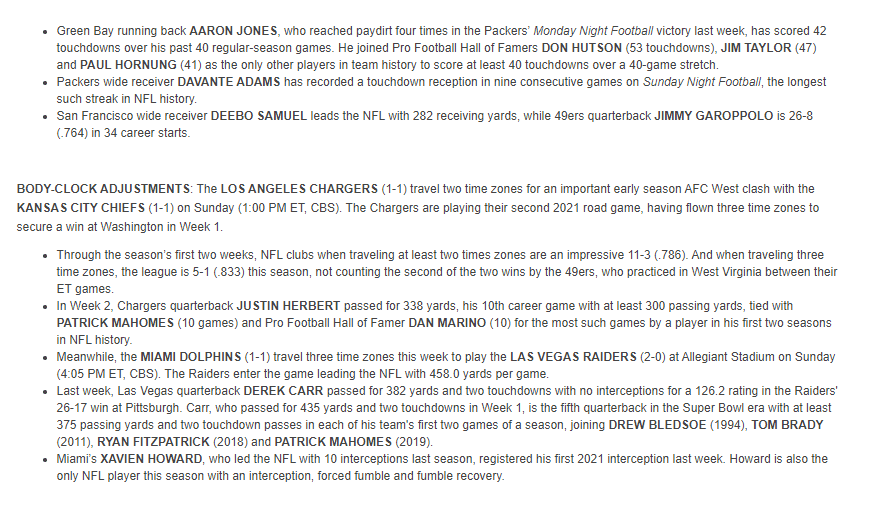 SIGNIFICANT STARTS: Both the CAROLINA PANTHERS and LAS VEGAS RAIDERS have an opportunity to go 3-0 this week. The last time Carolina opened 3-0 was 2015, when the Panthers advanced to Super Bowl 50 against the Broncos. The last time the Raiders opened 3-0 was 2002, when they advanced to Super Bowl XXXVII against current head coach JON GRUDEN and the Buccaneers.
CHESS MATCH AT GILLETTE: Two of the NFL's longest-tenured active head coaches will square off this week when the NEW ORLEANS SAINTS (1-1) meet the NEW ENGLAND PATRIOTS (1-1). The Saints' SEAN PAYTON and the Patriots' BILL BELICHICK, both former assistants with the New York Giants, are two of just five active coaches with at least 150 career wins, including the postseason.
ENHANCED SEASON: The NFL this week plays its first two games – the CAROLINA PANTHERS (2-0) at HOUSTON TEXANS (1-1) on Thursday (8:20 PM ET, NFLN) and WASHINGTON FOOTBALL TEAM (1-1) at BUFFALO BILLS (1-1) on Sunday (1:00 PM ET, FOX) – that were added as part of the enhanced scheduling rotation. This season features each team playing 17 regular-season games and three preseason games for the first time, providing fans an extra week of regular-season action. It marks the first change to the season structure since the 1978 campaign ushered in an era of 16 regular-season and four preseason games. The 17th game on each club's schedule features an interconference opponent that finished in the same standing within the teams' respective divisions the previous season. The AFC was determined to be the home conference for the 17th game in 2021. The NFC will host the 17th game next season.
AFC SOUTH POWER STRUGGLE: The INDIANAPOLIS COLTS (0-2) head to Nashville to play the TENNESSEE TITANS (1-1) on Sunday (1:00 PM ET, CBS). The road team in the series has won each of the last five meetings. Last season, the teams split the series and both clubs earned playoff berths. Since 2017, at least one of the two division rivals has advanced to the playoffs in each of the past four seasons.
The Colts under head coach FRANK REICH (2018-20) have won four of the last six games against Tennessee, with a different starting quarterback in each of those three seasons.
Last week in an overtime win at Seattle, Tennessee running back DERRICK HENRY totaled 237 scrimmage yards (182 rushing, 55 receiving) and three rushing touchdowns while wide receiver JULIO JONES added 128 receiving yards.
Henry is the fourth player in NFL history with 10 career games of at least 150 rushing yards and two rushing touchdowns, joining Pro Football Hall of Famers JIM BROWN (13 games), LADAINIAN TOMLINSON (12) and BARRY SANDERS (10).
Jones recorded his 59th career game with at least 100 receiving yards, tied with Pro Football Hall of Famer MARVIN HARRISON (59 games) for the third-most such games in NFL history. Only Pro Football Hall of Famers JERRY RICE (76 games) and RANDY MOSS (64) have more.
Jones, who enters Week 3 with 13,053 receiving yards in 137 career games, became the fastest player in NFL history to reach 13,000 receiving yards, surpassing Pro Football Hall of Famer JERRY RICE (154 games).
COUSINS RIDING NOTABLE STREAK: Quarterback KIRK COUSINS and the MINNESOTA VIKINGS (0-2) host the SEATTLE SEAHAWKS (1-1) on Sunday (4:25 PM ET, FOX). Cousins enters the contest with the second-longest streak of games with a passer rating of 90-or-higher in NFL history.

Seahawks quarterback RUSSELL WILSON leads the NFL with a 146.9 passer rating. Wilson, who has 99 career regular-season victories, can earn his 100th win this week. Pro Football Hall of Famer PEYTON MANNING (105 wins) holds the record for the most regular-season wins by a quarterback in his first 10 career seasons.
Also this week, with a win in his 147th career regular-season start, Wilson would tie Pro Football Hall of Famer TERRY BRADSHAW (147 starts) for the third-fewest regular-season starts to earn 100 regular-season wins in NFL history. Only TOM BRADY (131 starts) and Pro Football Hall of Famer JOE MONTANA (139 starts) reached the 100-win mark in fewer regular-season starts.
Seattle head coach PETE CARROLL has not lost to the Vikings since Nov. 2, 1997, when he was head coach of the New England Patriots. He's 8-1 overall against Minnesota, including postseason, with seven straight wins.
Last week, Seattle wide receiver TYLER LOCKETT registered eight receptions for 178 yards and one touchdown. Lockett, who recorded a 63-yard touchdown reception in Week 2 after registering a 69-yard touchdown catch on Kickoff Weekend, is the fourth player since 1990 with multiple touchdown receptions of at least 60 yards in his team's first two games of a season, joining Pro Football Hall of Famers RANDY MOSS (2005) and JERRY RICE (1991), as well as STEVE SMITH (2007).
CHASING HISTORY: Every team in the AFC North is 1-1 after two weeks. Two of those clubs, the CINCINNATI BENGALS (1-1) and PITTSBURGH STEELERS (1-1), meet at Heinz Field Sunday (1:00 PM ET, CBS). Cincinnati rookie wide receiver JA'MARR CHASE, who recorded a 42-yard touchdown reception in Week 2, can become the second player in NFL history with a touchdown catch of at least 40 yards in each of his first three career games, joining BILLY HOWTON (1952). Chase, who caught a 50-yard touchdown reception in his NFL debut on Kickoff Weekend, is the second player since 1970 to record a touchdown reception of at least 40 yards in each of his first two career games, joining SAMMY WHITE (1976).
KEEPING UP WITH JONES: Giants quarterback DANIEL JONES had a career-high 95 rushing yards last week and has a rushing touchdown in each of his team's first two games. With another rushing touchdown this week when the NEW YORK GIANTS (0-2) host the ATLANTA FALCONS (0-2) at MetLife Stadium on Sunday (1:00 PM ET, FOX), Jones would become the fourth quarterback since the 1970 league merger with a rushing touchdown in each of the first three weeks of a season, joining Pro Football Hall of Famer TERRY BRADSHAW, as well as CHARLIE FRYE and KYLER MURRAY.
Giants kicker GRAHAM GANO and Seahawks kicker JASON MYERS bring into Week 3 two of the longest streaks of consecutive field goals made in NFL history.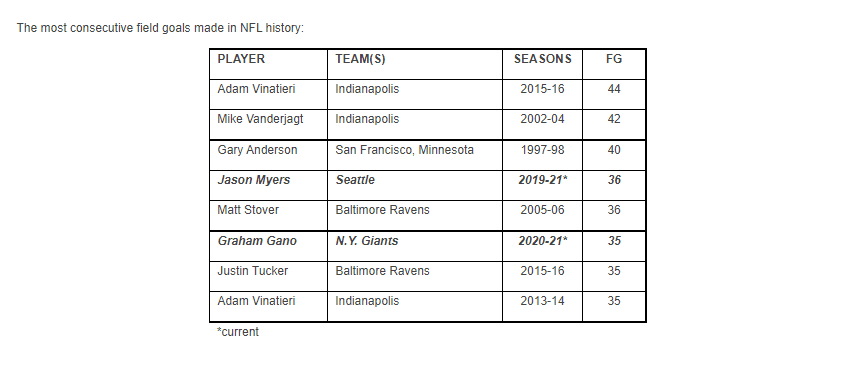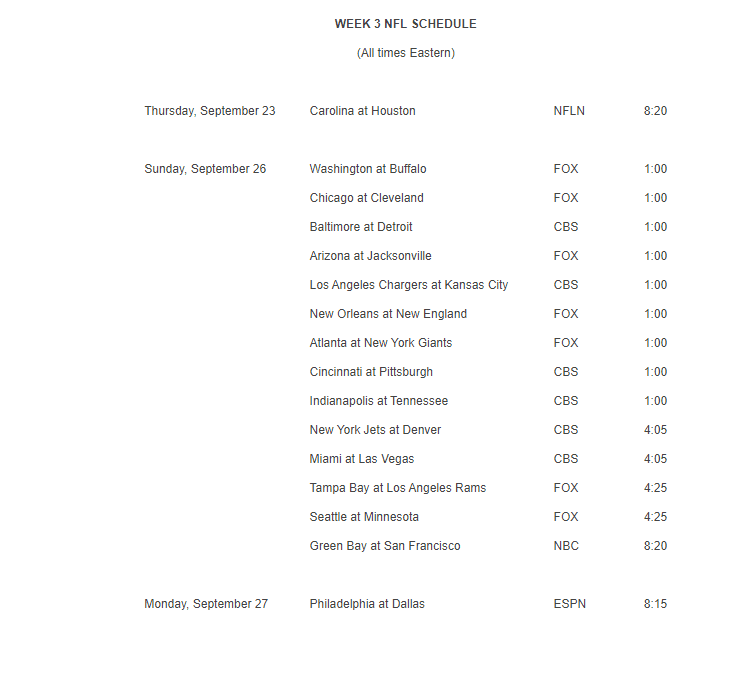 COURTESY NFLmedia.com