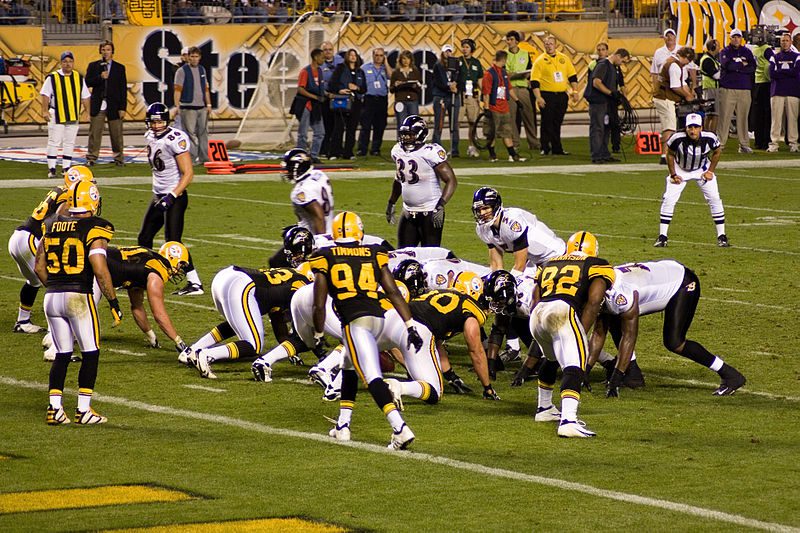 'James Harrison: A Football Life' Premieres Friday, September 24 at 9:00 PM ET & PT on NFL Network
"James Harrison is a Pittsburgher and a Pittsburgh Steeler if you ever had to mold one." – Bill Cowher
The 10th season of the Emmy-nominated and highly acclaimed NFL Films-produced series A Football Life continues Friday, September 24 at 9:00 PM ET and PT on NFL Network with a profile of two-time Super Bowl Champion and NFL Defensive Player of the Year James Harrison. The one-hour show features sit-down interviews with Harrison, former Pittsburgh Steelers teammates such as Ben Roethlisberger, Troy Polamalu and Brett Keisel, Steelers head coaches Mike Tomlin and Bill Cowher, and others.
Among the topics discussed in James Harrison: A Football Life include:
His journey from an undrafted player in 2002, to becoming the Pittsburgh Steelers' all-time leader in sacks and the only undrafted player in history to be named NFL Defensive Player of the Year
His intimidating on-field presence which earned him the nickname "DEEBO"
The Steelers inviting him to training camp in 2004 and the circumstances surrounding his first NFL start
His initial retirement in 2014 and subsequently returning to play that season
His new career as an actor on the TV show "Heels"
Emmy-nominated actor Josh Charles narrates.
James Harrison: A Football Life includes interviews with the following people:
James Harrison
Mildred Harrison – Mother
Bill Cowher – Pro Football Hall of Famer and former Pittsburgh Steelers head coach
Mike Tomlin – Pittsburgh Steelers head coach
Dick LeBeau – Pro Football Hall of Famer and former Pittsburgh Steelers defensive coordinator
Keith Butler – Former Pittsburgh Steelers linebackers coach
Ben Roethlisberger – Pittsburgh Steelers teammate
Troy Polamalu – Pro Football Hall of Fame safety & Pittsburgh Steelers teammate
Brett Keisel – Pittsburgh Steelers teammate
Joey Porter – Pittsburgh Steelers teammate
Cameron Heyward – Pittsburgh Steelers teammate
Joe Thomas – Former All-Pro Cleveland Browns offensive tackle
Andrew Whitworth – Former Cincinnati Bengals offensive tackle
Josh Cribbs – Former Cleveland Browns wide receiver/returner
Dean Pees – Former Kent State head coach
Gene Steratore – Former NFL referee
Mike O'Malley – Executive Producer of "Heels"
Stephen Amell – Actor on "Heels"
Provided below are some select quotes from James Harrison: A Football Life:
– "I'm cool with where my career ended, what I did with my career and that I was able to at least hold up to some of the legacy of a Pittsburgh Steeler linebacker." – James Harrison
– "When you think about a Pittsburgher, he's a hard worker; lunch bucket, come to work, no complaints…James Harrison is a Pittsburgher and Pittsburgh Steeler if you ever had to mold one." – Bill Cowher
– "I wasn't even thinking about making the Pittsburgh Steelers' team. My thought process was I'm going to come in here and I'm going to put film out to 31 other teams, and somebody is going to pick me up." – James Harrison on entering the 2004 training camp
– "Hard work pays off. He seriously was the best player in the game." – Brett Keisel
– "I was thinking 'This is a one-year thing,' but as I got back and I got back into it, I started to fall in love with it again." – James Harrison on returning to the Pittsburgh Steelers in 2014
– "I have no hard feelings towards the Steelers. I really have no ill-will towards [Mike] Tomlin like that either…It's kind of hard to hold a grudge over a business decision." – James Harrison on the end of his time with Pittsburgh Steelers
– "His story like a lot of stories in this game doesn't have that fairy tale ending that you would imagine, but it doesn't have any bearing on his legacy as a player and definitely as a Pittsburgh Steeler, the mark that he left. The legend of James Harrison won't be diminished." – Mike Tomlin
– "He's got this rough-tough personality that is authentically him, but there definitely is a side to him [that is] very loving, very loyal and a brother for sure." – Troy Polamalu
– "He's one of the most intimidating, scariest football players that I've ever been around, and he loved that persona. He loved to be that guy that never smiled." – Ben Roethlisberger
All NFL Network programming – including episodes of A Football Life – is available across multiple devices (smartphone, PC, tablet and connected TVs) through the NFL app and NFL Network app for subscribers of participating NFL Network providers. Visit NFL.com/watch for more information on how to watch.
Below is a broadcast schedule for remaining episodes of A Football Life this season:
October 1 – Calvin Johnson
December 3 – Drew Pearson
December 24 – John Lynch
ABOUT NFL MEDIA
NFL Media is comprised of NFL Network, NFL RedZone, NFL Films, NFL.com, the NFL app and streaming service, the NFL Channel.
Seven days a week, 24 hours a day, 365 days a year, fans turn to NFL Network to receive information and insight straight from the field, team headquarters, league offices and everywhere the NFL is making news. Launched in 2003, NFL Network gives fans unprecedented year-round inside access to all NFL events, including the Super Bowl, Playoffs, regular season, preseason, Pro Bowl, Pro Football Hall of Fame induction weekend, NFL Draft, NFL Scouting Combine, Senior Bowl, league meetings, minicamps and training camps.
For fans on the go, all NFL Network programming can be streamed live through the NFL app and NFL Network app on smartphones, tablets, PCs and connected TV devices (Amazon Fire TV, Android TV, Apple TV, PlayStation 4, Roku and Xbox One). Access is available for NFL Network subscribers of participating TV providers. For more information, go to NFL.com/nflnetwork.
– NFL MEDIA –
COURTESY NFLmedia.com