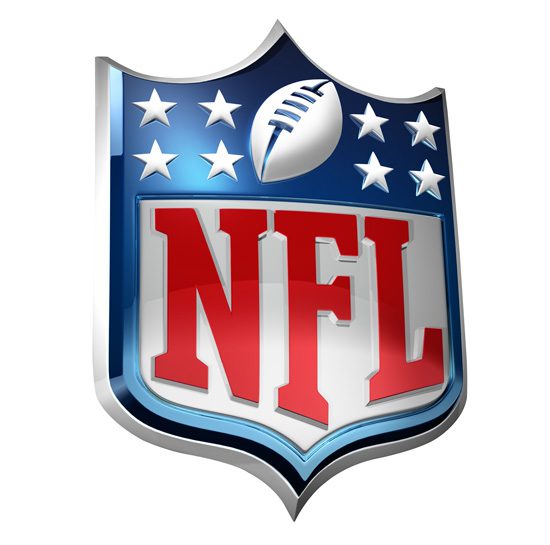 NO NEED TO PANIC: Since 2002, 136 of the 230 playoff teams (59.1 percent) began the year at either 1-1 or 0-2, including five teams last season and two division champions, NEW ORLEANS (NFC South) and WASHINGTON (NFC East), and the Super Bowl champion TAMPA BAY BUCCANEERS. Three of the past four Super Bowl winners lost one of their first two games.
Last season, the first year under the new 14-team playoff format, nine playoff teams began the year by winning their first two games.
Since 1990, 62.7 percent of teams (160 of 255) that start 2-0 advance to the postseason, while 41.6 percent of teams that begin 1-1 (184 of 442) make the playoffs. Out of the 258 teams that began a season 0-2, 30 advanced to the postseason (11.6 percent).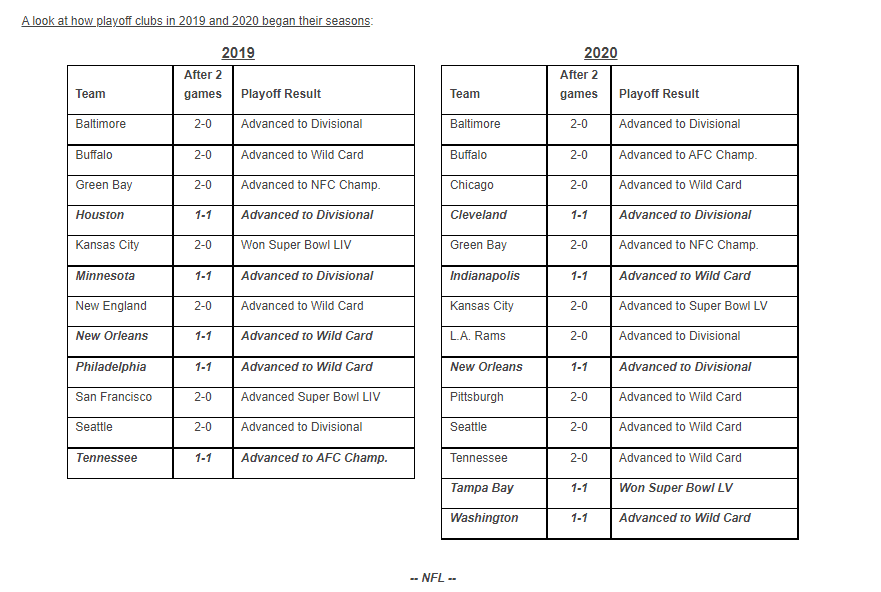 HEY, ROOKIE: Last week in his NFL debut, Jacksonville rookie quarterback TREVOR LAWRENCE passed for 332 yards. It marked the third-most passing yards by a No. 1 overall pick in his first career start in the Super Bowl era, trailing only CAM NEWTON (422 passing yards) and VINNY TESTAVERDE (369).
If Lawrence passes for at least 300 yards on Sunday in his home debut against Denver (1:00 PM ET, CBS), he will join JUSTIN HERBERT (2020), KYLER MURRAY (2019) and Newton (2011) as the only rookies to record at least 300 passing yards in each of their first two starts in NFL history.
The two other rookie quarterbacks that started on Kickoff Weekend – New England's MAC JONES and the New York Jets' ZACH WILSON – are scheduled to meet at MetLife Stadium on Sunday (1:00 PM ET, CBS).
If both players start, it will mark the first game since 1970 featuring two starting rookie quarterbacks from the same division in the first two weeks of a season.
— NFL —
SOPHOMORE SURGE: In last week's season-opening win at Washington, Los Angeles Chargers quarterback JUSTIN HERBERT completed 31 of 47 pass attempts (66 pct.) for 337 yards. This marked his ninth-career game with at least 300 passing yards, after he set the all-time rookie record with eight such games last season.
With at least 300 passing yards on Sunday at SoFi Stadium against Dallas (4:25 PM ET, CBS), Herbert will tie PATRICK MAHOMES (10 games) and Pro Football Hall of Famer DAN MARINO (10) for the most games with at least 300 passing yards by a player in his first two seasons in NFL history.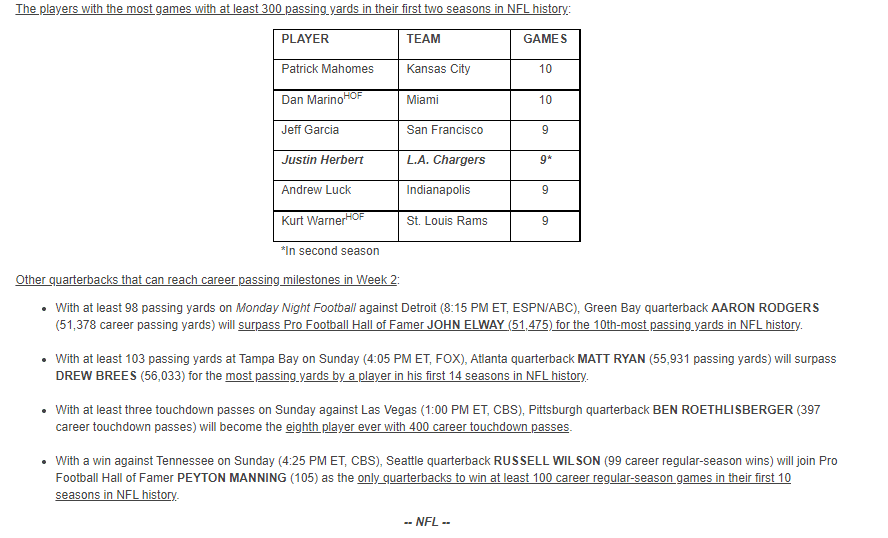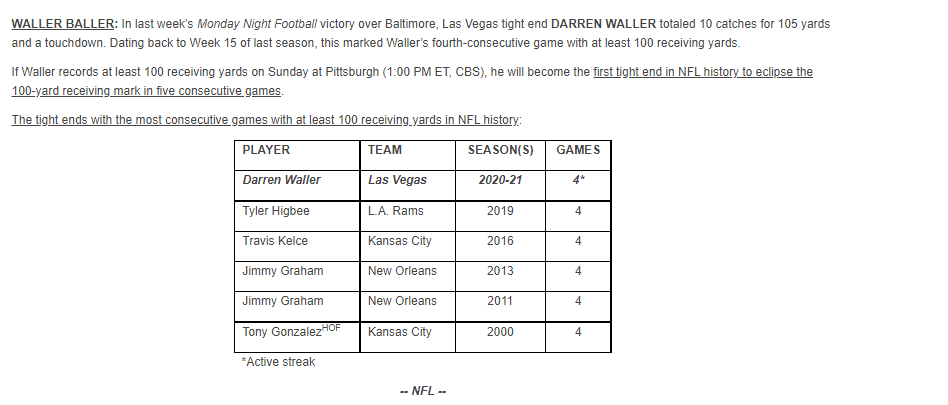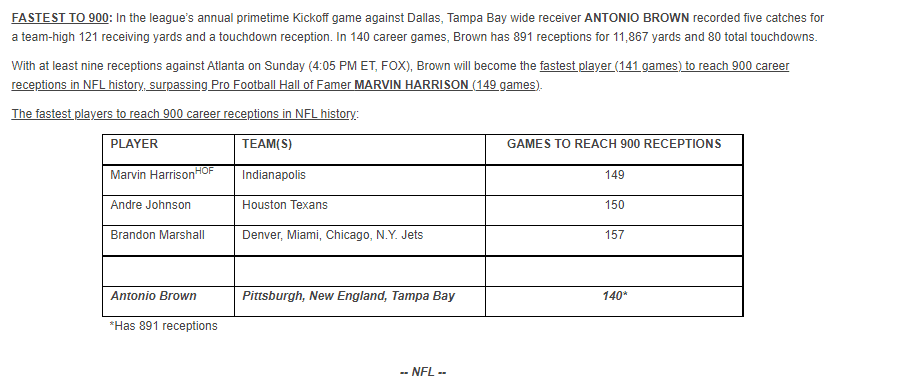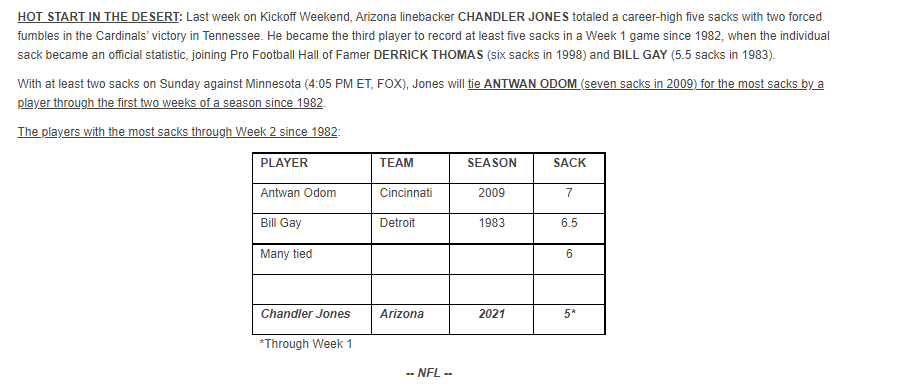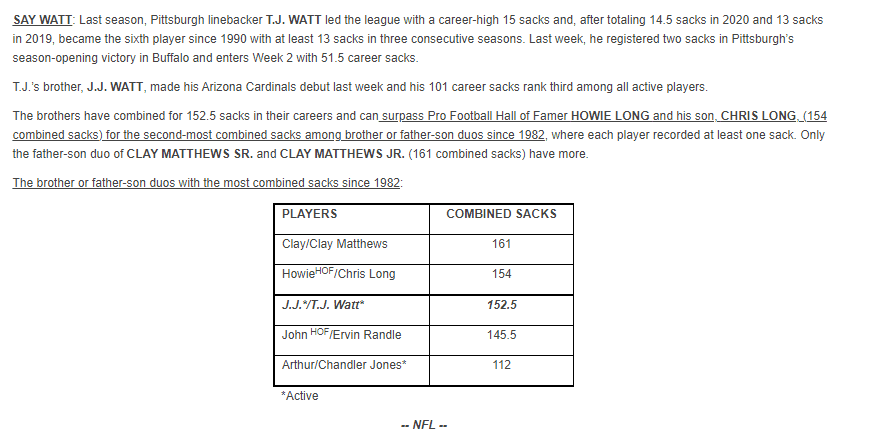 COURTESY NFLmedia.com