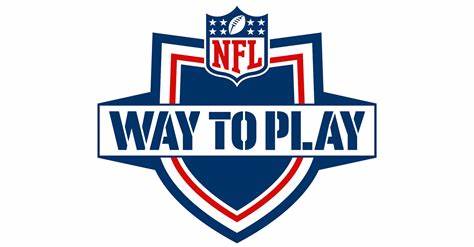 Weekly awards to recognize current NFL players, high school tackle, NFL FLAG and Canadian youth players who demonstrate excellence in playing technique
The NFL today announced the expansion of the Way to Play initiative, helping highlight proper playing technique to protect players from unnecessary risk and foster culture change across all levels of the sport.
To increase efforts to promote proper playing technique both domestically and internationally, the award series has expanded this year to include NFL Canada and NFL FLAG.
"Expanding the Way to Play Award to NFL FLAG and Canada underscores that football is for all and the game is even more fun when using the proper techniques that protect players and promote football development," said TROY VINCENT, NFL Executive Vice President of Football Operations. "Through the award, football fans and players from around the world can see real time examples of excellent football fundamentals and skill development."
NFL CANADA: New this year, one high school player each week from Canada will be recognized in Weeks 2-11 of the NFL season. Submissions will be received through Hudl and voted on by NFL Canada's Football Development Advisory Committee: SAADIA ASHRAF, AARON GEISLER, GORD GRACE, MARK HARRISON, KAREN OUELLETTE, DAVIS SANCHEZ and MIKE THOMAS. Each recipient will be announced on NFL on CTV Live and receive a $1,500 CAD equipment grant for their school.
NFL FLAG PLAYER OF THE WEEK: As an introduction to the NFL Way to Play, the NFL is recognizing one FLAG player each week for demonstrating proper playing technique. Players are evaluated on flag pulling, rushing, footwork, discipline and vision. Developing proper playing technique and good habits at the NFL FLAG level prepares players to excel in FLAG or make the transition to tackle. Each recipient will receive a $1,500 grant and the expert panel selecting this award will consist of ROMAN OBEN, IZELL REESE, MATT REIMEL, PHOEBE SCHECTER and OMAR YAQUES. The recipient will be announced on NFL Network's Good Morning Football every Saturday.
NFL WAY TO PLAY AWARD: For the fourth year, this award will recognize NFL players who exemplify proper technique to make impactful plays. Each recipient of the Way to Play Award will receive a $2,500 equipment grant through USA Football to be awarded to the local youth or high school football program of the player's choosing. An expert panel consisting of MERRIL HOGE, RONNIE LOTT, WILLIE MCGINEST, ORLANDO PACE and MICHAEL ROBINSON will select the winner. The recipient will be announced on NFL Network's Good Morning Football every Thursday.
NFL WAY TO PLAY HIGH SCHOOL AWARD: In partnership with Hudl and in its third year, the award will honor one high school football player weekly for demonstrating exceptional in-game playing technique. The high school award recipient will be announced on NFL Network each Saturday morning, and the school of each honoree will receive a $1,500 equipment grant through USA Football. The expert panel selecting the weekly winner consists of PHIL BOGLE, KEVIN BOOTHE, JAY MANAHAN, ROMAN OBEN, JON RUNYAN and TROY VINCENT.
Several NFL head coaches, current players and NFL Legends have created videos to assist in educating coaches and players. The videos provide coaching points of emphasis to execute proper technique and are used as an educational tool. For more information on the NFL Way to Play, please visit ops.nfl.com/WTP-Award.
COURTESY NFLmedia.com