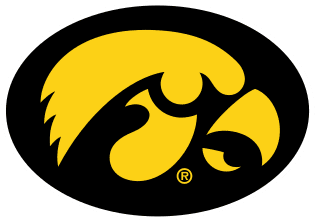 SEPTEMBER 4, 2021
IOWA CITY, Iowa – The 18th-ranked University of Iowa football team scored twice in the game's first 135 seconds and the defense forced three turnovers in a 34-6 rout of No. 17 Indiana on Saturday afternoon in its season opener on Duke Slater Field inside Kinnick Stadium.
Senior Riley Moss had two of the three Hawkeye turnovers, taking both of his interceptions for pick sixes in the first half. Iowa's defense limited the Hoosiers to 233 yards, including just 77 on the ground. Indiana averaged 28.9 points and 359.5 yards of total offense during the 2020 season.
"Our game planning coming in was to stop the big plays, and that's what we did," said Moss. "We made them work for their yards and for their points. It was praised on to stay on top, do your job, read your keys, know your responsibilities, and I think everyone throughout the defense did that well."
Junior Seth Benson had a game-high 10 tackles, including six solo stops and four Hawkeyes accounted for five tackles for loss. Junior Dane Belton had Iowa's third interception and finished with four tackles and 1 ½ tackles for loss.
Offensively, Iowa finished with 303 yards of total offense with a balanced attack with 158 coming on the ground and 145 through the air. Junior Tyler Goodson rushed for 99 yards on 19 attempts with one touchdown, including a 56-yard touchdown run on the fourth play of the game.
Junior Spencer Petras completed 13-of-27 attempts for 145 yards with five receptions going to junior Sam LaPorta for 83 yards.
HOW IT HAPPENED
– The Hawkeyes scored on their opening possession, needing just four plays to cover 67 yards. On second and 10 from the 44, Goodson took a handoff, bounced outside to his wall of blockers and went untouched for a 56-yard touchdown to make the score 7-0.
– The score went to 14-0 in the blink of an eye when IU quarterback Michael Pennix, Jr.'s, pass deflected off wide receiver D.J. Matthews' hand and to Moss, who grabbed the interception and returned it 30-yards for the touchdown.
– The Hoosiers scored their lone first-half points with a nine-play, 49-yard scoring drive late in the first quarter. Pennix connected with Ty Fryfogle for a 32-yard pass to the Hawkeye 19 before Iowa's defense forced two incompletions and a rush for no gain. Charles Campbell connected on a 36-yard field goal to cut the deficit to 14-3.
– Iowa went 48 yards over eight plays to push its lead to 21-3. After taking over in Hoosier territory, Petras opened the drive with a 16-yard completion to LaPorta to the 32. The Hawkeyes converted a fourth-and-2 when Petras connected on a 2-yard crossing route to Charlie Jones. Two plays later, Petras hit paydirt, scoring on a 9-yard designed quarterback draw.
– Iowa's defense accounted for seven more points late in the second quarter. On first-and-10 from midfield, Moss jumped a Hoosier route and returned it 55 yards for a touchdown – his second of the day – to make the score 28-3.
– The Hawkeyes forced their third turnover on the second play of the ensuing possession. On second-and-1 from the IU 34, junior Joe Evans pressured Pennix, who forced a throw, and Belton was the beneficiary. He secured his first career interception with 1:12 left in the half, giving Iowa possession at the IU 44.
– Iowa turned the mistake into points, driving 21 yards over eight plays in the final minute. Senior Caleb Shudak connected on a 41-yard field goal – the first of his career — as time expired, giving the Hawkeyes a 31-3 lead at the half.
– The Hoosiers had their best drive of the day on their first possession of the second half, needing 12 plays to cover 52 yards. Indiana converted a fourth-and-4 from midfield with a 33-yard completion to Fryfogle to the Iowa 14. The Hawkeyes held and Lukas Van Ness' sacked forced a field goal attempt, where Campbell connected from 41 yards to make the score 31-6.
– Iowa scored its only points of the second half with an 11-play, 40-yard scoring drive in the fourth quarter. The Hawkeyes methodically drove down field and moved into the red zone on a IU personal foul face mask penalty. Shudak pushed the score to 34-6 with a 35-yard field goal.
POSTGAME NOTES
– Iowa extended its winning streak to seven games. Iowa has outscored its last seven opponents, 248-89, averaging 35.4 points per game offensively and allowing 12.7 ppg. during the winning streak.
– The 34 points scored are the most in a Big Ten opener since scoring 42 at Penn State in 2002.
INDIVIDUAL NOTES
– Petras is 91-of-158 (59.5) with 1,233 passing yards (176.1 ypg) during Iowa's seven-game winning streak. He has thrown eight touchdowns and two interceptions over the last seven games.
– Moss returned an interception 30 yards for a touchdown in the first quarter. Moss returned an interception 55 yards for a touchdown in the second quarter. The interceptions were No. 7 and 8 of his career. He has three career pick-sixes. Iowa has had at least one interception return for a touchdown in each of the last 14 seasons and 19 of the last 21.
– Belton recorded his first career interception.
– Petras rushed for a touchdown in the second quarter. It was his fourth career rushing touchdown and the longest rushing touchdown of his career (9 yards).
– Iowa had three offensive linemen make their first career start: LT Mason Richman, RG Justin Britt and RT Nick DeJong. Iowa DL John Waggoner and DL Logan Lee also made their first career starts. WR Charlie Jones made his first career start.
– LaPorta had a career-high 83 receiving yards.
– Noah Shannon (4), John Waggoner (4), Jestin Jacobs (3), Logan Lee (3) and Ethan Hurkett (3) recorded career highs in tackles.
MISCELLANEOUS NOTES
– Iowa has played 23 straight games without surrendering 25 points, the longest streak in the nation among Power 5 teams.
– Iowa has won seven straight Big Ten games for the fifth time in the last 30 years. Iowa won eight straight conference games in 2015 and 2008, and seven straight in 2004 and 1991).
– Iowa has scored at least 25 points in each of its wins during its winning streak. It is the second time in school history Iowa has scored 25 points or more in seven straight wins (2015, seven games).
– Iowa and Indiana met as AP ranked opponents for the second time ever and the first time since 1991, when No. 10 Iowa defeated No. 25 Indiana, 38-21, at Kinnick Stadium.
– Iowa is 98-33-2 in season-opening games, including an 19-4 mark under coach Kirk Ferentz.
COURTESY IOWA ATHLETIC COMMUNICATIONS