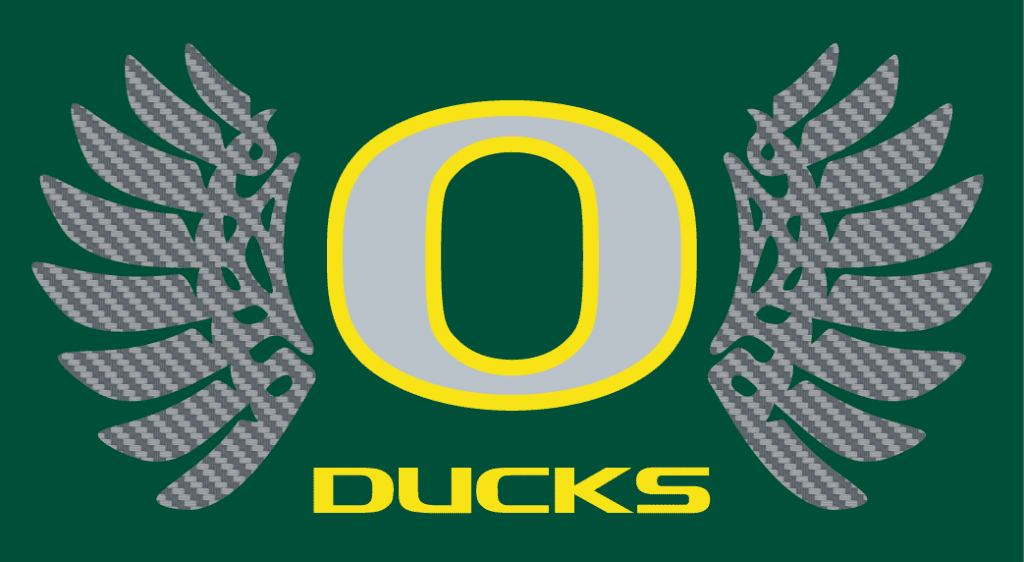 GAME 2
11 OREGON AT #4 OHIO STATE
Saturday, September 11, 2021
FOX | 9:05 A.M. PT
Ohio Stadium | Columbus, Ohio
Twitter: @OregonFootball
THE MATCHUP
11 OREGON DUCKS (1-0)
AP/Coaches Rank: 11/12
Head Coach: Mario Cristobal (Miami, 1993)
Record at Oregon: 26-10 (4th Season)
Career Record: 53-57 (10th Season)
4 OHIO STATE BUCKEYES (1-0)
AP/Coaches Rank: 4/4
Head Coach: Ryan Day (New Hampshire, 2002)
Record at Ohio State: 24-2 (3rd Season)
Career Record: Same
BROADCAST INFORMATION
TV: FOX
Play-By-Play: Gus Johnson
Analyst: Joel Klatt
Sideline Reporter: Jenny Taft
RADIO: OREGON SPORTS NETWORK
Local: KUJZ-FM 95.3 (Eugene) | KFXX-AM 1080 (Portland) | Sirius: 133 | XM: 197
Play-By-Play: Jerry Allen | Analyst: Mike Jorgensen
Sideline Reporter: Joey McMurry | Pre-Game Show: Terry Jonz
TALKING POINTS
AT A GLANCE
After opening the 2021 season with a comeback win over
Fresno State at Autzen Stadium, the No. 11 Ducks will hit the
road for a marquee matchup against No. 4 Ohio State this
Saturday in Columbus. Oregon heads to The Shoe seeking a
signature win and its first-ever victory over the Buckeyes.
The last time Oregon and Ohio State faced off was in the
first-ever College Football Playoff National Championship
Game in 2014.
DUCKS FINISH WELL, WIN OPENER
With fans in the Autzen Stadium stands for the first time since
November 2019, the Ducks kicked off the 2021 season with three
quarters of uneven play before stout finishes on both sides of
the ball fueled Oregon to a 31-24 win over Fresno State. The
Ducks trailed 24-21 early in the fourth quarter before JUSTIN
FLOWE – who finished with a whopping 14 tackles – forced a
fumble to set up a game-tying field goal by CAMDEN LEWIS.
The defense got off the field quickly again, and quarterback
ANTHONY BROWN capped his first career UO start with a 30-
yard touchdown run that put Oregon ahead for good.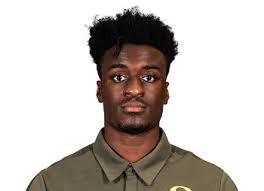 NUMBERS TO KNOW
MARQUEE MATCHUP
The Ducks head to Columbus looking for the program's first
win over a top-five team since defeating No. 5 Utah, 37-15, in
the 2019 Pac-12 Championship Game. Oregon is 8-40-1 all-time
against top-five opponents. Since 2010, Oregon holds an 87-
21 record as a ranked team while going 27-19 against ranked
opponents.
DISRUPTIVE D
Oregon's defense was flying around in Saturday's opener,
recording four sacks, eight TFLs and four forced fumbles to
fuel the Ducks' comeback win. After week one, the Ducks are
tied for the Pac-12 lead in both sacks and forced fumbles.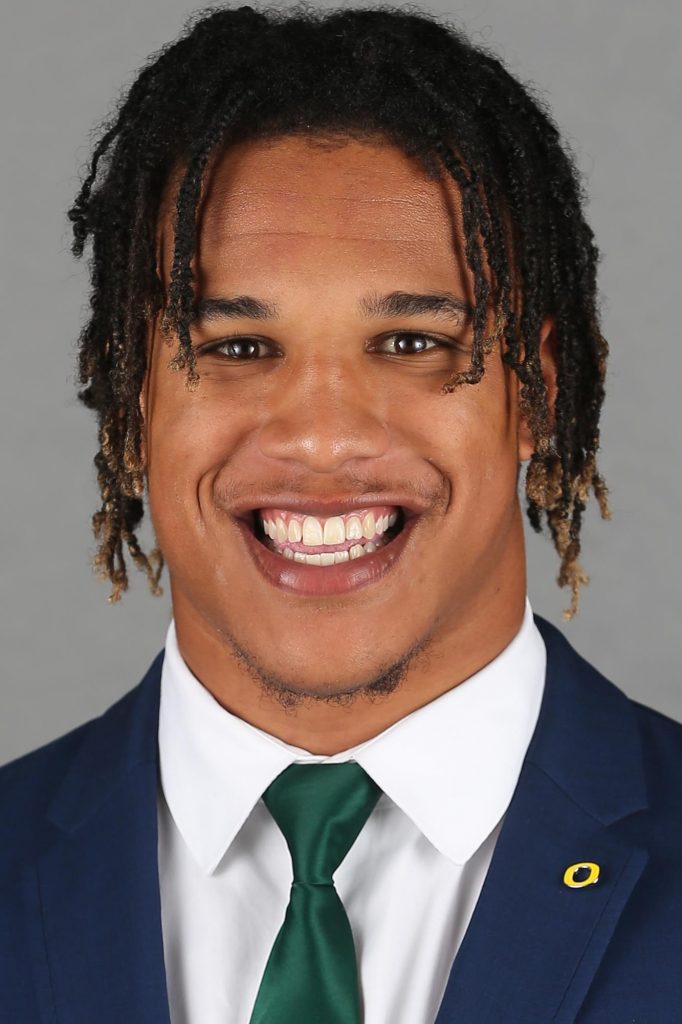 COACHING STAFF
ON THE FIELD
Mario Cristobal, Head Coach (4th)
Joe Moorhead, Offensive Coordinator/QBs (2nd)
Alex Mirabal, Associate HC/OL (4th)
Joe Salave'a, Associate HC/Co-DC/DL (5th)
Bobby Williams, Special Teams Coordinator/TEs (4th)
Bryan McClendon, Pass Game Coordinator/WRs (2nd)
Ken Wilson, Co-Defensive Coordinator/ILBs (4th)
Marcel Yates, Secondary/Pass Game Coordinator (1st)
IN THE BOOTH
Tim DeRuyter, Defensive Coordinator/OLBs (1st)
Rod Chance, Cornerbacks (2nd)
Jim Mastro, Run Game Coordinator/RBs (4th)
( ) – denotes year at Oregon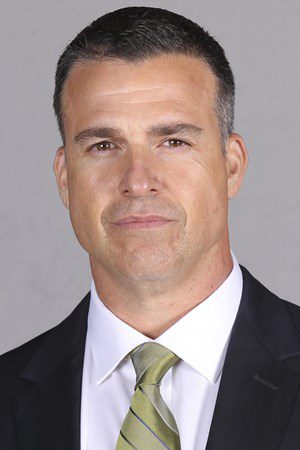 ALL-TIME VS. OHIO STATE
SERIES HISTORY
Ohio State leads, 9-0
Date UO/Opp. Rank Site Result
1/12/2014 3/5 Arlington, Texas L, 42-20
1/1/2010 7/8 Pasadena, Calif. L, 26-17
9/19/1987 -/5 Columbus, Ohio L, 24-14
9/10/1983 -/7 Columbus, Ohio L, 31-6
10/5/1968 -/6 Columbus, Ohio L, 21-6
10/7/1967 Eugene, Ore. L, 30-0
11/17/1962 Columbus, Ohio L, 26-7
11/18/1961 -/3 Columbus, Ohio L, 22-12
1/1/1958 -/2 Pasadena, Calif. L, 10-7
INSIDE THE SERIES
Record: 0-9 (.000)
In Eugene: 0-1
In Columbus: 0-5
In Pasadena: 0-2
In Arlington: 0-1
As ranked: 0-2
Current Streak: Ohio State won 9
Most points scored by Oregon: 20 (2014)
Most points scored by Ohio State: 42 (2014)
Largest margin of victory by Ohio State: 30 (1967)
300-YARD PASSING GAMES
Player Date C-A Yards TDs
Marcus Mariota 1/12/2015 24-37 333 2
100-YARD RECEIVING GAMES
Player Date Catches Yards TDs
Byron Marshall 9/7/2002 8 169 1
TEAM NOTES
A WIN WOULD …
» Be the first in program history over Ohio State.
» Be Oregon's fourth in a row against a Big Ten opponent.
» Give Oregon its 22nd all-time win over current Big Ten schools.
» Be Oregon's ninth win over a top five team in program history and the first since 2019.
WHAT A TURNAROUND
Under head coach MARIO CRISTOBAL, Oregon leads the conference in overall wins (26) and league victories (16) since the
start of 2018. Below are some of the program's accomplishments under Cristobal.
» One of six FBS programs (Clemson, Florida, Georgia, Ohio State & Oklahoma) to make a New Year's Six bowl game each of
the last two years.
» One of three FBS teams (Clemson & Ohio State) to win its conference championship game each of the last two years.
» Oregon and Stanford are the only two teams to win the Pac-12 Championship Game in back-to-back years since it started
in 2011.
TAKING ADVANTAGE
Oregon has been among the best in the country at capitalizing on takeaways under head coach MARIO CRISTOBAL,
averaging the second most points off turnovers in the FBS since the start of the 2018 season. The Ducks have scored at
least 14 points off turnovers 12 times during Cristobal's tenure after cashing in for 17 off three Fresno State turnovers on
Saturday. Oregon is 11-1 under Cristobal when scoring at least 14 points off of turnovers.
Points off TOs Per Game (Since 2018)
Alabama 8.57
Oregon 8.37
Clemson 8.33
UCF 7.78
Ohio State 7.27
» Oregon has scored at least 20 points off turnovers eight times since 2018, led by three games with 28 points off takeaways.
» Fourth in the FBS since 2018 outscoring opponents by 4.88 points per game off turnovers.
» Scoring an average of 4.88 points off of each turnover since 2018 (293 points off 60 TOs).
OFFENSIVE NOTES
1-2 PUNCH
Oregon has two of the most prolific running backs in the country in CJ VERDELL and TRAVIS DYE. The pair have the most
combined career rushing yards of any active FBS running back duo with 4,501 yards on the ground. Verdell and Dye are also
the top two career rushers in the Pac-12 and the only teammates in the FBS to each have more than 1,900 career yards on the
ground.
Most Career Rushing Yards by FBS Running Back Duos
Verdell/Dye (Oregon) 4,501
Rivers/Mims (Fresno State) 4,020
Ingram/Malepeai (USC) 3,465
ALL-AROUND BACKS
Oregon's running back duo of CJ VERDELL and TRAVIS DYE have gotten the job done both carrying the ball and catching
passes out of the backfield throughout their careers. Verdell and Dye have combined for the second most career yards from
scrimmage of any active FBS running back tandem, and are the only pair of teammates to each have over 2,300 career yards
from scrimmage.
Most Yards from Scrimmage Among FBS RB Duos
Names (School) Rush Rec. Total
Rivers/Mims (Fresno State) 4,020 1,681 5,701
Verdell/Dye (Oregon) 4,501 1,010 5,511
Ingram/Malepeai (USC) 3,465 749 4,214
Taua/Lee (Nevada) 3,349 757 4,106
LEAD THE WAY, CJ
Heading into 2021, CJ VERDELL has a chance to continue to climb up the Oregon career rushing charts. Verdell is ninth in
school history with 2,523 career rushing yards and tied for eighth with 10 100-yard rushing games. He is also second in career
rushing among active Power 5 players and leads all current Pac-12 players in that category.
Active Career Power 5 Rushing Leaders
Mohamed Ibrahim (Minnesota) 3,003
CJ Verdell (Oregon) 2,597
Breece Hall (Iowa State) 2,538
Kennedy Brooks (Oklahoma) 2,154
Ty Chandler (North Carolina/Tennessee) 2,112
» Needs 23 yards to pass Ricky Whittle (1992-95) for eighth in rushing yards at Oregon
» One 100-yard game away from moving into a tie for fifth with 11 career 100-yard rushing games.
» Two rushing TDs away from moving into the top 10 for a career at Oregon.
BY GROUND OR BY AIR
Oregon running back CJ VERDELL can beat you running the ball or in the passing game. The Ducks RB is one of just two
active FBS players to have over 2,500 career yards rushing and 500 yards receiving, and the only one to have reached both
marks in just three seasons on the field.
FBS Players with 2,500 rushing yards and 500 receiving yards
Player Rushing Receiving
Ronnie Rivers, Fresno State, Sr. 2,727 1,138
CJ Verdell, Oregon, Jr. 2,597 538
TO DYE FOR
The only player in the conference with over 400 yards rushing and 200 yards receiving last season, TRAVIS DYE turned in
another solid effort in the opener against Fresno State. Dye ran for 64 yards and a TD on 13 carries with 46 of those yards
coming after halftime. He's coming off a 2020 season in which he finished fourth among all FBS running backs in yards per
touch, averaging 9.3 yards every time he touched the ball offensively. Dye was also one of just three players nationally to catch
at least four TD passes on fewer than 10 total receptions in 2020, with two of those scores coming from at least 30 yards out.
» Has gone 42 straight carries without losing yardage dating back to the game at California in 2020.
» 13 carries of at least 10 yards and three receptions of at least 20 yards in 2020.
» Third in the Pac-12 with four receiving TDs and one of four FBS running backs to catch at least four TD passes.
» First Oregon RB to have four TD receptions in a season since De'Anthony Thomas in 2012.
» Led Oregon and finished seventh in the conference with 443 yards on the ground.
RUNNING THE ROCK IN CRUNCH TIME
Oregon's offense upped its production in the fourth quarter to close out Saturday's win over Fresno State, running for 87 yards highlighted by CJ VERDELL's 65 yards on 11 carries. Verdell racked up 65 of his 74 yards on the afternoon in the final period with three first down rushes and a pair of carries that went for over 10 yards. ANTHONY BROWN capped things off for the Ducks by scoring the go-ahead touchdown from 30 yards out on the ground with less than three minutes remaining in the game.
PRO-DUCK-TIVE DUO
The receiving duo of JAYLON REDD and JOHNNY JOHNSON III are among the most potent scoring combinations in the
passing game among active FBS players. The pair have combined for the second most career receiving TDs of any Power 5
duo with 29, trailing only Ohio State's Chris Olave and Garrett Wilson. Johnson and Redd also have the most combined career
receiving yards of any returning duo in the Pac-12 with 2,944 led by Johnson, whose 1,693 receiving yards are the most of any
active player in the conference.
Most Receiving TDs of Any Returning Power 5 Duo
Olave/Wilson (Ohio State) 36
Johnson III/Redd (Oregon) 29
Emezie/Thomas (NC State) 25
Bell/Harris (Washington State) 24
Fryfogle/Hendershot (Indiana) 23
CLIMBING THE RECEPTION RANKINGS
Senior wide receivers JAYLON REDD and JOHNNY JOHNSON III look to continue climbing up Oregon's career receptions list
after the pair became the two newest members of the 100-reception club in 2020. Redd currently sits in a tie for 17th on the
Ducks' all-time receptions list with 119, while Johnson is in 19th with 117 career receptions. The Ducks are also one of five teams
in the Power 5 to have multiple players with at least 100 career receptions.
» To crack the top 15, Redd needs three catches while Johnson needs five.
» To reach the top 10, Redd needs 16 more catches and Johnson needs 22.
» Redd is 59 catches away from tying the school record, while Johnson is 61 receptions away.
WHAT CAN BROWN DO FOR YOU
Quarterback ANTHONY BROWN came up big late to guide Oregon to a win over Fresno State in his starting debut as a Duck.
Brown went 15-of-24 for 172 yards and TD while scoring the game-winning touchdown from 30 yards out on the ground with less than three minutes remaining in the game. He's just the sixth QB in school history to run and throw for a touchdown in an Oregon starting debut while it was the fourth time in his career accounting for both a rushing and passing TD.
» Only Pac-12 quarterback to have both a rushing and passing TD in the opening week.
» Has accounted for a TD in 27 of his 31 career games, including each of the last nine.
» One of two FBS quarterbacks to have both a passing and rushing TD of at least 30 yards (Austin Kendall, Louisiana Tech).
EXPERIENCED ARM
After not seeing any action through the first five games of 2020, ANTHONY BROWN has made an impact in his three games in
an Oregon uniform. Brown threw a pair of TD passes in the conference title game win over USC before throwing for 147 yards
and scoring two TDs on the ground in the Fiesta Bowl against Iowa State. He then threw for 172 yards and accounted for a pair of TDs (1 pass, 1 rush) in his starting debut as a Duck vs. Fresno State. Brown arrived at Oregon after starting all 28 games he played over three seasons at Boston College. The fifth-year senior is among the most experienced signal callers in the Pac-12, with career numbers that are some of the best in the conference.
Brown's Career Numbers Among Active Pac-12 QBs
Category Stat Rank
Passing Yards 5,074 4th
Passing TDs 43 4th
Completions 403 4th
Pass Attempts 727 2nd
THE BEEF IS BACK
Oregon returns all six of its players who started a game along the offensive line last season. The Ducks bring back six players up front who combined for all 35 starts in 2020 on the way to being named to the Joe Moore Award midseason watch list as one of the top offensive line groups nationally. All five starters on the offensive line in the opener against Fresno State started a game last year for the Ducks.
ALEX FORSYTH earned second-team all-conference honors and finished the year as the second-highest graded center in the Pac-12 according to PFF. He was named to the Rimington and Outland Trophy Award watch lists going into 2021. RYAN WALK earned AP first-team All-Pac-12 honors while T.J. BASS was named to the second team. Bass also received honorable mention all-conference recognition from the coaches, joining MALAESALA AUMAVAE-LAULU.
DEFENSIVE NOTES
GAME WRECKER
Named a first-team preseason All-American by eight different outlets, KAYVON THIBODEAUX
continues to be widely recognized as one of the best players in college football. An FWAA
second-team All-American in 2020, Thibodeaux has recorded 13.0 sacks and 24.5 TFLs in just
22 career games at Oregon. He leads all returning Power 5 players in TFLs since the start of
2019 with 24.5 after adding one with a sack and forced fumble in the season opener against
Fresno State.
Most TFLs Since 2019 (Power 5 Players)
No. Player (School) TFLs
Kayvon Thibodeaux (Oregon) 24.5
Ochaun Mathis (TCU) 24.0
Noah Taylor (Virginia) 24.0
Cameron Goode (California) 22.0
5, Tre Sterling (Oklahoma State) 20.0
» Recorded first career sack and forced fumble in the win over Fresno State.
» On preseason watch lists for four different national awards.
» Phil Steele Preseason National Defensive Player of the Year.
» Combined 3.5 sacks, 4.5 TFLs and 18 QB pressures in two career Pac-12 Championship Game
appearances. Named conference title game MVP last year.
GO WITH THE FLOWE
Freshman linebacker JUSTIN FLOWE was all over the field in the season opener against
Fresno State, making a career-high 14 tackles to go with a forced fumble and a TFL. He leads
the Pac-12 in tackles had the most stops by an FBS freshman in a game during the opening
week of the season. Flowe's 14 tackles are the most by a UO freshman since Troy Dye had 14
against California in 2016, while he's just the eighth player in school history to have at least
14 stops in a season opener.
» First Oregon player since 2007 and only the fourth since 2000 to have at least 14 tackles
and a forced fumble in a game.
» One of three FBS players to force a fumble while making 14 stops during the opening week.
INSTANT IMPACT
The 2020 Pac-12 Defensive Freshman of the Year, NOAH SEWELL has burst onto the scene as
one of the leaders on the Oregon defense since the start of last year. An FWAA Freshman AllAmerican, Sewell finished 2020 tied for the team lead with 45 tackles while finishing second
with 6.5 TFLs and a pair of sacks. He began his second collegiate season by making five tackles
while recording a sack and forced fumble against Fresno State.
» Named to the Butkus Award and Polynesian College Football Player of the Year watch lists.
» One of just two FBS true freshmen – and the only one in the Power 5 – to lead his team in
tackles (Tyler Grubbs – Louisiana Tech).
» Led Pac-12 freshmen in tackles (45) and TFLs (6.5) and tied for the lead in sacks (2.0).
THE WRIGHT STUFF
A preseason first-team All-Pac-12 selection, MYKAEL WRIGHT got his third season at Oregon
off to a solid start with six tackles and a pair of TFLs in the opener against Fresno State.
Wright earned a spot on the preseason watch list for both the Jim Thorpe and Paul Hornung
Awards after breaking up 13 passes and averaging 28.3 yards per kickoff return over his first
two seasons at Oregon.
» Only Pac-12 defensive back with at least two TFLs in week one.
» Led the Pac-12 with nine pass breakups in 2020.
» Highest graded Pac-12 corner against the run in 2020 according to PFF with a grade of 84.2.
» Third player in program history to return multiple kickoffs for a TD in a single season with
two in 2019.
DOMINANT DORLUS
Oregon defensive tackle BRANDON DORLUS earned PFF National Team of the Week honors
after finishing with a sack and three tackles in the opener against Fresno State. Dorlus
earned a pass-rush grade of 92.3 and was also named PFF's Secret Superstar of the Week
after recording his third career sack.
» Highest graded player on the team according to PFF (91.8).
» Graded out as the fifth-best interior defensive lineman nationally while receiving the thirdbest pass rush grade among pass rush grade.
DEFENSIVE & SPECIAL TEAMS NOTES
DISRUPTIVE FORCES
Oregon's defense got big play contributions from a number of different players, recording
four sacks, eight TFLs and four forced fumbles in the season opener against Fresno State.
The Ducks are the only Pac-12 team to have four sacks in a game and are tied for the
conference lead after the first week of games. The four sacks came from four different
players while the eight TFLs were recorded by seven different defenders. Additionally, the
four forced fumbles came from four different players while three different Ducks recovered
a fumble.
» Tied for first in the conference with four forced fumbles.
» Players with a sack: BRANDON DORLUS, NOAH SEWELL, BRADYN SWINSON, KAYVON
THIBODEAUX.
» Players with a forced fumble: JUSTIN FLOWE, NOAH SEWELL, KAYVON THIBODEAUX,
MYKAEL WRIGHT.
SNEE GIVES DUCKS DEFENSE AN EDGE
Sophomore punter TOM SNEE proved to be a weapon for Oregon against Fresno State giving
the Ducks' defense a number of advantages in field position in the opener last Saturday. The
Australian native pinned the Bulldogs inside their own 20-yard line on four of his five punts
while putting up impressive numbers in the process.
» Boomed a career-long 56-yard punt in the fourth quarter, pinning Fresno State at its own
4-yard line.
» Also had a 53-yard punt, matching his previous career-high.
» Four punts pinned inside the 20 tied for second most in the nation, according to Pro
Football Focus.
» Averaged 46.8 yards per punt while netting 42.8 yards per attempt.
Snee continued the marked improvement he showed during the COVID-shortened 2020
season. After averaging just 35.2 yards per punt and pinning opponents inside the 20 on
just five of 22 punts in 2018 as a freshman (redshirted in 2019), Snee added more than eight
yards per punt last season while increasing the percentage of punts downed inside the 20 by
more than 20 percentage points.
Snee Year-by-Year
Year Punts Average In20 %In20 Long
2018 22 35.2 5 22.7% 51
2019 Redshirted
2020 25 43.6 11 44.0% 53
2021 5 46.8 4 80.0% 56
Totals 52 40.4 20 38.5% 56

COURTESY OREGON ATHLETIC COMMUNICATIONS