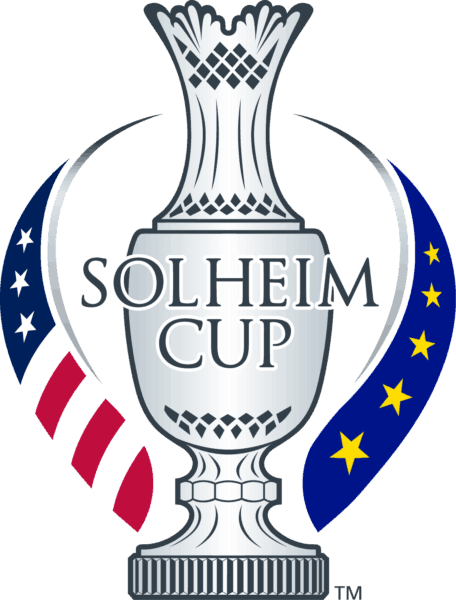 2021 Solheim Cup
Inverness Club | Toledo, Ohio | Sept. 4-6, 2021
  Team Europe Roster and Records
USA CAPTAINS READY FOR INVERNESS CHALLENGE
Wednesday marked one year, seven months and 23 days since Pat Hurst was announced as captain for Team USA at the 2021 Solheim Cup. After so many months of hard work and planning – not to mention the confusion and fear caused by the pandemic – it's finally go time in Toledo.
"With everything that was going on, there was always the uncertainty of not playing. So we are here," said Hurst. "We're going to do it and it's going to be awesome."
Hurst's last two years included numerous scouting trips, countless statistical emails and hours of uniform scripting and venue planning, not to mention the final difficult decisions on who would finally be named to Team USA. She had been an assistant captain in 2015, 2017 and 2019 for her close friend Juli Inkster, but even that couldn't quite prepare her for the difficulty in having those conversations with the players who came so close but didn't make the team.
"I don't know anybody that likes to disappoint others and that's what it feels like. I started a year and a half ago watching these girls, watching the top 20, and anytime you have to get to this point, it's hard. They become like, to me, they become like family," said Hurst. "They may not know that, but I'm watching them all the time. And it's like my kids, I'm watching them all the time. I try to let them do what they want to do, but I'm still mom and I'm still looking over them. And that was the hardest part was having to tell them that I wasn't picking them."
The tough decisions don't end this week, as Hurst still must decide who will play and who will sit in the foursome and four-ball sessions. But she's now backed by a full squad of Assistant Captains in Angela Stanford, Michelle Wie West and Stacy Lewis. Her 12 players have been split into three groups of four – the same Pod System embraced by Inkster after it was first used by Paul Azinger's 2008 Ryder Cup team – with each assistant imparting her own experience on her pack.
"Nothing compares to these events and Solheim Cup, specifically the first tee and that experience," said Lewis. "I've done the International Crown, I've done the Olympics, and Solheim Cup is just different. I love opening ceremonies when the flags are being raised. It's just, we don't get that, we get it a couple, you're lucky if you get it every two years. So it's just different, it's an unbelievable honor and it's a team that everybody wants to be on.
It's the first time on this side of the game for the three assistants, and all are excited to step up to the challenge.
"It's been so amazing being able to watch all the players play. Inverness is such an amazing golf course and just being able to appreciate more of the beauty of it and not just about strategy and whatnot," said Wie West. "Also more just behind the scenes, just learning how much goes into building this event and all the helpers and everyone. As a player you're obviously appreciative of all the work that everyone has done, but definitely being on this other side having to deal with a lot more of the operational side as well, I'm just so grateful for everything that has gotten this together."
"It feels like we're really prepared. It's a different feeling than being a player, obviously, but just knowing that we have put in the work and we have done our homework," added Stanford. "It's been a year, year and a half that we have been kind of putting things together, so it's nice to be here and not feel like you're trying to play catchup or, your plan's in place and we followed it step by step and Pat's done a great job keeping us focused and it's been a lot of fun."
KORDA SISTERS LOOK TO CONTINUE SOLHEIM CUP MAGIC
They ended the 2019 Solheim Cup at Gleneagles in Scotland with a combined 6-0-2 record to contribute seven of the 13.5 points for Team USA. While it's a new year, Nelly Korda and Jessica Korda will look to continue their magic in the team event only this time on American soil at Inverness Club.
"We are on home soil and the crowds are rooting for you, so there's more eyes on Team USA but we are all embracing this," said Nelly, a three-time LPGA Tour champion in 2021 and the current No. 1 in the Rolex Women's World Golf Rankings. "There is honestly nothing like a Solheim Cup with the crowds, the energy, the hype that we all have. I feel like we are the underdogs because they [Team Europe] are the ones defending. We're ready for Saturday."

It's not about them, either. They could easily try to etch their names in Solheim Cup lore, but the Kordas are "here for the team," added Jessica. Team USA captain Pat Hurst is utilizing the Pod System, a formula forged by Paul Azinger at the 2008 Ryder Cup that broke up a 12-player team into three four-person units, and the Kordas were paired with Megan Khang and Ally Ewing long before stepping foot in Toledo, Ohio. The quartet is led by assistant captain Stacy Lewis and the group calls themselves "Chesnee's Girls," in honor of Lewis' daughter.

Whether utilized by U.S. captains for the Solheim Cup, the Ryder Cup or Presidents Cup, the Pods only bolster the sense of country and team for individuals.

"We're leaving a lot of it up to the captains," Jessica said. "We are here for however we can contribute, and we will obviously contribute as best we can. This is a completely different golf course, different team and different year, so we'll do our best to see what we have and enjoy ourselves while doing it."
Having the World No. 1 as your sister, in your pod and on your team is sure to amplify expectations. But it's a title that Nelly wears humbly, boldly and without hesitation, while continuously shedding any additional weight on her shoulders from the outside noise.

"I try not to think about it. There's definitely a lot of people that try to put it in my head, for sure, but I am pretty easygoing," said Nelly. "I just try to fly under the radar and do my thing, be prepared as best I possibly can and have fun. Hopefully put up some points, have fun with my pod and my teammates."
PETTERSEN RETURNS TO SOLHEIM CUP GLORY
It's an iconic moment that will long live in sports history. Gleneagles, 2019. Suzann Pettersen dropped in an eight-foot putt in the final match of the final day to win the Solheim Cup, then rare back with a primal yell and fist pump to rival even the wildest Tiger Woods celebration. And 30 minutes later, she was done, announcing her immediate retirement on live television in a career-end for the ages.
"So that's it," she said at Gleneagles. "That's me and the Solheim Cup forever. A chapter to close."
Two years later and Pettersen's playing chapter at the Solheim Cup is still closed. But a new chapter begins this week at Inverness Club, as the 40-year-old Norwegian star takes her place at Captain Catriona Matthew's side as one of the three Vice Captains for Team Europe.
"I'm happy to be back. It's a little bit weird walking by the driving range the first time and not having to pull out your clubs, but I'm actually really enjoying it," said Pettersen on Wednesday at Inverness. "I think all four of us have gotten to know each other over the last four years, so to say, and, yeah, just happy to see everyone here."
Pettersen's Vice Captain career was due to start in 2019, when she was named to Matthew's squad after a difficult pregnancy and extended maternity leave with her son Herman. After a few tentative steps back onto the course, Pettersen was called up to the playing crew in what was considered a risky captain's pick. Matthew saw a need on a rookie-heavy team for some veteran leadership, not dreaming how the week would end for Team Europe.
Little Herman is now three years old and Pettersen has another stroller with her this week, having given birth to a daughter in May 2021. She still has the same flinty look in her eyes and goodness knows that the player instinct will never quite go away. But Pettersen is still happy to sit back and enjoy what her career has brought her.
"I really haven't played much golf since two years ago. I've really got my hands full and having a second child hasn't given me any more time," said Pettersen, who has returned full-time life in Norway. "I do miss it, but at the same time, I'm really enjoying a different part of life. And, yeah, just enjoying motherhood, to be honest."
2021 SOLHEIM CUP BY THE NUMBERS
The 17th edition of the Solheim Cup begins on Saturday at the famed Inverness Club in Toledo, Ohio. Originally designed by Donald Ross, the championship course features sloped and elevated greens with undulation that will test the top players from the United States and Europe as they each compete for their country. The team match-play competition includes eight foursome, eight four-ball and 12 singles matches.
For the first time in the history of the event, the first-tee atmosphere will also encompass the 10th tee box as teams make the turn for the back nine. The first two American qualifiers, Nelly Korda and Danielle Kang, each clinched a spot earlier this summer, with Ally Ewing joining the U.S. team two weeks ago. Team rosters were completed after the AIG Women's Open following a two-year performance period. With the excitement building this week, here's a look at the teams and history of the Solheim Cup.
Host Country
The host country has enjoyed the home-course advantage, winning 12 of the last 16 times or 75% of the time. The Americans are seven-for-eight on home soil, compared to the Europeans record of five-for-eight in their homelands. The lone win for Europe in the United States was in 2013 at Colorado Golf Club, where an eight-point victory still stands as the largest margin of victory for the winning country since the event began in 1990. This will be the sixth time a Midwest state hosts the Solheim Cup and the second time being played in Ohio following a visit to Muirfield Village Golf Club in 1998. The Americans have won by at least three points in each of the previous five playing's in the Midwest.

Players
The European team has a combined total of 22 appearances entering the 2021 Solheim Cup compared to the U.S. team with 17. This will be the fifth appearance for Lexi Thompson, Lizette Salas, Charley Hull and Carlota Ciganda, who have all played in the previous four Solheim Cups. Anna Nordqvist has the most experience between the two teams, making her seventh appearance since 2009, and is the only three-time Solheim Cup champion among the players this year. Five of the 12 European players have won at least one Solheim Cup compared to four American players.

Captains
Catriona Matthew can become the first European captain to win the Solheim Cup two times. Matthew would join Judy Rankin (1996, 1998) and Juli Inkster (2015, 2017) as captains to win back-to-back Solheim Cups on both home and foreign soil. The previous four Europeans to captain the team at least two times only won once, with the last attempt more than a decade ago. Pat Hurst looks to become the ninth winning American captain after three years as assistant captain for the U.S. teams captained by Inkster.

MEL REID RELISHES ROLE AS PLAYER-LEADER
"I do believe that there will be three of us who will be leaders. I think that's going to be me, Carlota (Ciganda) and Anna (Nordqvist) and that's because we've played in more (Solheim Cups) than most."
Those were among the many musings of Mel Reid, who arrived in Toledo late on Monday evening after spending the day in New Jersey at a media function for the ShopRite Classic presented by Acer. It was her first such appearance as a defending champion, having captured her maiden victory at the Seaview, Bay Course last October. But after talking to a small group of media about her game, Reid quickly turned the discussion to the Solheim Cup, where her magnetism and natural leadership is already on display.
If you are a fan of the biannual matches, you likely remember Reid in Germany in 2015 where she went undefeated and where, had the Europeans held on to win, she would have been heralded as the hero of the matches. Fiery, intense, confident and always engaging, Reid fills up every room she enters.
"I'll take on that leadership role because I feel like I'm more vocal than most," Reid said. "I feel like my role on the team is to be that leader. I feel like one of our assets as a European team is that we are very good at bonding. For us to have any chance of beating a strong American team – and they are incredibly strong, but don't get me wrong, we have the strongest team we could have – to beat that strong American team on American soil, I think we have to bond. I think that will be my job this week, to make those girls who might not be used to opening up in social settings feel really special.
"I'm proud to be that leader. It's something quite natural for me."
TEAMS CONFIRMED FOR BMW CELEBRITY MATCH AT THE SOLHEIM CUP
Solheim Cup organizers have confirmed the teams for the BMW Celebrity Match that will take place on Sept. 2 at 2 p.m. at Inverness Club in lead up to the 17th edition of the Solheim Cup. The match will feature celebrities and past Solheim Cup participants, battling for the inaugural crown in two teams teeing off No. 10 in a scramble format.
Previously announced participant and multi-Platinum selling, three-time GRAMMY Award-winning country artist Darius Rucker will join the Red Team with Radio Hall of Fame host and former NFL defensive lineman Mike Golic, former NHL player Jeremy Roenick, Olympic speed skating gold medalist Dan Jansen and five-time MLB All-Star Torii Hunter.
The Red Team will also feature four-time major champion and 2021 European Solheim Cup Vice Captain Laura Davies, six-time European Team member Alison Nicholas and four-time U.S. Team members Michelle Redman and Laura Diaz, as well as Trish Johnson, fresh off her win at the 2021 Senior LPGA Championship.
The Blue Team includes actor Michael Peña, Pro Football Hall of Fame member and former NFL running back Marshall Faulk, four-time women's hockey Olympian Angela Ruggiero, two-time Masters champion Bubba Watson and former MLB outfielder Jacque Jones.
The players competing for the Blue Team will be 2005 U.S. Solheim Cup captain and 48-time LPGA Tour winner Nancy Lopez, major champion Karen Stupples, three-time U.S. Solheim Cup Team member Wendy Ward, six-time U.S. Team member Morgan Pressel and three-time U.S. captain and 31-time LPGA Tour winner Juli Inkster.
COMPETITION SCHEDULE
Saturday, Sept. 4
Foursomes – 7:35-8:11 a.m.
Fourball – 12:35-1:20 p.m.
Sunday, Sept. 5
Foursomes – 7:15-7:51 a.m.
Fourball – 12:05-12:50 p.m.
Monday, Sept. 6
Singles – 12:05-1:55 p.m.
TV TIMES (all times Eastern)
Sept. 4 – 7:30 a.m. to 12:30 p.m., Golf Channel; 12:30-2:30 p.m., NBC; 2:30-6 p.m., Golf Channel
Sept. 5 – 7 a.m. to 12 p.m., Golf Channel; 12-1:30 p.m., NBC; 1:30-5:30, Golf Channel
Sept. 6 – 12-6 p.m., Golf Channel
WHITELINE PAR AND YARDAGE
36-36–72, 6,903 yards (par and yardage are subject to change through the start of the competition)
COURTESY LPGA TOUR