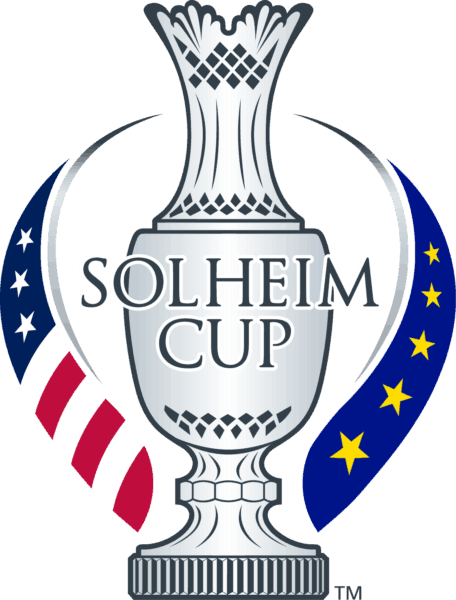 2021 Solheim Cup
Inverness Club | Toledo, Ohio | Sept. 4-6, 2021
 Team Europe Roster and Records
SATURDAY FOURSOMES PAIRINGS
7:35 a.m. – Anna Nordqvist and Matilda Castren (EUR) vs. Danielle Kang and Austin Ernst (USA)
7:47 a.m. – Celine Boutier and Georgia Hall (EUR) vs. Ally Ewing and Megan Khang (USA)
7:59 a.m. – Mel Reid and Leona Maguire (EUR) vs. Nelly Korda and Jessica Korda (USA)
8:11 a.m. – Charley Hull and Emily Kristine Pedersen (EUR) vs. Lexi Thompson and Brittany Altomare (USA)
Click here for previews of each foursomes match.
AFTER LONG JOURNEY, MINA HARIGAE FINALLY WHERE SHE BELONGS
Mina Harigae has an affinity for the greater Toledo area. In July, she earned a career-best result of a tie for second at the Marathon Classic presented by Dana just seven miles up the road in Sylvania. It was a showing that Harigae hopes carries over at Inverness Club in her first Solheim Cup appearance for Team USA.
Her success in 2021 puts her in a better place than where Harigae found herself in 2019. That year, she played the weekend only 11 times in 21 LPGA Tour starts. At one point, she missed seven straight cuts. It led to a berth in LPGA Q-Series, where Harigae finished in a tie for 20th to secure LPGA membership for the 2020 campaign.
"The last two years has been an amazing journey, from losing my [LPGA Tour] card to getting picked for the Solheim Cup," said Harigae. "It was not even on my radar when I went through [LPGA] Q-Series. But this last year it was definitely on my mind.
"I'm so excited to be here representing the U.S. and playing with my teammates. It's a wonderful place to be and I'm happy to be here."
A spot on Team USA in the Solheim Cup became a possibility when she captured four wins on the Cactus Tour during the LPGA's 2020 coronavirus hiatus. It rebooted her confidence and shaped a mentality that she can hang with the best in the world weekly on the LPGA.
Now, on the eve of the biggest moment of her career, Harigae is in a place where she knows that she belongs. And in a town that she connects with.
"I'm super glad this is my first Solheim [Cup] and on U.S. soil in Toledo, Ohio," said Harigae, a three-time champion on the Symetra Tour and 2009 graduate which first secured LPGA membership for Harigae in 2010. "We have the greatest fans here. You can see it at the Marathon Classic, tons and tons of people. It is probably one of our biggest crowds of the year. To come back here for my first Solheim Cup, I am very excited to be here."
ROOKIE CASTREN'S SUCCESSES, STRUGGLES HAVE READIED HER FOR BIG MOMENT IN TOLEDO
Big things attract big people. The most challenging situations and monumental moments require the strongest hearts and soundest minds, a willingness to step up to the plate and swing for the fences no matter the consequences. It's the magnanimity of the individual that prepares them for greatness, setting them up to take advantage of the opportunity to shine.
For Matilda Castren, rookie on the European Solheim Cup team, this big moment in Toledo wasn't expected. The 26-year-old Finn was merely happy to be playing golf on the LPGA Tour after her debut season last year was derailed by the COVID-19 pandemic. She hadn't given making the team much consideration until she won the LPGA MEDIHEAL Classic in Northern California in June.
"It wasn't one of my goals because I wasn't a member of the LET," said Castren. "I didn't think about it too much. Someone mentioned it to me after winning at Lake Merced and I said, 'well, if it happens, it happens,' but I didn't really think more about it."
Only when the Gant Ladies Open was added to her schedule did the lifelong goal seem attainable for Castren. Having even a sniff at a Solheim Cup team is one that every female professional from the United States and Europe dreams of, and with just a few chances in a career to wear the blue and yellow, Matilda decided the risk was worth the potential reward.
What happened next was almost a Cinderella story, one that couldn't have been written any better by a Hallmark producer. The hometown hero won by three to become a member of the LET and thus eligible for the Solheim. It was an improbable and career-defining moment for Castren, one that propelled her up the standings and to an eventual captain's pick from Catriona Matthew.
LEXI THOMPSON MAKING FAMILY MEMORIES THIS WEEK
The genes are strong among the Thompson kids. At age 26, Lexi Thompson is the youngest of three pro-golfer siblings. Lexi and her older brothers Nicholas (38) and Curtis (28), who play on the PGA and Korn Ferry Tours, could be triplets, the trio bearing a strong resemblance in both appearance and golf talent.
Both brothers have periodically caddied for little sister, with Curtis on the bag in 2018 when Lexi captured the CME Group Tour Championship. This week, it's big bro Nicholas toting Lexi's bag at the Solheim Cup, adding yet another page to the ever-growing Thompson family scrapbook.
"It's such a special memory for me to be here at the Solheim Cup," said Thompson. "It's my favorite event of my career. Family is everything to me, so to have him by my side to be able to share this experience with me, there's nothing like it. I'm enjoying every bit of it."
The week at Inverness marks Thompson's fifth time on Team USA, tied with Lizette Salas for the most appearances on this year's team. She has two rookies in her pod in Mina Harigae and Yealimi Noh, giving Thompson the prime opportunity to flex her leadership skills and impart what she's learned from her many years repping the Red, White and Blue.
Her biggest takeaway? Have fun and love the experience.
"If they have any questions, I'm there for them, but I just want them to embrace the experience and have as much fun as possible," she said. "If they have questions, I'm here to answer them, but I just want to make them feel comfortable and have a good time and really feed off each other. It's all about making memories here and showing the world our game, and that's what we're here for."
2021 SOLHEIM CUP BY THE NUMBERS
The 17th edition of the Solheim Cup begins on Saturday at the famed Inverness Club in Toledo, Ohio. Originally designed by Donald Ross, the championship course features sloped and elevated greens with undulation that will test the top players from the United States and Europe as they each compete for their country. The team match-play competition includes eight foursome, eight four-ball and 12 singles matches.
For the first time in the history of the event, the first-tee atmosphere will also encompass the 10th tee box as teams make the turn for the back nine. The first two American qualifiers, Nelly Korda and Danielle Kang, each clinched a spot earlier this summer, with Ally Ewing joining the U.S. team two weeks ago. Team rosters were completed after the AIG Women's Open following a two-year performance period. With the excitement building this week, here's a look at the teams and history of the Solheim Cup.
Off the Tee
Nelly Korda and Jennifer Kupcho are ranked first and second in total driving on the LPGA Tour this season, which measures a player's performance in both driving distance and accuracy. Korda has steadily increased her drive distance since joining the Tour in 2017.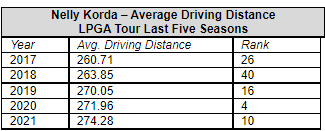 Approach the Green
Lexi Thompson leads all players this season in approach-the-green statistics. Thompson ranks sixth in ball striking, which combines total driving and greens in regulation performance.

Under Par Scoring
Georgia Hall has recorded the most birdies on Tour this season ahead of Yealimi Noh and Nelly Korda. Hall made 23 birdies on two occasions this year (Meijer LPGA Classic, ISPS Handa World Invitational), which ties her career record for total birdies in an event which she first set at the 2018 Cambia Portland Classic.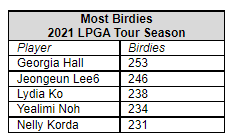 Charley Hull, Jessica Korda and Nelly Korda have each made 10 eagles this season.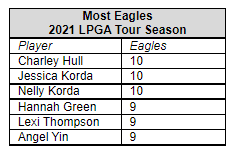 COMPETITION SCHEDULE
Saturday, Sept. 4
Foursomes – 7:35-8:11 a.m.
Fourball – 12:35-1:20 p.m.
Sunday, Sept. 5
Foursomes – 7:15-7:51 a.m.
Fourball – 12:05-12:50 p.m.
Monday, Sept. 6
Singles – 12:05-1:55 p.m.
TV TIMES (all times Eastern)
Sept. 4 – 7:30 a.m. to 12:30 p.m., Golf Channel; 12:30-2:30 p.m., NBC; 2:30-6 p.m., Golf Channel
Sept. 5 – 7 a.m. to 12 p.m., Golf Channel; 12-1:30 p.m., NBC; 1:30-5:30, Golf Channel
Sept. 6 – 12-6 p.m., Golf Channel
WHITELINE PAR AND YARDAGE
36-36–72, 6,903 yards (par and yardage are subject to change through the start of the competition)
COURTESY LPGA TOUR