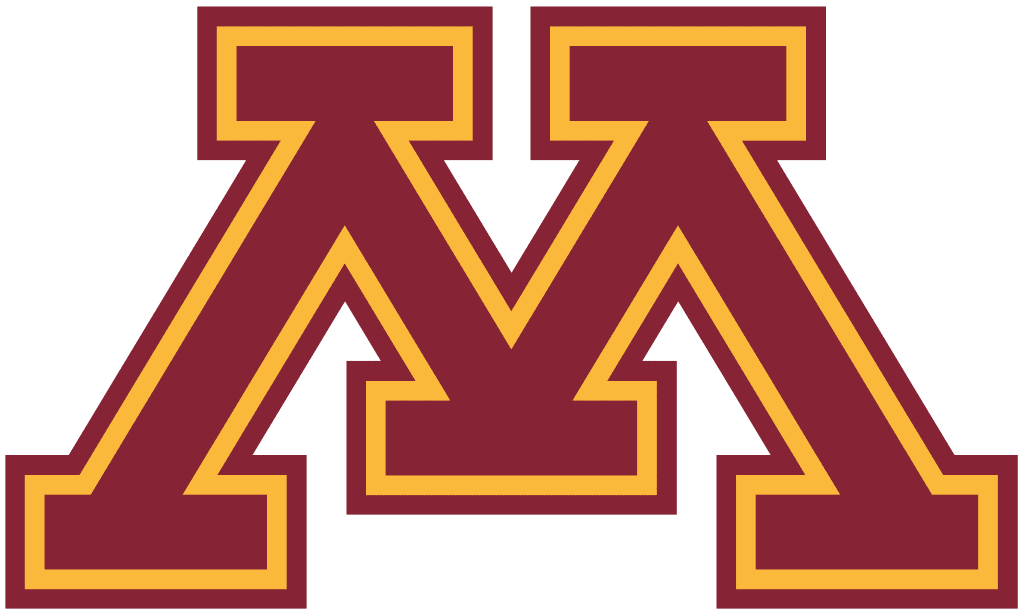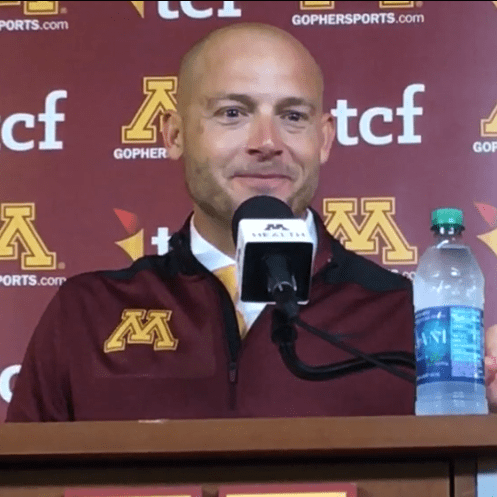 MINNESOTA VS. #4/4 OHIO STATE
Minnesota
2020: 3-4, 3-4 B1G
HC P.J. Fleck
9th Year (5th at Minnesota)
at Minnesota: 26-19
vs. Ohio State: 0-1
Overall Record: 56-41
vs. Ohio State: 0-2
Ohio State
2020: 7-1, 5-0 B1G
HC Ryan Day
4th Year (all at Ohio State)
at Ohio State: 23-2
vs. Minnesota: 0-0
at Ohio State: 23-2
vs. Minnesota: 0-0
Date/Time: Sept. 2, 2021 / 7 p.m. CT
Site: Minneapolis
Stadium: Huntington Bank
Surface: FieldTurf
Capacity: 50,805
Series Overall: Ohio State Leads 45-7
Streak: Ohio State Won 11
Series in MN: Ohio State Leads 22-4
Streak: Ohio State Won 13
Last Meeting: Ohio State won 30-14
in Columbus (10/13/18)
Last U win: 29-17 in Columbus
(10/14/00)
Last U win in MN: 35-31 (11/7/81)
Television: FOX
Gus Johnson (PXP)
Joel Klatt (Analyst)
Jenny Taft (Reporter)

Radio: KFAN
Mike Grimm (Play by Play)
Darrell Thompson (Analyst)
Justin Gaard (Reporter)
Corbu Stathes (Host)
Dan Rowbotham (Engineer)
FIVE THINGS YOU NEED TO KNOW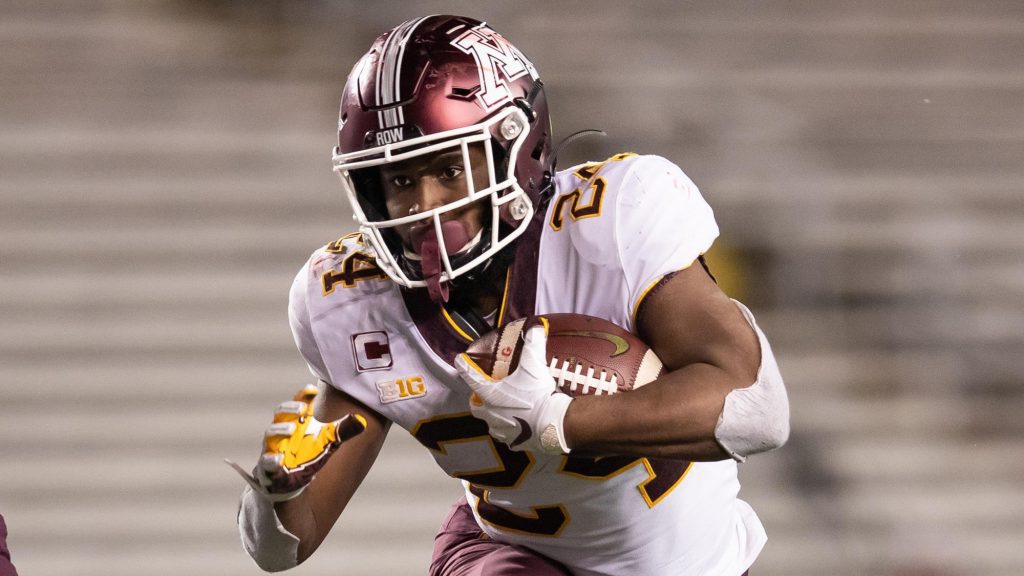 1
University of Minnesota football begins its 138th season,
and fifth under head coach P.J. Fleck, Thursday night as
it hosts No. 4/4 Ohio State at Huntington Bank Stadium.
Kickoff is scheduled for 7 p.m. with a national TV audience
on FOX
2
Minnesota is 96-35-6 all-time in season openers, including wins in four of their last five openers (3-1 under head
coach P.J. Fleck). The Golden Gophers are 100-30-7
all-time in home openers with an identical stretch of four
wins in their past five home openers (also 3-1 under Fleck).
Minnesota is 8-4 in home openers since Huntington Bank
Stadium opened in 2009
3
For the second straight season, Minnesota opens the
year with a Big Ten opponent after facing Michigan last
year in a schedule that featured only league action.
Thursday's matchup with the Buckeyes will be the 10th time
in program history that Minnesota faces a conference foe
in the season opener. The Gophers are 2-7 in those previous games, including an 0-2 mark against Ohio State. The
Gophers also opened the season with the Buckeyes in 1973
and 1974. Overall, Minnesota is 63-54-8 in Big Ten openers, including a 71-49-5 mark at home
4
Mohamed Ibrahim is the Big Ten's reigning Ameche-Dayne Running Back of the Year. He has 13 career 100-yard
rushing games, which includes a current streak of eight in a row (2020 Outback Bowl and all seven games in 2020).
Ibrahim's eight-game streak is the longest in program history, breaking a tie of seven with former Gopher great
Laurence Maroney. An All-Big Ten First Team honoree and AP Third-Team All-American last year, Ibrahim ran 201 times (25th most in school single-season history) for 1,076 yards (23rd most in school single season-history) and 15 touchdowns (most ever for a junior at Minnesota and ranks fourth in school-single season history). He led the Big Ten in the following categories: rushing attempts (201), rushing yards (1,076), rushing yards per game (153.7), rushing touchdowns (15), scoring (90), points per game (12.9) and all-purpose yards per game (168.4). Ibrahim also set a school record with a rushing average of 153.7 yards per game and twice tied a school record with four rushing touchdowns in one game (at Maryland and at Illinois).
5
The 2021 campaign is the fifth for head coach P.J. Fleck at Minnesota. He enters the year with a record of 26-19.
In Minnesota football history, only Henry L. Williams (42, 1900-03) had more wins in his first four seasons than
Fleck's 26. In addition, Fleck's 15 wins in Big Ten play are tied with Cal Stoll (1972-75) for the most in a coach's first
four years with the Gophers. Overall, Fleck is already ninth in program history for wins, while his .578 win percentage is
third best among the 11 Minnesota coaches with at least 45 games under their helm behind only Williams (.786, 1900-21) and Bernie Bierman (.716, 1932-41, '45-50).
QUICK FACTS
UNIVERSITY FACTS
Location: Minneapolis, Minn.
Population: 413,651
Founded: 1851
Joined Big Ten: 1896 (charter member)
First Year of Big Ten Football: 1896
Enrollment: 47,568
Nickname: Golden Gophers
Colors: Maroon and Gold
Band: University of Minnesota Marching Band
President: Joan T.A. Gabel
Director of Athletics: Mark Coyle
Faculty Reps: Frances Homans, Donald Dengel
Ticket Office Phone: 612-624-8080
Website: GopherSports.com
TEAM INFORMATION
Offensive Formation: Multiple
Defensive Formation: 4-3
Letterwinners returning:
58 (25 offense, 29 defense, 4 specialist)
Letterwinners lost:
15 (4 offense, 6 defense, 5 specialists)
Starters Returning:
22 (10 offense, 10 defense, 2 specialst)
Starters Lost:
4 (1 offense, 1 defense, 2 specialists)
COACHES
P.J. Fleck (SL) Head Coach
Joe Rossi (PB) Defensive Coord. / LBs
Mike Sanford Jr. (PB) Offensive Coord. / QBs
Kenni Burns (SL) Asst. Head Coach / RBs
Brian Callahan (SL) Run Game Coord. / O-line
Joe Harasymiak (SL) DBs / Safeties / Co-DC
Paul Haynes (SL) Cornerbacks
Clay Patterson (PB) Tight Ends
Matt Simon (SL) Co-Offensive Coord. / WRs
Rob Wenger (SL) ST Coord. / Rush Ends
Chad Wilt (SL) Defensive Line
Gameday Locations: SL – Sideline; PB – Press Box
TEAM HISTORY
First Year of Football: 1882
All-Time Record: 712-531-44
Big Ten Championships (Last): 18 (1967)
All-Time Bowl Record: 9-12
National Championships: 7
Consensus All-America Selections: 36
First Team All-Big Ten Selections: 185
WHAT RETURNS IN 2021
Rush Yards ………………………………………………..99.5%
Pass Yards ………………………………………………..98.6%
Receiving Yards ………………………………………….59.9%
Scoring ……………………………………………………..82.2%
Total Offense ……………………………………………..99.0%
All-Purpose Yards ……………………………………….81.5%
Tackles ………………………………………………………92.4%
Tackles for Loss …………………………………………..100%
Sacks …………………………………………………………100%
Interceptions ……………………………………………….100%
Pass Breakups …………………………………………..83.3%
Forced Fumbles …………………………………………..100%
Fumble Recoveries ………………………………………100%
Punt Return Yards ……………………………………….100%
Kick Return Yards ………………………………………..100%
Field Goals Made ……………………………………….50.0%
Punting Yards …………………………………………….71.4%
FACING OHIO STATE
Minnesota and Ohio State meet for the 53rd time on
Thursday. The Buckeyes hold a 45-7 edge in the series,
including 11 straight wins, marking the Gophers' longest
active losing streak against one opponent.
At home, Minnesota is 4-22 against Ohio State, and
the Buckeyes have won 13 straight in Minneapolis.
Minnesota is looking for its first win at home over OSU
since a 35-31 victory in 1981.
Minnesota has nine Ohioans on the roster: Austin
Beier, Mike Brown-Stephens, Miles Fleming, Conner
Keyes, Gage Keys, Thomas Rush, Matthew Trickett,
Devon Williams, Donald Willis. Ohio State has no
Minnesotans on its roster.
Gophers head coach P.J. Fleck began his coaching career as an Ohio State graduate assistant in 2006.
Cornerbacks coach Paul Haynes was at Ohio State from
2005-2011, holding the position of co-defensive coordinator/secondary coach in 2011 after being the secondary
coach from 2005-10.
Thursday's game will mark the fourth time that
Minnesota will face a team that played in the previous
year's national championship game since the BCS began
in 1998. All of the matchups have come against Ohio State,
and the Buckeyes have won each of the meetings. First
was a 30-7 loss in 2007, followed by a 34-21 setback the
following year and a 28-14 defeat in 2015
FACING A TOP-5 TEAM
Ohio State enters Thursday's game ranked No. 4 in
the preseason Associated Press poll. It will be the highest-ranked opponent for a Minnesota opener since hosting
No. 2 TCU in 2015 and the fourth time the Gophers have
opened with an AP preseason top-5 team, three of which
will have been against Ohio State.
HIGHEST RANKED SEASON-OPENING OPPONENTS DATE OPPONENT OPP. RANK RESULT
9/3/2015 TCU 2 L, 17-23
9/15/1973 Ohio State 3 L, 7-56
9/14/1974 Ohio State 4 L, 19-34
Eleven times previously Minnesota has opened with
a ranked opponent, going 1-9-1 in those contests with the
victory coming over No. 12 Nebraska in 1960.
Minnesota is 12-45 all-time versus AP top-5 teams,
including a 1-6 mark against teams ranked No. 4. The last
time the Gophers faced a top-5 team though came in 2019
when they took down No. 5 Penn State in Minneapolis,
31-26, in one of the biggest wins in program annals.
LAST TIME(S) VS. OHIO STATE
Minnesota last faced Ohio State on Oct. 13, 2018,
falling 30-14 in Columbus to the third-ranked Buckeyes.
Mohamed Ibrahim ran for 157 yards and two touchdowns on 23 carries, while Zack Annexstad threw for 218
yards in the loss. Tyler Johnson was Annexstad's top
target, catching eight passes for 119 yards. Defensively,
Antonio Shenault and Blake Cashman each tallied a
game-high 13 tackles, including 2.0 tackles for loss for
Cashman. Carter Coughlin added 3.0 tackles for loss with
a pair of sacks and a forced fumble.
Dwayne Haskins threw for 412 yards and three touchdowns for Ohio State. The Buckeyes used two second-half
field goals from Blake Haubiel and a late TD pass from
Haskins to K.J. Hill to pull away from the Gophers.
The teams have not met in Minneapolis since a 31-24,
Ohio State victory in 2014. It stands as the closest final
score in the last 10 games in the series since a three-point
OSU win in 2001.
David Cobb ran 27 times for 145 yards and three
touchdowns for Minnesota in the loss, while on the other
side of the ball Briean Boddy-Calhoun forced two turnovers (interception, forced fumble) for the Gophers in the
coldest kickoff in the history of Huntington Bank Stadium at
15 degrees. For the Buckeyes, J.T. Barrett threw for three
touchdowns and ran for an Ohio State quarterback-record
189 yards and another score
CAREER STATS VS. OHIO STATE PLAYER GP/GS C-A INT TD YDS RTG
Annexstad, Z. 1/1 13-23 2 0 218 118.75
PLAYER GP/GS RSH YDS TD AVG LG
Ibrahim 1/1 23 157 2 6.8 34
Williams, B. 1/0 2 7 0 3.5 4
Annexstad, Z. 1/1 3 -6 0 -2.0 3
PLAYER GP/GS REC YDS TD AVG LG
Williams, B. 1/0 1 14 0 14.0 14
PLAYER GP/GS TKL TFL (SK) INT PBU FF/FR
Pinckney* 2/1 3 0.0 0 0 0/0
Otomewo 1/0 2 0.0 0 0 0/0
Durr 1/1 1 0.0 0 3 0/0
stats recorded while at Clemson
MEMORABLE GAMES VS. OSU
Oct. 14, 2000: Ron Johnson caught eight passes for
163 yards and a touchdown in Minnesota's 29-17 upset of
No. 6 Ohio State in Columbus. The Buckeyes managed just
200 yards of total offense.
Nov. 7, 1981: Mike Hohensee set school records with
37 completions and 67 attempts, while throwing for 444
yards and five touchdowns as Minnesota upset No. 18 Ohio
State, 35-31, in the final season at Memorial Stadium.
Oct. 19, 1940: In a matchup of top 15 teams, No. 7
Minnesota defeated No. 15 Ohio State, 13-7, in Columbus
en route to the program's fifth national title
THURSDAY NIGHT FOOTBALL
Minnesota is opening the season on a Thursday
night, something it has done 12 times previously in its history, all since 2001. In fact, the Golden Gophers opened on a
Thursday for eight straight seasons from 2012-19.
The Gophers are 18-9 all-time in program history on
Thursdays, including 10-2 in season openers, and have
won four straight games on the day, including all three contests under P.J. Fleck.
Minnesota has a .661 winning percentage in its history
when playing on days other than Saturday, going 54-27-3.
Under Fleck, it is 7-2 on non-Saturdays.
O-LINE DEPTH AMONG THE BEST
Minnesota enters the 2021 season with one of the
deepest offensive lines in the entire country as 13 members
of the unit have appeared in at least one game and 10 have
started at least one contest (page 16).
In fact, the Golden Gophers' offensive line has more
combined starts at the FBS level than any team in the
nation with 180. The next closest squad is Miami (FL) with
159, while Michigan State (151) is third. Only three other
squads have more than 140 combined starts.
In addition, the 10 individuals on the line with starts
at the FBS level are the most of any program in the country.
Redshirt senior Conner Olson leads the team by
starting all 45 games he's played in, putting him six games
shy of matching the school record of 51 games played held
by long snapper Payton Jordahl (2015-18). Fellow redshirt
seniors Blaise Andries and Sam Schlueter have each
started 33 contests. Those three have also started at least
two games at multiple positions. In addition, Utah State
transfer Karter Shaw (19), Daniel Faalele (19), Curtis
Dunlap Jr. (13) and John Micheal Schmitz (10) have all
started double-digit games in their careers.
Not only does the offensive line have tremendous
experience, but it also has impressive versatility. The unit
has at least 25 combined starts at every position, with a
high of 58 at right guard, and each position features starts
from at least two different players, including four each at
right guard and right tackle.
STARTS BY O-LINE POSITION PLAYER LT LG C RG RT TOTAL
Olson 0 16 15 14 0 45
Andries 2 11 0 12 8 33
Schlueter 23 0 0 0 10 33
Shaw* 0 0 0 19 0 19
Faalele 0 0 0 0 19 19
Dunlap Jr. 0 0 0 13 0 13
Schmitz 0 0 10 0 0 10
Ruschmeyer, Ax. 0 6 0 0 0 6
Boe 0 0 1 0 0 1
Ersery 0 0 0 0 1 1
TOTAL 25 33 26 58 38 180
starts recorded while at Utah State
COURTESY MINNESOTA ATHLETIC COMMUNICATIONS