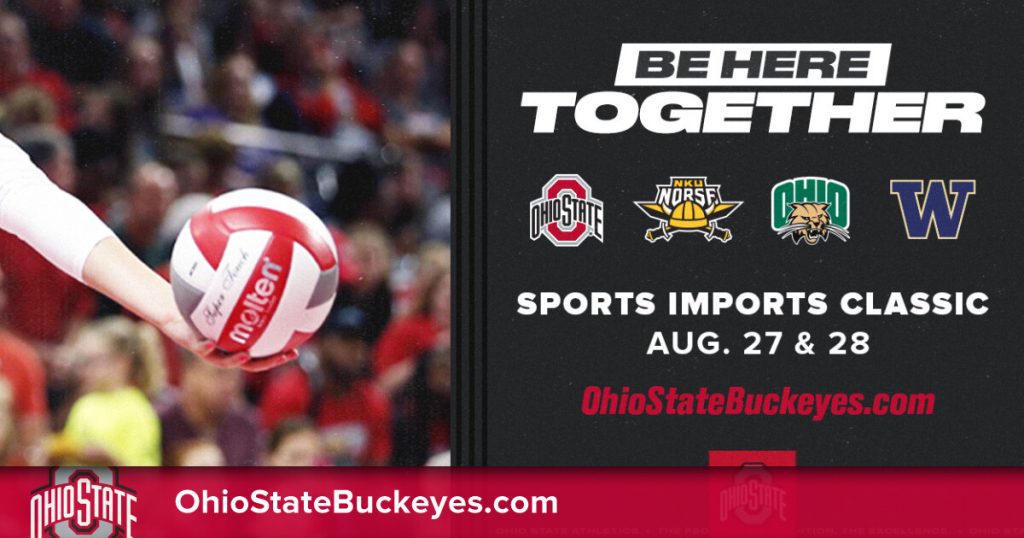 August 26, 2021
Ohio State is slated to play Northern Kentucky and No. 4 Washington at Nationwide Arena this weekend.
Sports Imports Classic
Dates: August 27 & August 28, 2021
Teams: No. 11 Ohio State, Northern Kentucky, Ohio, No. 4 Washington
Venue: Nationwide Arena (Columbus, Ohio)
Tickets: Online at Ticketmaster.com or at the Nationwide Box Office
Matches: 1. Ohio vs. Washington (Aug. 27 at 3:30 p.m. ET) | Live Stats
2. Ohio State vs. Northern Kentucky (Aug. 27 at 7 p.m. ET) | Live Stats | BTN+
3. Ohio vs. Northern Kentucky (Aug. 28 at 3:30 p.m. ET) | Live Stats
4. Ohio State vs. Washington (Aug. 28 at 7 p.m. ET) | Live Stats | BTN+
Rosters: Ohio State | Northern Kentucky | Ohio | Washington
Game Notes: Ohio State | Washington
COLUMBUS, Ohio – The Ohio State women's volleyball team opens the season at Nationwide Arena as the Buckeyes welcome Northern Kentucky, Ohio and No. 4 Washington to Columbus. OSU is slated to play NKU on Friday at 7 p.m. ET and No. 4 Washington on Saturday at 7 p.m. ET after a neutral site match each day at 3:30 p.m. ET. Buckeye matches will be streamed on BTN+.
Tickets are available online now at Ticketmaster.com and at the Nationwide Arena Box Office on match days. Adult tickets are $8, while child/youth tickets and senior (62+) tickets are each $5. Ohio State students will be admitted for free with a valid Buck ID. All tickets are general admission.
Ohio State holds a 4-1 record against Northern Kentucky, though the two programs have not met since 1981. The Buckeyes are 3-0 at neutral sites against the Norse.
Ohio State is 2-3 all-time against Washington and an even 2-2 at neutral sites. The Huskies have won the last two matches.
The Buckeyes were selected No. 11 in the nation in the AVCA's first poll of the season and sixth in the Big Ten preseason poll. Ohio State was one of six Big Ten teams to crack the top 12 in the AVCA rankings after holding a top-10 spot in the final five polls of the spring season.
Washington opens the campaign with a No. 4 ranking, according to the AVCA, which is where it concluded the spring season.
Ohio State is coming off a trip to the NCAA Regional Semifinals and a 16-4 record in the spring. The Buckeyes went 15-3 in conference play and opened the NCAA Tournament with a 3-0 sweep of Missouri before falling to Florida in four sets.
OSU began the spring campaign with 12-consecutive wins, the best start in Big Ten play since 1991 and the best start under a first-year head coach in program history. The win streak was the longest since 2013.
Northern Kentucky finished the 2021 spring season with a 9-5 record and went 8-4 in league play. The Norse fell to second-seeded UIC in the opening round of the Horizon League Championships in five sets.
Washington went 20-4 in the spring and 17-3 in conference play en route to an NCAA Final Four appearance where the Huskies ultimately fell to Kentucky in four sets.
Sophomore opposite hitter Emily Londot was selected to the preseason All-Big Ten team earlier this week following an outstanding freshman campaign. Londot was named AVCA National Freshman of the Year, All-American Second Team, Northeast All-Region, Northeast Region Freshman of the Year, All-Big Ten First Team (unanimous), Big Ten Freshman of the Year and Big Ten All-Freshman team. She led the Buckeyes with 330 kills, averaging more than four kills per set throughout the season.
Following the Sports Imports Classic be sure to come cheer on Ohio State women's volleyball inside the Covelli Center this season. Season tickets and single match tickets are available now through Ticketmaster.com.
#GoBuckeyes
The People. The Tradition. The Excellence.
COURTESY OSU ATHLETIC COMMUNICATIONS