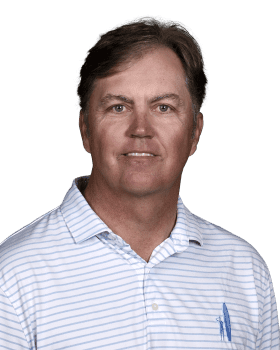 THE NCHC HAS STARTED.

BO VAN PELT POSTED THE BEST ROUND OF THE DAY WITH A -6 UNDER 65.

BO IS AN INTERESTING STORY. HE HAD TO SIT OUT THE PGA TOUR SEASONS OF 2016-2019 DUE TO SHOULDER INJURIES, NINE BONE SPURS IN HIS AC JOINT, NUMBNESS AND PAIN IN HIS HAND. HE HAD THORACIC OUTLET SYNDROME. TO RELIEVE THE PAIN, HIS DOCTOR HAD TO REMOVE HIS 1ST RIB. THAT HELPED HIS COMPRESSED NERVES AND BLOOD VESSELS. THIS PAIN FIRST COME ABOUT IN LATE 2015 WHEN HE WAS LIFTING ONE OF HIS CHILDREN'S BACKPACKS FROM THE BACK SEAT TO THE DRIVER'S SEAT.

BACK ON JUNE 13, 2001, VAN PELT FINISHED TIED FOR 2ND BEHIND GARRICK HIGGO IN THE INAUGURAL PALMETTO CHAMPIONSHIP IN RIDGELAND, SC. THAT FINISH MARKED HIS BIGGEST PAYDAY ON TOUR AS WELL AS THE BEST FINISH IN NEARLY NINE YEARS.
IT WAS HIS FIRST TOP 10 FINISH SINCE 2015. THE FOUR-DAY EVENT SAW HIM SHOOT A 69-71-66-68 FOR 10-UNDER PAR. THAT NETTED HIM A PAYCHECK OF $411,233.

THE 46-YEAR-OLD VAN PELT IS A GRADUATE OF OKLAHOMA STATE UNIVERSITY WITH A DEGREE IN GENERAL BUSINESS.