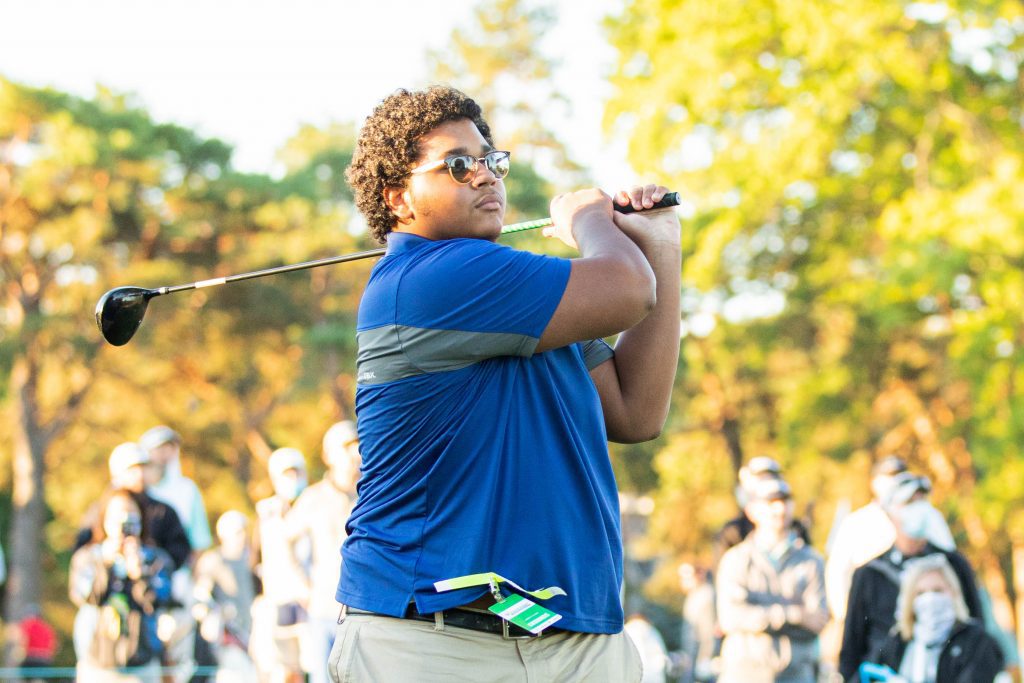 The Nationwide Children's Hospital Championship's First Shot to Fight Cancer is the manner by which the tournament customarily begins its professional competition. It is a tradition that helps boost the spirits of all patients being treated for cancer and brings hope to the countless families affected by the disease. It also serves as a reminder of the most important reason the tournament is staged.
The annual shot takes place by a Nationwide Children's Hospital "Patient Champion" immediately prior to the tournament's first round starting time.
Patient Champions
2020: Zaven Solomon
2019: Alea Ramsey
2018: Zander Craig
2017: Jack Willis
2016: Blake Hames
2015: Quenten Locke
2014: Ian Straight
2013: Madeline Richardson
2012: Sean Tibbs
2011: Jacob Carlino
2010: Will O'Brien
2009: Akeia Evans
2008: Nick Dipaolo
2007: Chase Meacham
The 2020 First Shot to Fight Cancer was taken by 16-year-old Zaven Solomon of Columbus, Ohio. Zaven's journey began in August of 2019, when he experienced repeated difficulty breathing after navigating a flight of stairs during the first couple days of his sophomore year of high school. Zaven and his family visited their pediatrician, who ordered an X-ray. Later that day, Zaven's mother was contacted by their pediatrician and told they needed to go to Nationwide Children's Hospital as soon as possible. There was something in Zaven's chest so large, that it took up the entire X-ray.
Zaven and his parents went to the emergency room and after a few scans, and what seemed like a lifetime, they received the results. It was cancer. A biopsy was needed to determine the type of cancer.
Zaven was admitted to the intensive care unit (ICU), as the mass in his chest was so large that it was pressing down on his heart and lungs which is why he was having trouble catching his breath. He had a team of Oncology and Cardiology doctors caring for him and they decided that he could not have a biopsy until his heart was treated. He had surgery on his heart which drained 12 ounces of fluid. He then had bone marrow surgery and finally a biopsy to confirm the presence of disease. Due to Zaven's heart and lungs, his doctors were concerned about giving Zaven anesthesia, therefore he had all three of these surgeries while awake! "He is the strongest kid I have ever known," his mother Stephanie said.
On August 27th, 2019, Zaven was diagnosed with Hodgkins Lymphoma.
Hodgkins Lymphoma is a cancer of the lymphatic system, which is part of your body's immune system. When Zaven heard his diagnosis, he said, "Every doctor, nurse, aid, etc., was extremely helpful in making me feel comfortable, knowledgeable, and confident that I would beat this disease. Any questions that we asked, and there were hundreds, were answered directly and honestly, whether the answer was good or not. I trusted that my team had my best interest at heart and with God, would help me get through this."
Zaven's first round of chemotherapy was a little rocky with the side effects, but he pushed through it like a champ. One day before his second round of treatment, Zaven complained of pain on the right side of his stomach. By the next morning, the pain was severe enough for an ultrasound to be conducted. The discovery was a ruptured appendix. Round two of chemotherapy was delayed approximately six weeks and Zaven was admitted back into the hospital to get the infection from his appendix under control. He had his appendix removed on December 13th and was then able to have his remaining three chemotherapy sessions.
Zaven completed his chemotherapy and radiation therapy treatments this past January. He has monthly check-up appointments where his scans continue to show a decrease in cancer cells.
Zaven is excited to be a Patient Champion for the Nationwide Children's Hospital Championship and share his story. He wants other children who may be going through this experience to know that they are not alone. He knows what they are feeling and what they are going through!
Zaven will be a junior at Bishop Hartley High School this year and in his free time enjoys being with his parents, hanging out with friends, playing video games and basketball.
COURTESY NCHC COMMUNICATIONS