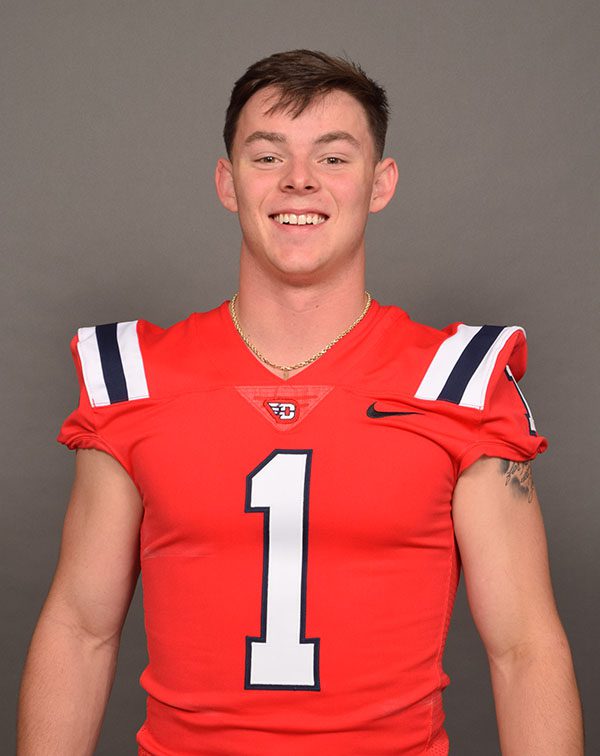 Both Named To The Third Team; Easterling At Defensive Back, Chisholm As An All-Purpose Runner
https://theanalyst.com/na/sport/american-football/fcs/
STATS PERFORM – University of Dayton captains Brandon Easterling and Jake Chisholm have been named to the Stats Perform FCS Preseason All-America Team. Easterling was named as a defensive back, while Chisholm was named as an all-purpose back. Both were named to the Stats Perform Third Team.
All 15 FCS conferences and 60 schools are represented among the 120 All-Americans, who are split into three 40-player teams. Over 80 percent of the players earned a spot on a previous Stats Perform preseason or postseason All-America squad.
Easterling and Chisholm were the only players named from the Pioneer Football League.
Easterling was a 2019 FCS All-American by HERO Sports, the Walter Camp Foundation, the Associated Press and STATS FCS. He was a finalist for FCS Stats' Buck Buchanan Award, which goes to the top defensive player in FCS. The Fairborn, Ohio native led FCS in solo tackles (7.5) and was second in total tackles (12.7) by 0.058 tackles per game. His nine turnovers acquired (six interceptions, three fumbles) were the most in FCS football in 2019.
Chisholm was named First Team All-PFL in 2019 after finishing second in rushing (112.9) by .02 yards a game. The junior from Union, Ky. led qualified PFL rushers in yards per carry (7.4). He led FCS in all-purpose yardage (204.3 yards a game) after also catching 21 passes for 230 yards (and three touchdowns), and returned 29 kickoffs for a 23.6 yard average (with one TD). He is a two-time CoSIDA Academic All-American, and a 2021 team captain.
UD was 8-3 overall and 6-2 in the PFL's last fall season in 2019. The Flyers finished tied for second in the league that year with a 6-2 PFL record. Dayton won its last four games in 2019. The Flyers have five players, including Easterling and Chisholm, who were named preseason All-Pioneer Football League last week.
The Flyers open the 2021 season at home against Robert Morris on Saturday, Sept. 4 at 12 noon ET.    For ticket information, please visit DaytonFlyers.com. 
COURTESY DAYTON MEDIA RELATIONS