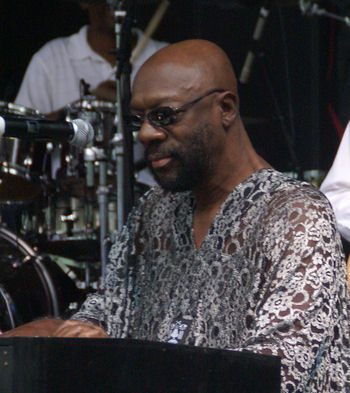 FROM WIKIPEDIA COMMONS
saac Lee Hayes Jr. (August 20, 1942 – August 10, 2008) was an American singer, songwriter, actor, and producer. He has been one of the creative forces behind the Southern soul music label Stax Records, where he served both as an in-house songwriter and as a session musician and record producer, teaming with his partner David Porter during the mid-1960s. Hayes and Porter were inducted into the Songwriters Hall of Fame in 2005 in recognition of writing scores of songs for themselves, the duo Sam & Dave, Carla Thomas, and others. In 2002, Hayes was inducted into the Rock and Roll Hall of Fame.
"Soul Man", written by Hayes and Porter and first performed by Sam & Dave, was recognized as one of the most influential songs of the past 50 years by the Grammy Hall of Fame. It was also honored by The Rock and Roll Hall of Fame, by Rolling Stone magazine, and by the Recording Industry Association of America (RIAA) as one of the Songs of the Century. During the late 1960s, Hayes also began a career as a recording artist. He had several successful soul albums such as Hot Buttered Soul (1969) and Black Moses (1971). In addition to his work in popular music, he worked as a composer of musical scores for motion pictures.
Hayes was known for his musical score for the film Shaft (1971). For the "Theme from Shaft", he was awarded the Academy Award for Best Original Song in 1972. He became the third black person after Hattie McDaniel and Sidney Poitier, to win an Oscar in any competitive field covered by the Academy of Motion Picture Arts and Sciences. He also won two Grammy Awards for that same year. Later, he was given his third Grammy for his music album Black Moses.
In 1992, Hayes was crowned honorary king of the Ada region of Ghana in recognition of his humanitarian work there.[5] He acted in motion pictures and television, such as in the movies Truck Turner and I'm Gonna Git You Sucka, and as Gandolf "Gandy" Fitch in the TV series The Rockford Files (1974–1980). He voiced the character Chef from the animated Comedy Central series South Park from its debut in 1997 until 2006. His influences were Percy Mayfield, Big Joe Turner, James Brown, Jerry Butler, Sam Cooke, Fats Domino, Marvin Gaye, Otis Redding, and psychedelic soul groups like The Chambers Brothers and Sly and the Family Stone.
On August 5, 2003, Hayes was honored as a BMI Icon at the 2003 BMI Urban Awards for his enduring influence on generations of music makers. Throughout his songwriting career, Hayes received five BMI R&B Awards, two BMI Pop Awards, two BMI Urban Awards and six Million-Air citations. As of 2008, his songs generated more than 12 million performances.
TODAY'S ALMANAC
When told by Roman officials to surrender the church's valuables, St. Lawrence brought the city's poor and sick. "Here is the church's treasure," he said. Rome didn't find this amusing, and legend says he was put to death in A.D. 258 by being roasted on a grate, although some scholars say he was more likely beheaded. In either case, folks in southern Europe still mark this day. It is customary there to eat only cold meat in recognition of the reputed manner of his death. Fair weather on St. Lawrence's Day presages a fair autumn.
Every Year
1820s
1840s
1860s
1870s
1890s
1910s
1920s
1940s
1950s
1960s
1970s
1980s
1990s
2000s
COURTESY www.almanac.com