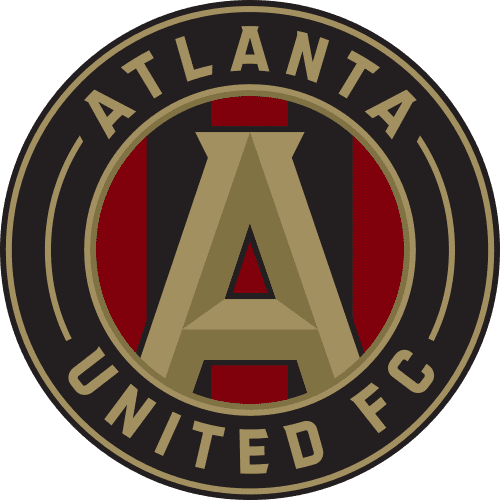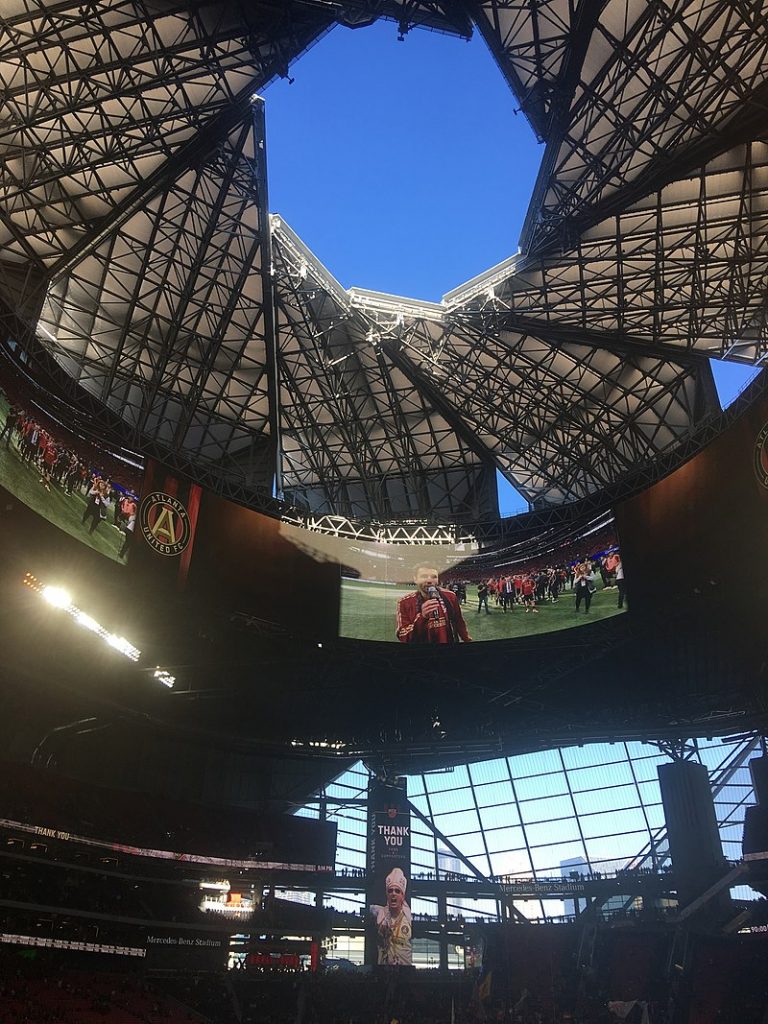 ATLANTA UNITED vs. COLUMBUS CREW
MERCEDES-BENZ STADIUM, Atlanta, Ga. Saturday, July 24, 2021 (Week 15, MLS Game #188)
3 p.m. ET (ABC / ESPN Deportes)
2021 SEASON RECORDS
GP W-L-T PTS GF GA
ATLUTD 14 2-4-8 14 14 17
at home 6 2-1-3 9 8 6
Crew 14 5-3-6 21 15 12
on road 7 1-3-3 6 4 7
LEAGUE HEAD-TO-HEAD
ALL-TIME: ATLUTD 4 wins, 12 goals …
Crew SC 4 wins, 10 goals … Ties 0
AT ATLANTA: ATLUTD 2 wins, 7 goals …
Crew SC 1 win, 5 goals … Ties 0
LAST YEAR (MLS):
7/21: CLB 1, ATL 0 (Mokhtar 18)
11/8: CLB 2, ATL 1 (Zelarayan 28; Zardes 55 — Moreno 59)
GAME-BY-GAME: WON/LOST/TIED
ATLUTD TWLTWTTTLTLTLT
Crew TTWLLWWWLTTTWT
REFEREES
REFEREE: Robert Sibiga.
AR1 (bench): Jason White; AR2 (opposite): Benjamin Hall-Volpenhein;
4th: Elijio Arreguin; VAR: Sorin Stoica; AVAR: Jozef Batko
TEAM NEWS
SUSPENDED: none
WARNINGS:
SUSPENDED NEXT YELLOW CARD: ATL: Erik Lopez
SUSPENDED AFTER TWO YELLOW CARDS: ATL: Marcelino Moreno, Alan Franco, Santiago Sosa …
CLB: Pedro Santos
INJURED LIST: ATL: Emerson Hyndman (SEI) … CLB: Aidan Morris
INTERNATIONAL ABSENCES: ATL: George Bello; Brad Guzan; Miles Robinson (USA; Gold Cup);
Ezequiel Barco (ARG; 2020 Olympics) … CLB: Gyasi Zardes (USA; Gold Cup); Liam Fraser (CAN;
Gold Cup)
TEAM LEADERS
ATLUTD
G: 3 Moreno
A: 3 Mulraney
SHT: 29 Moreno
SOG: 10 Mulraney
FC: 30 Sosa
FS: 51 Moreno
OF: 4 Chol/Lopez
C: 6 Sosa
E: 1 Mulraney
CREW
G: 5 Zelarayan
A: 3 Santos
SHT: 36 Zelarayan
SOG: 14 Zelarayan
FC: 23 Santos
FS: 30 Zelarayan
OF: 5 Zardes
C: 3 4 players tied
E: 1 Afful
SOCIAL MEDIA CHANNELS
Facebook: Facebook.com/AtlantaUnitedFC
Twitter: @ATLUTD | @VamosATLUTD | @AcademyATLUTD
ATLUTD | #UniteAndConquer
Instagram: ATLUTD | Snapchat: ATLUTD
PLAYER AVAILABILITY REPORT
Questionable:
Jürgen Damm (lower body)

Out:
Emerson Hyndman (torn ACL) Franco Ibarra (lower body)
Mo Adams (left quad)

Out (International Duty):
Brad Guzan (Gold Cup) George Bello (Gold Cup)
Miles Robinson (Gold Cup) Ezequiel Barco (Olympics)

Player Availability Report Definitions

Players can be "Questionable" or "Out" in three categories: Injury,
Discipline/Documentation Status or "Health & Safety Protocols"
Health and Safety Protocols Explanation provided by MLS
• Quarantine due to participating in high risk behavior.
• Quarantine related to being a high risk close contact.
• Pending COVID-19 test results.
• An inconclusive COVID-19 test result.
• A positive COVID-19 test or a confirmed case of COVID-19.
• Other illness not related to COVID-19.
For further MLS Health & Safety protocol info click here.
BROADCAST INFORMATION
TV (English): ABC
Talent: Jon Champion (play-by-play), Taylor Twellman (an-
alyst)
Local Radio: Sports Radio 92.9 The Game
Talent: Mike Conti (PxP) and Jason Longshore (analyst)
Local Radio (Spanish): La Mejor – AM 1600 (Atlanta), 1460
(Gwinnett), 1130 (Gainesville)
Talent: Daniel Cantu (PxP) and Jennifer Martinez (analyst)
TEAM STATS (2021)
ATL Categories CLB
2-4-8 Overall Record 5-3-6
14 (T-22nd) Goals Scored 15 (21st)
17 (15th) Goals Allowed 12 (2nd)
-3 (T-19th) Goal Difference +3 (T-10th)
179 (13th) Shots 147 (24th)
57 (12th) Shots on Goal 51 (21st)
71 (T-9th) Corners 49 (27th)
52.44 (2nd) Duel Success Rate 51.24 (6th)
59.36 (1st) Possession 51.10 (9th)
130 (15th) Chances Created 98 (T-24th)
2 (T-6th) PKs Attempted 0 (T-24th)
2 (T-3rd) PKs Scored 0 (T-21st)
HEAD COACHES
R. Valentino C. Porter
0-0-1 Record (2021 MLS) 5-3-6
.500 Win Pct (2021 MLS) .571
0-0-1 All Time Record (MLS) 95-75-71
.500 All Time Win Pct (MLS) .541
1st Seasons Coached in MLS 8th
** All stats provided by Opta/Elias as of July 22, 2021
MLS Rankings in (red)
TOP INDIVIDUAL PERFORMERS
Atlanta United Categories Columbus Crew
Marcelino Moreno (3) Goals Lucas Zelarayan (5)
Jake Mulraney (3) Assists Pedro Santos (3)
Marcelino Moreno (29) Shots Lucas Zelarayan (36)
Marcelino Moreno (10) Shots on Goal Lucas Zelarayan (14)
Brooks Lennon (39) Chances Created (inc. assists) Lucas Zelarayan (26)
George Bello (87.61) Pass. Accuracy (min. 400 passes) Darlington Nagbe (96.72)
Marcelino Moreno (117) Duels Won (total) Pedro Santos (88)
Miles Robinson (73.61) Duel Success % (min. 40 duels) Jonathan Mensah (64.29)
Marcelino Moreno (51) Fouls Won Lucas Zelarayan (30)
Santiago Sosa (30) Fouls Conceded Pedro Santos (23)
Alec Kann (78.95) Save Percentage Eloy Room (75.00)
Brad Guzan (3) Clean Sheets Eloy Room (4)
All stats provided by Opta as of July 22, 2021 (MLS stats)
CLUB FACTS & NOTES
2021 ATLANTA UNITED GAME NOTES
SERIES HISTORY VS. COLUMBUS
Atlanta United is at home on Saturday to face
Columbus Crew. Let's take a look at some of the
highlights in the all-time series.

June 17, 2017: The First Meeting
Atlanta and Columbus squared off for the first
time at Bobby Dodd Stadium on this day. Goals
from Tito Villalba, Miguel Almiron and Josef
Martinez sealed a 3-1 victory or the 5-Stripes
on this day. They would play again just a couple
weeks later.

July 1, 2017: Tito Brace at Mapfre
It was the Tito Villalba show the first time Atlanta
traveled to Historic Crew Stadium (formerly
Mapfre). The first goal came off a long punt from
Alec Kann in the 27th minute, the only GK assist
in an MLS game to this day for Atlanta United.
The 5-Stripes won 2-0 to sweep the season
series.
GOALS / ASSISTS VS. COLUMBUS
Take a look at the players who have scored or
assisted in games against Columbus Crew in
Major League Soccer action for ATLUTD.
CLUB FACTS & NOTES
2021 ATLANTA UNITED GAME NOTES
Goals
5 Hector Villalba
4 Josef Martinez
2 Miguel Almiron
Assists
1 Pity Martinez
Ezequiel Barco
Josef Martinez
Jeff Larentowicz
Emerson Hyndman
Alec Kann
Yamil Asad
Kevin Kratz
L. Gonzalez Pirez
Miguel Almiron
Julian Gressel
Hector Villalba
MORENO AMONG DUEL LEADERS
Atlanta United's No. 10 Marcelino Moreno con-
tinues to rank among the league's leaders when it comes to duels won. Take a look at the Top-10
heading into midweek action.

Duels Won (Individual)
(MLS; 2021 season)
Player, Team Duels Won
1 Kyle Duncan, NYRB 119
2 Marcelino Moreno, ATL 117
3 Lucas Cavellini, VAN 111
4 Emanuel Reynoso, MIN 106
Eric Remedi, SJ 106
6 Carles Gil, NE 103
7 Adam Buksa, NE 100
8 Alvaro Medran, CHI 98
Fafa Picault, HOU 98
10 Brandon Bye, NE 92
TOP 2 IN TACKLE SUCCESS RATE
Atlanta United ranks among the top teams in
terms of Tackle Success Rate in the MLS heading
into this Saturday's match vs. Columbus.

Tackle Success Rate
(MLS; 2021 season)
Team Accur.%
1 Portland Timbers 66.49
2 Atlanta United 65.67
3 Sporting KC 64.47
4 Inter Miami CF 64.25
5 Seattle Sounders 63.95
6 Orlando City SC 62.50
7 Minnesota United 61.70
8 LA Galaxy 60.99
9 CF Montreal 60.80
10 New York City FC 60.09
LEAGUE LEADERS IN POSSESSION
Atlanta United continues to lead the league in possession entering Saturday's clash with Colum-
bus Crew.
Possession
(MLS; 2021 season)
Team Poss%
1 Atlanta United 59.36
2 Sporting KC 54.68
3 San Jose Earthquakes 54.28
4 FC Dallas 53.47
5 New York City FC 53.21
6 LAFC 52.81
7 Austin FC 52.64
8 Orlando City SC 51.12
9 Columbus Crew 51.10
10 Chicago Fire FC 50.79
ATLUTD LEADS MLS IN FOULS WON
Atlanta United continues to lead the league in
fouls won this season. Take a look at the leaders
in this category heading into the weekend.

Fouls Won (Team)
(MLS; 2021 season)
Team FW
1 Atlanta United 223
2 New England Revolution 195
3 Columbus Crew 192
4 Seattle Sounders 191
Chicago Fire FC 191
6 FC Cincinnati 184
7 Toronto FC 182
8 San Jose Earthquakes 181
9 D.C. United 177
10 Vancouver Whitecaps 169
ATLANTA CREATING SHOTS
According to fbref.com, Atlanta United had 30 shot
creating actions (passes, dribbles, fouls that cre-
ated shots; you can have multiple that lead to one shot) against Cincinnati, tied for the 2nd-most in a
game this season for ATLUTD. Here is where they
rank in the league in this category.

Shot Creating Actions
(MLS; 2021 season)
Team SCAs
1 New England Revolution 350
2 Sporting KC 327
3 New York City FC 320
4 Chicago Fire FC 315
5 Los Angeles FC 312
Nashville SC 312
7 Minnesota United 311
8 D.C. United 305
9 FC Dallas 287
10 Atlanta United 284
ATLANTA UNITED BY THE NUMBERS
• 2.8: xG for Marcelino Moreno which leads
Atlanta United. Josef Martinez (1.8) and Jake
Mulraney (1.8) rank second and third on the
team entering this weekend's action (source
fbref.com).
• 14: Shots in the second half for Atlanta United
in its last match vs. Cincinnati. That's tied for
the 3rd highest second half total in team history.
The club record is 17 on 6/3/18 vs. Philadelphia
Union.
• 41: Pressures that Atlanta United executed in
the attacking third of the pitch. That's the 3rd
highest total in a match this season for ATLUTD
(source fbref.com).
• 1.9 Team xG: Atlanta United tied it's season-
high in expected goals with 1.9 xG vs. Cincinnati.
The only other time the team reached 1.9 was in
the 3-1 win vs. Chicago Fire FC on 4/24/2021.
2021 MLS AWARDS
MLSsoccer.com Team of the Week:

Miles Robinson Week 1
Ezequiel Barco Week 2
Marcelino Moreno Week 5 (bench)
Josef Martinez Week 6 (bench)
Brooks Lennon Week 8 (bench)
Jackson Conway Week 12 (bench)

MLS Goal of the Week:
Ezequiel Barco Week
MLS ATTENDANCE RECORDS
Ever since arriving in MLS, Atlanta United has
set the standard when it comes to single-match
attendance marks in the league.
Single-Match Standalone Attendance (MLS; all-time)
Rank Teams Attend.
1 ATLUTD vs. LA Galaxy (8/3/19) 72,548
2 ATLUTD vs. Seattle (7/15/18) 72,243
3 ATLUTD vs. DC United (3/11/18) 72,035
4 ATLUTD vs. RSL (9/22/18) 72,017
5 ATLUTD vs. Orlando (6/30/18) 71,932
6 ATLUTD vs. Toronto FC (10/22/17) 71,874
7 ATLUTD vs. Chicago (10/21/18) 71,812
8 ATLUTD vs. Orlando (9/16/17) 70,425
9 ATLUTD vs. Cincinnati (3/10/19) 70,382
10 ATLUTD vs. Cincinnati (3/7/20) 69,301
GOLDEN SPIKE TRADITION
The Golden Spike Tradition began in 2017 and
has been a staple of the pre-match ceremonies
at Atlanta United home matches ever since. The
players will arrive at the stadium and sign a giant
Golden Spike, followed by fans and supporters
signing the spike as well.
From owner Arthur Blank to Atlanta celebrities
like Wacka Flocka Flame or Archie Eversole, the
Golden Spike tradition is a signature piece of ev-
ery Atlanta United home match.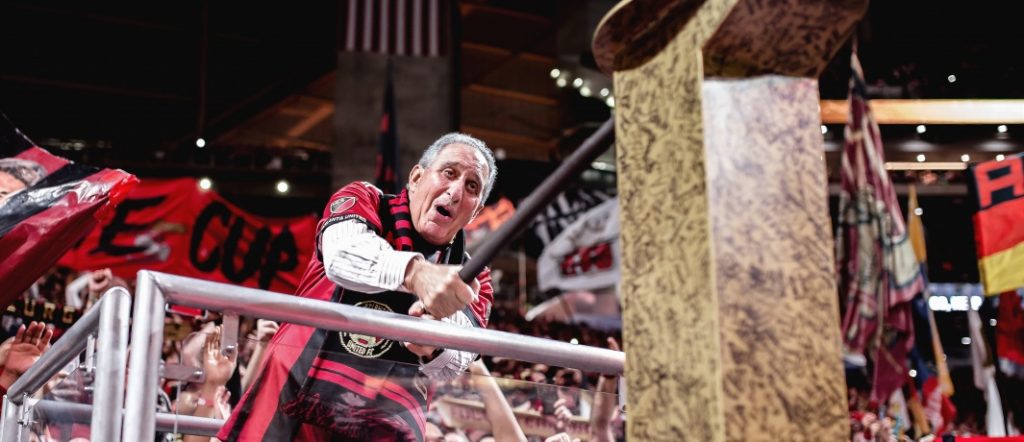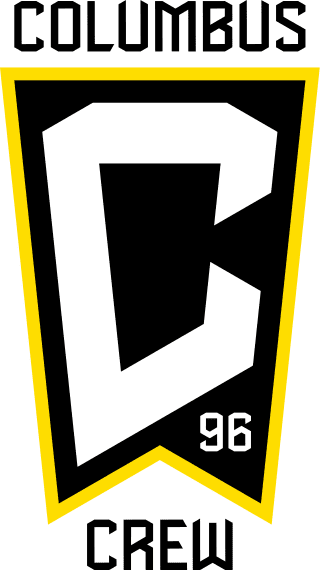 COURTESY ATLANTA UNITED FC COMMUNICATIONS