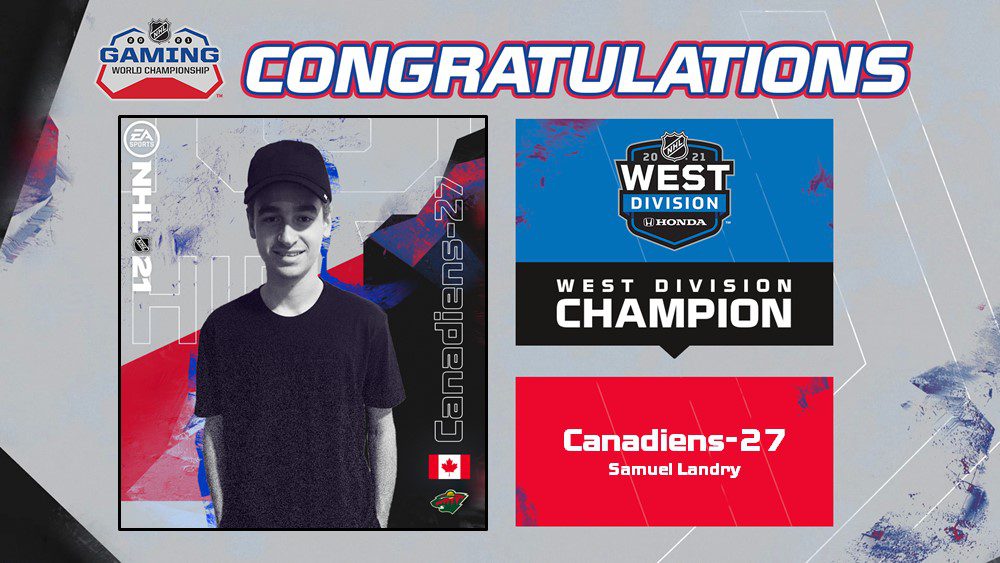 I Chych i Finishes as Runner-Up; Special GWC All-Star Edition of NHL Squads Streams Tuesday at 1 p.m. ET
NEW YORK (July 17, 2021) – The NHL today announced that Samuel 'Canadiens-27' Landry captured the Honda NHL® West Division title of the 2021 NHL® Gaming World Championship™. The 19-year-old resident of Beloeil, Quebec, who represented the NHL's Minnesota Wild throughout the Club Championship rounds, will advance to his first GWC Final. He beat fellow Quebecer, Maddox 'I Chych i' Gagne (Arizona Coyotes representative) in straight games, 3-2 and 6-2 to claim the Championship.
With the win, Canadiens-27 has booked his ticket to the final four and will join those gamers who have already advanced – Boston Bruins rep Justin 'Ez_Regs' Reguly (MassMutual NHL East Division Champion), Ottawa Senators rep Joshua 'joshfearless13' D'Eri, (Scotia NHL North Division Champion) and Dallas Stars rep Matthew 'Gren-35-' Grenier (Discover NHL Central Division Champion). For the Club Championship's final round, Division winners will be seeded (1 vs. 4, 2 vs. 3) in best-of-three series. The GWC North American Championship, hosted by GWC voice Arda Ocal and analyst Andrew 'Nasher' Telfer, will conclude this Saturday, July 24, with the live stream beginning at 2 p.m. ET on the NHL's Twitch channel. The winner will be crowned the 2021 North American champion and take home $25,000 USD and HUT bragging rights.
Coming into the Final as the No. 1 seed, Canadiens-27 stormed through his matches including the Wild Club Championship, without losing a game. His scoring prowess was impressive, racking up 30 goals while only allowing 12, through six games. Landry has competed in the GWC since its inception, placing in the top 20 of the Canadian Regionals in 2018 and 2019. He also won the Bolts Chel Challenge in February 2020.
Samuel 'Canadiens-27' Landry's Road to Championship
Minnesota Wild Club Championship vs. Call Me Duch: 9-1, 6-2
Quarterfinal vs. Hockeyc8823: 10-7, 8-0
Semifinal vs. Johnwaynee90: 2-1, 1-0
Final vs. I Chych i: 3-2, 6-2
A special GWC All-Star edition of NHL Squads, the weekly Twitch stream with Arda and Nasher, will broadcast live on Tuesday, July 20 at 1 pm. ET. The stream will feature all four 2021 GWC Division winners in a fun All-Star style competition. Games will include a shootout competition, 2v2 with unique rules, Championship predictions, a whole lot of chirping and other surprises.
The NHL's annual gaming event, featuring the best EA SPORTS™ NHL® 21 players in the world, is produced remotely by DreamHack Sports Games (DHSG) and streamed on the NHL's Twitch channel. For more GWC news, fans can visit www.nhl.com/gaming and follow the conversation using the social hashtag #NHLGWC.
COMING UP …
Tuesday, July 20 – NHL Squads with Arda and Nasher: GWC All-Star Edition (1 p.m. ET)
Thursday, July 22 – Show and Chel Episode #6(3 p.m. ET)
Saturday, July 24 – Club Championship Final (2 p.m. ET)
COURTESY NHLmedia.com