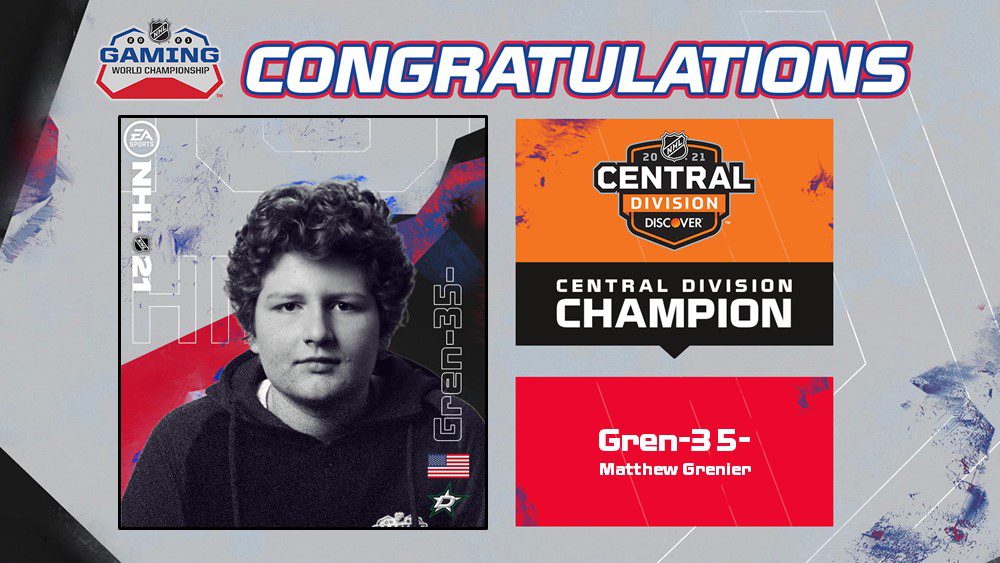 GWC Newcomer Keso_Paghuni Finishes as Runner-Up
NEW YORK (July 10, 2021) – Repping the Dallas Stars, Division favorite and GWC veteran Matthew 'Gren-35-' Grenier, captured the Discover NHL® Central Division title of the 2021 NHL® Gaming World Championship™ this afternoon, the National Hockey League announced. With the win, Gren-35- cements his place in history by becoming the only player to advance to the GWC Final in four consecutive years. The final matches were a defensive battle to the end, with Detroit Red Wings representative Brian 'Keso_Paghuni' Vratoric finishing his GWC season as the runner-up. The NHL's annual gaming event features the best EA SPORTS™ NHL® 21 players in the world.
Coming into the Final as the No. 2 seed, Gren-35-, amassed 47 goals while only allowing 23 through seven games. Grenier, who also aliases as Yung Gren, has been a force of consistency in NHL gaming competitions, advancing to the World Finals from 2018 to 2020, after taking second place in the GWC Canadian Regional Final for those three seasons. Now living in Houston, TX, Gren-35- hopes to capture his first North American title on July 24.
Matthew 'Gren-35-' Grenier's Road to Division Championship
Dallas Stars Club Championship vs. itsRyguy96: 5-1, 6-2
Quarterfinal vs. x Fisher 81: 13-5, (2-7), 5-4
Semifinal vs. Wrxsto: 11-1, 10-6
Final vs. Keso_Paghuni: 3-1, 3-2
For the Club Championship's final round, Division winners will be seeded (1 vs. 4, 2 vs. 3) in best-of-three series. Gren-35- will join MassMutual NHL East Division Champion Justin 'Ez_Regs' Reguly and Scotia NHL North Division Champion Joshua 'joshfearless13' D'Eri in the Club Championship, which will take place on Saturday, July 24, at 2 p.m. ET on Twitch. The Club Champion will take home the $25,000 USD grand prize.
The North American Club Championship continues next Saturday, July 17, at 2 p.m. ET, with the final Division Championship, the Honda NHL West Division. The 2021 NHL® Gaming World Championship™ is produced remotely by DreamHack Sports Games (DHSG) and streamed on the NHL's Twitch channel. For more GWC news, fans can visit www.nhl.com/gaming and follow the conversation using the social hashtag #NHLGWC.
COMING UP …
Thursday, July 15 – Show and Chel Episode #5 (3 p.m. ET)
Saturday, July 17 – Honda NHL West Division Club Championship (2 p.m. ET)
Thursday, July 22 – Show and Chel Episode #6 (3 p.m. ET)
Saturday, July 24 – Club Championship Final (2 p.m. ET)
COURTESY NHLmedia.com