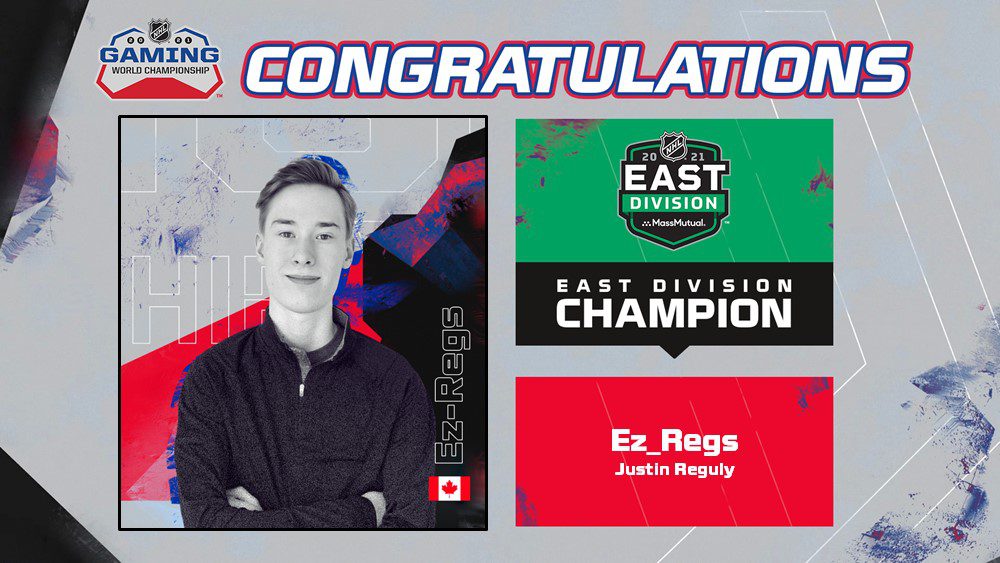 OF's HK Finishes as Runner-Up
NEW YORK (June 26, 2021) – Congratulations to Justin 'Ez_Regs' Reguly, who captured the MassMutual NHL East Division Championship of the 2021 NHL® Gaming World Championship™ by repping the Boston Bruins, this evening. The NHL's annual gaming event features the best EA SPORTS™ NHL® 21 players across the globe.
Ez_Regs, who is the reigning Canadian champ, took on reigning U.S. champion Josh 'OFs HK' Fuss, who was representing the Buffalo Sabres, in a highly anticipated match of GWC heavyweights. As the winner of the Division, Ez_Regs has now qualified for the Club Championship, which pits Division winners against each other for a chance to win the $25,000 USD grand prize. The Club Championship will take place on Saturday, July 24, at 2 p.m. ET on Twitch.
Coming into the Division Final as the No. 2 seed, the 20-year-old native of Thunder Bay, Ont., Canada, won the title by dominating his opponents from start to finish, scoring 59 goals and giving up only 18 in seven games. No stranger to NHL Gaming competitions, Ez_Regs has been a force in the NHL gaming community for years, winning many NHL Club tournaments throughout 2019 and 2020. He also was a finalist for the NHL Gaming World Championship Canadian Regional in 2018 and won the Canadian title in modified tournament in 2020.
Ez_Regs Road to Division Championship
Boston Bruins Club Championship vs. xQc Morel 71: 10-3, 9-3
Quarterfinal vs. Dods44: 9-2, 9-1
Semifinal vs. ProMoe CA: 8-2, (4-5), 8-3
Final vs. OF's HK: 15-1, 6-4
The North American Club Championship continues next Saturday, July 3, with the Scotia NHL North Division Club Championship beginning at 2 p.m. ET. The 2021 NHL® Gaming World Championship™ is produced remotely by DreamHack Sports Games (DHSG) and streamed on the NHL's Twitch channel. For more GWC news, fans can visit www.nhl.com/gaming and follow the conversation using social hashtag #NHLGWC.
COMING UP NEXT WEEK …
Thursday, July 1 – Show and Chel Episode #3 (3 p.m. ET)
Saturday, July 3 – Scotia NHL North Division Club Championship (2 p.m. ET)
COURTESY NHLmedia.com