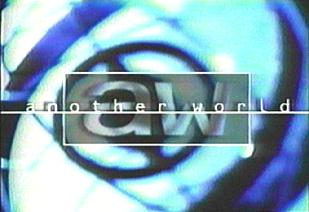 FROM WIKIPEDIA COMMONS
Another World (often shortened to AW) is an American television soap opera that aired on NBC from May 4, 1964, to June 25, 1999.[1][2] It was created by Irna Phillips along with William J. Bell, and was produced by Procter & Gamble Productions at NBC Studios, 1268 JC Studios in Brooklyn.
Set in the fictional town of Bay City, the series originally opened with announcer Bill Wolff intoning its epigram, "We do not live in this world alone, but in a thousand other worlds," which Phillips said represented the difference between "the world of events we live in, and the world of feelings and dreams that we strive for."[3] Another World focused less on the conventional drama of domestic life as seen in other soap operas, and more on exotic melodrama between families of different classes and philosophies.
In 1964, Another World was the first soap opera to talk about abortion when such subjects were taboo. It was the first soap opera to do a crossover, with the character of Mike Bauer from Guiding Light, which was also created by Irna Phillips, coming from Springfield to Bay City. It was also the first to expand to one hour, then to ninety minutes, and then back to an hour. It was the first soap to launch two spin-offs, Somerset and Texas, as well as an indirect one, Lovers and Friends, which would be renamed For Richer, For Poorer. Another World was also the second soap opera with a theme song to chart on the Billboard record charts, "(You Take Me Away To) Another World" by Crystal Gayle and Gary Morris, in 1987.
On April 12, 1999, NBC announced it was canceling Another World with its final episode on the network airing on June 25, 1999. NBC replaced Another World with another soap opera, Passions, on July 5, 1999.
WHY IT WAS CANCELLED
On April 12, 1999, as part of a shakeup of the network's daytime and early morning schedules (in which NBC also canceled NBC News at Sunrise (with newcomer Early Today replacing it as the network's early-morning newscast) and picked up the daytime talk show Later Today (a short-lived spinoff of Today) in exchange for the withdrawal of the talk show Leeza (which was renewed for the 1999–2000 season) from the network's schedule), NBC announced that it would not renew Another World, ending the series' run after 35 years once the show's previous renewal agreement ended that June.[2][18] Many reasons abounded for Another World's cancellation, with one of the more notable events occurring in the summer of 1998: the network's San Francisco affiliate at the time, KRON-TV (now a MyNetworkTV affiliate) – at the time one of NBC's highest-rated stations – stopped airing the show altogether, leaving Days of Our Lives and Sunset Beach as the only NBC soaps that the station cleared on its schedule, resulting in additional erosion of the program's already below-mediocre ratings. Independent station KICU-TV picked up the show and aired it for the rest of its run, but the series still experienced a steep ratings decline in the Bay Area market as KRON refused to guide viewers to the program's new home.
Another reason behind the cancellation decision was that a new soap opera produced and owned by NBC (through its NBC Studios unit), Passions, had entered into production and was slated to begin airing on the network in the summer of 1999. To add Passions to its daytime schedule, NBC opted to cancel one of its existing serials instead of reclaiming one hour of programming time allocated for syndicated or local programming from its stations, like what happened in January 1997 when the network placed Sunset Beach in the 12:00 p.m. timeslot. Rumors abounded that Days of Our Lives would be canceled (despite being NBC's highest-rated daytime series), as renewal talks between NBC and Columbia Pictures Television (now Sony Pictures Television) were going poorly at the time (at the same time, there were rumors that ABC would cancel Port Charles to make room for Days on its schedule). There were also rumors that the low-rated, younger-skewing soap Sunset Beach (the lowest-rated of NBC's three daytime serials at the time) would be canceled.
Days of Our Lives was ultimately renewed for five more years (through March 2004) in September 1998, leaving only the fates of Another World and Sunset Beach up in the air until the following April, when the cancellation of Another World was announced. Sunset Beach was picked up through the end of 1999 (largely due to its slightly better ratings in the younger demographics) before being canceled itself, with its final episode airing on December 31 of that year.
The final episode of Another World aired on June 25, 1999. The episode revolved around the wedding of Cass and Lila. In the show's final scene, Rachel and Carl happily embraced in the Cory living room, she remarked "All's well that ends well," and, after looking at the pictures of all her loved ones, Rachel went upstairs with Carl. The final image was a still frame of Mac raising a champagne glass in a celebratory toast, before the episode faded to black.
Passions replaced Another World on NBC's daytime schedule beginning on July 5, 1999; NBC's daytime coverage of the 1999 Wimbledon Championships aired during the intervening week.
TODAY'S ALMANAC
1170s
1630s
1780s
1870s
1880s
1900s
1910s
1920s
1930s
1940s
1950s
1960s
1970s
1990s
2000s
2010s
COURTESY www.almanac.com