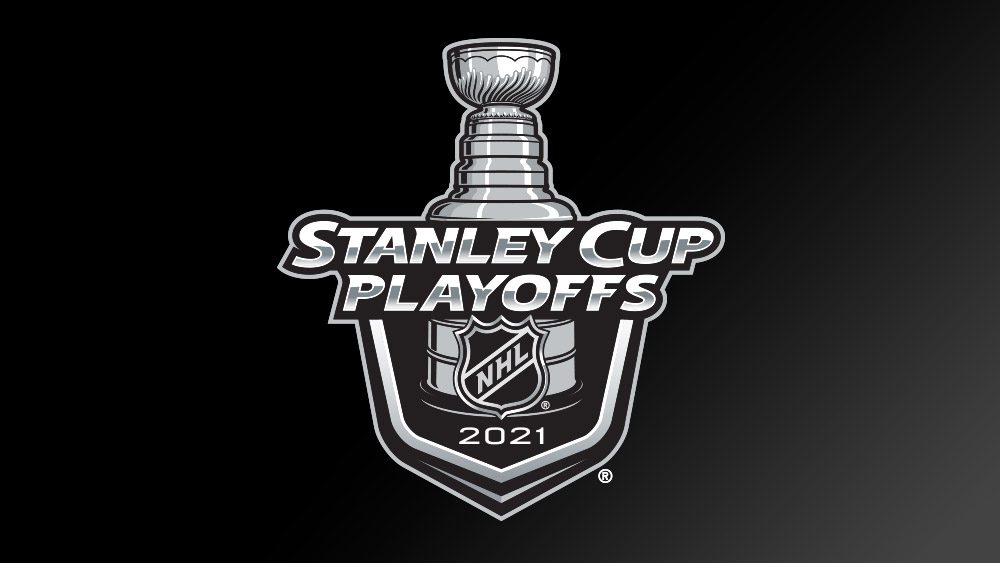 NEW YORK (June 24, 2021) – The Tampa Bay Lightning and New York Islanders will decide their Stanley Cup Semifinals series Friday night when they take to the ice at AMALIE Arena in Tampa for a winner-take-all Game 7 (8 p.m. ET, NBCSN, CBC, SN, TVAS). The teams will be vying for a berth in the Stanley Cup Final against the winner of the other Semifinals series between the Vegas Golden Knights and Montreal Canadiens.
The Lightning will be skating in their ninth Game 7 in franchise history (5-3) and for the sixth time in the final-four round (2-3). Only three other clubs – all from the Original Six – have played as many such contests in the Semifinals: the Boston Bruins (8 GP; 4-4), Detroit Red Wings (6 GP; 5-1) and Chicago Blackhawks (6 GP; 3-3).
Lightning defenseman Ryan McDonagh has made a team-high eight career appearances in a Game 7 (6-2), one of 10 active players with at least six career Game 7 wins. McDonagh is attempting to join two active NHL players with seven-or-more such wins: Carl Hagelin (8-2) and Anton Stralman (7-2).
Other players on the Lightning roster with at least five previous Game 7s are defenseman Victor Hedman (3-3) and forwards Steven Stamkos (3-3) and Pat Maroon (2-3).
The Islanders, who blanked the Philadelphia Flyers 4-0 in Game 7 in the Second Round of the 2020 Stanley Cup Playoffs, are competing in a Game 7 in consecutive seasons for the first time in franchise history. The win over the Flyers was their first in a winner-take-all contest since upsetting the two-time defending Stanley Cup champion Pittsburgh Penguins in the 1993 Patrick Division Final and improved their overall Game 7 record to 4-5.
Seventeen of the 20 Islanders players who dressed for the Game 7 win over Philadelphia are still with the team, including forwards Brock Nelson, Josh Bailey and Anthony Beauvillier, who led the way over the Flyers by combining for 2-4—6 and a +8 rating.
Islanders players with at least five games of Game 7 experience are defensemen Braydon Coburn (5-3) and Nick Leddy (2-3).
Friday's showdown matches the head coaches with the most postseason wins since 2013-14 in the Lightning's Jon Cooper (65-45) and the Islanders' Barry Trotz (64-47). Cooper (2-2 in Game 7s) and Trotz (3-2) have met before in a winner-take-all situation. Trotz's Washington Capitals defeated Cooper's Lightning in Game 7 in the 2018 Eastern Conference Final at AMALIE Arena, capping a comeback from a 3-2 series deficit.
Game 7 Trends
* The team that scores first is 137-46 (.749) in the 183 all-time Game 7s in the Stanley Cup Playoffs (2-0 in 2021).
* Home teams own a 106-77 (.579) advantage in the 183 all-time Game 7s in the Stanley Cup Playoffs (1-1 in 2021).
* Ninety-one of the 183 all-time Game 7s in the Stanley Cup Playoffs (49.7%) have been decided by a one-goal margin.
* Forty-five Game 7s in the Stanley Cup Playoffs have required overtime (24.6%). Home teams have a 23-22 edge in those contests.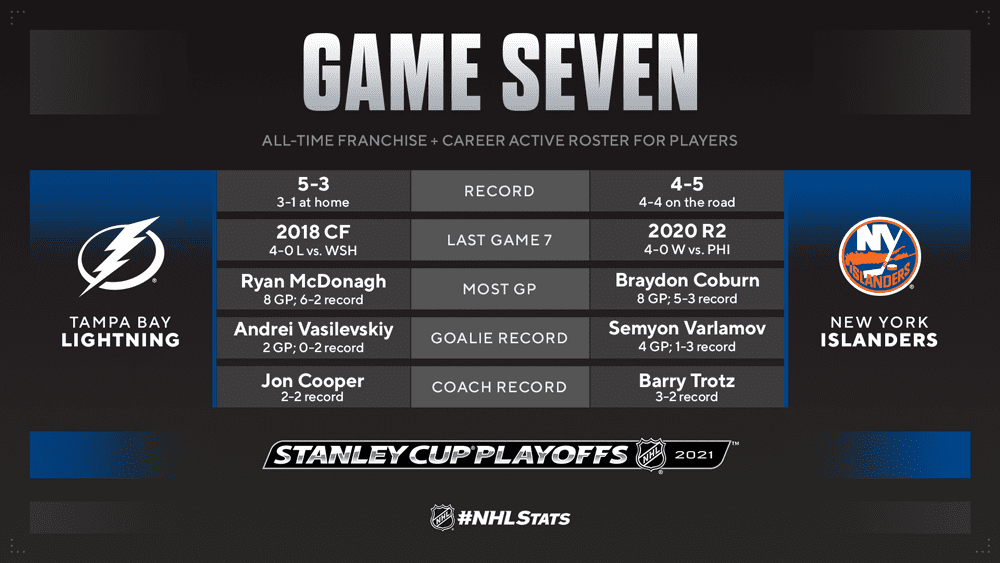 *** Please see attachment for more individual and team Game 7 statistics ***
COURTESY NHLmedia.com