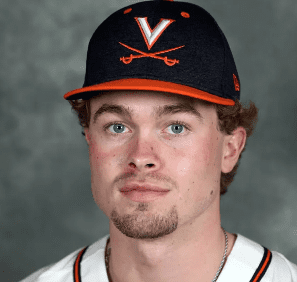 June 20, 2021
OMAHA, Neb. – Virginia (36-25) opened up the 2021 Men's College World Series with a 6-0 shutout victory against third-seeded Tennessee (50-17) on Sunday (June 20) at TD Ameritrade Park in Omaha, Nebraska. The Cavaliers will advance in the winner's bracket and face the winner of Texas/Mississippi St on Tuesday (June 22) at 7 p.m. EST.
Catcher Logan Michaels (DeForest, Wis.) scored three of Virginia's six runs, including a home run in the third inning that opened the scoring for the Cavaliers.
Starting pitcher Andrew Abbott (Republican Grove, Va.) was credited with his ninth win, throwing six scoreless innings, allowing five hits, striking out 10 with two walks. Matt Wyatt (Towson, Md.) pitched the final three, allowing just one hit with three strikeouts and a walk, picking up his first save of his career.
Key Moments
Michaels hit his first home run of the season in his first College World Series at-bat in the top of the third inning. The home run was the second of his UVA career and first since a two-run shot against William & Mary on Feb. 25, 2020.
Virginia sent eight batters to the plate and racked up six hits in a four-run seventh inning. Consecutive RBI singles from Michaels, Chris Newell (Newtown Square, Pa.), Zack Gelof (Rehoboth Beach, Del.) and Max Cotier (New Milford, Conn.) powered the rally.
Virginia loaded the bases in the top of the ninth inning with Michaels coming around to score on a double play that increased the UVA lead to 6-0
Notes
Abbott stranded seven Tennessee runners in six innings pitched four of them in scoring position.
The 10 strikeouts were the most ever by a Cavalier pitcher in a College World Series game. The previous high was Danny Hultzen's eight against South Carolina (6/24/11)
After Sunday's performance, Abbott has 162 career strikeouts, three behind Danny Hultzen's 165 in 2011 for the most in a single season in UVA history.
The quality start by Abbott was just the second by a UVA pitcher in the NCAA Tournament and Abbott's team-leading ninth of the season.
Virginia has scored four runs in the seventh inning for three-straight games.
Abbott struck out 10 or more batters for the sixth time this season
The last shutout for Virginia in the College World Series came in 2015, a 3-0 combined shutout against Vanderbilt. Sunday was Virginia's second shutout WS history and ninth in NCAA Tournament history.
The victory for Brian O'Connor was his 75oth of his career.
Sunday marked the first ever meeting between Virginia and Tennessee.
COURTESY VIRGINIA ATHLETIC COMMUNICATIONS