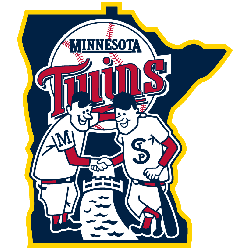 June 19th, 2021
Club to recognize their beloved bench coach, who passed away from cancer in March, prior to Monday's game with the Cincinnati Reds and manager David Bell, Mike's brother
MINNEAPOLIS-ST. PAUL, MN – The Minnesota Twins today announced plans to honor the life and legacy of former bench coach Mike Bell, who passed away on March 26 at the age of 46 from cancer, prior to the club's Monday, June 21 home game at Target Field vs. the Cincinnati Reds, managed by Mike's brother, David Bell. The game will also serve as the Twins' annual Cancer Awareness Night, as part of the club's theme nights lineup.
Members of the Bell family that will be in attendance on Monday include David, Mike's wife Kelly and their children Madeline, Mikayla, Luke; Luke's girlfriend, Emily; Mike's sister Kristi, her husband Bobby and their children Hayes, Baker and Bode; and Mike's mother Gloria.
Mike Bell's 29 years in professional baseball, including his two with the Twins, left an indelible impact upon all those whom he met, an influence of positivity and kindness that will forever resonate both on and off the field. Away from the ballpark, Mike's passionate work on behalf of GiGi's Playhouse helped further efforts to realize their vision of a world in which individuals with Down syndrome are accepted and embraced in their families, schools and communities.
Below is a tentative timeline for Monday's pregame ceremonies on Mike Bell Tribute Night:
7:01 p.m.: Introduction of the Bell family
7:03 p.m.: Mike Bell tribute video
7:06 p.m.: Presentation of a gift from the 2021 Twins team to the Bell family, along with a $10,000 donation to GiGi's Playhouse Twin Cities from the Twins and the Minnesota Twins Community Fund in Mike Bell's honor
7:08 p.m.: Ceremonial first pitch; the ball will be delivered by Twins manager Rocco Baldelli to Luke Bell (Mike's son), who will throw the pitch to be caught by David Bell (Mike's brother and Cincinnati Reds manager)
The Twins are wearing a special "MB" sleeve patch throughout the 2021 season, while "MB" signage has been in place in the home dugout at Target Field since the April 8 Home Opener.
Fans who purchase a ticket through the special Cancer Awareness Night theme night package will receive an exclusive Twins Cancer Awareness cap, available in 10 different colors corresponding to the most prevalent cancers seen in Twins Territory. Additionally, as part of the Twins' longstanding efforts to strike out cancer, a portion of each ticket purchased through this special ticket package will be donated back to the American Cancer Society to support further research and awareness.
COURTESY MINNESOTA TWINS & MLBpressbox.com